---
Crew
Director/Screenplay – Renaud Gauthier, Producers – Mathias Bernard, Pierre-Alexander Bouchard, Phil Kalin-Hadju & Albert Melamed, Photography – Derek Branscombe, Music – Bruce Cameron, Renaud Gauthier & Mortadelle, Visual Effects Supervisor – Pierre Dufour, Special Effects – Blood Brothers, Special Effects Supervisors – Jean-Mathieu Berube & Carlo Harrietha, Makeup Effects – Remy Couture, Production Design – Sylvain Lemaitre. Production Company – La Guerilla/Rockzeline/Blackpills/Durango.
Cast
Nicolas Fontaine (Josh Randall), Brittany Drisdelle (Priscilla Wilkinson), Nick Walker (Paul Wilkinson), Madeline Harvey (Alice), Paul Zinno (Tommy), Chip Chupka (Conrad Carter), Howard Rosenstein (Michael Randall), Cameron Geller (Chad), Lanisa Dawn (Kimberly), Ryan Ali (Slim), Ivan Ossa (Big Phil), Samantha Hodhod (Cindy), Jimmy Lavigne (Brad), Suzanne Lenir (Mrs Danforth)
---
Plot
Students at Valley Hills High School in Connecticut gather at the Wet Valley waterpark to hold a graduation party. 35 years ago, back in the 1980s, there had been a series of tragic deaths there. As the festivities get under way, various dramas play out behind the scenes – rivalries between bullying jocks and the band The Blades fronted by Josh Randall; park owner Paul Wilkinson's wife finding he is having an affair with his employee Alice; Josh reuniting with former girlfriend Kim, which angers her jealous boyfriend, park employee Tommy; Josh's father who claims he is trying to buy the park. Amid these, there is a killer lurking at the park.
---
Aquaslash was the second directorial film from Renaud Gauthier who hails from Montreal. Gauthier had previous made Discopathe (2013) set in the 1970s where disco turns a man into a killer.
Renaud Gauthier's films are slapped with a label of being 'retro slashers'. This is certainly a label that can be applied to a number of other contemporary Slasher Films – such as the likes of Behind the Mask: The Rise of Leslie Vernon (2006), Hatchet (2006) and sequels, The Final Girls (2015), Last Girl Standing (2015) and Lost After Dark (2015) – in that they directly reference the genre's heyday and parody and deconstruct it. On the other hand, Aquaslash at most is set around teens holding an 80s theme party and references a past event that happened back then, which makes it a stretch to call it a 'retro slasher'. The most 80s it gets is Nicolas Fontaine doing a rendition of Corey Hart's Sunglasses at Night (1984).
And for all Aquaslash sets itself up as a slasher film, Renaud Gauthier seems to spend most of the film doing everything else except deliver that. There is no killer wandering around eliminating victims as you get in almost any slasher film – two people get killed in the prologue, one victim is shot later and that is it until the 55 minute mark (over three-quarters of the way through the film).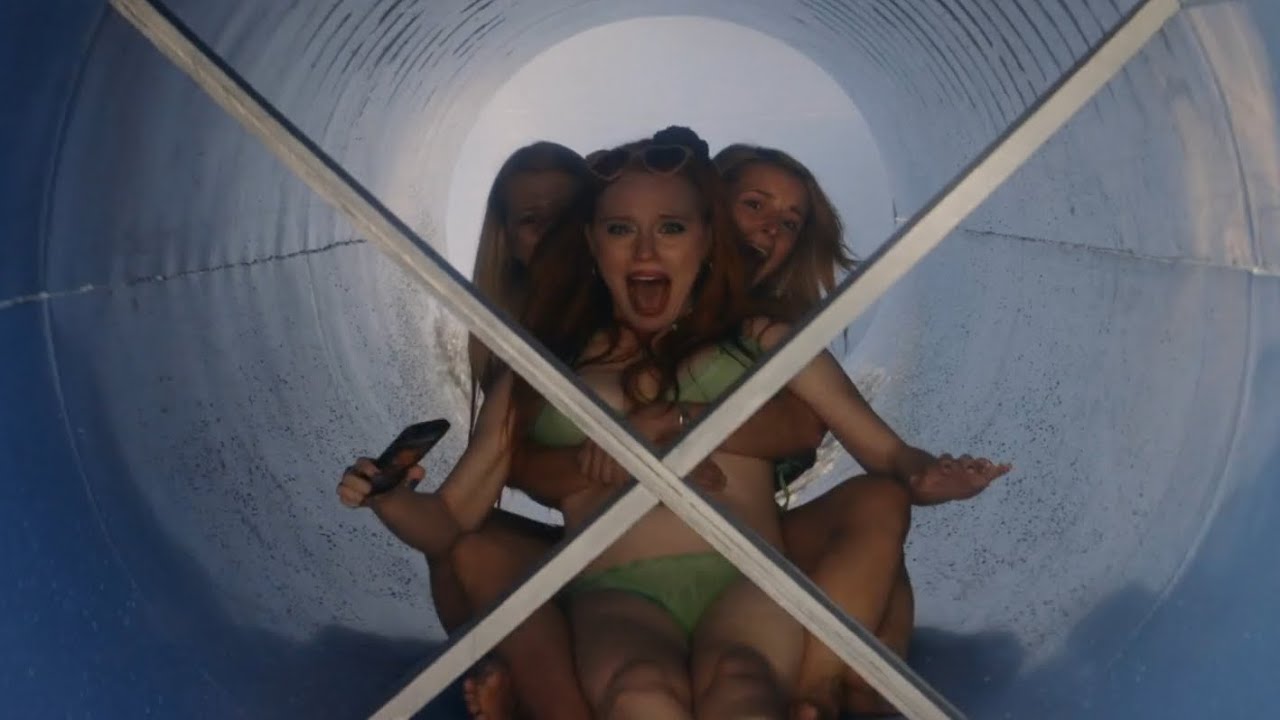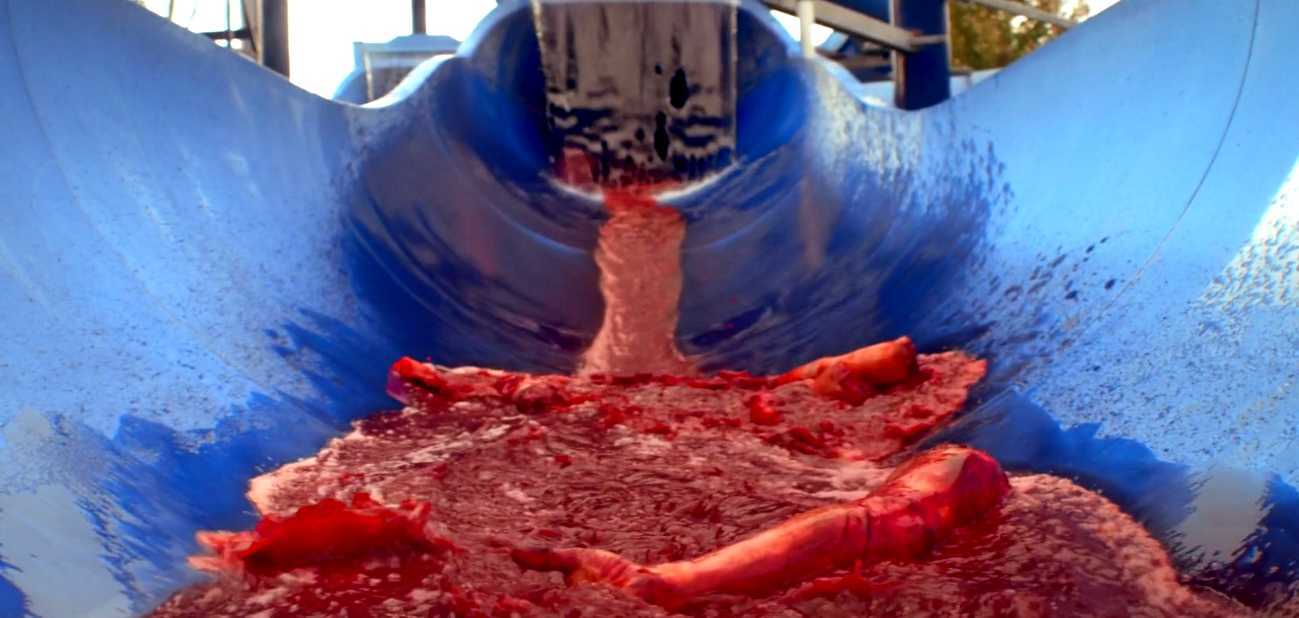 The film gives the impression it was conceived around obtaining the use of a location (the Super Aqua Club water park in Pointe-Calumet, Quebec). Most of the film is taken up in the various dramas between the characters – the rivalries between students, the different affairs between students and members of staff, the double-dealings of the park's owner. There is quite a large ensemble that often requires one to pay attention to who is who – there are two almost identical redheads (Brittany Drisdelle and Madeline Harvey) at the centre of events, for instance, and I ended up being frequently confused as to which character was which. In fact these character dramas so take over that I watched to the end of the film and was still at a loss to understand who the person orchestrating the killings was unless a very vague fadeout on one particular character is meant to give indication of their involvement.
What almost makes Aquaslash work is its one standout gore set-piece. Everything is built up to the big climactic team race down the park's waterslide where we find that someone has sabotaged things and placed a series of blades through the middle of the pipe. Renaud Gauthier spends a reasonable amount of time building the scene up. And boy does he deliver – there's the entertainingly outrageous scene where a group of girls come barrelling down the pipe and are sliced into triangular sections and the pool below fills with gouts of blood and severed body parts, followed by other bodies coming through and being carved up. It's a great sequence and almost makes it worth sitting through an otherwise dull film.
---
Trailer here
---