---
Crew
Director/Screenplay – Paul Solet, Producers – Boaz Davidson, Milos Djukelic, David Gardner, Yariv Lerner, Victor Shapiro, Paul Solet, Raphael Swann & Les Weldon, Photography – Zoran Popovic, Music – Austin Wintory, Visual Effects Supervisor – Ricky "The Professor" Gachev, Visual Effects – Dreamdust VFX (Supervisor – Doca Mladenovic), Dreamcatcher, Filmgate (Supervisor – Kristian Talajic), Nu Boyana FX (Supervisor – Martin Georgiev), Verve Digital Technologies (Supervisor – Roopesh Gujar) & Worldwide FX, Special Effects Supervisor – Ivo Jivkov, Production Design – Nikola Bercek. Production Company – Saban Films/Millennium Media/Sunset Junction/Principato Young Entertainment.
Cast
Adrien Brody (Stacy), John Malkovich (Walker), Rory Culkin (Gage), Antonio Banderas (Blue), Ori Pfeffer (Handler), Alexandra Dinu (Grace), James Robinson (Young Gage), Deyan Petrov (Young Walker), Jason Francis (Young Gage's Father), Jay Bogoslovov (K9 Cop), Clive Sawyer (Truffle Dog Master), Keith Evans (Security Guard)
---
Plot
Stacy, Walker and Gage flee from a safecracking that has gone wrong, pursued by police. The operation went off-track because the drug-addicted Gage decided to detour to rob the pharmacy. Their driver crashes in an alleyway, being killed in the process. The other three seek refuge inside the adjoining warehouse. Inside they discover they are trapped with a maddened killer dog, leftover from a series of illegal underground dogfights.
---
Paul Solet is a director I wish would get more opportunities to make films. Solet is a not director that many people are likely to recognise but made a standout debut feature with Grace (2009) about a woman who gives birth to a dead baby and insists on keeping it. Since then Solet has not quite followed up on that promise, having made the ghost story Dark Summer (2015) and the non-genre Clean (2020), as well as the The Weak and the Wicked episode of Tales of Halloween (2015).
Here Solet makes a film for Millennium Films and Saban Films. Millennium, a company formed by several former Cannon Films associates, seems to have a business model based on acquiring previously successful properties and creating more sequels as with Conan the Barbarian (2011), Hellboy (2019) and the various Texas Chainsaw and Rambo sequels, among other. Saban Films is a successor company to Saban Entertainment that made a great deal of children's film and tv in the 1990s
I initially passed over watching Bullet Head – I had gotten it confused in my head with the Sylvester Stallone action film Bullet to the Head (2012) or possibly even John Woo's Bullet in the Head (1990). Sitting down to watch, Bullet Head proves to be an Animals Attack films. There have been a number of films on the theme of killer dogs with the likes of Dogs (1977), Zoltan … Hound of Dracula (1977), Rottweiler/Dogs of Hell (1983), White Dog (1982), Baxter (1989), Man's Best Friend (1993), Rottweiler (2004), The Breed (2016) and The Pack (2015) with the best of these being The Pack (1977) and Cujo (1983).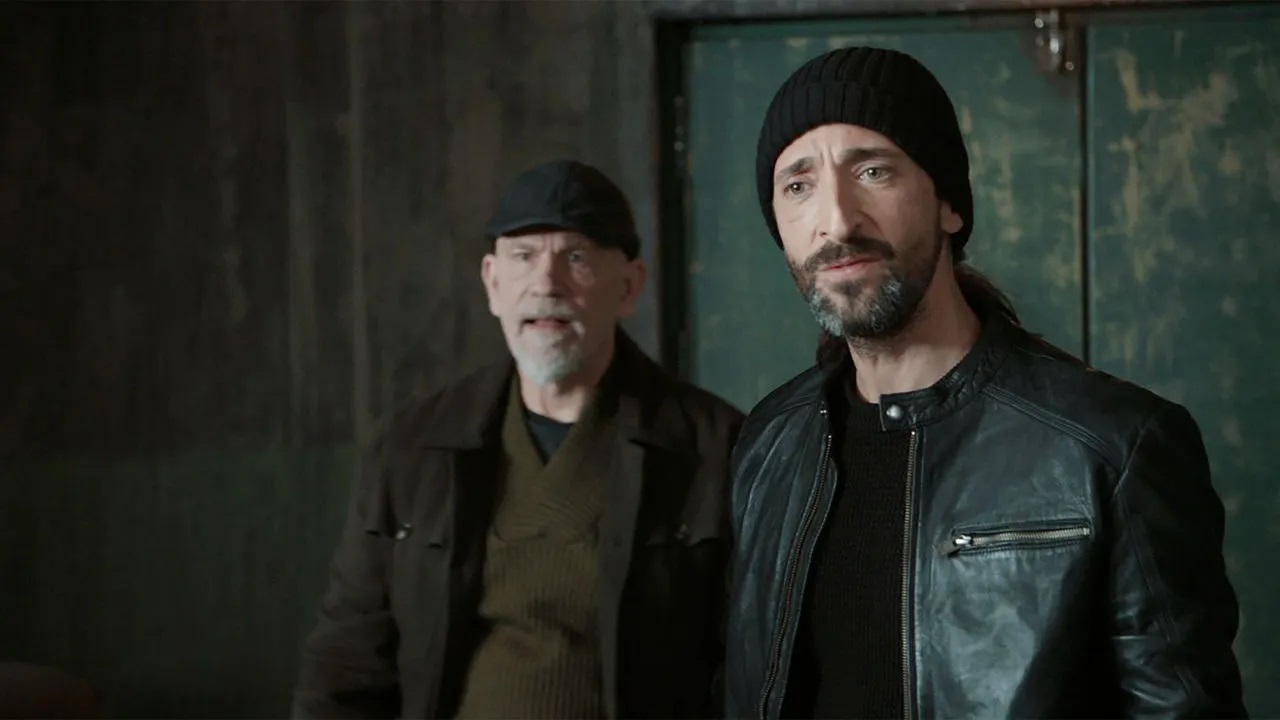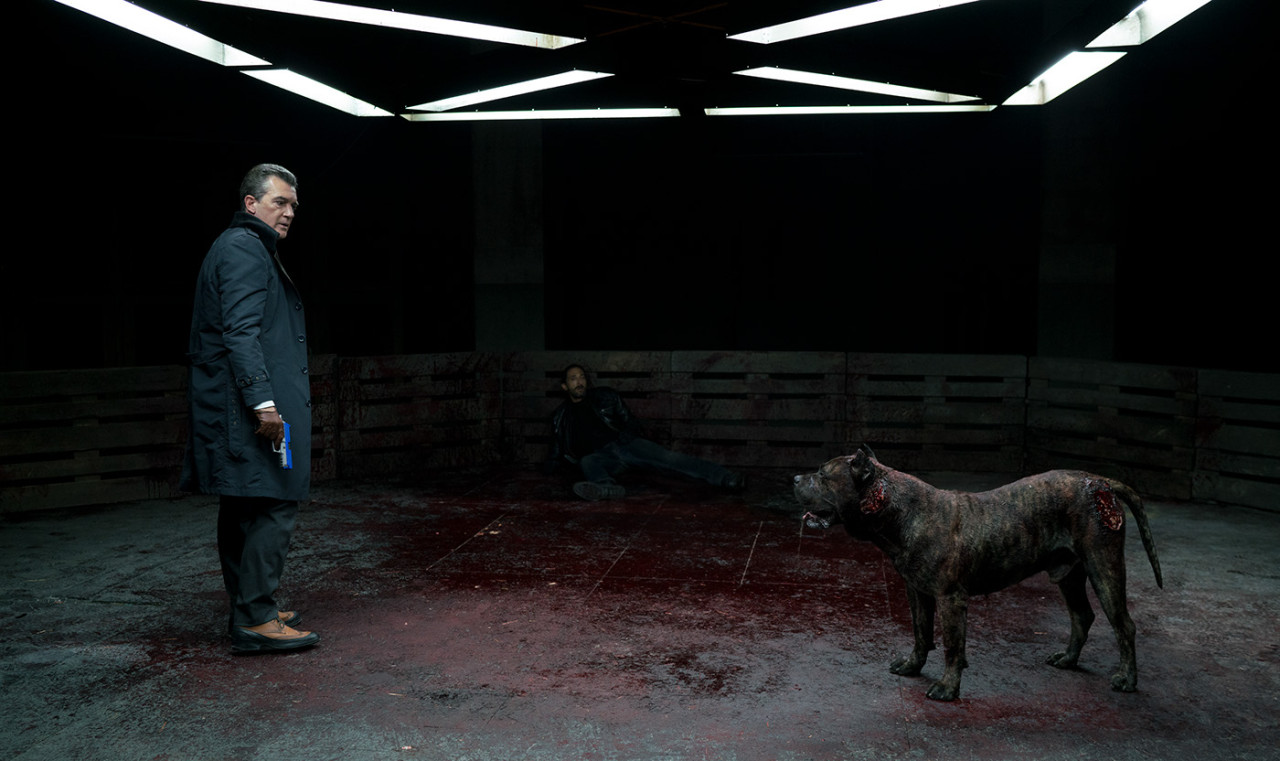 The film takes place in a vast warehouse that seems more spacious and filled with nooks and crannies than any warehouse that would ever exist in the real world – I was constantly reminded of the vast sprawling theatrical space that Philip Seymour Hoffman builds in Synecdoche, New York (2008). All of this was shot in Millennium's preferred filming grounds in Bulgaria. In the midst of this, Paul Solet introduces what the end credits reveal to be a CGI dog. (In what must be a first for a killer dog film, we get flashbacks from the dog's point-of-view showing it being groomed for the dogfights).
Into the midst of this, we get three criminals on the run from a botched robbery. The film certainly gives us a stellar casting line-up – Adrien Brody and John Malkovich, both Academy Award winning actors, with Rory Culkin as the tweaker and Antonio Banderas as the gang leader behind the dogfights. It seems a promising set-up and a great cast to make it work – even if neither Adrien Brody nor John Malkovich do much to convincingly seem like they are regular working class criminals they are meant to be.
The main problem is where you want Bullet Head to go – a tense, all-out fight to the death between the men trapped in the warehouse and a trained killer dog – it never much does. I was hoping it would end up being something of films like Burning Bright (2010) with people trapped in a house with a tiger or The Pool (2018) with people trapped in an emptied swimming pool with a crocodile. Not to say that Paul Solet doesn't produce tension – and there are a number of scenes where does so well. The main issue with the film is that the overall pace drags and the tension only picks up within sporadic moments. For some reason, Solet feels that he has to pad the running time out with extended flashbacks where the various criminals explain their backhistories to one another. It is not really needed and these scenes further drag out the expected tension, leaving a film that feels dramatically flat.
---
Trailer here
---