---
Crew
Director – Andre Øvredal, Screenplay – Dan Hageman & Kevin Hageman, Story – Guillermo Del Toro, Marcus Dunstan & Patrick Melton, Based on the Books by Alvin Schwartz, Producers – Jason F. Brown, J. Miles Dale, Sean Daniel, Guillermo Del Toro & Elizabeth Grave, Photography – Roman Osin, Music – Marco Beltrami & Anna Drubich, Visual Effects – Gimpville (Supervisor – Lars Erik Hansen) & Mr. X (Supervisor – Matt Glover), Special Effects Supervisor – Geoff Hill, Makeup Effects – Spectral Motion, Inc. (Supervisors – Mary Elizalde & Mike Elizalde), Production Design – David Brisbin. Production Company – CBS Films/Entertainment One/Rolling Hills/Starlight/Hivemind/1212 Entertainment/Double Dare You Productions.
Cast
Zoe Colletti (Sheila Nichols), Michael Garza (Ramon Morales), Gabriel Rush (Auggie Hildebrandt), Austin Zajur (Chuck Steinberg), Austin Abrams (Tommy Milner), Dean Norris (Roy Nichols), Gil Bellows (Chief Turner), Natalie Ganzhorn (Ruth Steinberg), Lorraine Toussaint (Lou Lou), Kathleen Pollard (Sarah Bellows)
---
Plot
The town of Mill Valley, Pennsylvania, 1968. School friends Sheila Nichols, Auggie Hildebrandt and Chuck Steinberg are out trick-or-treating when their haul is snatched by school bully Tommy Milner. They respond by pelting his car with their arsenal of tricks. Tommy and his gang pursue them. Fleeing, they take refuge at the local drive-in theatre and hide in the car of Ramon Morales who steps up to protect them. Joined by Ramon, the four head to an abandoned house that is rumoured to be haunted by Sarah Bellows after she was locked away by her family. In a room behind a hidden panel, Sheila finds Sarah's book of stories. Back home, she watches as stories start writing themselves on the blank pages, featuring them, Tommy and others as characters. As this happens, the stories unleash entities that come to kill them.
---
Scary Stories to Tell in the Dark was a popular series of children's books from American writer Alvin Schwartz (1927-92) who spent his career writing various books of folklore, horror stories and jokes for children. The books consist of Scary Stories to Tell in the Dark (1981), More Scary Stories to Tell in the Dark (1984) and Scary Stories 3: More Tales to Chill Your Bones (1991). All the stories are brief and come accompanied by illustrations. The books are of some controversy with frequent calls for banning them from US libraries as being too scary for young readers. The film incorporates five of Schwartz's stories – Harold, The Red Spot, The Big Toe, Me Tie Dough-ty Walker! and The Haunted House.
The film was story developed and is produced by Guillermo Del Toro, the director of Cronos (1993), Mimic (1997), The Devil's Backbone (2001), Blade II (2002), Hellboy (2004), Pan's Labyrinth (2006), Hellboy II: The Golden Army (2008), Pacific Rim (2013), Crimson Peak (2015), The Shape of Water (2017), Nightmare Alley (2021) and Guillermo Del Toro's Pinocchio (2022). Del Toro conceives the story with Marcus Dunstan and Patrick Melton, co-writers of various Saw sequels, Feast (2006) and sequels, Piranha 3DD (2012) and the directing/writing team behind The Collector (2009) and sequel, and Unhuman (2022).
The directorial chores have been handed over to Norwegian director Andre Øvredal whose The Troll Hunter (2010), a Found Footage film made with a quirkily eccentric sense of humour, became a word of mouth hit. Øvredal had earlier made Future Murder (2000), although hardly anybody appears to have seen this, and followed The Troll Hunter with the horror film The Autopsy of Jane Doe (2016). Subsequent to this, Øvredal went on to make Mortal (2020) about a man with godlike powers and The Last Voyage of the Demeter (2023), as well as produced the horror film Umma (2022).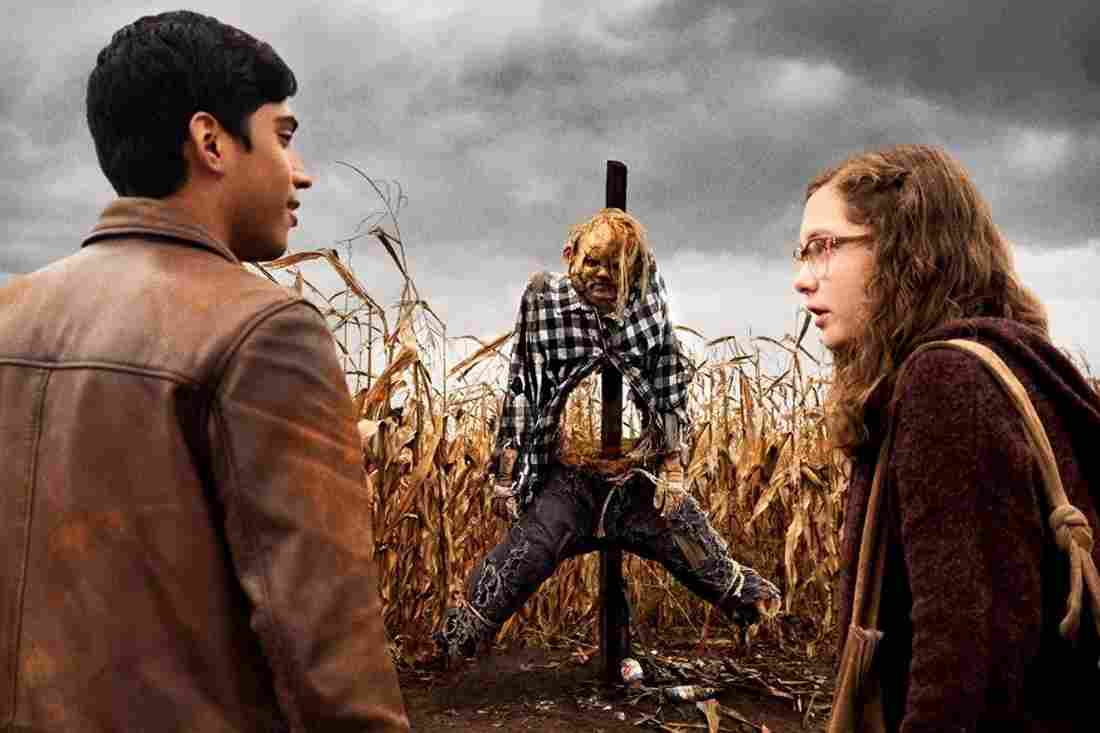 Scary Stories to Tell in the Dark emerges as an ungainly beast on screen. It feels as though it has been slung together to incorporate a host of competing influences. In recent years, we have had the hits of tv's Stranger Things (2016- ) and the remake of It (2017), both featuring a group of kids that were on the cusp of adolescence facing a supernatural menace. This seems to have mandated that we get a similar bunch of kids at the centre of the story here.
The other problem the film faces is how to turn a collection of short stories, most of which run to around a hundred words each, into a single narrative. The most obvious way would have been some sort of anthology but for whatever reasons Øvredal, Del Toro et al choose not to do this. However, the single story format the film opts for gives the film the problem of trying to create a dramatic structure to carry the stories. Thus Scary Stories reaches to the recent hit of Goosebumps (2015) for a similar idea. Goosebumps had the denizens from the various R.L. Stine stories being unleashed from their books and a group of kids racing to stop these. This comes up with a similar idea where each of the deaths of the characters is written in a book and then comes to life.
The book come to life idea has been done before. Indeed, Scary Stories could almost be a horror version of The Neverending Story (1984) – or perhaps more so the excruciating The Neverendinng Story III (1994), which had the characters from the book emerge into the real world. There was also the imaginative I, Madman (1989) in which the reading heroine is stalked by a maniac emerged from a book. By contrast, while these others contain a clever and intriguing play of meta-fiction, I don't think Scary Stories to Tell in the Dark does anything particularly imaginative with its premise – the figures from the stories emerge to kill their victims and that is about it.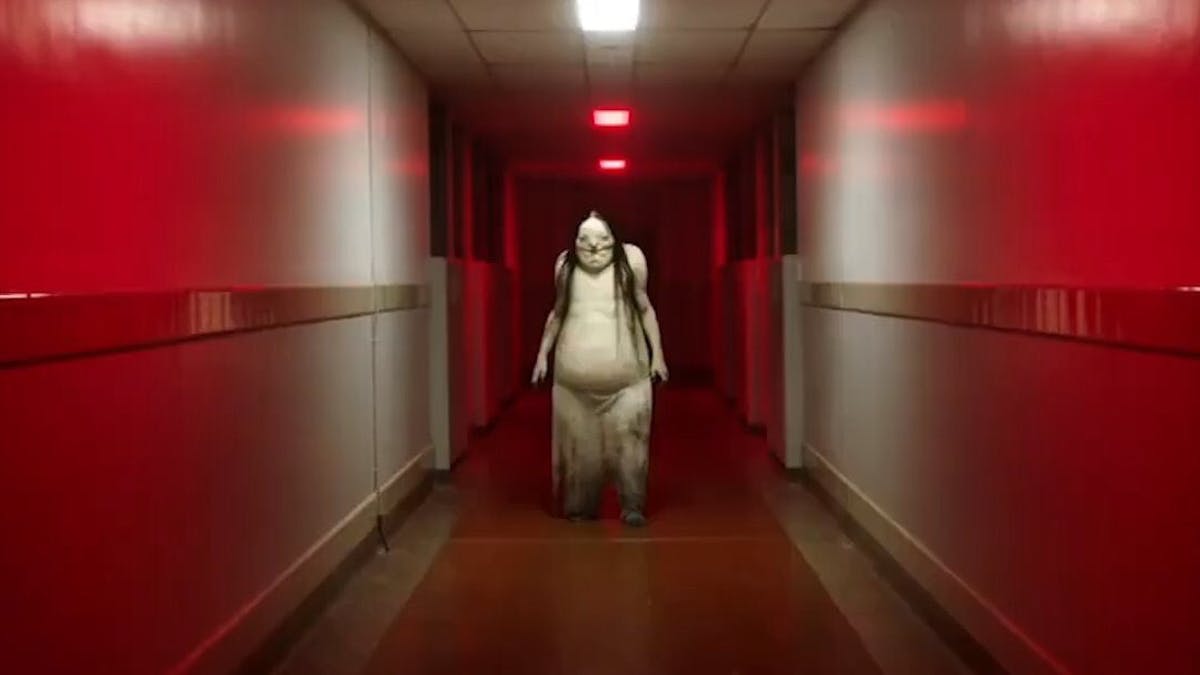 Nor for that matter does Andre Øvredal do anything imaginative with the film. The appearances of the various creatures is slight and nothing much happens when they do – Austin Abrams is pursued by a scarecrow, Natalie Ganzhorn develops a giant zit, Gabriel Rush may have cooked a corpse's toe in a soup, while the climactic scenes involve a lot of running around the house.
The most imaginative of these is the scene where Austin Zaju is pursued by a something called the Pale Lady – a pasty faced ghost figure that looks like an obese version of the ghosts from the Ju-on/The Grudge films. It is not that Scary Stories to Tell in the Dark doesn't suggest it has potential – the build-up is fine, leading you to expect something much more than the tame and uneventful scares that we do get – but the delivery fades into the same anonymity of every other multiplex horror film out there.
A sequel has been announced.
---
---