---
Crew
Directors – (Episodes 1&3) Ryan Murphy, (Episode 2&4) Paris Barclay, (Episodes 5&7) Jennifer Lynch & (Episode 6) Max Winkler, Teleplay – (Episodes 1-5) Ian Brennan & Ryan Murphy & (Episode 6) Ian Brennan & Reilly Smith & (Episode 7) Ian Brennan, Todd Kubrak, Ryan Murphy & Reilly Smith, Created by Ian Brennan & Ryan Murphy, Based on the New York Magazine Article The Haunting by Reeves Wiedeman, Producers – Lou Eyrich, Todd Kubrak, Kip Davis Myers, Todd Nenninger & Danielle Wang, Photography – (Episode 1&3) Jason McCormick, (Episode 2, 4-5&7) Maceo Bishop & (Episode 6) Stanley Fernandez, Music – Morgan Kirby & David Klotz, Visual Effects – Fuse FX (Supervisor – Ariel Altman & Brian Kubovcik), Special Effects Supervisor – Jeff Brink, Production Design – Kristi Zea. Production Company – Jam Tart Films/Prospect Films/Ryan Murphy Television.
Cast
Bobby Cannavale (Dean Brannock), Naomi Watts (Nora Brannock), Jennifer Coolidge (Karen Calhoun), Noma Dumezweni (Theodora Birch), Isabel Gravitt (Ellie Brannock), Henry Hunter Hall (Dakota), Christopher McDonald (Detective Rourke Chamberland), Margo Martindale (Maureen), Mia Farrow (Pearl Winslow), Joe Mantello (John Graff), Luke David Blumm (Carter Brannock), Terry Kinney (Jasper Winslow), Richard Kind (Mitch), Seth Gabel (Andrew Pierce), Michael Nouri (Roger Kaplan), Matthew Del Negro (Darren Dunn), Seth Barrish (Jack), Pamela Dunlap (Carol Flanagan), Warren Sroke (Voice of The Watcher)
---
Plot
Husband and wife Dean and Nora Brannock find their dream home in Westfield, New Jersey. Dean liquidates all their savings to make the deposit and stakes everything on being made partner in his firm to make payments. Soon after they move in, they begin to receive mysterious letters written in a menacing way signed only by The Watcher who describes intimate details about the house and their lives. They install security cameras and hire a private detective but can find no clue to the identity of The Watcher. The investigation turns up a tangled web of mysteries involving possible blood drinking cults by neighbours, previous tenants being driven to murder or madness, and secret tunnels connecting the houses of the neighbourhood. Throughout the ordeal, the Brannocks are driven crazy by the mysterious tormentor's games.
---
The Watcher is a seven episode TV Mini-Series from Ryan Murphy. Murphy has been creator/producer of some of the top tv series since the 2000s, including Glee (2009-15), Pose (2016-21), Hollywood (2020) and Ratched (2020), including personal favourites like Nip/Tuck (2003-10), American Crime Story (2016- ) and Feud (2017- ). Murphy has dabbled in genre material on a number of occasions with the ongoing hit of the tv series American Horror Story (2011- ) and its spinoff anthology series American Horror Stories (2021- ), as well as Scream Queens (2015-6), which had a side-splitting first season, and the extraordinary true crime mini-series Dahmer – Monster: The Jeffrey Dahmer Story (2022). In addition, Murphy has also produced the horror films The Town That Dreaded Sundown (2014) and Mr Harrigan's Phone (2022).
The Watcher is based on a true story. Derek and Maria Broaddus moved in to a house at 657 Boulevard in Westfield, New Jersey in 2014. Not long after, they began to receive a series of anonymous letters signed only as The Watcher telling how the letter writer and members of their family had watched the house for generations. The story gained a fascination after an article The Haunting of a Dream House (2018) about what happened was published by Reeves Wiedeman in New York magazine, along with several subsequent follow-up pieces. After exhaustive investigation, including hiring private detectives and a DNA sweep of the entire community, the case remains unsolved and nobody has ever been identified as the writer of the letters.
The Watcher makes for compulsive watching. Ryan Murphy and team set up an archetypal nuclear family. Indeed, the Brannocks are not dissimilar to the families in The Amityville Horror (1979) or Poltergeist (1982) – they have found a dream house but are financially overstretched (the mini-series draws a number of analogies about how the house attracts those who are drawn to it by greed) and then proceed to be propelled into a nightmare, although here there is no hint of any supernatural explanations.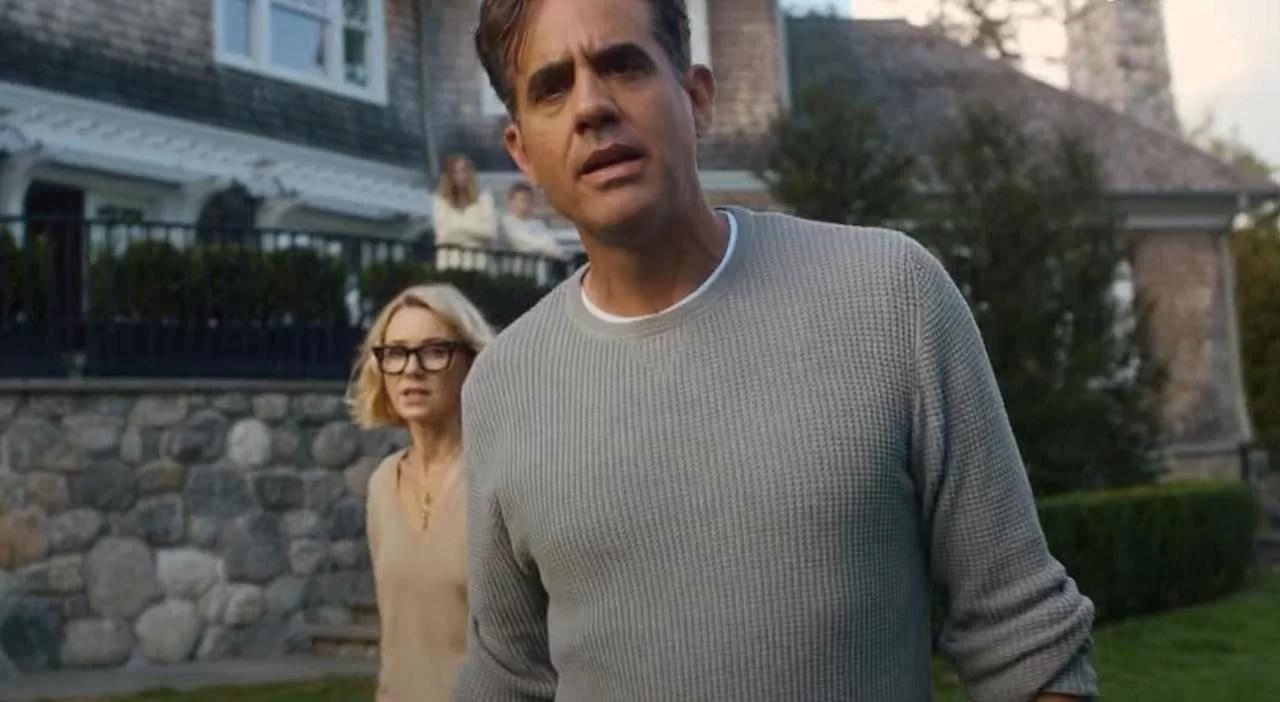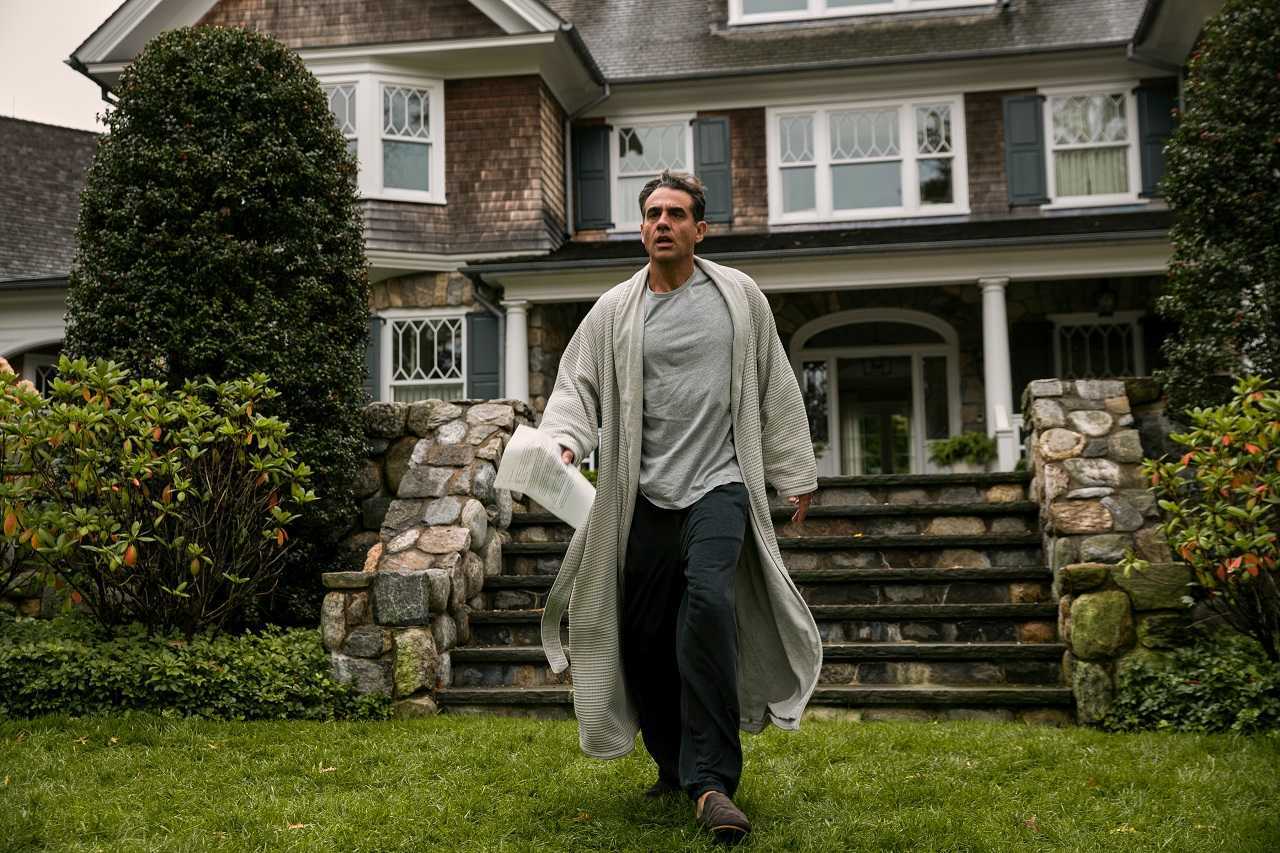 Murphy and co create this idyllic middle-class world of an upmarket neighbourhood – one so conservative that the neighbourhood preservation society have scathing debates about the type of marble used to remodel the kitchen – and then proceed to put the twist on the family. The mini-series creates a superb sense of Paranoia out of an ordinary neighbourhood as to whether everybody from the odd neighbours, the security installer, the police department, the neighbourhood preservation society, previous tenants, a retired teacher with a passion for old houses, the private detective, even the realtor who sold the property and the husband himself might any or all of them be behind the campaign. The mini-series is particularly well served here by Bobby Cannavale whose physical and often aggressively outward manner of acting seems perfectly suited to the role of a man driven to the end of his tether.
I was curious as to just how much of the mini-series is based on the true story account and how much was made up – in reality, the Broadus's only received three letters from The Watcher. As it is, what comes across seems far more wild and way out than any of the fictional plots Murphy and his team have devised for American Horror Story. Everything from the neighbours maybe involved with a blood-drinking cult to tunnels connecting the houses; the teenage daughter hooking up with the security installer and then broadcasting a TikTok viral video after she is confined to her room; the elderly neighbours killing themselves in a murder-suicide and then turning up alive again; to a girl wearing the same dress as the woman who was murdered somehow sneaking into the house undetected and getting into bed with Bobby Cannavale while he sleeps through everything. Not to mention a previous owner who may have murdered their families and snuck in, and another prior owner with a story about being driven out who may just be a hired actor. It seems almost impossible to believe that such wildly contorted events could have actually happened – much of it seems even too bizarre for fiction – but the 'true story' label gives everything an off-kilter wildness that makes for compulsive watching.
The Watcher should not to be confused with the film The Watcher (2000) featuring Keanu Reeves as a serial killer or Watcher (2022), which came out four months earlier the same year, in which Maika Monroe believes her neighbour is a serial killer.
---
Trailer here
---