---
USA. 2014.
Crew
Director – Alfonso Gomez-Rejon, Screenplay – Roberto Aguirre-Sacasa, Producers – Jason Blum & Ryan Murphy, Photography – Michael Goi, Music – Ludwig Göransson, Visual Effects – Fuse FX (Supervisor – Jason Piccioni), Special Effects Supervisor – Neil Stockstill. Production Company – Blumhouse Productions/Ryan Murphy.
Cast
Addison Timlin (Jami Lerner), Veronica Cartwright (Lillian), Travis Tope (Nick Strain), Anthony Anderson (Lone Wolf Morales), Gary Cole (Chief Deputy Hank Tillman), Joshua Leonard (Deputy Foster), Andy Abele (Sackhead), Edward Herrmann (Reverend Joe Cartwright), Denis O'Hare (Charles B. Pierce, Jr.), Ed Lauter (Sheriff Underwood), Spencer Treat Clark (Corey Holland), Wes Chatham (Corporal Danny Torrens), Morganna Bridgers (Kendra Collins)
---
Plot
The town of Texarkana on the Texas/Arkansas border, 2013. The town is still haunted by The Phantom, a hooded killer who murdered five people on a spree back in 1946 but was never caught. It is a custom for The Town That Dreaded Sundown, a 1976 film made about the killings, to be played around the time every year. During one of the outdoor screenings of the film, teenager Jami Lerner goes away to make out with Corey Holland only for a hooded killer dressed as The Phantom to appear and kill Corey, Jami is let go with the warning to "Remember Mary." As a new series of Phantom killings begin around the town and a taskforce of Texas Rangers is assembled to stop them, Jami becomes certain that clues to the new killer's identity lie buried in the past.
---
The so-called Phantom Killer murdered five people in the town of Texarkana over a ten-week period between February and May of 1946. In all but the final killing, couples making out in parked cars were shot at by a man who wore a cloth mask over his head with cutout holes for the nose and eyes. The killings sparked a massive police manhunt, headed by Texas Ranger Captain M.T. 'Lone Wolf' Gonzaullus, which in turn brought the Phantom Killings to national press attention. With so much law enforcement attention focused on him, The Phantom then simply stopped his killing spree. A great many suspects were investigated by the police at the time and others have fallen under the microscope of amateur investigators since but nobody was ever arrested and the crime spree remains unsolved to this day. The incident was immortalised in The Town That Dreaded Sundown (1976) from director Charles B. Pierce, who grew up in Arkansas, and this has become something of a cult film.
This is a quasi-remake of the Pierce film produced by Blumhouse, one of the major horror studios in the 2010s with successes to their name that include the likes of Paranormal Activity (2007), Insidious (2010), The Purge (2013) and various sequels to these. (See below for Blumhouse's other films). The eye-opening name on the credits is that of Ryan Murphy who is better known as a high-profile tv producer/creator of shows such as Nip/Tuck (2003-10), Glee (2009-15), American Crime Story (2017– ) and Feud (2017– ). Murphy is not a name that you immediately associate with horror but has a number of credits in the genre with the greatly undervalued tv series American Horror Story (2011– ) and the slasher parody Scream Queens (2015-6), which had a brilliant first season before falling apart in a very silly second, as well as the amazing true life serial killer biopic Dahmer – Monster: The Jeffrey Dahmer Story (2022) and the creepy true crime The Watcher (2022). Murphy has infrequently ventured onto cinema screens as director with the non-genre likes of Running with Scissors (2006) and Eat Pray Love (2010). Here he merely serves as producer and turns the director's chair over to Alfonso Gomez-Rejon, a former Murphy tv director and producer who subsequently went on to make Me and Earl and the Dying Girl (2015) and The Current War (2017).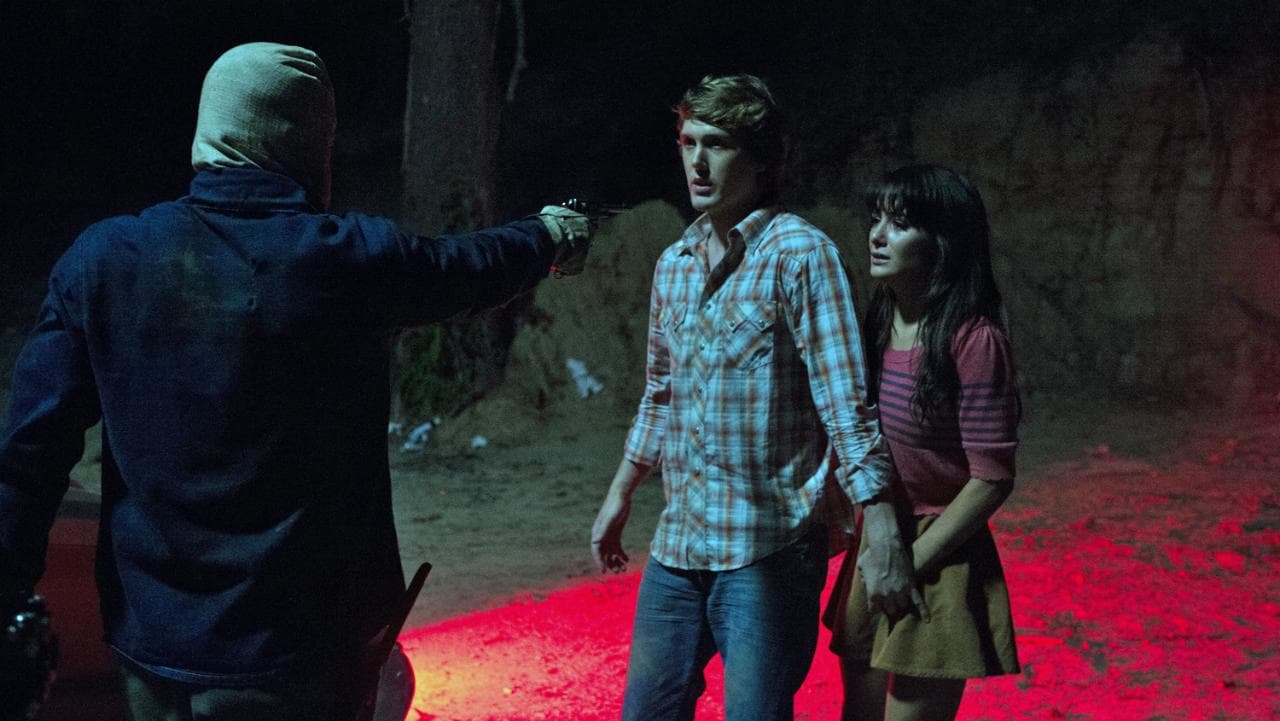 The Town That Dreaded Sundown 2014 has been construed not so much as a remake or a sequel to the 1976 film but what has been called a 'meta-sequel' – a fictional film that takes place in a world where events are influenced by and mirror the original. We have had works like Scream 2 (1997) and Scream 3 (2000), and Victor Crowley (2017) that are meta-sequels to fictional in-universe films but, other than the opening of Book of Shadows: Blair Witch 2 (2000), this is the first meta-sequel to a real world film. This is no more cleverly demonstrated than the opening scene that has a killing take place against the backdrop of an outdoor revival screening of the 1976 film with the murder mirroring what is happening on screen. We also get an appearance from Denis O'Hare playing Charles B. Pierce, Jr., the real-life son of Charles B. Pierce, director of the 1976 film, who is played as a strange hermit and suggests clues to the identity of the new Phantom. We also have characters designed to pay homage to those in the 1976 film such as Anthony Anderson playing a Texas Ranger modelled on Ben Johnson's Captain Morales and other minor characters.
Boiled down to a pure plot level, The Town That Dreaded Sundown 2014 is a fairly ordinary variant on the slasher film. What does make it decidedly watchable is Alfonso Gomez-Rejon's directorial style. This is none more evident than in the opening scene where Addison Timlin and Spencer Treat Clark are making out but are interrupted by the copycat and we see Clark being killed in a giant silhouette on the side of a cliff all lit up in scarlet red. Addison is then pursued through the woods where the attack is intercut with scenes from the 1976 film as they play out at the drive-in screening, before she collapses bloodied right beneath the screen. It has a bravura stylishness that makes you jump out of your seat in joy. The rest of Gomez-Rejon's style is dazzling – from shots of the town all in faded colour washes and muted sunsets to those that make you go "wow" like seeing the newspaper pages on a microfiche reader spinning past reflected on Addison Timlin's eyeballs. Or else the town hall meeting where Gomez-Rejon makes striking contrasts between people in closeup framed speaking in the foreground and the crowds seated behind them.
Jason Blum and his Blumhouse production company have produced a number of other genre films including:- Hamlet (2000), Paranormal Activity (2007) and sequels, Insidious (2010) and sequels, Tooth Fairy (2010), The Bay (2012), The Lords of Salem (2012), The River (tv series, 2012), Sinister (2012) and sequel, Dark Skies (2013), Oculus (2013), The Purge (2013) and sequels, the tv mini-series Ascension (2014), Creep (2014), Jessabelle (2014), Mercy (2014), Mockingbird (2014), Not Safe for Work (2014), Ouija (2014) and sequel, 13 Sins (2014), Unfriended/Cybernatural (2014), Area 51 (2015), The Boy Next Door (2015), Curve (2015), The Gallows (2015), The Gift (2015), Jem and the Holograms (2015), The Lazarus Effect (2015), Martyrs (2015), Visions (2015), The Visit (2015), The Darkness (2016), Hush (2016), Incarnate (2016), The Veil (2016), Viral (2016), Amityville: The Awakening (2017), Get Out (2017), Happy Death Day (2017), The Keeping Hours (2017), Split (2017), Stephanie (2017), Bloodline (2018), Cam (2018), Delirium (2018), Halloween (2018), Seven in Heaven (2018), Truth or Dare (2018), Upgrade (2018), Black Christmas (2019), Ma (2019), Prey (2019), Don't Let Go (2019), Sweetheart (2019), Black Box (2020), The Craft: Legacy (2020), Evil Eye (2020), Fantasy Island (2020), Freaky (2020), The Hunt (2020), The Invisible Man (2020), Nocturne (2020), You Should Have Left (2020), Black As Night (2021), The Black Phone (2021), Dashcam (2021), Firestarter (2022), M3gan (2022), Mr Harrigan's Phone (2022), Nanny (2022), Soft & Quiet (2022), Run Sweetheart Run (2022), Sick (2022), They/Them (2022), The Visitor (2022), Torn Hearts (2022), Unhuman (2022), The Exorcist: Believer (2023), Five Nights at Freddy's (2023), There's Something Wrong With the Children (2023) and Totally Killer (2023).
---
---