---
Crew
Director – Lewis Arnold, Teleplay – Luke Neal, Created by Lewis Arnold & Luke Neal, Based on the Book Killing for Company by Brian Masters, Producer – David Meanti, Photography – Mark Wolf, Music – Sarah Warne, Production Design – Anna Higginson. Production Company – New Pictures Ltd/All3Media International.
Cast
David Tennant (Dennis Nilsen), Daniel Mays (DCI Peter Jay), Jason Watkins (Brian Masters), Ron Cook (DSI Chambers), Barry Ward (DI Steve McCusker), Bronagh Waugh (Charlotte Proctor), Joel Morris (Tim Wells), Laurie Kynaston (Carl Stottor), Jamie Parker (Allan Green QC), Pip Torrens (Ivan Lawrence QC), Jonathan Coy (Professor David Bowen)
---
Plot
London, 1983. Detective Chief Inspector Peter Jay is called around to a house in the Muswell Hill district after a contractor claims to have found human remains clogging the drain. They question tenant Dennis Nilsen and he admits to having dead bodies in his apartment. Nilsen is arrested and proves cooperative with police, detailing at length how he killed fifteen people. He admits to being gay and how his victims were usually young men he met at the pub or were living homeless, how he lured them back to his place and strangled them after sex. He then kept them around as company, usually disposing of the bodies by burning them. Remains are found buried in the garden at Nilsen's previous flat. The police have the problem in trying to identify the bodies as Nilsen cannot remember names, while there is also pressure on Jay to wrap the case up and go to trial. At the same time, writer Brian Masters has been corresponding with Nilsen in prison and Nilsen agrees to take him on as biographer. Masters, a gay man, agrees to do so to prevent someone else writing a lurid book about Nilsen demonising homosexuality. At the case goes to trial, Nilsen surprises everybody by pleading not guilty and arguing for an insanity defence. The burden falls onto Jay and his team to have to prove that Nilsen was intentional in his actions.
---
Dennis Nilsen (1945-2018) was a British serial killer. Born in Scotland to a Scotswoman and a Norwegian soldier, Nilsen served as a cook in the army, briefly joined the police force and was working at a job centre at the time he began his crime spree in 1978. Nilsen was gay and struggled with this his whole life. He would pick up young men either at the pub or living in the streets, offering them food and shelter, would have sex with them and then strangle or drown them. Afterwards, he would dress the bodies and keep them around his flat, later burying them in the backyard or in a backyard bonfire. Nilsen was arrested in 1983 and freely confessed to killing fifteen men. He was eventually charged with killing six men and attempted murder of two others and found guilty in October of 1983. Nilsen received a whole life tariff (the British equivalent of a life sentence with no hope for parole) and died on health complications in jail in 2018.
Des is a mini-series based on the Dennis Nilsen story that aired on UK's ITV channel in three one-hour episodes. The disappointment that immediately becomes evident is that this is not a work akin to other True Crime serial killer biopics like Ed Gein (2000), Gacy (2003) and Monster (2003) or the BBC's recent Rillington Place (2016) ie. we don't follow Nilsen through his trail of crimes. Instead, the mini-series opens at the point of Nilsen's arrest and takes the far less interesting option of following the progression of the police investigation and subsequent trial. In fact, Nilsen's activities are not portrayed at all and the point-of-view characters throughout are the real-life figures of detective Peter Jay and Nilsen's biographer Brian Masters who wrote the book Killing for Company: The Case of Dennis Nilsen (1985) and subsequently several other works about serial killers. There had earlier been a film based on Dennis Nilsen with the much more fictionalised Cold Light of Day (1989) starring Bob Flag as Nilsen.
The disappointment that Des is going to be a dull schematic police procedural is immediately shot down the moment the show brings David Tennant on screen. Tennant is of course known as the Tenth Doctor in tv's Doctor Who (2005- ) where he became the most popular Doctor of the show's modern incarnation. The role gave Tennant a high international profile and he has gone on to do some solid acting in other parts. It can be observed that Tennant has the most fun when he is playing villainous roles such as Kilgrave in the first season of tv's Jessica Jones (2015-9) and a serial killer in Bad Samaritan (2018).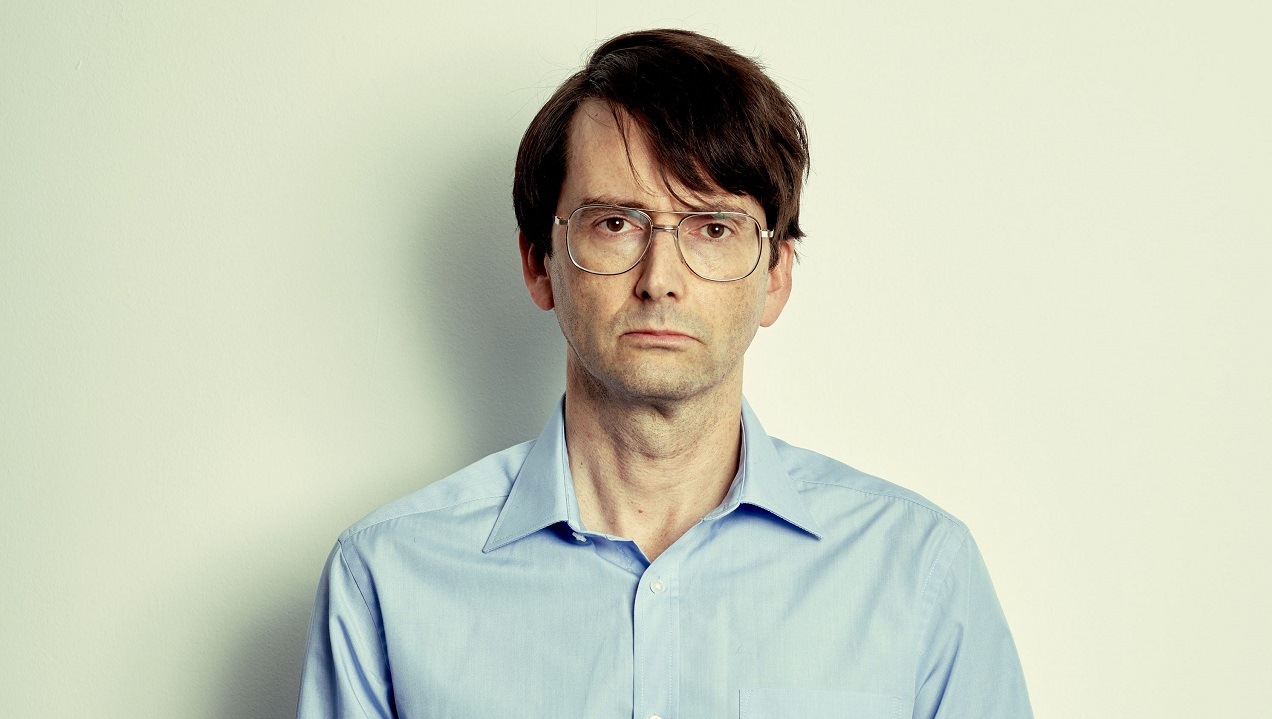 Here Tennant is uncannily made up to resemble the real Nilsen and goes to town on the role. He creates a complex character – calm and matter-of-fact about what he has done, while also expressing the view that he needed to be stopped – and is captivating whenever he is on screen. This is not a series that damns and judges Nilsen – the writing and Tennant's performance offers sometimes caustic and penetrating insights into his actions and the media circus around him. Overshadowed by Tennant, Jason Watkins gives a fine performance as Masters despite the fact that Masters remains essentially a passive character throughout.
The writing on the series is top-notch. The opening credits note that the show is based on Masters' book and extensive interviews. The drama is set around the police investigation and Jay's pressure to close the case against his desire to identify all fifteen victims (seven of the fifteen victims still remain unidentified nearly forty years later) and make the argument for the intentionality of Nilsen's actions at the trial. Parallel to Jay's investigation is Masters' interviews with Nilsen. The mini-series also makes an interesting attempt to argue that Nilsen's crimes were a product of the Thatcherite government in the early 1980s.
Despite being structured around the factual details, the series still manages to produce some dropjaw twists – Nilsen's surprise announcement of the Not Guilty plea at the end of the second episode, his demolition of one of the interviewees in the course of the trial. One was happy to report that the results proved quite gripping and held one absorbed all the way to the end.
(Winner for Best Actor (David Tennant) at this site's Best of 2020 Awards).
---