---
Crew
Director – Craig Viveiros, Teleplay – Tracey Malone & Ed Whitmore, Producer – Sharon Bloom, Photography – James Friend, Music – Stuart Earl, Visual Effects – Lexhag, Special Effects – Artem, Production Design – Pat Campbell. Production Company – Bandit/BBC.
Cast
Tim Roth (Reg Christie), Samantha Morton (Ethel Christie), Nico Mirallegro (Tim Evans), Jodie Comer (Beryl Evans), Timothy Bentnick (Dr Odess), Christopher Hatherall (Harry), Sonya Cassidy (Janice), Erin Armstrong (Hectorina), Kevin Mathurin (Beresford Brown), William Hoyland (Justice Lewis), Sandy Welch (Christmas Humphries), Justin Salinger (Malcolm Morris)
---
Plot
In 1934, Reginald Christie reunites with his wife Ethel after a four-year absence, he being unwilling to tell her he was serving a prison sentence. They move into a flat at No 10 Rillington Place in London's Notting Hill district. Ethel is forced to deal with the fact that Reg is going out at night to consort with prostitutes. As World War II starts, Reg becomes a volunteer policeman. Ethel is unwilling to face mounting evidence that Reg is associated with the disappearances of several women. Young Tim and Beryl Evans move into the upstairs flat with their infant daughter Geraldine. When Beryl becomes pregnant again, Reg tells her that he trained as a doctor before the War and could offer a home abortion. Tim then returns home to find Beryl dead. Reg persuades Tim to leave, saying he will dispose of the body and find a home for the baby. However, Tim is overcome with guilt and confesses to the police whereupon he is arrested. When Tim brings up the home abortion in court, Reg denies everything and places the blame on Tim. Tim is convicted and goes to the hangman's noose. In the aftermath, Reg continues to kill women and becomes even more extreme in his actions.
---
Rillington Place is a three-part mini-series based on the life of John Reginald Christie (1899-1953), one of the most fascinating serial killers in British criminal history. The key event in Christie story came in 1948 when Timothy Evans and his teenage wife Beryl sublet the flat upstairs from Christie at 10 Rillington Place. In November of 1949, Beryl became pregnant a second time and sought to abort the child but was then found dead in her flat. Tim confessed that she had died after Christie offered to perform an abortion and he had disposed of her body. During the trial, Christie claiming innocence. Evans was convicted and hung in 1950.
Subsequent to Evans's hanging, Reginald Christie's wife Ethel mysteriously vanished and was never heard from again. An impoverished Christie was soon forced to lease the flat out to other tenants. Attracted by a bad smell, the new tenants opened the wall and were startled to find human remains. A police search found four bodies buried behind the wall of the flat and a further two in the garden. In the aftermath, Christie's life as a serial killer came out.
It was determined that Christie would lure women to his flat claiming to have medical expertise, where he would then suffocate them with a homemade device connected to the gas mains and sexually molest them post-mortem. Christie was arrested and confessed to the crimes, including Beryl's murder. He was sentenced to hang in 1953. After a long public campaign, Timothy Evans received a posthumous pardon in 1966.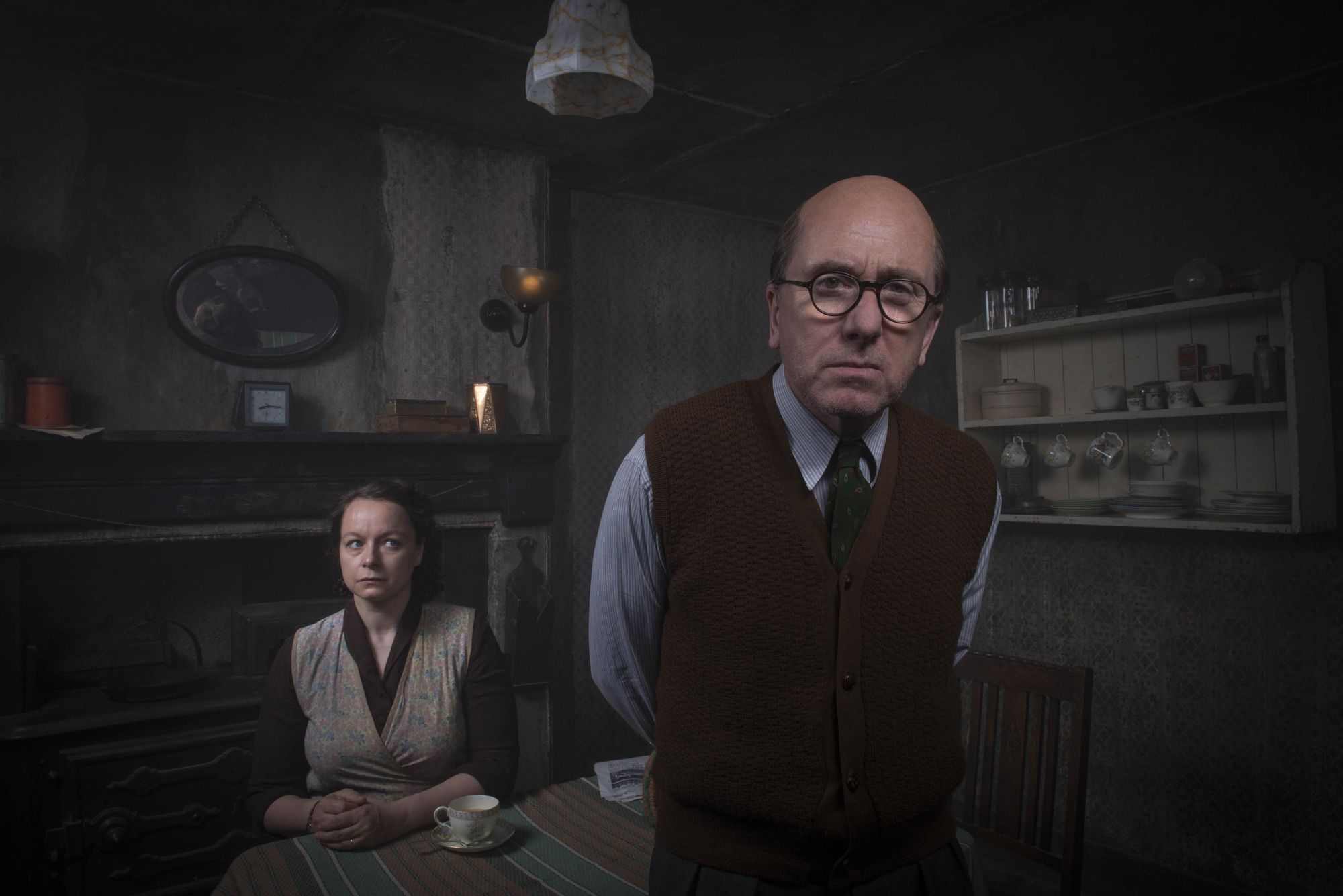 The Reginald Christie story had previously been filmed as 10 Rillington Pace (1971), an excellent film made before the term serial killer entered the public lexicon. This was made by American director Richard Fleischer and starred Richard Attenborough as Christie, a young unknown John Hurt as Timothy Evans and with Judy Geeson as Beryl and Pat Heywood as Ethel. This did an extremely job in charting the details of the case and showing Christie's actions with as much detail as the censor of the day allowed (although all mention of his necrophile tendencies was excised).
In the mini-series, the role of Reginald Christie has been cast with Tim Roth. Ever since coming to fame in Reservoir Dogs (1992), Roth has found a career playing snivelly weasel characters. He does an excellent job of subsuming himself in the role of Reg – it is the most character acting I have seen Roth ever do in a performance. He has shaved much of his head, is hidden behind a pair of granny glasses and seems hunched over into anonymity. His dialogue is all mumsy bromides delivered in quiet tones (the real Christie was said to have barely spoken above a whisper).
On the other hand, you do ask yourself – is this a portrait of the real Reginald Christie? Looking at the surviving photos of Christie, he seems well over six feet tall, whereas the 5'7" Roth seems so collapsed into anonymity he barely touches 5'3". What you suspect is the case is that Roth and the makers of the mini-series allowed themselves to be far too influenced by Richard Attenborough's performance in the 1971 film, which Roth's performance here resembles more than anything.
One of the notable aspects of the mini-series is its reproduction of the period. The production designers have made a painstaking attempt to replicate the exteriors of Rillington Place from the surviving photos. They and the costumiers marshal the full resources of the BBC to do an exacting job in obtaining the flavour of Wartime England and its era in the streets and clothing. There seems a concerted effort to reduce the look to something as dull and dreary as possible. When it comes to the interiors, it feels like the entire show has been desaturated of colour until everything takes place in the same dreary monochromatic grey-brown. The wallpaper is cracked and peeling, the wood of the building looks as though it is in an advanced state of termite rot, while the walls come without even the basic comfort of any dressing like a calendar or painting.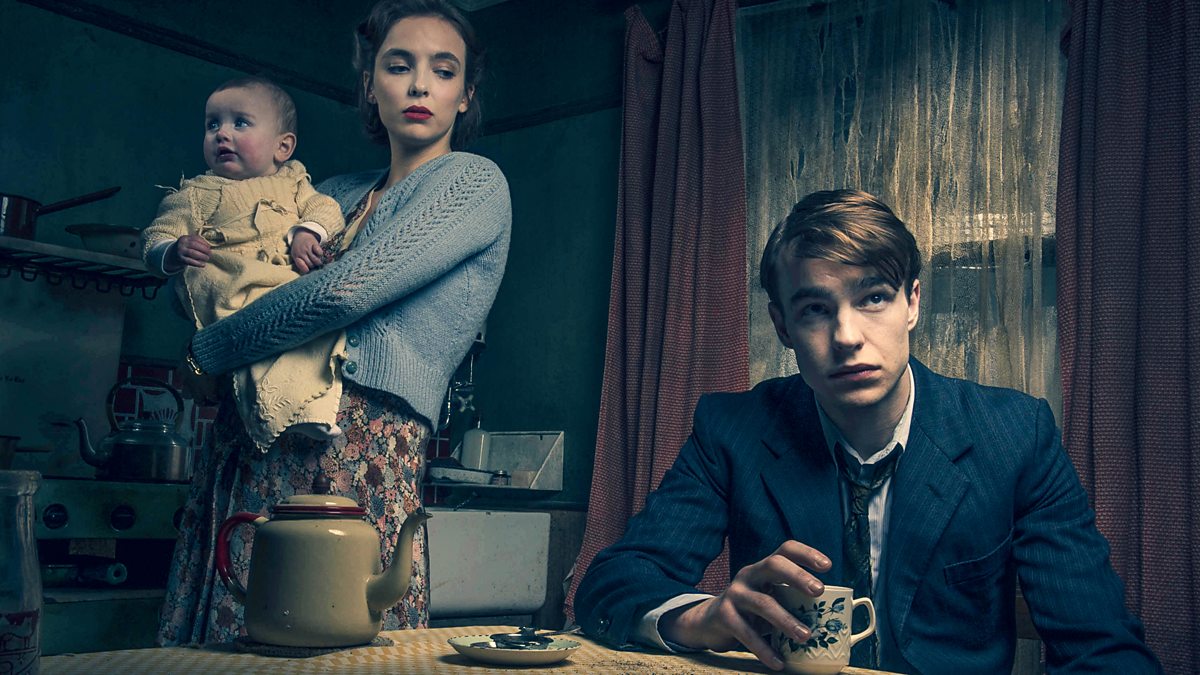 The mini-series comes in three one-hour episodes, each of which focuses on the key players in the story – these being (in order) Ethel, Tim and finally Reg. It is noticeable that the mini-series actually conducts a far more conservative telling of Reg's story than the 1971 film, which was made over 35 years earlier. The first two episodes in particular keep all mention of Reg's killings off stage – they are there but only by implication and accusation. Much of the show consists of little more than banal exchanges in which the words Tim Roth delivers seem banal pleasantries devoid of any real content, something that causes the whole mini-series to brood with this dread sense of something unspeakable about to happen. The first episode is told through Ethel's eyes and features a fine performance from Samantha Morton – just the way she ignores the mounting evidence and in particular how we see her suddenly speak up to lie and tell the man looking for his missing wife that the coat hanging on the hook is hers is great. We finally get to see Tim Roth killing several victims during the third episode (although all mention of his necrophile tendencies has been excised here too).
Certainly, the one area the 1971 film did much better than the mini-series is during the sections of Tim Evans' trial. (The mini-series incidentally makes Evans seem more intelligent than the half-witted performance given by John Hurt in the original – here Evans merely has a tendency towards stretching the truth and making exaggerated claims where you get the impression he is someone of average intelligence rather than had an IQ of 70 as the real Evans did). The 1971 film built the trial scenes out into much more in the way of suspense – in effect telling a double story that left us unsure whose claim to believe. By contrast, the trial here is one where we know what happened and it is quite clearly Christie lying to frame an innocent Evans. Nevertheless, the mini-series gains considerable strength when it comes to the third episode and we move from Ethel's moral uncertainties of the first episode and the trial of Tim in the second to finally see Reg fully in his element killing several victims.
Rillington Place is directed by Craig Viverios who has made a couple of films with the non-genre Ghosted (2011) and The Liability (2012) but has mostly worked in British television, including directing other mini-series such as the Agatha Christie adaptation And Then There Were None (2015) and The War of the Worlds (2019).
(Nominee for Best Adapted Screenplay and Best Actress (Samantha Morton) at this site's Best of 2016 Awards).
---
---