(Tenemos la Carne)
---
Crew
Director/Screenplay – Emiliano Rocha Minter, Producers – Julio Chavezmontes, Moises Cosio & Emiliano Rocha Minter, Photography – Yoliotl Alvarado, Music – Esteban Aldrete, Production Design – Manuela Garcia. Production Company – Piano/Detalle Films/Sedna Films/Splendor Omnia.
Cast
Noe Hernandez (Mariano), Maria Evoli (Fauna), Diego Gamaliel (Lucio)
---
Plot
Mariano lives alone in a large, rambling warehouse. Brother and sister Lucio and Fauna break through into his domain, starving. He offers them food and shelter but in so doing pushes the two of them to have sex and embrace every depravity imaginable.
---
We Are the Flesh is a debut feature from 24-year-old Mexican director Emiliano Rocha Minter who had previously only made one short film. The film impressively comes with the backing of high-profile Mexican directors like Alejandro Gonzalez Iñarritu and Carlos Reygadas.
There are not many films you can accuse of going all-out in a determination to push way over taboo lines and keep on going without any compromise. There are a select handful of these in genre cinema – Salo or 120 Days of Sodom (1975), Day of the Woman/I Spit on Your Grave (1978), Cannibal Holocaust (1979), NEKRomantik (1987), Men Behind the Sun (1988), A Serbian Film (2010). We Are the Flesh is almost certainly one that can join that group.
We Are the Flesh has never been construed as much more than a catalogue of taboo-defying depravities. The demoniac Noa Hernandez first persuades brother and sister Diego Gamaliel and Maria Evoli to have sex, which they do in a great deal of detail. Elsewhere we get scenes of human flesh being ground up as meat, sex with corpses, Maria Evoli dripping menstrual blood down on her brother's face, Noe Hernandez jacking off, and lots of scenes of naked bodies and genitalia in closeup. There is not too much more to the film beyond that.
This is essentially what Salo also did – worked its way through a catalogue of depravities. One is perhaps reminded more of Takashi Miike's Visitor Q (2001) in which a mysterious stranger forced his way into a regular household and turned everything upside down, albeit with it here being the family who are the visitors who are corrupted by the home owner. Perhaps even more so I was reminded of the recent Turkish Baskin (2015) where police officers descend into a surreal netherworld of torture and depravity – there is the similar sense here of the venue taking place in some allegorical universe.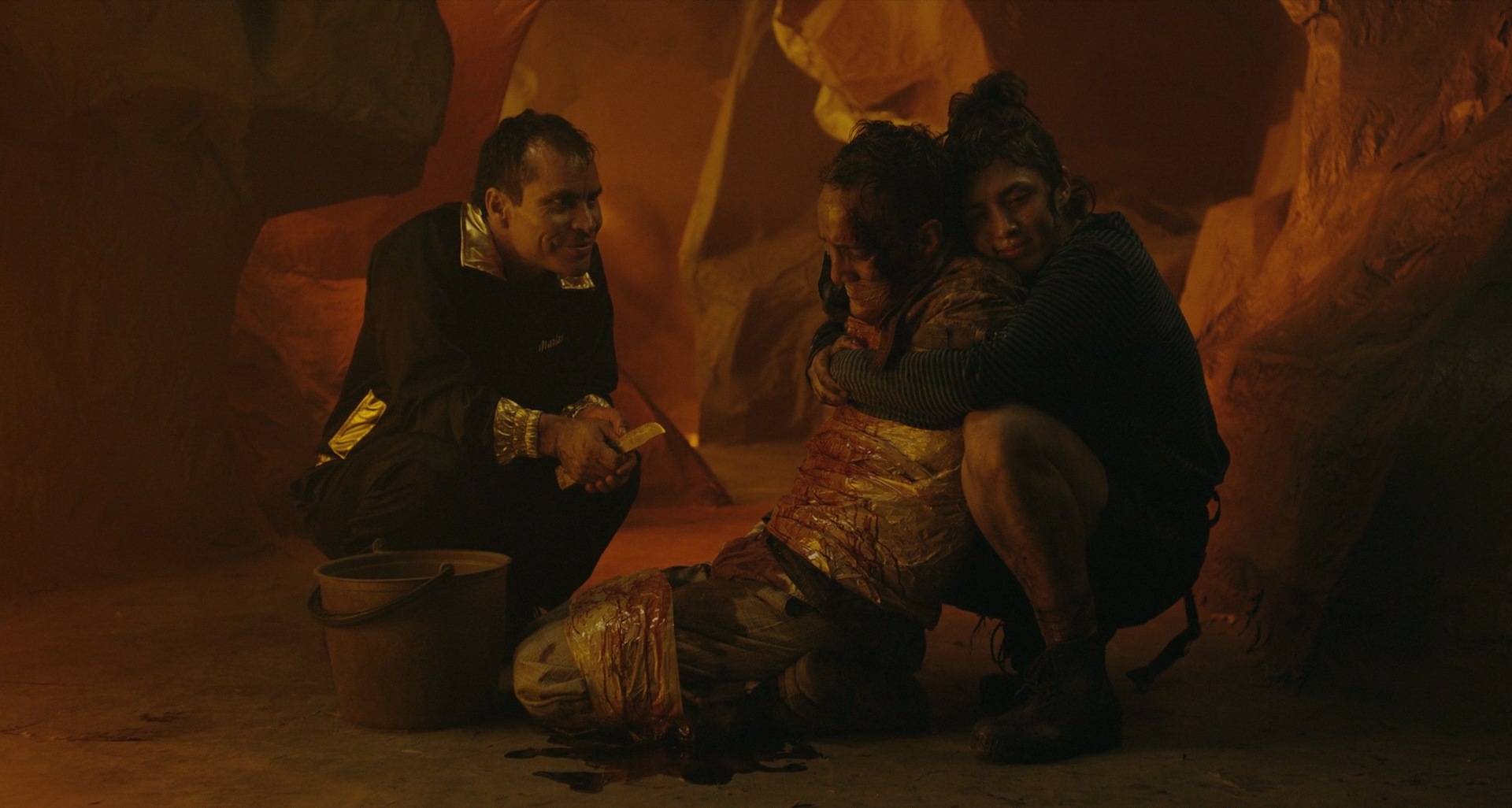 However, We Are the Flesh is devoid of even the nominal plot of either of these. Ultimately, I found watching a film that didn't give you any motivational handholds – why things were happening, who the people were – to be irritating. It forces you to focus on the depravities but even in the relatively brief 80-minute running time these and the performances start to slip into a repetitive tedium around the halfway point.
Emiliano Rocha Minter has called We Are the Flesh a political film but, unless it is tapping some far more nuanced Mexican internal politics I am not aware of, this is exactly what it is not. It is political in the sense that someone stripping their clothes off or shouting a torrent of obscenities in the street can be construed as a protest. In terms of whether it is a film that carries a message, that is another whole kettle of fish.
The film seems to lunge at metaphors without ever connecting – Mariano builds a giant womb replica for some reason. The world we are in has been called futuristic by more than one reviewer but, beyond being rundown and somewhat chaotic, there is nothing to otherwise indicate we are in a future setting, while the last shot of the film gives the indication that we should regard much of this as allegorical.
---
---