Germany/USA. 2010.
Crew
Director/Screenplay – Bruce LaBruce, Producers – Jürgen Brünning, Robert Felt, Jörn Hartmann, Bruce LaBruce, Arno Rok, Damien Todaro & Matthias Von Fistenberg, Photography – James Carman, Music – Kevin D. Hoover, Symphonic Score – Mikael Karlsson, Special Effects/Makeup Effects – Joe Castro, Art Direction – Steve Hall. Production Company – PPV Networks/Dark Alley Media/Wurstfilm GmBh/Arno Rok.
Cast
Francois Sagat (Zombie), Francesco D'Macho, Adam Kilian, Erik Rhodes & Matthew Rush (Drug Deal Victims), Rocco Giovanni (Car Accident Victim), Wolf Hudson (Shooting Victim), Eddie Diaz (Dead Guy Dumped Out of Car), Tim Kuzma (River Shooter), Andrew James (Homeless Overdose Man), Santino Rice & Tony Ward (Homeless People)
---
Plot
A zombie rises out of the ocean near Los Angeles. It stumbles through the city, living among the homeless. Whenever it comes across the corpses of other men, it has sex with them where its ability to ejaculate blood brings them back to life.
---
The zombie film has been through just about every possible silly permutation in recent years – up against ninja in Ninjas vs Zombies (2008), cheerleaders in Zombie Cheerleader Camp (2007), combined with the Western in The Quick and the Undead (2006), in musical form in Z: A Zombie Musical (2007), even adaptations of classic literary works such as Romeo and Juliet vs the Living Dead (2009) and Pride and Prejudice and Zombies (2016). We have also had Porn of the Dead (2006), Zombie Strippers! (2008) and Stag Night of the Dead (2009), so it was probably inevitable that someone would make the first gay pornographic zombie movie.
L.A. Zombie comes from Bruce LaBruce, a Toronto-based journalist, photographer and filmmaker. LaBruce (in fact, born Bryan Bruce) has written for various Canadian cinema and music magazines, but gained attention in particular with his photographic work for gay magazines. Much of LaBruce's photographic work can be found on his website and pushes a certain envelope – it is hardcore and often confrontational where he covers a good deal of S&M/bondage/fetish material, or chicks with guns poses that on closer inspection are shown to be played out by chicks with dicks and the like.
Bruce LaBruce began making gay-themed films with No Skin Off My Ass (1991), Super 8½ (1994), Hustler (1996) and Skin Gang/Skin Flick (1999). It was with Skin Flick that LaBruce started to court controversy, showing a gang of skinheads engaged in sex, something that increased with his next film The Raspberry Reich (2004), a pornographic film about terrorists. LaBruce first broached the gay zombie film with his previous film Otto; or, Up With Dead People (2008), which feels like a rehearsal for the full flowering the idea gets here. L.A. Zombie made the rounds of various film festivals and gained controversy after it was banned by the Melbourne International Film Festival on grounds of obscenity. This only served to turn it into a must-see item.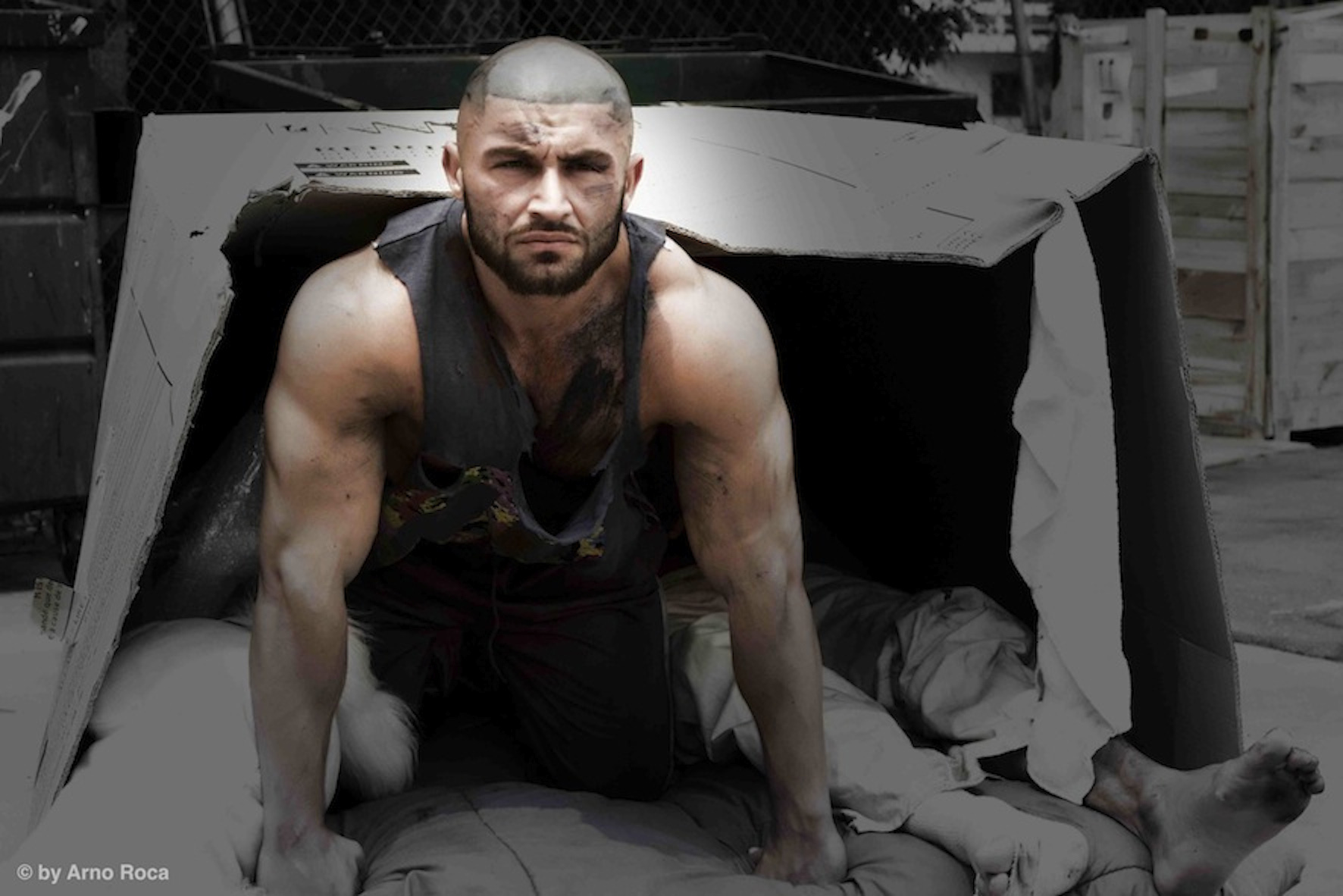 Like much of Bruce LaBruce's work, L.A. Zombie is intended to hold shock value. This undeniably occurs a few minutes into the film after the zombie (hardcore gay porn actor Francois Sagat) walks up on a beach out of the ocean and hitchhikes a ride with a man (Rocco Giovanni) in an SUV, they have an accident in which the man is killed whereupon the zombie is moved to pull out his dick and hump the corpse through its gutted intestines, before ejaculating blood across the body's face, which causes the dead man to come back to life.
This fairly much sets the tone for L.A. Zombie. Indeed, the film consists of not much more than a progression of scenes where Francois Sagat stumbles through the down and out parts of L.A., discovers dead bodies and has sex with them. It is exactly like a porn film that stages serial sex scenes with a minimum of plotting in between – in fact, there is almost no dialogue throughout the film. Plotting seems even more indifferent than usual – there is no explanation of who or what the zombie is, what created it or what it initially came out of the ocean. The film fails to even have any concern for what happened to the dead after they are revived – it is simply onto the next scene of Sagat encountering and having sex with a corpse.
Certainly, Bruce LaBruce holds no punches when it comes to his porn scenes. Francois Sagat comes across a gangbanger (Eddie Diaz) who has been shot in the head, starts to fuck the bullet hole in the corpse's head, only for the dead person to come to life and complete the action with a blowjob. Sagat comes across a derelict who has died in a cardboard box and revives him with a bout of anal sex. There is a long scene where he comes across four leather boys in a studio who have been shot in a drug deal gone wrong and revives them for an orgy where everybody becomes covered with gore. Bruce LaBruce is clearly also into watersports – we see Francois Sagat urinating in a puddle of water and then bathing himself in it and there is a later scene where the four leather boys all piss on another guy.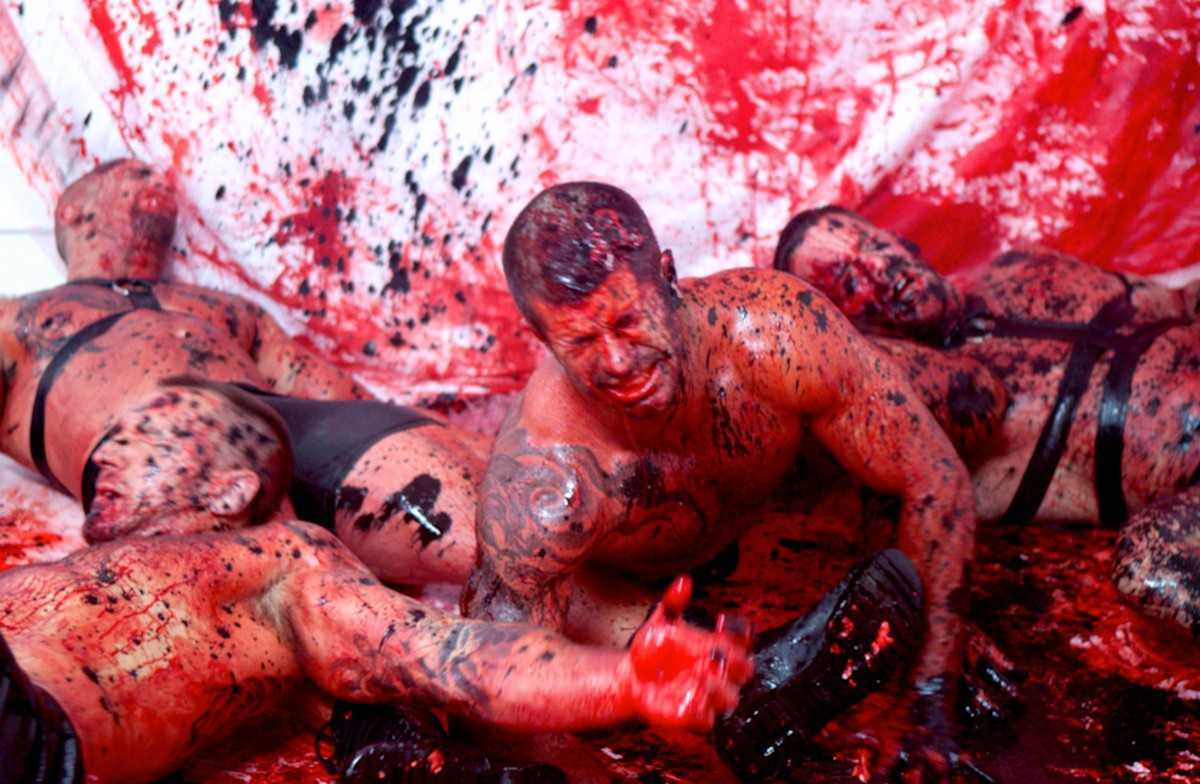 All of either is or isn't titillating depending on one's penchant for gay porn. I'm not gay so I don't feel that I am in any place to pass judgement on whether or not L.A. Zombie works as good or bad gay porn. On the other hand, you cannot help but wonder some things. Is L.A. Zombie actually attempting to be a porn film or just setting out to outrage? I mean, I would find it hard to believe many people out there would find a scene where someone has sex with the wounds in the stomach of a corpse arousing. Or where a group orgy is held among men covered in gore and body parts, even dead animal carcasses.
Even if you were to look at the film in terms of porn, Bruce LaBruce's sex scenes are by no means hardcore pornography – at most a couple of blowjobs and a few naked dicks. That leaves the sole thing that drives the film being the intended outrage value of mixing a zombie, some very fake necrophilia scenes and (semi)-hardcore gay pornography. That is certainly the blend that managed to get various people upset. One suspects the true purpose behind L.A. Zombie is that Bruce LaBruce is less a pornographic filmmaker than a gleeful agitator who latches onto pornography solely for its outrage value.
As a zombie film, L.A. Zombie holds little beyond the initial outrage factor. Indeed, the metaphor that drives the usual zombie film has been reversed – instead of zombies pursuing the living and devouring them, we have a zombie having sex with the dead and bringing them back to life. The zombie film and the pornographic film do not easily mix – it seems hard to throw together the idea of the dead devouring flesh and intestines with the erotic, which is maybe the reason why Bruce LaBruce has reversed the connection and had the zombie reviving the dead by having sex with them.
---
---