---
Crew
Director/Screenplay – Micheal Bafaro, Story – Micheal Bafaro & Evan Tylor, Producers – John Curtis, Don Knodel & Evan Tylor, Photography – Ian MacDougall & Jon Thomas, Music – Vince Mai, Visual Effects – Exile Visual Effects Studio (Supervisor – Francois Latremoille), Special Effects Supervisor – John Sampson, Production Design – Jordan Andrews & Kays Vanderest. Production Company – Industryworks Studios.
Cast
Anna Hutchison (Emily Kirk), Dréa Whitburn (Leslie McQueen), Jennifer Koenig (Waitress), Michael Dickson (Pickup Driver), Steve Thackray (Cop), Andy Nez (Frank), Lori Watt (Wife), Kurtis Maguire (Gas Jockey), Dylan Rhymer (Night Gas Jockey)
---
Plot
Best friends Emily and Leslie are driving from Seattle to Palm Springs. They take a detour down a backroad called Devil's Pass. There they try to pass the driver of a tow truck but he takes a dislike to them and begins harassing and stalking them along the route, playing a series of games that became increasingly deadly in nature.
---
Wrecker is the ninth directorial film for Canadian director Micheal Bafaro. After writing a few screenplays, Bafaro made his directorial debut with the low-budget heist film For a Few Lousy Dollars (1998). Bafaro next broached genre material with the science-fiction film Sleeping Dogs (1998) and then discovered the horror genre with The Barber (2002). He has remained with horror ever since, turning out the likes of 11: 11 (2004), Cranes (2006), The Cycle (2009), Rise of the Damned (2011), Embedded (2012), Amber's Descent (2020), Flu (2020), the non-genre MyPhone (2022) and 5G: The Reckoning/Ascension (2023). I have to admire Bafaro's enthusiasm but not many of his films have attained very good notices. Wrecker is the most high-profile of Bafaro's films to date and even received a theatrical release in some places.
When it comes to Wrecker, it seems that rather than work from one of his own original screenplays, Bafaro has simply gone away and copied another entire film. To put it plainly, Wrecker is an uncredited remake of Steven Spielberg's first film Duel (1971). In Duel, average salesman Dennis Weaver found himself engaged in a deadly cat-and-mouse game up against a truck along a stretch of California highway.
Bafaro has substituted two twentysomething girlfriends for Weaver but Wrecker is essentially the same film. Bafaro copies Duel in almost every respect, including the fact that we never get to see the driver of the truck any more than his shoes and arm. There are clear recreations of classic scenes from Duel such as the truck bearing down and ramming the phone box, the end with the truck teetering on a cliff edge and the scene in the diner (see below).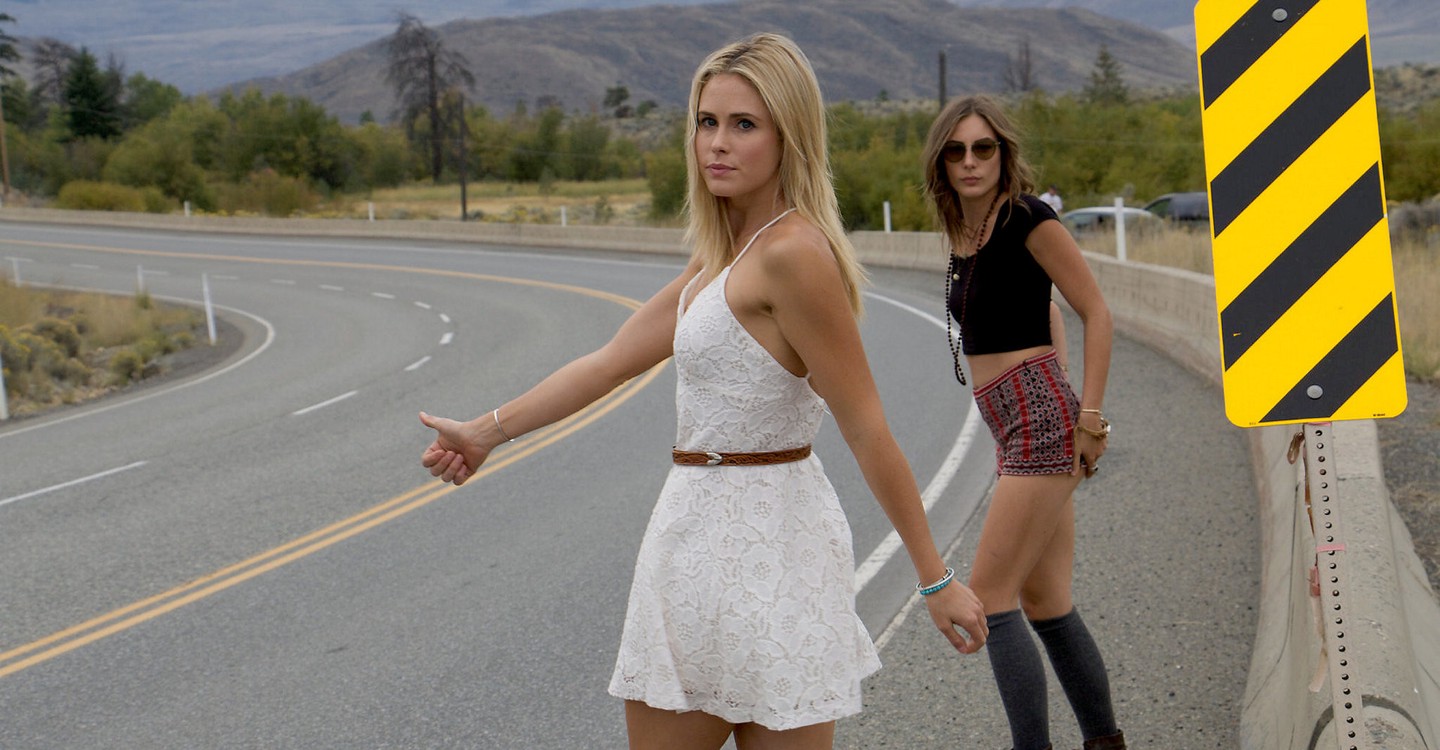 The odd thing about this is that neither the 1971 film nor screenwriter Richard Matheson and his original short story are credited anywhere throughout Wrecker. In an interview I read, Bafaro claims that he received the idea for Wrecker after watching two girls while on a road trip himself but nowhere in it does he credit Duel and Richard Matheson as his source for everything else in the film.
Which either makes Wrecker into a whopping case of coincidence – which seems improbable given that Bafaro outrightly copies several scenes and almost the entire plot structure from Duel – or else we have a blatant case of plagiarism. It would not surprise me to see a court case in which Bafaro is sued by the copyright holders of Duel in the not terribly distant future.
All of that said, Bafaro may blatantly copy but misses the subtlety that Spielberg and Matheson gave Duel by enough room to run an entire highway system through it. Bafaro duplicates scenes like the one where Dennis Weaver walks among the patrons in the diner wondering which one is the truck driver and who to confront but here has not only two different drivers that are suspected but Anna Hutchinson getting into a crazed confrontation with one of them, as opposed to Spielberg who far more subtly left the scene as one that entirely happens in Weaver's imagination.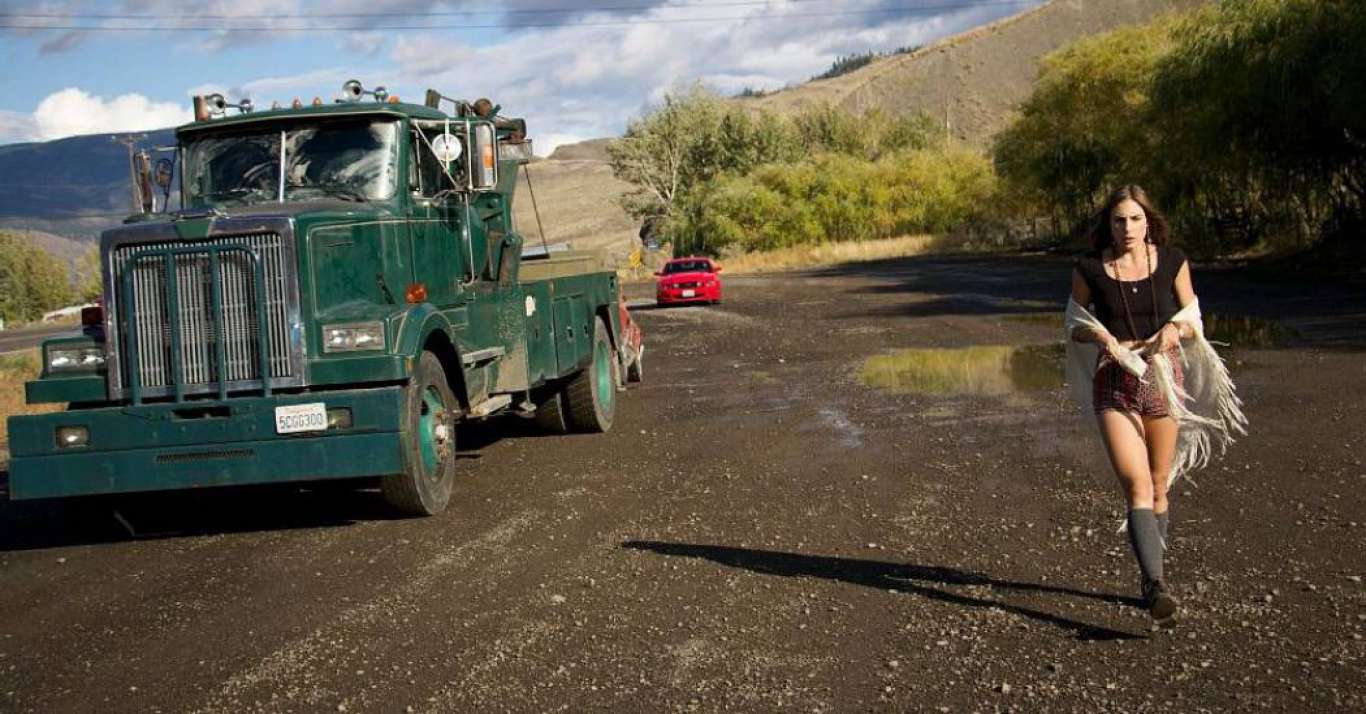 There are heap of additional plot elements and characters added to the original story – the most absurd of which is one that has Dréa Whitburn seemingly abducted by the truck driver partway through. It should be worth noting that in Duel nobody gets killed, whereas here the film seems fit to add a list of supplementary deaths including a cop, the couple in the prologue and the disappearance of Dréa Whitburn. Not to mention that Bafaro stoops to some of the most pointless cliche sequences in the horror book – the addition of jump dream sequences.
It is easy to see what possessed Bafaro to replace Dennis Weaver with two girls – it no longer makes the film a one-man show and gives someone else to bounce the dialogue off. But did Bafaro really need to cast two such unlikeable girls? As we pass through the opening scenes of them on the road, drinking, taking about guys and so on, both the banal forcedness of the dialogue and the self-absorbed airheadedness of the two has you welcoming the killer truck to come and eliminate them.
In laughable overkill, the unseen driver is even denoted by a pentacle and inverted crucifix hanging in his cab, while the shortcut the girls take is with crashingly obvious symbolism known as 'Devil's Pass'. There is even an end coda that offers a possibly supernatural explanation where we see the truck alive again, seemingly resurrected from the dead.
---
---