---
Crew
Director/Screenplay – Mark Tonderai, Producers – Robin Gutch, Mark Herbert, Colin Pons & Zoe Stewart, Photography – Philipp Blaubach, Music – Theo Green, Visual Effects Supervisor – Justin Cornish & Brooke Lyndon-Stanford, Visual Effects – Atomic Arts & Filmgate, Special Effects Supervisors – Scott MacIntyre & Ian Rowley, Prosthetics – John Schoonraad, Production Design – Matt Gant & Sabine Hviid. Production Company – Film 4/UK Film Council/EM Media/ScreenYorkshire/Fear Factory PLC/Pathe/Warp X/Shona Productions.
Cast
Will Ash (Zakes Abbott), Christine Bottomley (Beth), Andreas Wisniewski (The Tarman), Claire Keelan (Wendy), Stuart McQuarrie (Thorpe), Robin Gee (Chimponda), Peter Wyatt (John Coates), Sheila Reid (Mrs Coates), Shaun Dingwall (PC Mitchell)
---
Plot
Zakes Abbott and his girlfriend Beth are driving through Yorkshire along the M1 on a rainy night. They are having problems in their relationship. As they drive, the back of a truck in front of them bursts open and Zakes is shocked to see a woman imprisoned inside. He goes to call the police but needs the licence number of the truck to give them, however cannot see it because the licence plate is covered with mud. He becomes obsessed with getting close and finding the licence number. As they pull up at a roadside cafe/garage, Beth announces that she wants to split up. When Zakes returns from the bathroom, she is gone. He realises that she has been abducted by the driver of the truck. After finding the tires of the car punctured, he steals a vehicle to follow. His determined pursuit instead has him hunted by police and blamed for the dead bodies that the driver has left behind.
---
Hush – not to be confused with the histrionic Jessica Lange-Gwyneth Paltrow melodrama Hush (1998) or the subsequent Mike Flanagan thriller Hush (2016) – was a directorial debut for Mark Tonderai. Tonderai was a former BBC radio host who moved into television. After Hush received moderate acclaim, Tonderai went to the US to direct the Jennifer Lawrence psycho-thriller House at the End of the Street (2012). This received poor notices and it was several years before Tonderai returned to the director's chair with the ridiculous voodoo film Spell (2020). During this time, he also co-write Day of the Dead: Bloodline (2018) and has been active as a director on television in shows ranging from Doctor Who (2005- ) to Gotham (2014-9) and 12 Monkeys (2015-8).
With Hush, Mark Tonderai creates a road movie psycho-thriller. The clear influence over almost any film that uses such a premise is Steven Spielberg's first film Duel (1971). The influence becomes obvious here with the story about one man on a motorway with a truck as nemesis. Moreover, the Duel influence is even further emphasised by the fact that we rarely get to see the face of the truck's driver.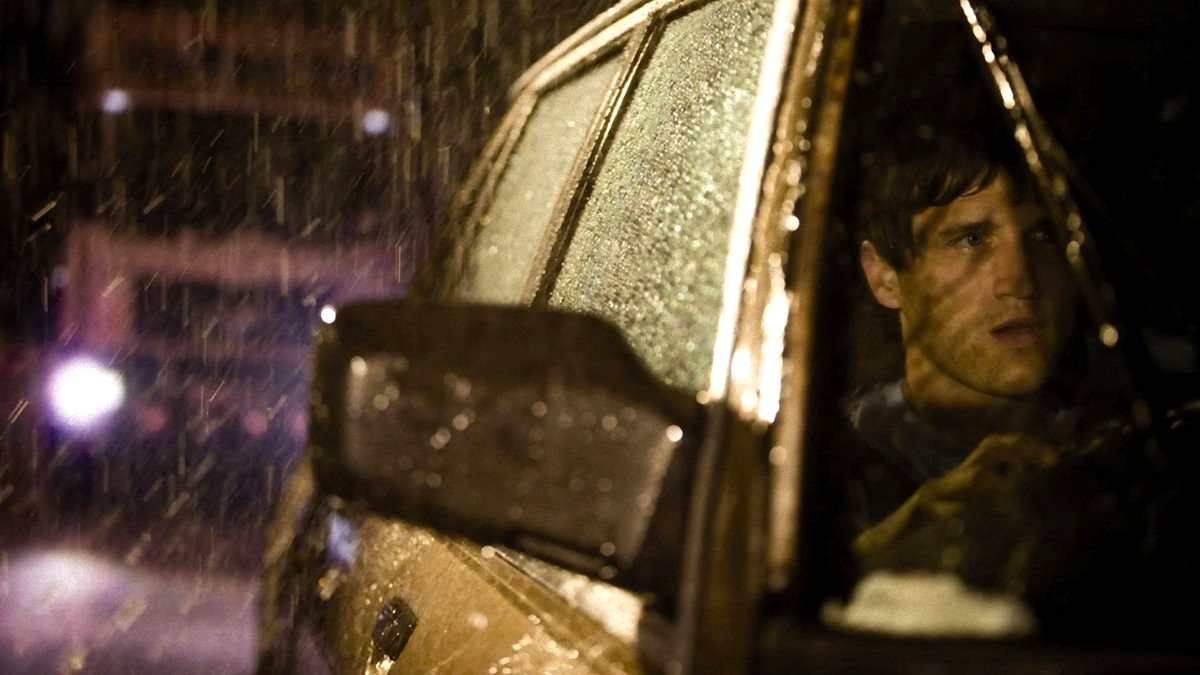 Tonderai does expand out on the basics of Duel – the original was just a series of games on the road between motorist Dennis Weaver and the malevolent truck and its never-seen driver, whereas here Tonderai opens up with several stop offs, a climax that leaves the road altogether and the introduction of other supplementary characters, as well as a plot that has Will Ash trying to rescue his abducted girlfriend Christine Bottomley from inside the truck, while being hunted by police thought to be the killer. These additions serve to take Hush closer to the also Duel-influenced The Hitcher (1986).
Tonderai develops everything with a reasonable degree of tension, particularly during the climactic scenes with Will Ash trying to outwit the driver in and around his lair. There are a suitable number of twists and turns. The only issue one has with the film is that it is dependent on a number of highly improbable twists – [PLOT SPOILERS] that the security guard at the truck stop is conveniently in on the abduction scheme, that the driver would drop his abductee off as a decoy to lead Will Ash away rather than expect her to do the obvious thing and escape. The script also has people doing eminently daft things – like stealing someone's car to go in pursuit – that would seem to only work in the realm of American action films. It is these credulity defying aspects that damage what is otherwise a solid show.
---
---