---
Crew
Director – Ruben Fleischer, Screenplay – Rhett Reese & Paul Wernick, Producer – Gavin Polone, Photography – Michael Bonvillain, Music – David Sardy, Visual Effects Supervisor – Paul Linden, Visual Effects – CIS Vancouver (Supervisor – Mark Breakspear), Encore Hollywood, Logan (Supervisor – Stephen Kosinski) & Zoic Studios (Supervisors – Patti Gannon & Rocco Passionino), Special Effects Supervisor – Bob Shelley, Makeup Effects Supervisor – Tony Gardner, Production Design – Mahmer Ahmad. Production Company – Columbia/Relativity Media/Pariah.
Cast
Jesse Eisenberg (Columbus Ohio), Woody Harrelson (Tallahassee), Emma Stone (Wichita), Abigail Breslin (Little Rock), Bill Murray (Himself), Amber Heard (406)
---
Plot
Columbus is a teenage nerd who is afraid of most things. He has survived a zombie onslaught that has wiped out most of civilisation and continues on, having created a set of rules for survival. He is travelling back to Columbus, Ohio, to see if his family survived. Outside Garland, Texas, he meets the loud-mouthed Tallahassee who takes great enjoyment in killing zombies and is searching for one last remaining Twinkie. Tallahassee offers Columbus a ride. When they sidetrack to a supermarket looking for Twinkies and offer to help Wichita, whose twelve year-old sister Little Rock appears to be about to turn zombie, the sisters instead rob them of their weapons and vehicle. Columbus and Tallahassee find a Hummer and continue on, only to come across the other vehicle broken down and be taken prisoner by the girls again. A gradual thawing begins as they continue on together, the girls wanting to head to the Pacific Playland amusement park in L.A. In Hollywood, they seek refuge at the mansion of actor Bill Murray, only for Columbus to accidentally kill him. During all of this, Columbus realises an increasing attraction to Wichita.
---
The zombie film became a big fad for horror of the 2000s, following the successes of works like 28 Days Later (2002), the remake of Dawn of the Dead (2004) and Shaun of the Dead (2004). These successes opened the floodgates to an enormous number of other zombie films. Soon these started to go beyond replicating the basics and took their lead from Shaun of the Dead by parodying the form or conducting wacky title collusions. It should be said also that the majority of these copycat zombie films are cheap efforts that are usually made independently. Zombieland, for instance, is one of the few zombie films to attain a cinematic release. (For a more detailed overview of the genre see Zombie Films).
Zombieland is pitched as another zombie parody. Director Ruben Fleischer says that he took his inspiration from Shaun of the Dead. As you sit down to watch you wonder, given the sheer number of zombie films and zombie parodies being made out there in the last four or so years, what it is that Zombieland could find left in the zombie genre that has not been touched. The sheer profusion of copies is starting to feel like it has milked the zombie film of all possibilities that the genre has.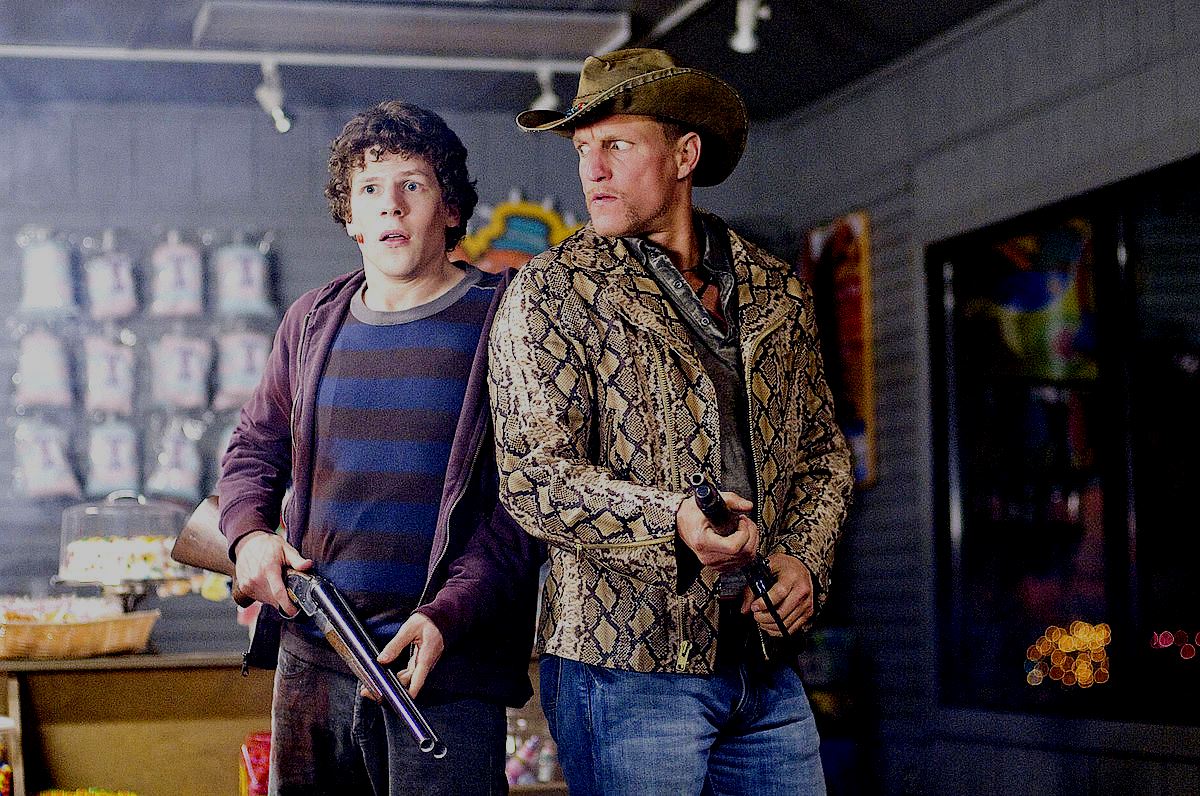 And as Zombieland sets in, it seems like a weak copy of Shaun of the Dead. The gags often fall flat, while Jesse Eisenberg's series of rules for dealing with zombies seem an amusing idea that feels strained in the presentation. On the other hand, once Woody Harrelson enters the scene, followed by the two girls, Zombieland gains a great deal more life. In fact, one feels that calling Zombieland a parody is more of a misnomer that has been created by the publicity department as a niche to push the film into than anything else. What it feels like is more of a comedic road movie – with zombies! As a comedy on its own, it keeps feeling like it should be funnier than it is.
Zombieland's strengths are in its characters and their interplay, more so than its gags or the zombie splatter. Jesse Eisenberg tries hard but is stuck with a character that is a wet blanket throughout. However, the film finds its feet with the entrance of Woody Harrelson. The redneck, zombie ass-kicking Twinkie-moping Tallahassee is a role that suits Harrelson perfectly. One is unable to recall him in any other part in the last while where he seemed to be having so much fun and the film would be a great deal less without his presence to animate it. Enjoyable as well are the tough and beguiling Emma Stone and young Abigail Breslin who gives an unexpectedly intelligent performance as the younger sister. The act the two have going and their gradual thawing to the company of the others proves the backbone of the film.
The film also gets its greatest mileage out of an extended cameo by Bill Murray (playing himself). The whole sequence and the Ghostbusters (1984) homages perhaps go on longer than needed as though the filmmakers were too much in awe of Murray's presence to cut anything, nevertheless Murray has some characteristically amusing lines – when asked on his death bed "Do you have any regrets?" his reply is "No. Garfield (2004) maybe?"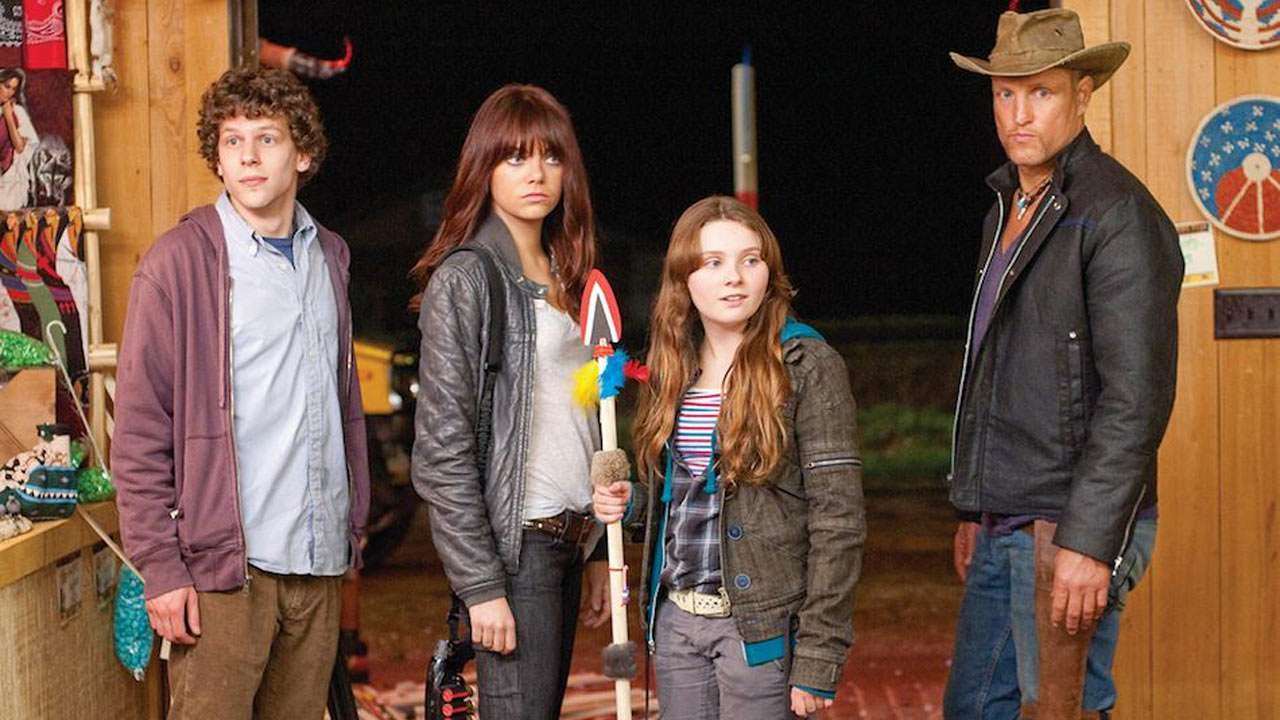 Ruben Fleischer does not stint when it comes to the expected gore of the genre. That said, Zombieland is relatively light on zombie attacks (more so than most in the genre), although Fleischer gets it together for a reasonable siege climax running around the fairground. The result defies expectation to prove a modest effort of far more likeability than one would have given it at the outset.
Subsequently, Zombieland was announced as a tv series, although this failed to go anywhere beyond a tv pilot that aired in 2013 in which Tyler Ross and Kirk Ward replaced Jesse Eisenberg and Woody Harrleson respectively. Ruben Fleischer and most of the cast eventually reunited for the sequel Zombieland: Double Tap (2019).
Director Ruben Fleischer next went onto make the bank robbing comedy 30 Minutes or Less (2011), the true crime film Gangster Squad (2013) and returned to genre material with the Marvel Comics film Venom (2018) and the videogame adaptation Uncharted (2022). The screenwriting team of Rhett Reese and Paul Wernick subsequently went on to write G.I. Joe: Retaliation (2013), Deadpool (2016), Life (2017), Deadpool 2 (2018) and Spiderhead (2022).
(Nominee for Best Supporting Actor (Woody Harrelson) at this site's Best of 2009 Awards).
---
---