---
Crew
Producers – Tim League & Ant Timpson, Created by Ant Timpson, Title Sequence Directed and Animated by Wolfgang Matzl, Music – Isabel Greiwe & Andre Roessler. Production Company – Drafthouse Films/Timpson Films.
A is for Amateur.
Crew: Director – E.L. Katz, Screenplay – David Chirchirillo, Producers – Peter Katz, Don Le & Bobbie Sue Luther, Photography – Benjamin Kitchens & Andrew Wheeler, Music – Mads Heldtberg, Visual Effects – Handsome LLC (Supervisor – Dimitri Loginowski), Special Effects Supervisor – David Nicholson, Makeup Effects – Hugo Villasenor, Production Design – Chris Farmer.
Cast: Eric Jacobus (Assassin), Andy Nyman (Coke Dealer)
B is for Badger.
Crew: Director/Screenplay – Julian Barratt, Producer – Andy Starke, Photography – Nick Gillespie, Special Effects/Prosthetics – Liam Doyle, Dan Martin & 13FingerFX, Production Design – James Lapsley. Production Company – Rook Films.
Cast: Julian Barratt (Peter Toland), Will Adamsdale (Director), Matthew Steer (Sound Man)
C is for Capital Punishment.
Crew: Director/Screenplay – Julian Gilbey, Producers – Julian Gilbey & Matthew Hobbs, Photography – Adam Hall, Visual Effects – Colin J. Smith, Special Effects Design – Dan Martin, Production Design – Matthew Button.
Cast: Ian Virgo (Fletcher Powell), Ryan Winlsey (Tobias), Tom Bonington (Father Chester), Dominic Mowbray (Barclay), Felix Hartley-Russell (Jasper), Lauren Dallison (Lucy Wilson)
D is for Deloused.
Crew: Director/Screenplay/Photography/Animation – Robert Morgan, Music – ZnO. Production Company – Swartz Can Talk Productions
E is for Equilibrium.
Crew: Director – Alejandro Brugues, Based on an Idea by Alejandro Brugues & Marc Walkow, Producer – Asori Soto, Photography – Pedro Luque, Music – Kyle Newmaster, Visual Effects – Rudel Reyes, Production Design – Sara Millan. Production Company – The Cortez Brothers/Producciones de la 5ta Avenida.
Cast: Miguel Angel Munoz, Fernando Costa, Martina Garcia
F is for Falling.
Crew: Directors – Aharon Keshales & Navot Papushado, Producer – Nadav Shlomo Giladi, Music – Frank Ilfman, Special Effects Supervisor – Rafi Ben Aharon, Production Design – Arad Shawat. Production Company – Dream Catcher Productions.
Cast: Dana Meinrath (Soldier), Tawfeek Barhom (Boy)
G is for Grandad.
Crew: Director – Jim Hosking, Screenplay – Toby Harvard & Jim Hosking, Producer – Andy Starke, Photography – Laurie Rose, Special Effects/Prosthetics – Dan Martin & 13FingersFX, Production Design – James Lapsley. Production Company – Rook Films.
Cast: Nicholas Amer (Grandad), Richard Hardisty (Grandson)
H is for Head Games.
Crew: Director/Producer/Animation – Bill Plympton
I is for Invincible.
Crew: Director/Screenplay – Erik Matti, Photography – J.A. Tadena, Music – Erwin Romulo, Visual Effects Supervisor – Miguel Javier, Production Design – Adelina Leung. Production Company – Reality Entertainment.
Cast: Sherry Lara (Mama), Jun Urbano (Caloy), Tommy Abuel (Quinito), Arlene Muhlach (Conchita), Yayo Aguila (Carmela)
J is for Jesus.
Crew: Director/Screenplay – Dennison Ramalho, Story – Jeff Buhler, Producers – Rodrigo Castellar & Pablo Torrecillas, Photography – Jose Roberto Eliezer, Music – Paulo Beto, Visual Effects – Stian Hafstad, Special Effects/Makeup Effects – Kapel Furman. Production Company – TC Filmes.
Cast: Francisco Barreiro, Roberto Alencar, Valter Santos, Jiddhu Pinheiro, Carlos Meceni
K is for Knell.
Crew: Directors/Screenplay – Kristina Buozyte & Bruno Samper, Producers – Kristina Buozyte, Jurja Jutaite, Bruno Samper, Gabija Siurbyte & Vitalijus Zukas, Photography – Rolandas Leonavicius, Music – Vytis Puronas, Special Effects Supervisor – Artiom Grigorian, Production Design – Monika Kisieliute.
Cast: Julija Steponaityte (The Girl)
L is for Legacy.
Crew: Director/Producer/Story Concept – Lancelot Iduwa Imasuen, Screenplay – Ossa Earlice, Photography – Fortune Ejim Kazi, Special Effects Director – Geofery Gania. Production Company – Iceslides Film.
Cast: Michael Isokpan (Prince), Ehigiator Joy Nosa (Esaogho), Godwin E. Uwaifo (Ogiso Owodo), Philip O. Philip (Monster)
M is for Masticate.
Crew: Director/Screenplay – Robert Boocheck, Producers – Robert Boocheck & Wade Harpootlian, Photography – Simon Thirlway, Music – White Fence, Digital Effects – Mind Over Eye, Visual Effects Supervisor – Mat Fuller, Makeup Effects – Monster FX (Ron Karkoska & Mark Villalobos), Production Design – Arne Knudsen.
Cast: Pat Daniel (Himself), Joe O'Dell (Jogger), Kestrin Pantera-Grubb (Terrorized Woman), Rob Lamorgese (Victim)
N is for Nexus.
Crew: Director/Screenplay/Photography – Larry Fessenden, Producer – Jenn Wexler, Music – Jeff Grace & Graham Reznick. Production Company – Glass Eye Pix.
Cast: Lauren Molina (Bride), Michael Dragon Vincent (Monster), Hanna Cheek (Passenger), Aaron Beall (Driver), Lexington Sloane Kennedy (Skeleton), Aurelio Voltaire (Pirate)
O is for Ochlocracy (Mob Rule).
Crew: Director/Screenplay – Hajime Ohata, Producer – Mai Nakanishi, Photography – Kenji Noguchi, Music – Hiroyuki Nagashima, Visual Effects Supervisor – Yuichiro Kamimura, Makeup Effects – Yoshihiro Nishimura. Production Company – Shaiker Co., Ltd.
Cast: Aki Morita (Kana Miyazaki), Takahiro Ono (Public Prosecutor), Kazuhiro Nakahara (Judge), Takashi Nishina (Attorney), Yui Sato (Mai Miyazaki)
P is for P-P-P-P Scary!
Crew: Director/Screenplay – Todd Rohal, Producers – Arts + Labor, Zack Carlson & Clay Liford, Photography (b&w) – Clay Liford, Music – Nikolay Doktorov, Makeup Effects – Benjamin Ploughman & April Swartz, Production Design – Scott Colquitt.
Cast: Bryan Connolly, David Strong, Vincent Prendergast, Ivan Dimitrov (Himself)
Q is for Questionnaire.
Crew: Director/Screenplay – Rodney Ascher, Producer – Tim Kirk, Photography – Bridger Nielson, Music – Jonathan Snipes, Makeup Effects – Ben Rittenhouse, Production Design – Vanessa Augustin. Production Company – Highland Park Classics.
Cast: Jordan D. Morris (Testee), Jess Lane (Tester), Jim Earl (Surgeon)
R is for Roulette.
Crew: Director – Marvin Kren, Screenplay – Benjamin Hessler, Producer – Pia Sophie Abazovic, Photography (b&w) – Moritz Schultheiss, Music – Marco Dreckkotter & Stefan Will, Special Effects – Peter Wiemker.
Cast: Andre Hennicke (Klaus), Alma Leiberg (Nina), Andreas Dohler (Michael)
S is for Split.
Crew: Director/Screenplay – Juan Martinez Moreno, Producer – Ben Jacques, Photography – Jon Britt, Music – Sergio Moure, Visual Effects – Utilizzo Design, Special Effects/Prosthetics – Dan Martin, Production Design – Felix Coles.
Cast: Victoria Broom (Miriam), Alan McKenna (Bob), Mathew Kaye (Intruder Masked), Kiera Thomas (Intruder Unmasked), Gary Reimer (Husband)
T is for Torture Porn.
Crew: Directors/Screenplay/Producers – Jen Soska & Sylvia Soska, Photography – Mahlon Todd Williams, Music – Kevvy Mental, Creatures – MastersFX. Production Company – Twisted Twins Productions.
Cast: Tristan Risk (Yumi), Conor Sweeney (Gonzo), Laurence Harvey (Wanker)
U is for Utopia.
Crew: Director/Screenplay – Vincenzo Natali, Producer – Peter Mabrucco, Photography – Alex Gomez, Music – Alex Khaskin, Visual Effects Supervisor – Terry Bradley, Burning Head Prosthetic – Patrick Baxter, Production Design – Naz Goshtasbpour, Drone Design – Amro Attia.
Cast: James McDougall
V is for Vacation.
Crew: Director – Jerome Sable, Screenplay/Producers – Nicholas Musurca & Jerome Sable, Photography – John Rutland, Visual Effects – Intelligent Creatures (Supervisor – Eric Doiron), Makeup Effects – Hugo Villasenor, Production Design – Hock Hian Wong.
Cast: Mark Grossman (Kurt), Jerod Meagher (Dylan), Petra Lo (Rose), Ranelle Estrellado (Kim), Melody Sample (Amber)
W is for Wish.
Crew: Director – Steven Kostanski, Screenplay – Jeremy Gillespie, Photography – Pierce Derks, Miniatures – Devon Ellis, Zane Knisely & Steven Kostanski, Special Effects Supervisor – Mike Hamilton, Makeup Effects/Creatures – Bikini Island (Supervisor – Steven Kostanski).
Cast: Willem Halfyard (Kid #1), Rafferty Blumberg (Kid #2), Jano Badinovic (Casio), Jason Edmiston (Andromecles), Jason Dethridge (Fungor), Peter Hodgins (Fantasy Man)
X is for Xylophone.
Crew: Directors/Screenplay – Alexandre Bustillo & Julien Maury, Photography – Antoine Saunier, Music – Raphael Gesqua, Makeup Effects – Olivier Alfonso, Sabrine Fevre, Laetitia Hillion, Cyril Hipaux, Pascal Larue & Raalphegor.
Cast: Beatrice Dalle (The Grandmother), Tess Maury (The Young Girl)
Y is for Youth.
Crew: Director/Screenplay – Soichi Umezawa, Producers – Mai Nakanishi & Soichi Umezawa, Photography – Shintaro Kuriyama, Makeup Effects – Aiko Imagawa, Natsumi Kameyama, Masato Kato, Keiko Nakanishi & Toma Takano. Production Company – Soychiume.
Cast: Sakurako Mizuki (Miyuki), Asuka Kurosawa (Morher), Shigeru Oxe (Father), Suzuka Hirano (Young Miyuki)
Z is for Zygote.
Crew: Director/Screenplay/Makeup Effects – Chris Nash, Producers – Shannon Rae Hanmer & Peter Kuplowsky, Photography – Ioana Vasile, Music – Chris Nash & William N. Nash. Production Company – Gasfire Films.
Cast: Delphine Roussel, Timothy Paul McCarthy
---
Plot
A is for Amateur:- An assassin crawls through the ventilation shaft to get to his target only to befall a string of bad luck along the way. B is for Badger:- Pompous naturalist Peter Toland is shooting a tv documentary about the effect of a nuclear power station on the badger population. In his demands that the film crew do what he says, he fails to take heed of a mutant badger. C is for Capital Punishment:- A mob of villagers drag Fletcher Powell away to be executed, accusing him of murdering young Lucy Wilson but things don't quite go right. D is for Deloused:- The bugs in a man's apartment come to life. E is for Equilibrium:- Jealousy rears its head when two men stranded on a desert island find their idyll interrupted by the arrival of a girl and in the fight for her attentions. F is for Falling:- A woman Israeli soldier is trapped in a tree by her parachute where she is found by an armed Palestinian boy. G is for Grandad:- A grandson is not enjoying life after having moved in with his cantankerous grandfather. H is for Head Games:- A kiss between a man and a woman turns into a war between their two heads. I is for Invincible:- A family try to kill off their mother to get their hands on the inheritance but she refuses to stay dead. J is for Jesus:- Inquisitors abduct a gay man and try to drive demons out of him. K is for Knell:- A woman sees strange apocalyptic visions, including people in the apartment killing each other en masse and an ichor coming through the door towards her. L is for Legacy:- The king's new wife foretells that he needs to sacrifice his son to bear more children. Released, the son calls forth the Ubini monster. M is for Masticate:- A crazed man runs through the street, attacking and devouring the flesh of all in his way. N is for Nexus:- On Halloween, various people come together on a street corner with fatal consequences. O is for Ochlocracy (Mob Rule):- After a zombie apocalypse struck Japan and the living had to eliminate the resurrected dead, a miracle cure has allowed the zombies to be restored to life. However, they now wish to prosecute the living in court for slaughtering them. P is for P-P-P-P Scary!:- A group of bumbling, stuttering escaped cons find themselves lost in the dark facing supernatural forces. Q is for Questionnaire:- An applicant takes an intelligence test at a booth in the street, unaware of its real purpose. R is for Roulette:- In the 1930s, two men and a woman engage in a game of Russian Roulette. S is for Split:- A husband calls home to his wife while away on a business trip just as their home is invaded by a masked intruder. T is for Torture Porn:- An actress is placed through a degrading audition for a porn film, only to transform into something that turns on the film crew. U is for Utopia:- In a perfect society of the future, a man is deemed sub-normal. V is for Vacation:- Kurt makes a video phone call home to his girlfriend from his vacation hotel room, only for his best friend Dylan to grab the phone and reveal that they spent the night with two hookers. W is for Wish:- A wish transports two kids into the world of their favourite toys Champions of Zorb. X is for Xylophone:- While babysitting, a grandmother is driven crazy by her granddaughter playing the xylophone. Y is for Youth:- Miyuki has fantasies of revenge against her neglectful and indifferent parents. Z is for Zygote:- A husband leaves his pregnant wife alone in a remote cabin. Thirteen years later, he has not returned and she has managed to stave off delivering the child with the use of herbs. As her supply of herbs comes to an end, the foetus now decides that it wants to make more room in her body so that it can live.
---
The anthology film has been treading the comeback trail in recent years – see the likes of The Theatre Bizarre (2011), The Profane Exhibit (2013), Southbound (2015), Tales of Halloween (2015), Grindsploitation (2016), Holidays (2016), XX (2017) and Nightmare Cinema (2018) and the popularity of V/H/S (2012) and sequels – with various directors of genre proclivity all joining into deliver segments. (In fact, many of these films share repeat names on the directorial line-up).
With The ABCs of Death (2012), creator Ant Timpson had the novel approach of gathering twenty-six directors and assigning each a letter of the alphabet, a $5000 budget and requiring that the segment feature a novelty death. ABCs caused quite a degree of outrage with its trailer. The film itself suffered the unevenness of all multi-director anthologies but had some standout moments, most notably the mind-bogglingly perverse extremes of Timo Tjahjanto's L is for Libido and the breathless eroticism of Helene Cattet and Bruno Forzani's O is for Orgasm.
Ant Timpson and Tim League return here with a different line-up of directors. The disappointment might be the lack of as many high-profile directors as the first film, which boasted the likes of Ti West, Adam Wingard, Ben Wheatley, Nacho Vigalondo and Xavier Gens. The sequel at least delivers animator Bill Plympton, Canada's cult sisters the Soska Twins, producer/director Larry Fessenden and Canadian genre director Vincenzo Natali. I have fairly good recall for genre trivia and people's credits – the measure here might be that two-thirds of the directors were at least ones I had to IMDB to find out who they were and what they had done before.
There also seems less international diversity among the directors this time – only three from the whole of Asia, although at least six of the directors end up being from Canada. (In that Ant Timpson hails from New Zealand, my former homeland, I am surprised that he has yet to feature a single NZ director between the two anthologies – it is not that there is shortage of talent to choose from). There is also the feeling that in a desire not to repeat names, the producers are being forced to scour further afield and are ending up with directors whose work is more obscure or else in the case here of Robert Boocheck, Jim Hosking, Robert Morgan, Chris Nash, Dennison Ramalho and Soichi Umezawa, ones who have not had a single feature film directorial credit to their names before.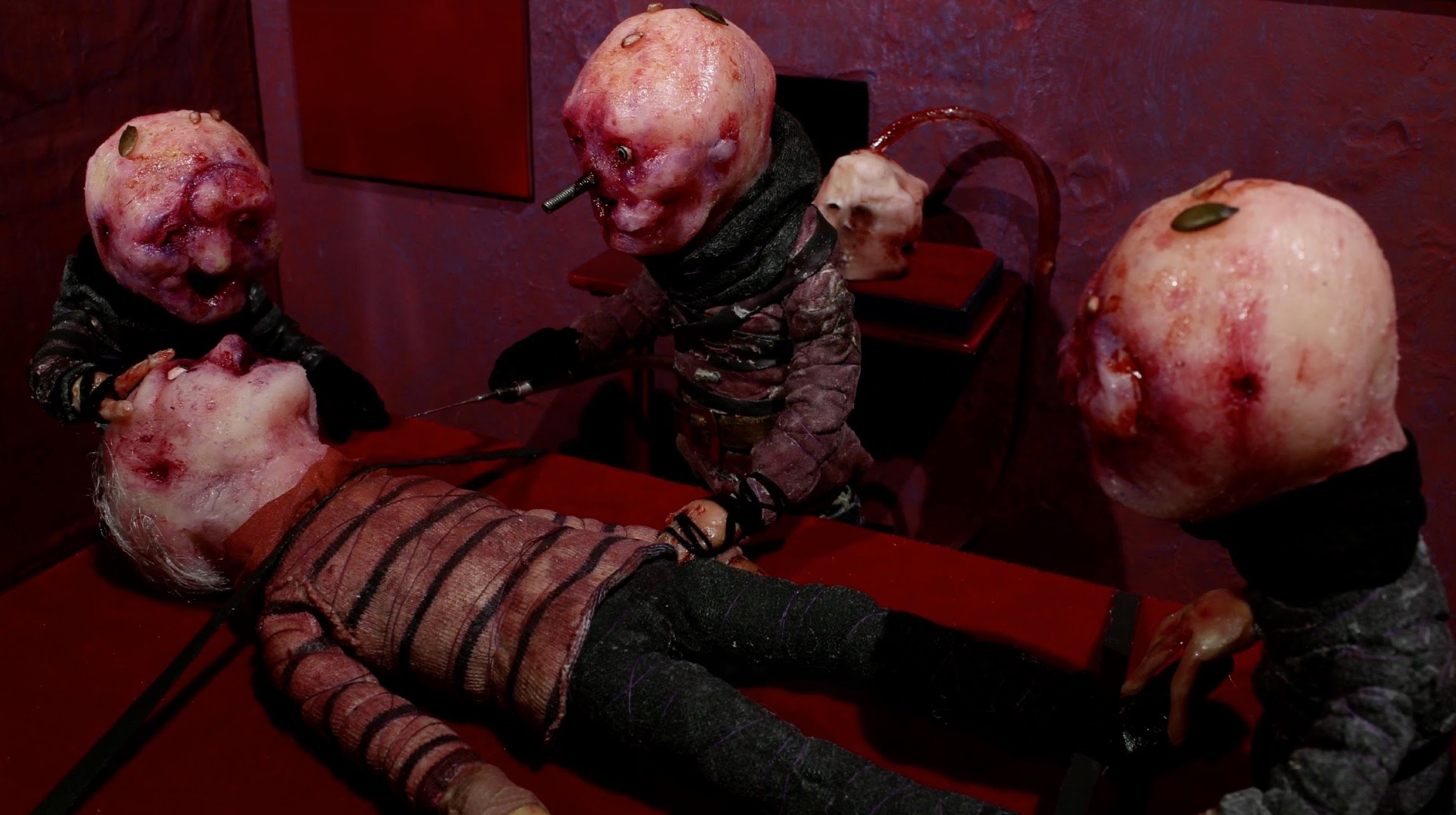 The film opens with A is for Amateur, from E.L. Katz, an Adam Wingard writer who had a word of mouth hit with Cheap Thrills (2013). This is an unfortunate choice of opening segment (and title). The segment, which for some reason tells two different stories, feels like a step back in professionalism from what Katz delivered on Cheap Thrills. The same amateurism dogs B is for Badger from Julian Barratt, an actor, writer, producer mostly known as one of the principal creative forces behind tv's The Mighty Boosh (2003-7). While most other segments do great things to compensate, it suffers from an obvious low-budget (you never see the mutant badger, for instance). Moreover, the comedy feels forced.
E is for Equilibrium from Argentinean director Alejandro Brugues who made the Cuban zombie film Juan of the Dead (2011), hits the anthology's few overtly comedic notes. It is a slapstick triviality about the fight between two guys castaway on a desert island over the arrival of a girl and should be regarded as one of the collection's weakest segments. A far more successful comedic segment is P is for P-P-P-P Scary! from American comedy director Todd Rohal, behind efforts such as The Guatemalan Handshake (2006), The Catechism Cataclysm (2011) and Nature Calls (2012). Rohal's black-and-white segment with a trio of idiots encountering a devil-like figure has the feel of a slicker version of a 1940s East Side Kids or Abbott and Costello comedy. G is for Grandad's Jim Hosking is another director who had only previously made short films but subsequently went onto the cult hit of The Greasy Strangler (2016), produced by Ant Timpson. The segment hits in with the ribald black farce of a British tv show like Father Ted (1995-8) or Little England (2003-6) but is another episode that feels as though it needed more time to hit its stride.
The other complaint about ABCs of Death 2 is that it never hits the perverse heights that Timo Tjahjanto's L is for Libido did in the first film – you would be hard-pressed to find much here that would get people calling for its banning. C is for Capital Punishment, from Julian Gilbey, a director of hard-edged British thrillers and action films such as Reckoning Day (2002), Rise of the Footsoldier (2007), A Lonely Place to Die (2011) and Plastic (2014), looks promising in its jumping in to tackle mob justice. There is an admirably perverse sequence where the attempts to behead the guilty man go wrong and he is left with his neck chopped halfway through. However, the segment peters out at its ending, while the main punchline of the piece is given away halfway through the story. Another piece of admirable grotesquerie is D is for Deloused from newcomer Robert Morgan, all Claymation severed heads, insect bodies and devouring mouths. I had no real idea what this segment was about but it hits an appealingly strange note that falls somewhere between Eraserhead (1977) and Joe's Apartment (1996).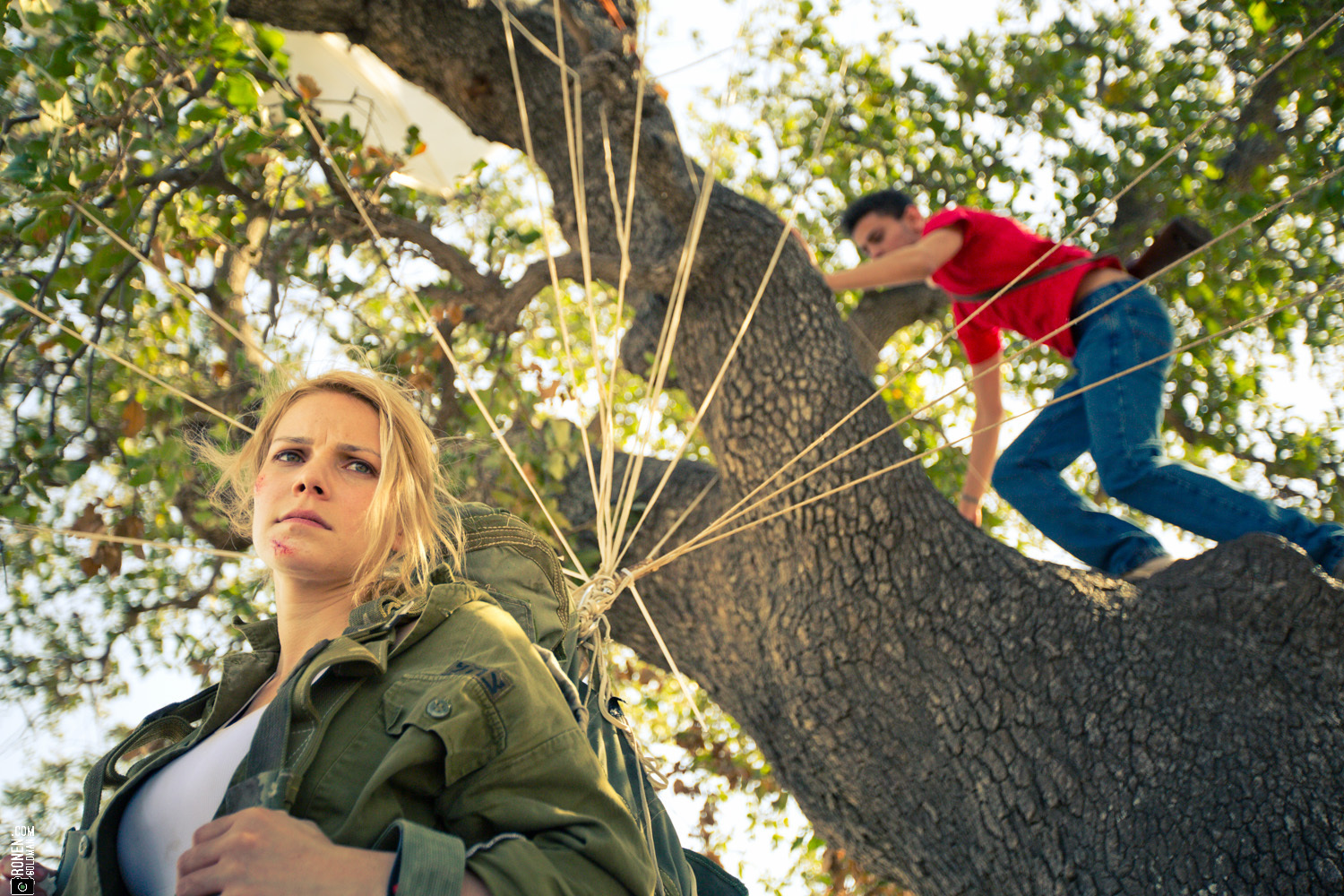 I is for Invincible from Filipino director Erik Matti, who has made a number of works of erotica and action films that I have never heard of, is a horror piece that strikes up a black note in the attempts by relatives to kill off a grandmother who won't stay dead but the episode never goes anywhere before it is over. It is even more the case with newcomer Robert Boocheck's M is for Masticate, a very slight piece that features nothing other than a man running through the streets in slow-motion, attacking and devouring the flesh of people he encounters, before arriving at a weak flashback punchline. The film seems to be starting to gain its stride with Brazilian director Dennison Ramalho's J is for Jesus, which admirably blends torture scenes and images of stigmata, before reaching a rather incomprehensible resurrection that needed more explaining than it gets.
Aharon Keshales and Navot Papushado, the Israeli duo behind Rabies (2010) and the Torture Porn hit Big Bad Wolves (2013), deliver F is for Falling about an Israeli woman soldier being trapped in a tree in a parachute and found by a Palestinian boy. The segment comes with admirably challenging political tension, although you cannot help but feel that this is another segment that needed more time for find its full strength. I started to like O is for Ochlocracy (Mob Rule) from Japanese director Hajime Ohata who had previously only made the Japanese werewolf film Metamorphosis (2011) (which does not give the impression that it has been widely viewed). Ohata's idea is to throw the zombie film on its head and have the zombies revived by a miracle cure whereupon they take the living to court for so readily shooting them. There is the germ of a good and original take on the zombie film here but I say it again, it is a segment that needed more running time to work.
I expected much from Kristina Buozyte and Bruno Sampel, respectively the Lithuanian directors/writers of the modest festival hit of Vanishing Waves (2012), which contained some wild visuals. They deliver a segment, K is for Knell, that is all surreal imagery – a strange formation of particles materialising in the sky, an apartment block of windows where everyone is killing someone and then all turn in unison to look at the heroine opposite, ichor coming under the doorway towards her and meeting a stream of her blood – but not the slightest clue what it is about.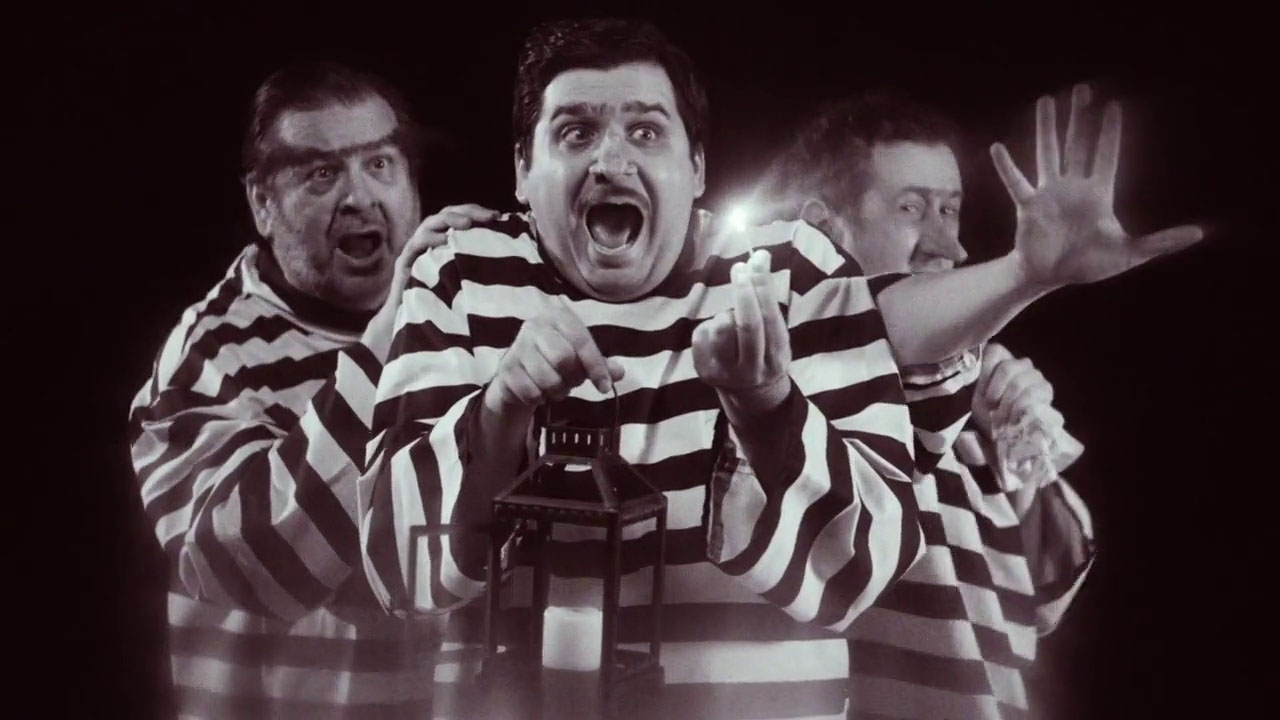 One of the more unusual choices of director is Nigeria's Lancelot Oduwa Imasuen who has made some 70 films for African markets but was completely unknown in the West until he was featured in the documentary Nollywood Babylon (2008). Imasuen's films often centre around tribal witchcraft and this makes an interesting contrast here in L is for Legacy where such is played for naturalism rather than horror effect. Unfortunately, the tribal magic aspect is ruined by the arrival of the Ubini monster, which looks like a cheesy castoff from a Z-budget horror movie.
Juan Martinez Moreno, the Spanish director of Game of Werewolves (2011), delivers S is for Split, which derives its novelty (and title) from the entire segment being conducted in split screen. This is a routine home invasion piece with nothing remarkable to it, only being lifted by a genuine left field twist ending. Alexandre Bustillo and Julien Maury, the French duo who delivered the harrowing Inside (2007) and other horror works like Livide (2011), Among the Living (2014), Leatherface (2017), Kandisha (2020) and The Deep House (2021), are responsible for X is for Xylophone, a slight piece that is only notable for a gory punchline.
There are several segments that do work well, most of which start to come towards the end of the film. One of these is Q is for Questionnaire from Rodney Ascher, director of the wacko cult documentary Room 237: Being an Inquiry Into The Shining in 9 Parts (2012). The segment sharply contrasts a series of intelligence tests conducted in the street where we get the impression we are in some type of Scientology recruitment program, with gory scenes of brain extraction. The punchline where we see the reasons for everything and the gorilla's eyes open is perfect. This is the snappy succinctness that should have been an object lesson to all of the other directors.
Good too is R is for Roulette from Austrian director Marvin Kren who previously made the monster movie Blood Glacier (2013). Kren's segment, which takes place in black-and-white and concerns a game of Russian Roulette, holds an effective tension, even if the piece falters at the ending where we are not quite sure why the story resolves itself the way it does.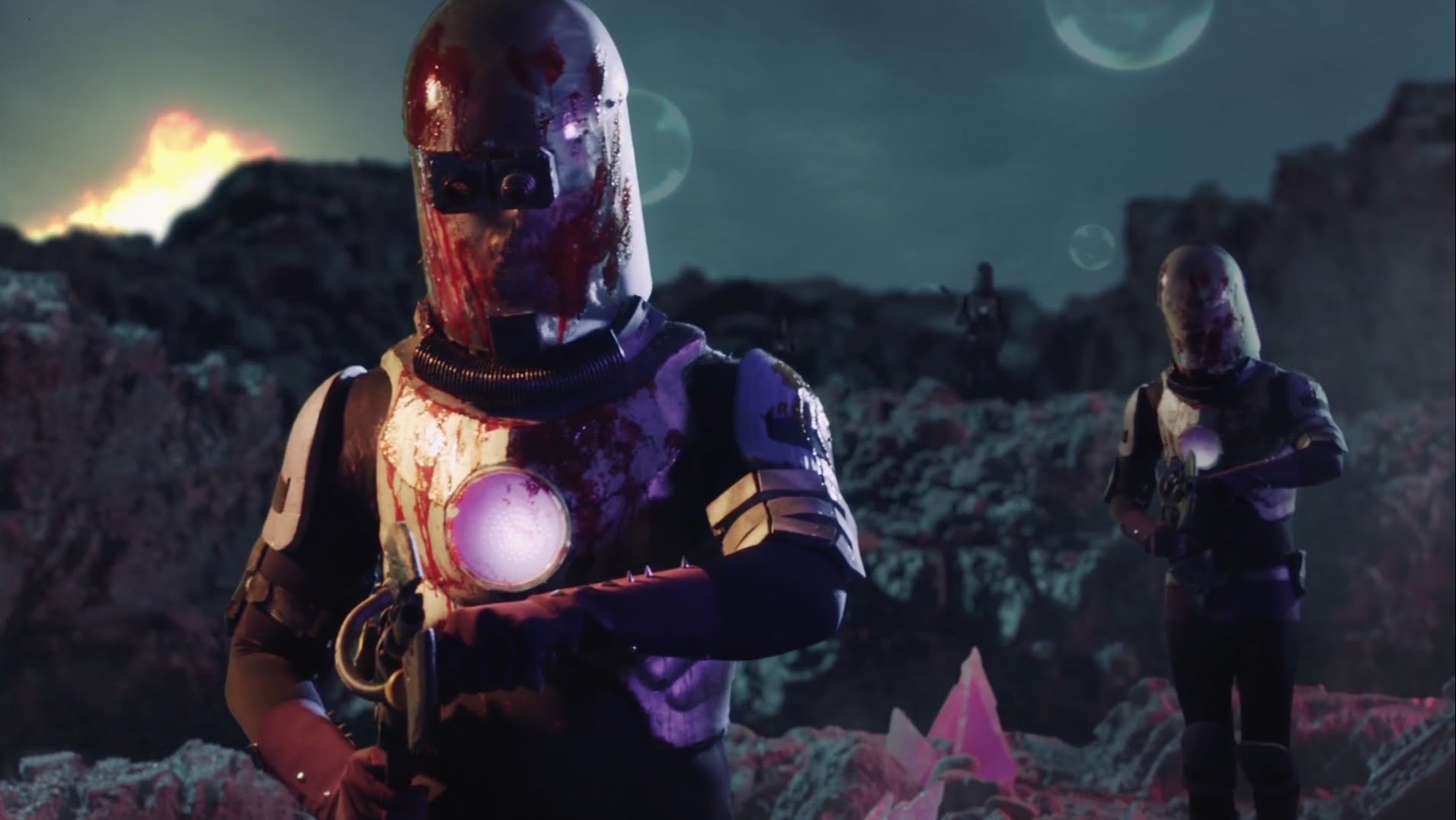 Also worthwhile is W is for Wish from Canada's Steven Kostansky, one of the members of the Astron-6 collective. Kostansky co-directed Astron-6's Father's Day (2011) and solo directed the amazing Manborg (2011), a deliberately scrappy homage to the effects of 1980s science-fiction films, all of which were conducted by Kostansky himself, and co-directed the subsequent Lovecraft homage The Void (2016). That same amazing creativity is present here. Where other episodes like B is for Badger feel like the creative team spent their budget at the local pub, Kostansky has invested it in an amazing array of creature effects, model sets, costumes and stop-motion animation, making another homage to 1980s science-fiction, in particular He-Man and the Masters of the Universe (1983-5). Also brimming over with creativity is Y is for Youth from Soichi Umezawa, who had only worked in makeup effects and not even directed a short film before. In his story of parental rebellion with a teenager imagining killing her parents, Umezawa has fun imagining seeing the parents devoured by giant burgers, French fries, cocks, a vacuum cleaner made up of fries and exploding from the inside with eggs.
Among the two best segments is V is for Vacation from Jerome Sable, the Canadian director who made the slasher musical Stage Fright (2014). This is all takes place on a video phonecall that starts as a guy calls his girlfriend from his hotel room, only for his friend to grab the phone and reveal that they spent the night with two hookers. Things start to get crazy as the boyfriend whacks one of the hookers over the head, the other hooker stabs the friend and then knocks the boyfriend over the balcony. This has a dark bite to it that many of the other segments seem to miss. The piece hits the dark places that the ABCs films seek to find and ends snappily without the feeling that it needed more running time or story to work fully.
The other standout segment is the Z is for Zygote segment from Chris Nash who hails from Canada, another director who has only made short films. The story of the abandonment of a pregnant women in a remote cabin turns into something remarkable as the piece announces '13 Years Later' and we see the heroine still with a massively swollen belly almost as big as she is and forced to trap cats so that she can survive. All the while, she has conversations with the foetus. It finally decides to emerge and rearranges her body so that the two of them can live in it, which involves it moving around under her skin, during which she vomits massive gouts of blood, before it settles in. In the epilogue, we see is the husband returning home at last, expressing disappointment that she lost the child and saying with ominous disquiet "we'll just have to try again."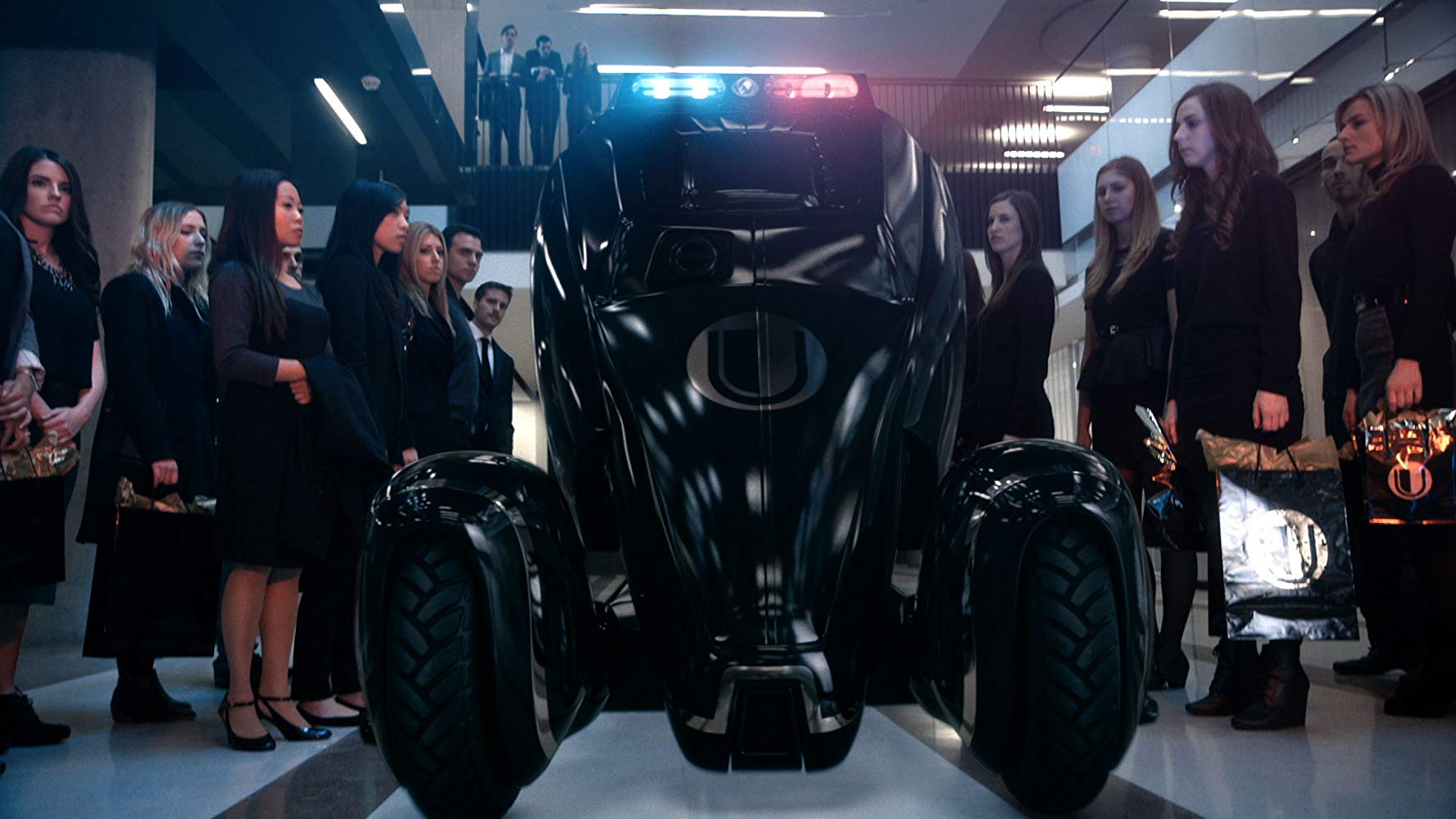 One of the disappointments of ABCs of Death 2 is that the big name directors deliver episodes that are far less than what we expect of them. Animator Bill Plympton is known for wildly surrealistic animated films such as I Married a Strange Person (1997), Idiots and Angels (2011) and others, which make a sensational play between symbolism and absurdism. Plympton's H is for Head Games is exceedingly slight – well under half the average four minute length of the other episodes. It features a wild panoply of fighting tongues, eyeballs, heads blasting at one another and sprouting UFOs and meteorites in a full-on war. While it mainlines the essence of Plympton, it also feels like a segment where Plympton didn't have either the money or time to extend the segment any further than he did.
Nor did I get the point of Larry Fessendern's segment N is for Nexus. Fessenden is a director I have an enormous degree of respect for with films such as Habit (1997), The Last Winter (2006) and Beneath (2013), as well as as head of Glass Eye Pix, which has produced a number of fine films in recent years including Stake Land (2010) and The Innkeepers (2011). The segment concerns various characters in Halloween costume coming together from different directions before the taxi one of them is travelling in hits another on a bicycle. The End. Similarly, Canada's Vincenzo Natali has become a fine genre director in the last decade and a half with films like Cube (1997), Cypher (2002), Nothing (2003), Splice (2010) and Haunter (2013) so one anticipated his offering. Natali has made some exellent science-fiction works so it is disappointing when his U is for Utopia is a dystopian work that seems to take place in no more than a single stretch of mall where one guy is deemed sub-normal and placed inside an automated disintegration chamber. Dystopias need to give a clear idea of what twisted ideal they represent in order for us to be horrified but instead we don't even find out why the central character was deemed unfit.
A show like ABCs of Death 2 is tailor-made for talents like Canada's Jen and Sylvia Soska, the directors of Dead Hooker in a Trunk (2010), American Mary (2012), See No Evil 2 (2014) and the remake of Rabid (2019). Their T is for Torture Porn starts in well as well follow the dehumanising treatment of a porn starlet (Tristan Risk) before the segment goes batshit crazy and explodes out into something like a live-action version of a Japanese hentai anime with the starlet turning into a creature that rapes everyone with tentacles. The complaint again is that this climactic explosion is too brief to be fully effective. The Soskas also contribute the post-credits sequence with Laurence Harvey of The Human Centipede II: Full Sequence (2011) masturbating and complaining he can't get off to this crazy shit.
Released subsequent to this was ABCs of Death 2.5 (2016) showcasing 26 of the other fan finalists who were entants in the competition. Producers Tim League and Ant Timpson made a further anthology with The Field Guide to Evil (2018).
---
---