---
USA. 1936.
Crew
Directors – Ford Beebe & Clifford Smith, Screenplay – Wyndham Gittes, Norman S. Hall & Ray Trampe, Based on the Comic Book Created by Clayton Knight & Eddie Rickenbacker, Photography (b&w) – Richard Fryer, Music – Kay Kellogg, Art Direction – Ralph M. DeLacy. Production Company – Universal.
Cast
John 'Dusty' King (Ace Drummond), Jean Rogers (Peggy Trainor), Jackie Morrow (Billy Meredith), Noah Beery Jr (Jerry), James B. Leong (Henry Kee), C. Montague Shaw (Professor Trainor), Al Bridge (Wyckoff), Guy Bates Post (High Lama)
---
Plot
International Airways seek to expand into the Himalayas but the operation is being sabotaged by the criminal known as The Dragon who has a powerful raygun. To deal with this, International Airways bring in flying ace Ace Drummond to stop The Dragon. Ace joins Peggy Trainor, the daughter of an archaeologist who has gone missing, and together they try to stop The Dragon.
---
Ace Drummond was one of the early sound serials, made in thirteen chapters. It was adapted from the syndicated newspaper comic-strip that ran between 1935 and 1940. The comic-strip was created by Captain Eddie Rickenbacker who was a genuine real-life World War I flying ace and holder of a transcontinental speed record across the US – the film proudly displays Rickenbacker's name above the title – who, like his better known British counterpart, Captain W.E. Johns, went on to create his own fictional flyer hero Biggles. The air adventure hero became popular in serial of this era with the likes of The Shadow of the Eagle (19320, Tailspin Tommy (1934), Captain Midnight (1942) Spy Smasher (1942), Hop Harrigan: America's Ace of the Airways (1946) and Blackhawk (1952).
Shot on the usual poverty row budgets of the serials, Ace Drummond is a crudely made film. As with many early serials, the camera statically shoots at a distance as though filming a stage play, causing the action to take place without any involvement or excitement. The film is made with a terrible jingoism – the Asians are all played in terms of sing-song racial caricatures and the American commercial intrusion into the region as seen as a just thing.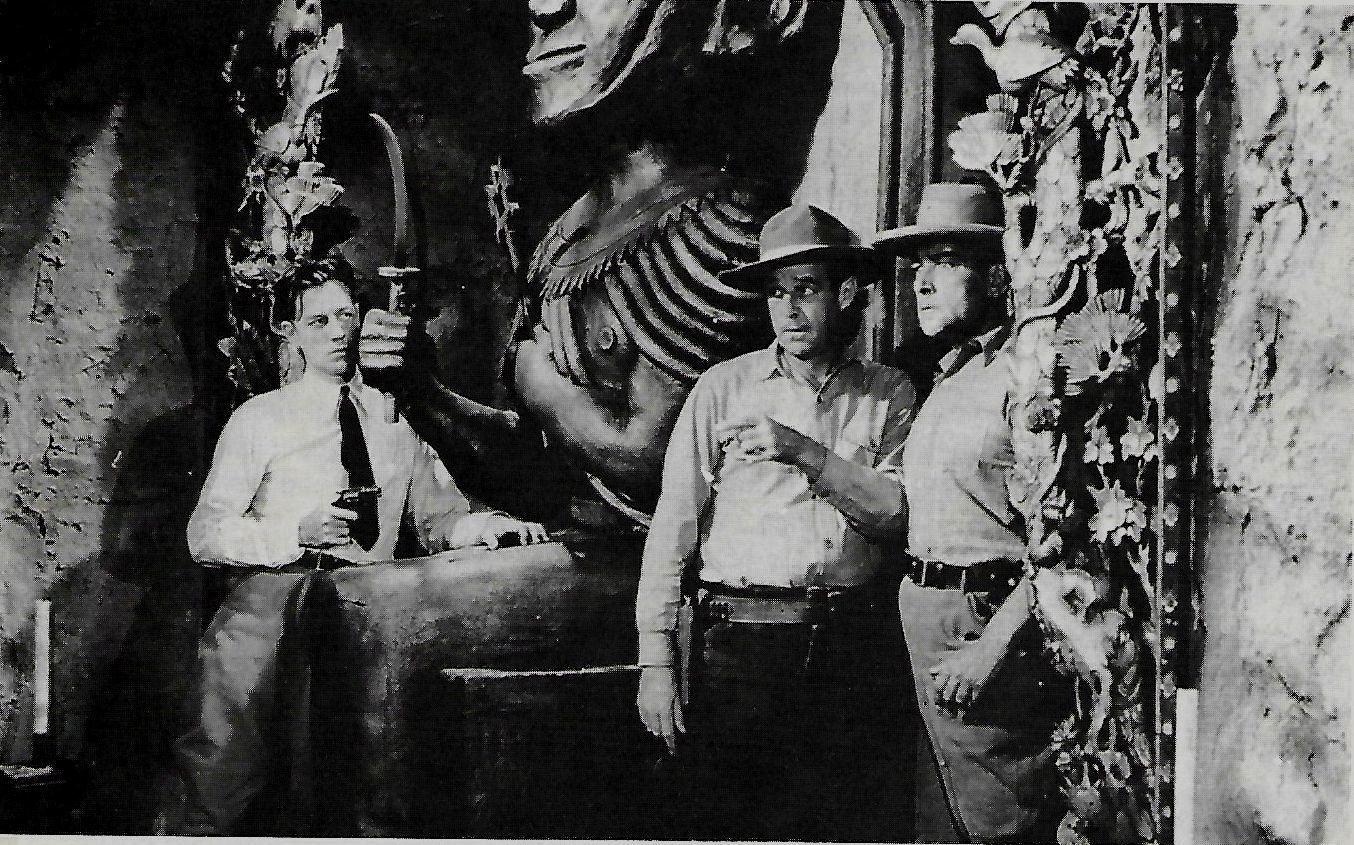 Former big band singer John 'Dusty' King is cast as the title flying ace. The film is clearly trying to make King into a matinee idol – outfitting him in jodhpurs and scenes with him crooning a song while leaning on an airplane at the start of each episode – but King plays the part with a humourlessness and a cross superciliousness that tends to negate such.
On the plus side, the film does feature some rare footage of real biplane dogfights. There are also some interesting names in the cast, including Jean Rogers, very soon to become Dale Arden in the first two Flash Gordon serials, who plays the love interest; distinguished character actor C. Montague Shaw as her father; and later-to-be horror actor Lon Chaney Jr in a minor part as one of the heavies.
---
Full serial available online beginning with Chapter 1 here
---