---
USA. 2001.
Crew
Directors/Screenplay – Harry Elfont & Deborah Kaplan, Based on Characters Appearing in Archie Comics, Producers – Tony DeRosa-Grund, Tracy E. Edmonds, Chuck Grimes & Marc Platt, Photography – Matthew Libatique, Music – John Frizzell, Visual Effects Supervisor – Michael Muscal, Visual Effects – Illusion Arts (Supervisors – Syd Dutton & Bill Taylor), Additional Visual Effects – Perpetual Motion Pictures & Toybox West, Production Design – Jasna Stefanovic. Production Company – Universal/MGM/Riverdale Productions.
Cast
Rachel Leigh Cook (Josie McCoy), Tara Reid (Melody Valentine), Rosario Dawson (Valerie Brown), Alan Cumming (Wyatt Frame), Parker Posey (Fiona), Gabriel Mann (Alan M.), Missi Pyle (Alexandra Cabot), Paulo Costanzo (Alexander Cabot), Tom Butler (Agent Kelly)
---
Plot
Josie McCoy and her two friends Melody and Valerie are struggling to make it as a rock group, Josie and the Pussycats. They then meet record company executive Wyatt Frame in the street and he signs them up without even listening to their music and promotes them as the next big sensation. Unknown to the Pussycats, the record company head Fiona has found a means of brainwashing today's youth into compulsively buying by placing subliminals in the music and has evil intentions for the Pussycats.
---
Josie and the Pussycats was another in the fad for 60s and 70s tv shows being made into big-screen movies that we have had since the 1990s. The original in question is the Hanna-Barbera cartoon series Josie and the Pussycats (1970-72), which lasted for a total of 16 episodes and was later revived for a further 16 episodes as Josie and the Pussycats in Outer Space (1972-4). This in turn had been based on a comic-book that itself was a spinoff from Archie Comics that lasted between 1963 and 1982. The cartoon series was popular if likeably routine variation on Hanna Barbera's Scooby Doo, Where Are You? (1969-72) with the girl trio fighting various tyrants and paranormal menaces on a Saturday morningly basis. Hanna-Barbera even created a short-lived live girl band of the same who recorded one record but disbanded after a failure to achieve any success.
The Josie and the Pussycats film has been made by directing/writing team Harry Elfont and Deborah Kaplan who had previously worked on tv-to-film adaptations such as A Very Brady Sequel (1996) and The Flintstones in Viva Rock Vegas (2000). This has been the last film the duo have directed although they subsequently turned in the scripts for mainstream comedies like Surviving Christmas (2004), Made of Honor (2008) and Leap Year (2010).
Needless to say, Josie and the Pussycats has been altered in its translation to the screen. The intended model for the film was clearly Charlie's Angels (2000), a big hit from the previous year that turned its original tv series into an unrecognisable piece of mindless bubblegum pop that actively invited the audience to not only recognise but cheer along with how silly it was being. (Josie and the Pussycats tips its inspiration in a throwaway entertainment magazine headline that notes that Drew Barrymore, Lucy Liu and Cameron Diaz are to play the Pussycats in a movie). The original Josie and the Pussycats cartoon show was light and comic but essentially straight-faced.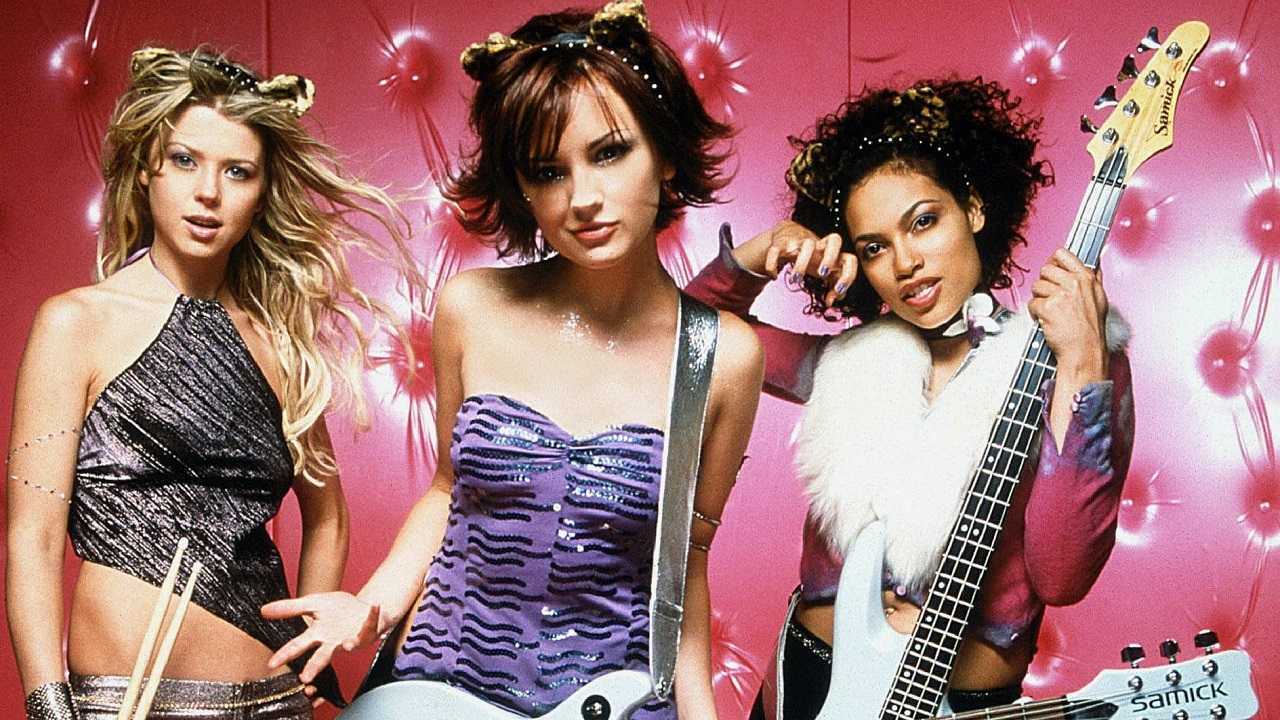 The fundamental difference between the two is that this is a Josie and the Pussycats that comes with a heavy dollop of contemporary irony, it is constantly asking its audience to wink at the artificiality of it all and how clever it is being for recognizing such. "You wonder why I'm here?" Alexandra asks. "I'm here because I was in the comic-book." Later the FBI agent notes "We were going to shut you down because studies have shown that subliminals work better in movies," whereupon a subliminal message flashes up on screen.
There are a few occasionally amusing gags throughout – like the parody of contemporary boy bands that opens the film whose hit single is, with some subversive amusement, titled 'Backdoor Lover'. There is the murder attempt that falls just between the amusing and the silly with one killer doing impressions, while the other killer and his intended victim realize an attraction for one another as he is attempting to kill her.
The film's one big gag is that it is satirizing movie merchandising and product placement. The production has managed to get an extraordinary number of placements from McDonald's, Coke, Gap, Starbucks, about every franchise imaginable (a purported 73 different products). A number of entertainment establishments – E!, Rolling Stone, Carson Daly, Billboard, Moviephone and MTV – even allow themselves to be wound into the plot. Sometimes it is amusing like when McDonald's advertising starts turning up in the shower or a marine aquarium sports ads for Evian in its pool. Although, in a film like this, which has notedly used the same tactics to sell itself, you are not entirely sure whether the film is being subversive, whether it does not see the apparent double standard or if it is just being ironic.
In the end, beyond all that poppy energy and visuals and the satire on merchandising, what you are left with is a film that is frustratingly slight. The film opened with low box-office returns. Which was not too surprising – one hardly thinks many people were waiting to see Josie and the Pussycats with breathless excitement and equally one suspects that even less remembered the film by the end of the summer.
---
Trailer here
---