---
Crew
Director – Kinka Usher, Screenplay – Neil Cuthbert, Based on the Comic Book Created by Bob Burden, Producers – Lawrence Gordon, Lloyd Levin & Mike Richardson, Photography – Stephen H. Burum, Music – Stephen Warbeck, Music Supervisor – Karyn Rachtman, Visual Effects Supervisor – Lori J. Nelson, Visual Effects – POP Film and Animation (Supervisor – David Sosalla), Rhythm and Hues (Supervisor – Tom Leeser) & Vision Art, Miniature Effects – Grant McCune Design (Supervisor – Montgomery Shook), Special Effects Supervisor – Terry Frazee, Production Design – Kirk M. Petrucelli. Production Company – Dark Horse Entertainment/Lawrence Gordon Productions/Golar/Lloyd Levin/Universal.
Cast
Ben Stiller (Mr Furious/Roy), William H. Macy (The Shoveler/Eddie), Hank Azaria (The Blue Rajah/Jeffrey), Janeane Garofalo (The Bowler/Carol), Geoffrey Rush (Casanova Frankenstein), Kel Mitchell (Invisible Boy), Paul Reubens (The Spleen), Greg Kinnear (Captain Amazing/Lance Hunt), Wes Studi (The Sphinx), Claire Forlani (Monica), Tom Waits (Dr Heller), Eddie Izzard (Tony P), Lena Olin (Dr Annabel Leek), Ricky Jay (Victor)
---
Plot
After having his Pepsi commercial endorsement withdrawn, Champion City's superhero Captain Amazing despairs because he is not getting the big publicity fights with super-villains that he used to. He then contrives to have the parole of demented genius Casanova Frankenstein approved for this express purpose – only to be promptly caught in one of Frankenstein's traps. This is witnessed by three wannabe superheroes – Mr Furious, who has to get mad to fight; The Shoveler, who wields a shovel into combat; and The Blue Rajah, master of cutlery. The three realize that they need help in order to save Captain Amazing. They hold a recruitment drive and are joined by The Spleen, who fires noxious farts with pinpoint accuracy; The Invisible Boy, who can become invisible but only when nobody is looking; The Bowler, the daughter of a superhero who fires her father's skull encased in a bowling ball; and finally by the terribly mysterious Sphinx who uses his inscrutable knowledge to train them all into shape.
---
The superhero spoof has met with variable success in the past. First there were the amusing but short-lived tv series Captain Nice (1967) and Mr Terrific (1967); Hero at Large (1980) and Superhero Movie (2008) were eminently forgettable; tv's The Greatest American Hero (1980-1) had its moments; there was the quirkily appealing The Return of Captain Invincible (1983) and the most enjoyable The Incredibles (2004). However, all of these were surpassed by the utterly delightful The Tick (1994-6) (the animated rather than the live-action version).
Mystery Men was the first big-budgeted cinematic spoof and the first to emerge in the era of the modern post-Batman (1989) dark avenging, psychologically driven superhero genre. The superheroes here are a bunch of wannabes whose superpowers are second-rate – noxious farts, the ability to toss forks or wade into combat with a shovel and become invisible (only as long as nobody is looking).
The principal parody is to undercut the larger-than-life superheroics with an everyday banality – instead of a lethal black vehicle, the superheroes drive a battered station wagon; the great noble crimefighting stance is severely undermined as we see them going home to nagging wives and mothers. There is an amusing parody of training sequences and epigrammatic Zen masters, although the funniest scene is the superhero recruiting barbeque with such applicants as Ballerina Man, The Waffler and PMS Avenger – "I only work four days a month, got a problem with that?"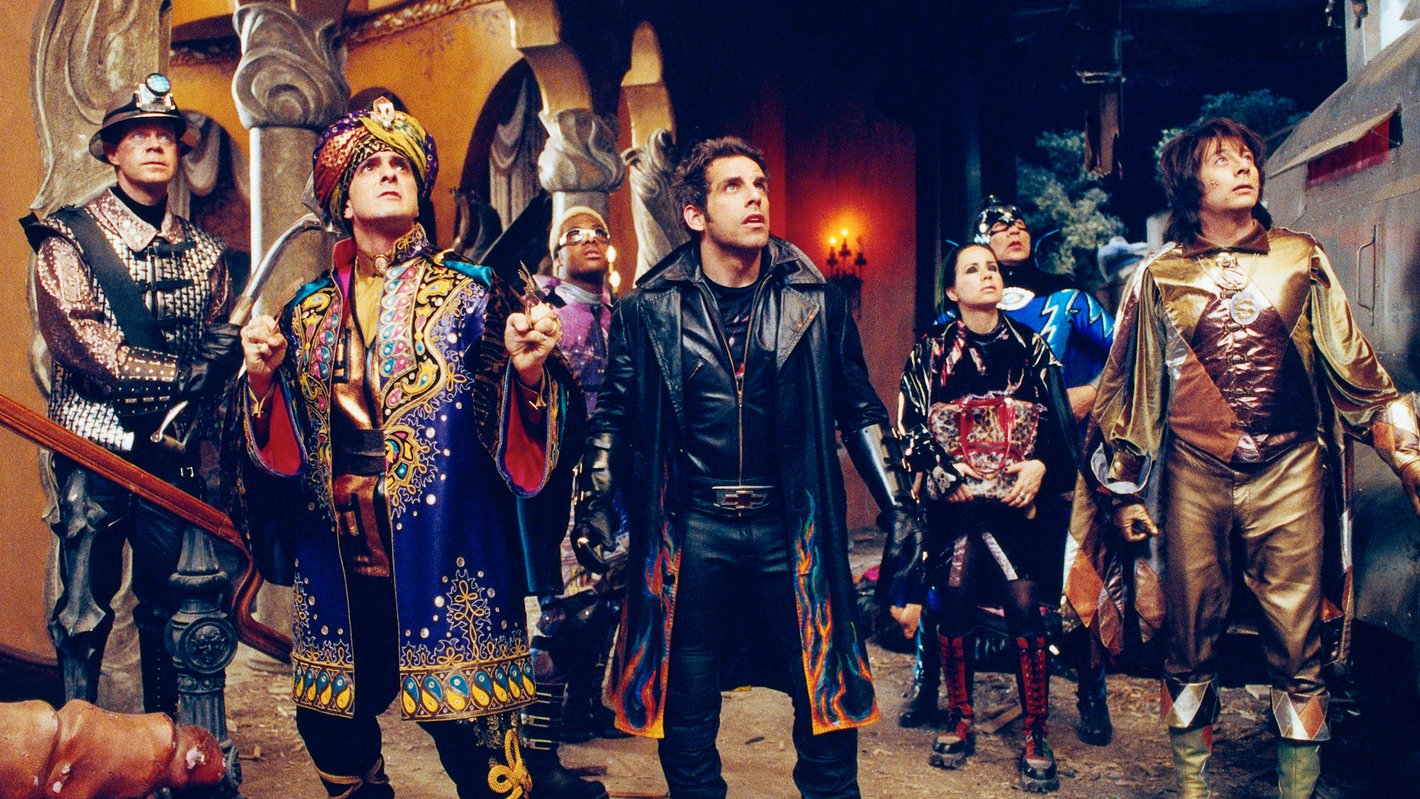 All play well and the film is likeably engaging. For all that, Mystery Men never seems all it could be. Director Kinka Usher seems to keep the parody at a level that varies between the amusingly satiric and the crudely unsophisticated. It is not that often however that Mystery Men rises above the level of a superheroic Dumb and Dumber (1994). You just can't help feel that the same material presented with a little bit more of an evil sense of humour – say with a Tim Burton or a Terry Gilliam at the helm – could have been positively hysterical.
The set designers leap in and create another of the densely visually packed noirish cityscapes that have become all the norm since Batman – but it doesn't work for the film. It makes the milieu seem too realistic where the film should inhabit either a banally unfantasticized or a cartoonishly unreal universe.
Mystery Men ended up being a box-office flop, earning back half its budget. Kinka Usher has not worked as a director since.
---
---