---
Crew
Directors – Elmer Clifton & John English, Screenplay – Royal Cole, Ronald Davidson, Basil Dickey, Jesse Duffy, Harry Fraser, Grant Nelson & Joseph Poland, Based on the Comic Book Created by Jack Kirby & Joe Simon, Photography (b&w) – John MacBurnie, Music – Mort Glickman, Special Effects – Theodore Lydecker, Art Direction – Fred Ritter. Production Company – Republic.
Cast
Dick Purcell (Grant Gardner/Captain America), Lionel Atwill (Dr Maldor/The Scarab), Lorna Gray (Gail Richards), Charles Trowbridge (Commissioner Dryden), Russell Hicks (Mayor Randolph), George J. Lewis (Matson), John Davidson (Gruber)
---
Plot
The city is being terrorised by a criminal mastermind known as The Scarab. In reality, this is Dr Maldor, the head of the Drummond Museum, who wants to get his hands on a treasure brought back from a Mayan expedition by his colleagues. He fashions elaborate deaths for his victims, always leaving a jewelled scarab at the scene. Determined to stop The Scarab is District Attorney Grant Gardner who operates in a mask and costume as Captain America.
---
Today, Captain America is one of the central superheroes of the Marvel Comics canon. The superhero comic had only begun six years before this serial was made with the introduction of Superman in Action Comics #1 in 1938. Captain America appeared not long after this in his self-titled comic-book in March 1941. Captain America was originally intended as a patriotic superhero dressed in a costume resembling the American flag – indeed, the cover of the very first issue showed him punching out Adolf Hitler. With the US's entry into World War II a few months later, the Captain actively began to fight Nazi and Japanese villains. Captain America was the most popular in the line-up produced by Timely Comics, alongside other creations such as The Human Torch and Sub-Mariner.
At the end of the War, the Captain's popularity began to wane and the last issue of Captain America was published in 1954. Facing flagging sales, Timely Comics rebranded themselves as Marvel Comics in 1961 and the modern era began. Amid the plethora of new superhero titles, Captain America underwent a revival in 1963, gaining new story elements where he was introduced to the modern day after being found frozen in the Arctic and soon after that becoming the leader of The Avengers.
The superhero comic-book had exploded following the introduction of Superman and the next few years similarly saw a plethora of these comic-book titles being adapted into their first film versions. Captain America joined a host of these that were made into serials. Others amongst these included Mandrake, The Magician (1939), Adventures of Captain Marvel (1941), Batman (1943), The Phantom (1943), Superman (1948) and non-superhero comic-strip adaptations such as Flash Gordon (1936), Dick Tracy (1937), Buck Rogers (1939), Hop Harrigan (1946) and Brick Bradford (1947). Many of these also enjoyed sequels.
It involves a baffling double-take watching this serial and expecting familiar aspects of the Captain America story. The story everybody is conversant with is how weakling Steve Rogers was given an experimental formula by the US military that transformed him into a brawny super-soldier. Here there is no experimental formula and no suggestion that Captain America has anything other than ordinary powers. There is a Captain America costume and he does ride a motorcycle in a couple of episodes but is lacking his familiar shield. Moreover, Steve Rogers has been entirely written out and Captain America is now the alter ego of crusading district attorney Grant Gardner. Indeed, the serial fails to even give us an origin story for its hero.
The modern aspect of the Captain America story where he was frozen in the Arctic and thawed out in the present-day did not come into Marvel continuity until nearly two decades later so at the point the serial was made he was no more than a patriotic superhero. However, while almost all of the Captain America comic-book adventures of the period featured the Captain on the battlefield fighting against Axis villains, here the Wartime setting, indeed any reference to the War, has been eliminated in favour of a standard crime-fighting plot.
Essentially, the Captain America we have is no more than another version of Batman, someone with mundane powers who puts on a costume to fight crime. (It is speculated by historians of the serial that Republic had originally written the script as a sequel to one of their non-comic-book masked hero films or else that it was planned as an adaptation of another comic-book but that negotiations over the rights had fallen through and the script was simply reused).
The main problem seems to be is that Grant Gardner is such a crusading District Attorney (whose activities go well beyond the usual field of being a prosecuting lawyer that a regular D.A. is supposed to be and into active investigation and hands-on apprehension of suspects), that there seems little difference between when he is operating as Gardner and when he puts on the costume and mask.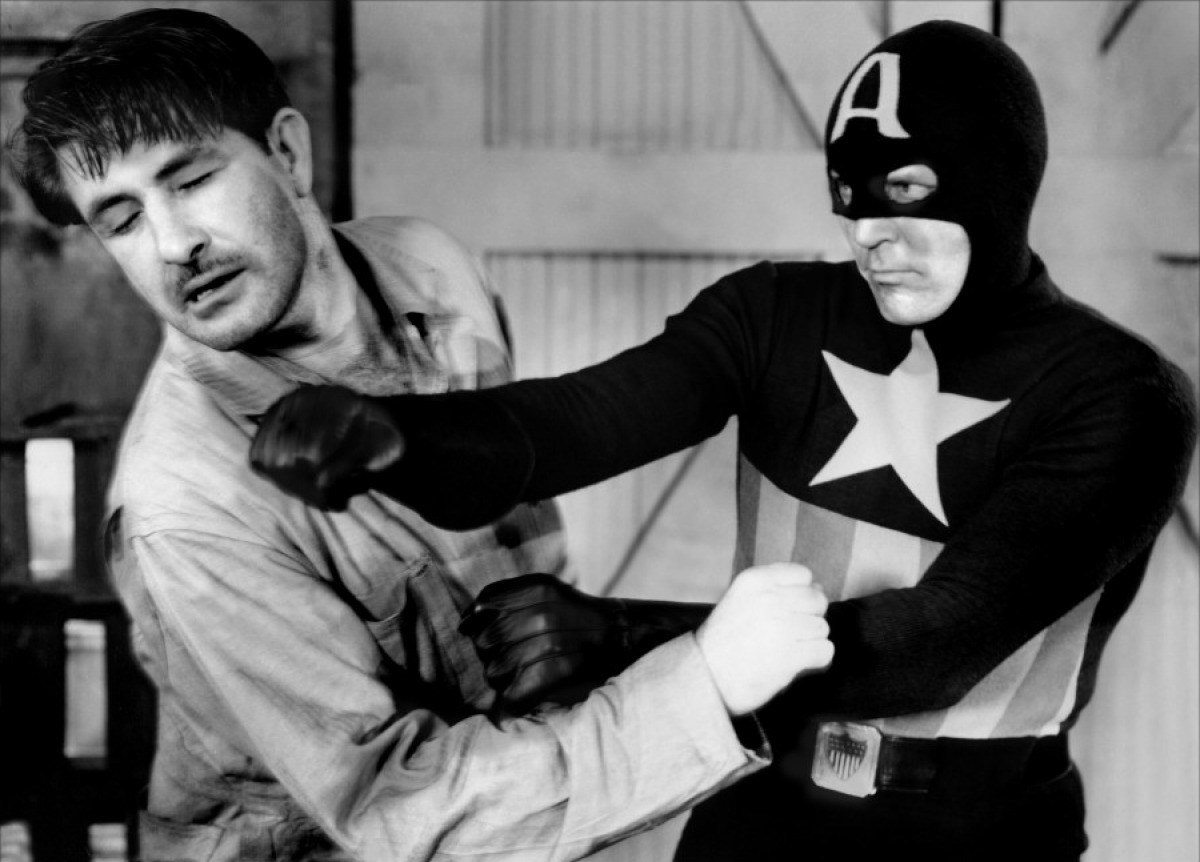 Serials are often tedious to watch today. At fifteen chapters of about fifteen minutes each, Captain America is four hours of drama where things are endlessly drawn out around either bad guys or the heroes trying to obtain/suppress a piece of evidence, vital artifacts or components and so on. There is little drama outside of these constant schemes. Everything is wound towards the cliffhanger that ends each episode with the hero or heroine in peril where audiences of the day would have to wait to the following week to find out how they get out of it. Among the mostly routine cliffhangers that turned up in serials, Captain America delivers some not bad ones – Dick Purcell trapped inside a collapsing apartment building; one where he is downed in the path of a driverless oncoming tractor that we see crushing boxes, blocks and canisters as it heads towards him; a fight inside a burning crate; Purcell thrown down a mineshaft and an elevator cage dropped on top of him; Lorna Gray tied up underneath a guillotine.
One of the great bonuses of the film is Lionel Atwill, an actor who came to fame in various mad scientist films of the era including Doctor X (1932), Mystery of the Wax Museum (1933), The Vampire Bat (1933) and with an especially memorable role as the wooden-armed police inspector in Son of Frankenstein (1939). Atwill has the time of his life and plays the villain as an aristocratic fop, outfitted with a monocle and at one point is even seen whipping an abducted man with a cat-of-nine-tails to get information.
Captain America was subsequently incarnated by Reb Brown in two laughably unconvincing tv movies Captain America (1979) and Captain America II (1979) that failed to go to pilot; was then remade on the big-screen with Albert Pyun's cheap Captain America (1990) starring Matt Salinger; and as the big-budget Captain America: The First Avenger (2011) starring Chris Evans, who subsequently played the role in the sequels Captain America: The Winter Soldier (2014) and Captain America: Civil War (2016) and the Marvel Comics team-ups The Avengers (2012), Avengers: Age of Ultron (2015), Avengers: Infinity War (2018) and Avengers: Endgame (2019). The Captain America story is also told in the animated Ultimate Avengers (2006) and the Captain appears in other Marvel animated films such as Ultimate Avengers II (2006) and Next Avengers: Heroes of Tomorrow (2008).
---
Full serial online beginning with Chapter 1 here
---