---
Crew
Director – John Bruno, Screenplay – Dennis Feldman & Chuck Pfarrer, Based on the Comic Book Created by Chuck Pfarrer, Producer – Gale Anne Hurd, Photography – David Eggby, Music – Joel McNeely, Visual Effects – Supervisor – Lori J. Nelson, Robotic Effects Supervisors – Eric Allard & Steve Johnson, Digital Visual Effects – Cinesite (Supervisor – Jay Riddle), Fantasy II Film Effects (Supervisor – Gene Warren Jr), Pacific Title/Mirage Digital (Supervisor – David Sosalla) & Visionart (Supervisor – Joshua D. Rose), Robotic Effects – All Effects Co & XFX Inc, Robotic Animation – Tippett Studio (Supervisor – Phil Tippett), Special Effects Supervisor – Chuck Gaspar, Production Design – Mayling Cheng. Production Company – Universal/Mutual Film Co/Dark Horse Entertainment/Valhalla Motion Pictures/Telemunchen/Moro-Beni/Toho-Eiga.
Cast
Jamie Lee Curtis (Kelly Foster), Donald Sutherland (Captain Robert Everton), William Baldwin (Steven Baker), Joanna Pacula (Nadia), Sherman Augustus (Richie Mason), Cliff Curtis (Hiko), Marshall Bell (Woods), Julio Oscar Mechoso (Squeaky)
---
Plot
The salvage tug Sea Star is caught in a typhoon and loses the ship it is towing. Captain Robert Everton is left near suicidal at the impending financial ruin. The crew then come upon the Russian scientific research vessel Academic Vladislav Volkov mysteriously abandoned at sea. Everton eagerly sets upon it, seeing the opportunity to earn millions. However, the Vladislav Volkov has been taken over by an alien electrical entity, transmitted down from Mir. It has inhabited the ship's computer systems and rebuilt the robots from the ship's robotics lab, fusing them with dead human flesh to give itself a body. As the crew board the ship, they discover that the alien entity regards humanity as a virus that must be exterminated.
---
Virus was a venture into the big-budget sf/action blockbuster from producer by Gale Anne Hurd. There is a sad truth one is coming to realise about Gale Anne Hurd. She began to specialise in big-budget effects driven blockbusters under her ex-husband James Cameron with The Terminator (1984), Aliens (1986) and The Abyss (1989).
However, after a string of solo disappointments such as No Escape (1994), Dante's Peak (1997) and especially the brain-numbing Armageddon (1998) and her solo Terminator sequel Terminator 3: Rise of the Machines (2003), one is starting to realise that, while she has developed an expertise at producing top-drawer effects films, she is no discerner of good genre scripts. Indeed, her best work – apart from the odd effort such as Tremors (1990) and the tv movie Cast a Deadly Spell (1991) – is still the work she did with Cameron. Virus featured the directorial debut of John Bruno, formerly a visual effects supervisor on all of James Cameron's films and visual effects art director on films like Ghostbusters (1984), 2010 (1984) and Fright Night (1985).
Alas, despite a promising pre-production build-up, Virus proves to be like an increasing number of recent films – Species (1995), the Hurd-produced The Relic (1997), Deep Rising (1998) and Supernova (2000) – essentially a B-budget copy of Alien (1979) made on an A-budget. The only novelty the film has is that the standard alien of the show has been replaced by an evolving fusion of machinery and organics. Undeniably, a considerable outlay of money has been placed into designing the alien entity and it looks impressive on screen. However, the rest of the film is a welter of cliches.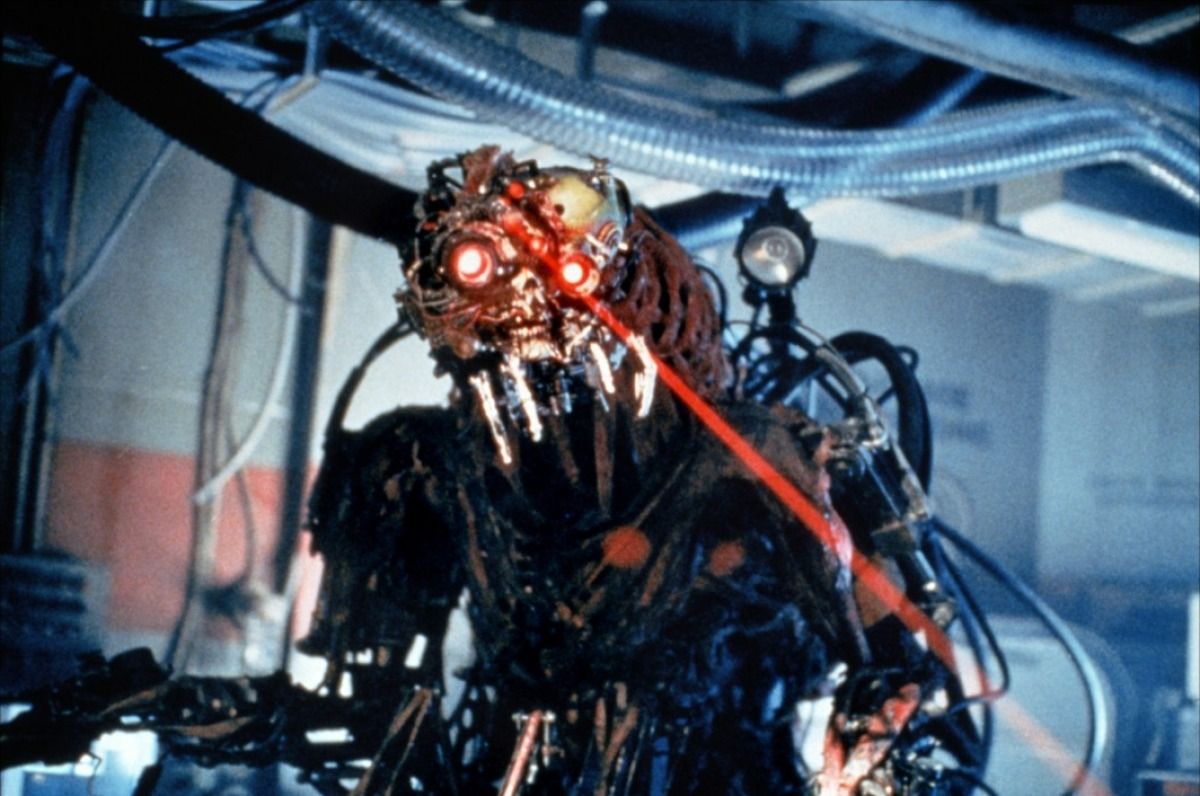 John Bruno attempts to pump everything up with a great deal of noise and chaos – explosions, loud bursts of machine-gun fire, slams, bangs, the ship regularly being pelted by tidal waves and the usual quota of false scares. While you cannot deny that Bruno keeps the film busy, he fails to demonstrate any particular skill or style as a director. When it comes to anything other than fairground haunted house slam and bang effects, one realises that noisy visual chaos is the sole trick that John Bruno has in his book.
Similarly, the screenplay has a stripped-down minimalism to it. It never concerns itself with any other ideas – like the origin of the monster and why it regards humanity as a virus – other than the basic requirements of the monster movie formula. Bruno has a cast – Jamie Lee Curtis, Stephen Baldwin, Donald Sutherland – who all give competent performances. Donald Sutherland's captain is the only one of them who is granted any character depth other than a name (and for most no more than even a surname) – wherein we see he is leveraged beyond his capacity to pay and suicidal at the threat of financial loss – and this is only there to give ammunition to turn him into the standard character whose greed recklessly endangers the survival of the others.
The film also features Maori actor Cliff Curtis among the supporting cast as one of the salvage crew. In one amusing touch, the film outfits him with a traditional Maori greenstone mere club. The film gets full marks for attempting a touch of ethnic verisimilitude. It is rather amusing to see the inappropriate ends this is put to as the filmmakers then have him charging into battle with the club, unaware that its purpose was ceremonial.
Virus comes from a four-issue graphic novel Virus (1996) by Chuck Pfarrer. Pfarrer is a former Navy SEAL who has written a number of screenplays, including Navy SEALs (1988), Darkman (1990), Hard Target (1993), Barb Wire (1996), The Jackal (1997) and Red Planet (2000).
Virus should not be confused with or is related to several other films with the same title, including the Japanese End of the World film Virus (1980), the Robin Cook tv movie medical drama Virus (1995) and the action film Virus (1996).
(Nominee for Best Makeup Effects at this site's Best of 1999 Awards).
---
Trailer here
---