---
Crew
Director/Screenplay – Kogonada, Based on the Short Story Saying Goodbye to Yang from the Book Children of the New World by Alexander Weinstein, Producers – Andrew Goldman, Caroline Kaplan, Paul Mezey & Theresa Park, Photography – Benjamin Loeb, Music – Aska Matsumiya, Original Theme – Ryuichi Sakamoto, Visual Effects Supervisor – Ilia Mokhtareizadeh, Visual Effects – Raynault VFX (Supervisor – Vincent Poitras), Production Design – Alexandra Schaller. Production Company – Cinereach/Per Capita Productions.
Cast
Colin Farrell (Jake), Jodie Turner-Smith (Kyra), Justin H. Min (Yang), Malea Emma Tjandrawdjaja (Mika), Ritchie Coster (Russ), Sarita Choudhury (Cleo), Haley Lu Richardson (Ada), Clifton Collins Jr. (George), Ava DeMary (Vicky)
---
Plot
It is in the future. Jake runs a teashop. He and his wife Kyra have adopted a daughter Mika. To raise her and teach her about her Chinese heritage, they have purchased Yang, an android built around a flesh body. Now however, Yang suddenly dies. Jake takes Yang in to be repaired but learns that there is damage to the unit's core. After going to the disreputable repairman Russ, Jake learns that the manufacturer has installed an illicit surveillance unit inside Yang. Jake begins to view the recordings of Yang's memories. There he discovers that Yang had a secret relationship with a girl he knew nothing about. Fascinated, Jake sets out to find who the girl was.
---
After Yang was the second film for South Korean born Kogonada. In 2008, Kogonada began making a series of video essays analysing the visual style of various directors and films and tv series. These gained attention and he was approached to make more of these on behalf of Sight and Sound magazine and other outlets. Kogonada made his directorial debut with the non-genre drama Columbus (2017). After Yang was his second film and is adapted from a 2016 short story by Alexander Weinstein.
There has been quite a body of films dealing with the Artificial Intelligence revolution and Androids or Robots since the mid-2010s. These include standout works like Spike Jonze's Her (2013) and Alex Garland's Ex Machina (2015), as well as a host of other offerings that include The Machine (2013), Automata (2014), Chappie (2015), Uncanny/Android (2015), Morgan (2016), tv's Westworld (2016-22), A.I. Rising (2018), Tau (2018), Zoe (2018), Archive (2020), Finch (2021), Outside the Wire (2021) and M3gan (2022), among others.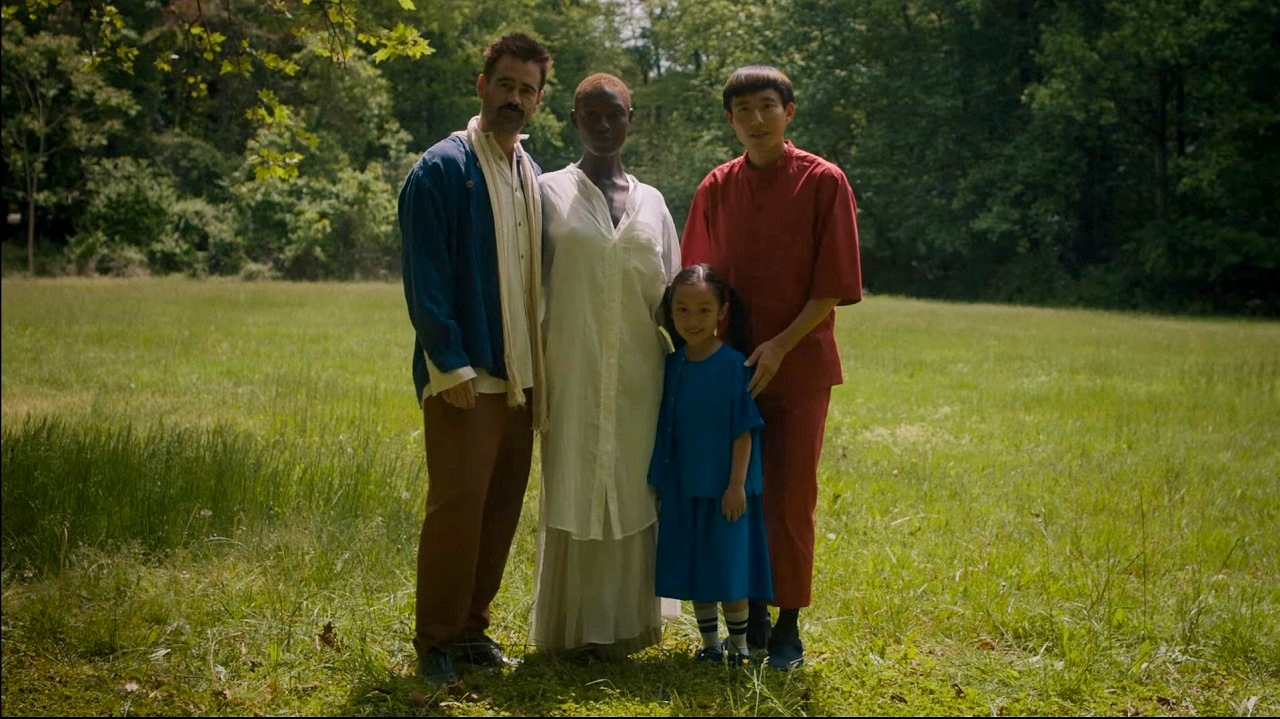 After Yang can be grouped as another entry amid these A.I. films but also differs in a number of ways. The majority of these other films deal with questions of what is machine and human; show scientists attempting to activate an A.I.; or a machine's discovery of its own self-awareness and/or rebellion against its creators. Kogonada lacks an interest in any of these themes. His film exists more in the same space as the beautifully genteel anime Time of Eve (2010) that took place in a cafe where androids and human comingle but keep their true identities unknown. Questions of the android being self-aware are a given and this explores whole other avenues where the story becomes a mystery of sorts as Colin Farrell discovers that Yang had a secret relationship he knew nothing about and sets out to find more details.
Certainly, Kogonada brings a much more Eastern perspective to the film than any of the other abovementioned A.I. films. Colin Farrell runs a tea shop and even gets a scene where he expounds the philosophy of tea to Justin H. Min's Yang. Later there are discussions between Yang and Jodie Turner-Smith where they talk about the idea (or meaninglessness) of an afterlife.
Kogonada also creates a nicely subdued (and economy budget) version of a future – one where technology sits unobtrusively as a part of it rather than in ostentatious displays of gadgetry. I particularly liked the scenes with Colin Farrell riding in a self-driven car where it seems perfectly natural to have a row of plants as decoration along the vehicle's rear windowsill.
---
Trailer here
---