---
Crew
Director/Screenplay – Lisa Joy, Producers – Michael de Luca, Lisa Joy, Jonathan Nolan & Aaron Ryder, Photography – Paul Cameron, Music – Ramin Djawadi, Visual Effects Supervisor – Bruce Jones, Visual Effects – Hollywood Visual Effects, Rise Visual Effects Studio & Scanline VFX (Supervisor – Adam Balentine), Special Effects Supervisor – Peter Chesney, Production Design – Howard Cummings. Production Company – Kilter Films/Michael de Luca Productions/Filmnation Entertainment.
Cast
Hugh Jackman (Nick Bannister), Rebecca Ferguson (Mae), Thandiwe Newton (Emily "Watts" Sanders), Cliff Curtis (Cyrus Boothe), Marina de Tavira (Tamara Sylvan), Daniel Wu (Saint Joe), Natalie Martinez (Avery Castillo), Mojean Aria (Sebastian Sylvan), Brett Cullen (Walter Sylvan), Angela Sarafyan (Elsa Carino), Sam Medina (Falks)
---
Plot
The year 2048 in Miami where the city is being flooded by rising tide levels brought on by global warming. Nick Bannister is a former soldier who runs a service that uses a machine that allows people to re-experience their memories where he acts as their guide. He is approached by the nightclub singer Mae who pleads help in finding her missing keys. After Mae's session in the tank, Nick finds she has left behind an earring. He goes to where she performs to return it and this sparks into a romance. However, she then abruptly vanishes. In the aftermath, Nick becomes obsessed, spending all his time revisiting his memories of being with her. In trying to find clues as to why she disappeared, Nick follows a trail that takes him through a criminal underworld where he learns that she was associated with dangerous people and may not have been the innocent she seemed to be.
---
Reminiscence was a directorial debut for Lisa Joy. Joy, who comes from a mixed Taiwanese and American background, started out as a lawyer but then launched a career as a writer after she submitted a script to the tv series Pushing Daisies (2007-9). She subsequently sold three other scripts during the series' run and later wrote for and became a producer on the tv series Burn Notice (2007-13). In 2009, she married Jonathan Nolan, the screenwriter brother of director Christopher Nolan. Lisa and Jonathan then co-created tv's hit series Westworld (2016-22), which for at least its first two seasons conducted a brilliant and intelligent (if sometimes overly complicated) examination of artificial intelligence themes. The two were offered a multi-show production deal, which began with the William Gibson adapted tv series The Peripheral (2022- ). Amidst this, Joy made her feature film directorial debut with Reminiscence, having previously directed one episode of Westworld. Her script for the film had been on the Hollywood Blacklist of unproduced screenplays throughout the 2010s.
Reminiscence is a film about memory. There have been a number of genre films on similar topics – see Altered Memory. We have seen the depiction of memory recording devices in films like Brainstorm (1983), Strange Days (1995), The Final Cut (2004) and Rememory (2017). Other works such as Code 46 (2003) and Eternal Sunshine of the Spotless Mind (2004) show the editing of memory, while the implantation of artificial memories have been dealt with in works from Blade Runner (1982) to Total Recall (1990) and Dark City (1998).
In depicting her future, Lisa Joy readily draws from Ridley Scott and Blade Runner. Certainly, the world she depicts is not a Cyberpunk one but is one where she draws on the same source that Scott did, namely in turning to the stylistics of Film Noir. She avoids the usual trenchcoats, fedoras and moody, rain-covered streets (although here most of the streets are covered in several inches of water) but we still get various scenes that take place in rooms lit by light through venetian blinds or twirling fans.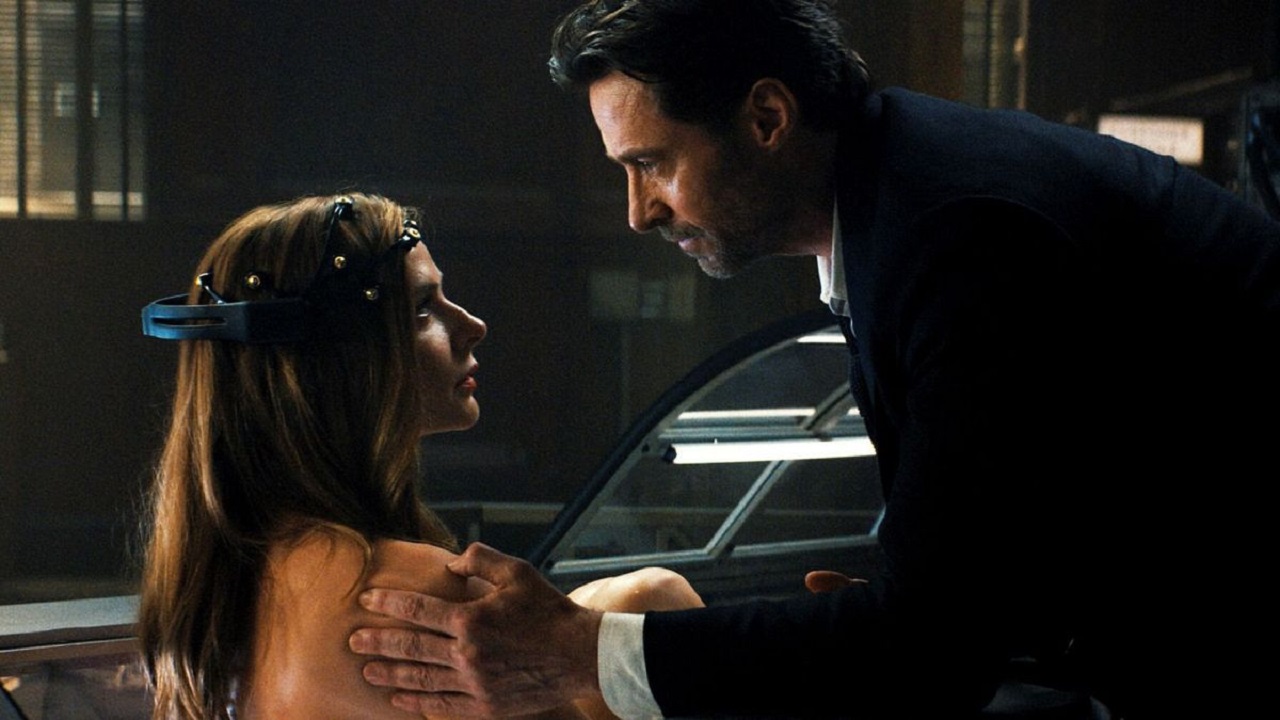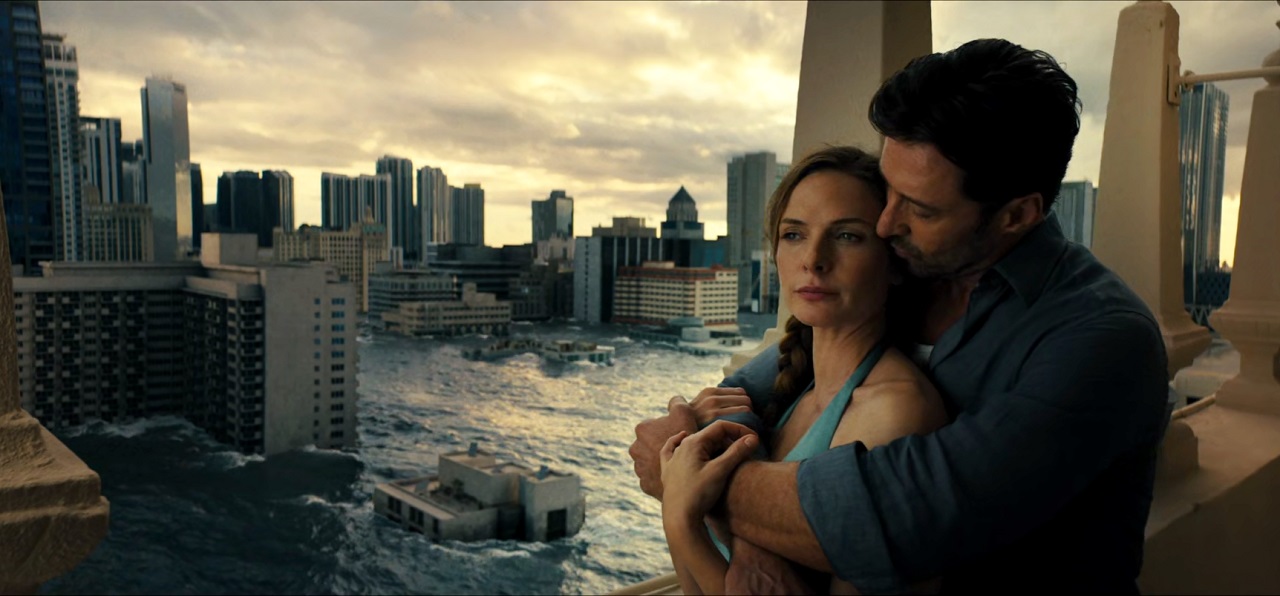 On the other hand, the script draws far more readily on Film Noir plot tropes than Blade Runner ever did. Hugh Jackman is a classic burned out noir hero and even sits at home in his apartment drinking whiskey and gets to deliver voiceover lines like "the whole city is ridden with corruption." More crucially, Rebecca Ferguson is a classic example of the Femme Fatales – the alluring woman in a stunning red dress who draws the cynical hero in with her desirability and leaves him haunted by the experience. The story arc concerns his becoming obsessed following her abrupt disappearance – not unlike James Stewart in Vertigo (1958) – and then being drawn into a criminal underworld where he uncovers dangerous associations and learns that she may or may not have been a manipulative figure and he a dupe. The plot that ranges between a criminal underworld, dirty cops and the echelons of power in the city, eventually exposing the corruption and influence of the rich and powerful, is classic Film Noir.
Lisa Joy also conducts her depiction of the future with undeniable fascination. It is not mentioned until some way into the film but the future we are in is clearly a post- Global Warming one – where the streets are covered in water, where buildings are half-submerged and have to be reached by boat or a monorail that runs through an isolated archipelago of buildings (and even appears to run along a track that goes underwater at some points). Elsewhere, we see how the rich live far away from this in dry, walled-off communities. All good and strong science-fiction.
Reminiscence received mixed reviews. I think the problem with this is that it draws on a form of thriller model that has largely vanished. Outside of assorted tv series, the thriller has almost completely disappeared from cinema screens since the beginning of the 2010s. The slower paced story, the delve into the underworld, the story of corruption, are all classic elements of this type of film. We get a shootout in the middle of the film and another sequence with Hugh Jackman pursuing Cliff Curtis in a fight (and the peculiar image of Curtis drowning while trapped in a grand piano as it collapses through the floor), which only emphasise by contrast how the real effect of the film lies more in its plot and characters than in action. In actuality, what we have is a strong and intelligent SF film. One with an absorbing plot, strong characters and their arcs, and any problems with this seem to be more one of audience lack of awareness.
(Nominee for Best Original Screenplay, Best Cinematography and Best Production Design at this site's Best of 2021 Awards).
---
Trailer here
---