---
Crew
Director/Screenplay – Cory McAbee, Producers – Bobby Lurie, William Perkins & Joshua Taylor, Photography (b&w) – W. Mott Hupfel III, Music – The Billy Nayer Show, Production Design – Geoff Tuttle. Production Company – BNS Productions.
Cast
Cory McAbee (Samuel Curtis), Rocco Sisto (Professor Hess), Gregory Russell Cook (The Boy Who Actually Saw a Woman's Breast), Annie Golden (Cloris), Tom Aldredge (Old Man), James Ransome (Bodysuit), Joshua Taylor (Lawrence the Blueberry Pirate), Peter McRobbie (Lee Vilensky), Bill Buell (Eddie)
---
Plot
Interplanetary trader Samuel Curtis encounters his old friend The Blueberry Pirate in a saloon on the asteroid Ceres. The Pirate involves Samuel in a scheme to retrieve the recently deceased body of man who was being used for stud service by the all-woman society on Venus. The plan involves trading the women a fresh man, the man in question being a boy who is regarded as a god-like figure on the all-male mining world of Jupiter because he once actually saw a woman's breast. However, as Samuel sets out on his quest, he is followed by his nemesis Professor Hess who wants to kill him but is compelled to earn Samuel's forgiveness before he can do so.
---
The American Astronaut was the debut feature of Cory McAbee. McAbee is a multi-talented artist, who was previously best known as front man for the San Francisco-based rock'n'roll band The Billy Nayer Show, whose other members contribute the music, produce and star in The American Astronaut. The Nayers have put out eleven albums, as well as a book of "cartoons, parables, puzzles and illustrated bunny tales" (I am quoting direct from the film's press notes). Previously, McAbee had made several acclaimed short films, both animated and live, whose handcrafted props have apparently been placed in several art museums.
The American Astronaut was promoted in a way where it was clear that its distributor hoped it would catch on as a cult film. Cory McAbee calls it his 'autobiographical/musical/space Western', saying that it was based on a period of his life when he was moving around a good deal – something that cannot help but make you wonder just what parts of the USA McAbee did manage to travel to. It is a film that it is hard to find any comparisons to reach for. One is reminded of Coke Sams' hilarious sf musical Existo (1999) in spirit at least. Maybe Existo crosshatched with Space Truckers (1996).
While many audiences will be celebrating The American Astronaut's bizarreness, I must admit I did not get this film at all. Cory McAbee has constructed it as a kitsch bad film. He deliberately uses cheesy genre cliches – planets of all men and all women, mad scientists and such like. It is also parody that has been filtered through both McAbee's rock'n'roll tastes and a deadpan sense of surrealist humour. The film frequently bursts out into musical numbers, which are only occasionally connected to what is happening at the time but mostly seem surreal – like two miners who burst into the bathroom to photography the hero cowering in a cubicle and then conduct an ungainly dance number in work boots outside the cubicle, before equally abruptly departing.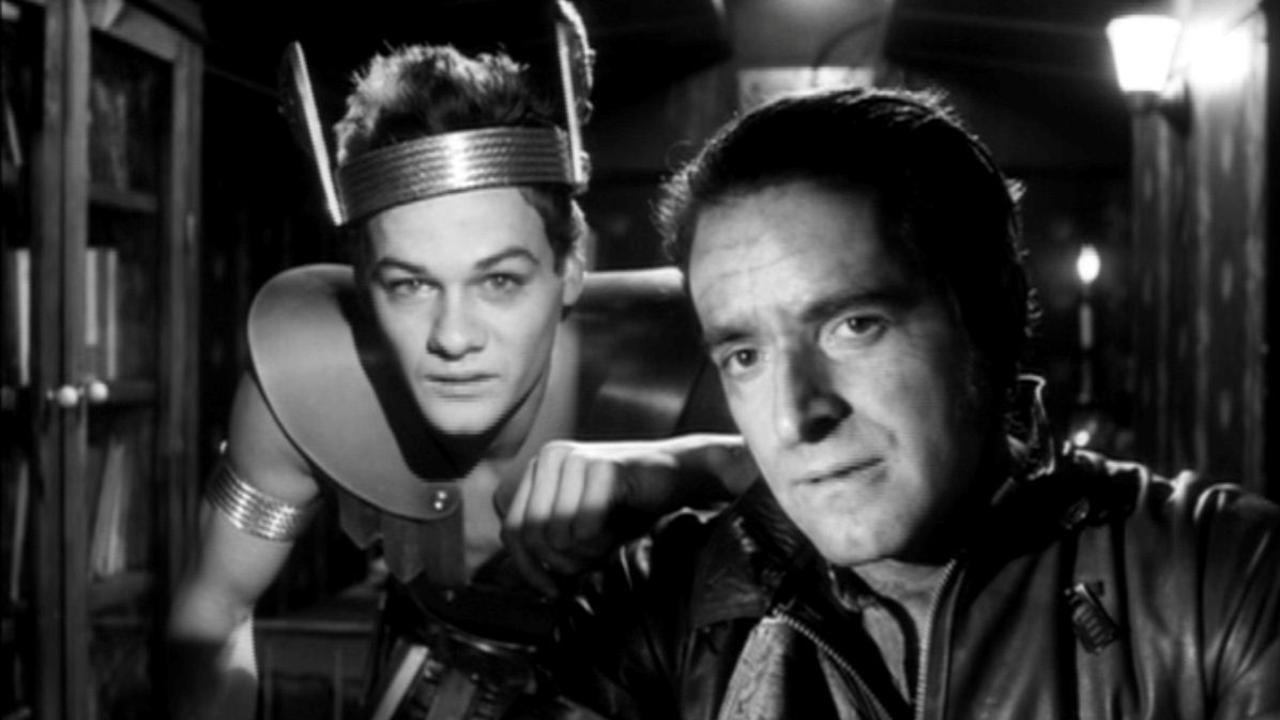 The characters are of the variety of banally whacked-out people uttering non-sequitirs that usually inhabit the films of David Lynch – Tom Aldredge tells a long joke about the 'Hertz Donut' in front of a bar audience but tapers off when it comes to the punchline; villain Rocco Sisto travels through the film ranting about it being his birthday and conducts a radio exchange with the hero "Do you want me to kiss you?" "No, I don't think I want you to kiss me," "I didn't ask you to kiss me," while Cory McAbee's hero monologues about Rocco Sisto needing to forgive him before he can kill him.
Maybe I am doing The American Astronaut an injustice, but I must confess I don't have a clue what Cory McAbee was trying to achieve. This only results in a murky exercise in genre bending. Surrealism should not necessarily have to signal what it is doing to an audience – its defiance of convention, expectation and narrative should speak for it. Alas, The American Astronaut feels like a game that is being conducted in a darkened room whose moves are entirely opaque to its audience.
Certainly, the film's black-and-white photography is excellent and the production design does a fine job of creating a retro-futurist look while clearly on a B-budget. Cory McAbee has also managed to rope in a cast of professionals rather than amateurs. The entire film was one of a handful selected for workshopping at the 1999 Sundance Screenwriter's Lab.
Cory McAbee next went onto direct and star in another musical space Western with Stingray Sam (2009), followed by the surreal children's film Crazy and Thief (2012).
---
---