aka X-Men: First Class
---
Crew
Director – Matthew Vaughn, Screenplay – Jane Goldman, Ashley Edward Miller, Zack Stentz & Matthew Vaughn, Story – Bryan Singer & Sheldon Turner, Producers – Richard Donner, Gregory Goodman, Simon Kinberg & Lauren Shuler Donner, Photography – John Mathieson, Music – Henry Jackman, Visual Effects Supervisor – John Dykstra, Additional Visual Effects Supervisors – Stephane Ceretti & Robert Hodgson, Visual Effects – Cinesite Europe Ltd (Supervisor – Matt Johnson), Digital Domain (Supervisor – Jay Barton), Luma Pictures, MPS (Supervisor – Nicolas Aithadi), Rhythm & Hues Studio (Supervisor – Gary Steele), Weta Digital (Supervisor – Guy Williams), Special Effects Supervisor – Christopher Corbould, Beast Makeup – Amalgamated Dynamics (Supervisors – Alec Gillis & Tom Woodruff Jr), Makeup Effects – Spectral Motion Inc, Production Design – Chris Seagers. Production Company – 20th Century Fox/Bad Hat Harry Productions/Marvel Entertainment/Dune Entertainment/Donners Company/Ingenious Media/Big Screen Productions.
Cast
James McAvoy (Charles Xavier), Michael Fassbender (Erik Lensherr/Magneto), Kevin Bacon (Klaus Schmidt/Sebastian Shaw), Jennifer Lawrence (Raven/Mystique), Rose Byrne (Moira McTaggart), January Jones (Emma Frost), Nicholas Hoult (Hank McCoy/Beast), Zoe Kravitz (Angel Salvadore), Caleb Landry Jones (Sean Cassidy/Banshee), Lucas Till (Alex Summers/Havoc), Jason Flemyng (Azazel), Edi Gathegi (Armando Muñoz/Darwin), Oliver Platt (Man in Black Suit), Alex Gonzalez (Janos Quested/Riptide), Glenn Morshower (Colonel Bob Hendry), Matt Craven (CIA Director McCone), Bill Milner (Young Erik Lensherr), Laurence Belcher (Charles Xavier 12 Years), Morgan Lily (Young Raven), Rade Serbedzija (Russian General), Demetri Goritsas (Agent Levene), Ludger Pistor (First German/Pig Farmer), Wilfried Hochholdinger (Second German/Tailor), Annabelle Wallis (Amy), M. [Michael] Ironside (Captain), Beth Goddard (Mrs Xavier), Ray Wise (Secretary of State), [Uncredited] Hugh Jackman (Logan/Wolverine)
---
Plot
1944. As he is forcibly parted from his mother in a Nazi concentration camp, young Jewish boy Erik Lensherr demonstrates the ability to mentally bend the metal of the gates. This is of great interest to Nazi scientist Klaus Schmidt who shoots Erik's mother in an effort to force him to repeat this. At the same time in England, twelve-year-old Charles Xavier meets the blue-skinned shapechanger known as Raven and promises to treat her as though she was his sister. 1962. Erik travels the world, determined to hunt down Schmidt, who now calls himself Sebastian Shaw. Shaw is attempting to manipulate the US-Soviet nuclear programs and reveals himself to be a mutant with the ability to absorb and transmit energy. CIA agent Moira McTaggart gains direct evidence that Shaw is employing mutants but is ridiculed by her superiors. She goes to Oxford to ask the help of Xavier has graduated as a professor because he has written a thesis on mutation. After demonstrating the existence of mutants to her superiors, they go into action to stop Shaw. Erik also appears and Xavier intervenes to save him as he risks his life trying to stop Shaw escaping. The CIA set Xavier, Erik and the others up at a special base. There mutant technician Hank McCoy creates Cerebro, a device that allows Xavier to use his mental powers to scan the world for other mutants, which they then set about recruiting. However, Erik's desire for revenge stirs Shaw up and he takes reprisals against the mutants, recruiting several of them to his side. Realising that Shaw intends to start a war that will wipe out ordinary humans, Xavier begins training his mutants for the coming fight. He then discovers that Shaw is planning to launch a nuclear war on the USA from missiles stationed in Cuba.
---
X-Men: First Class (listed as X: First Class on the opening, although not the end credits) is the fifth film in the X-Men franchise based on the popular Marvel comic-book. Bryan Singer's film adaptation X-Men (2000) was an instant classic when it appeared and, although there was Blade (1998) before it, proved to be a smash success that gave birth to the industry of Marvel Comics adaptations that have grown at an astronomical rate throughout the 00s with the likes of Spider-Man (2002), Daredevil (2003), Hulk (2003), The Punisher (2004), Elektra (2005), Fantastic Four (2005), Man-Thing (2005), Ghost Rider (2007), Iron Man (2008), Captain America: The First Avenger (2011), Thor (2011), The Avengers (2012), Guardians of the Galaxy (2014), Ant-Man (2015), Deadpool (2016), Doctor Strange (2016), Black Panther (2018), Venom (2018), Captain Marvel (2019), Black Widow (2021), Eternals (2021), Shang-Chi and the Legend of the Ten Rings (2021) and various sequels to most of these, as well as the tv series' Agents of S.H.I.E.L.D. (2013-20), Daredevil (2015-8), Agent Carter (2015-6), Jessica Jones (2015-9), Luke Cage (2016-8), The Defenders (2017), Inhumans (2017), Iron Fist (2017-8), The Punisher (2017-9), Runaways (2017-9), The Falcon and the Winter Soldier (2021- ), Hawkeye (2021- ), Loki (2021- ), WandaVision (2021- ), Moon Knight (2022- ), Ms Marvel (2022- ), She-Hulk: Attorney at Law (2022- ) and Secret Invsion (2023).
Bryan Singer followed X-Men up with X2 (2003), which many regard as better than the first, only for the series to promptly run into the ground by Brett Ratner's X-Men: The Last Stand (2006), which disastrously killed off or de-empowered many of the principal characters. It was after this that Marvel, realising they still had a lucrative franchise on their hands, started looking to reboot the series by going back to the origins. (This may equally have been due to the fact that between 2000 and 2006 a number of the series' stars had risen to A-list status, notably Hugh Jackman and Halle Berry, making the prospect of continuing the series with the same line-up an increasingly expensive one). It would appear that the new direction for the X-Men films is as a series of prequels, which cannily allows the producers to cast younger actors who are largely unknowns and down around the film's 18-25 audience target demographic.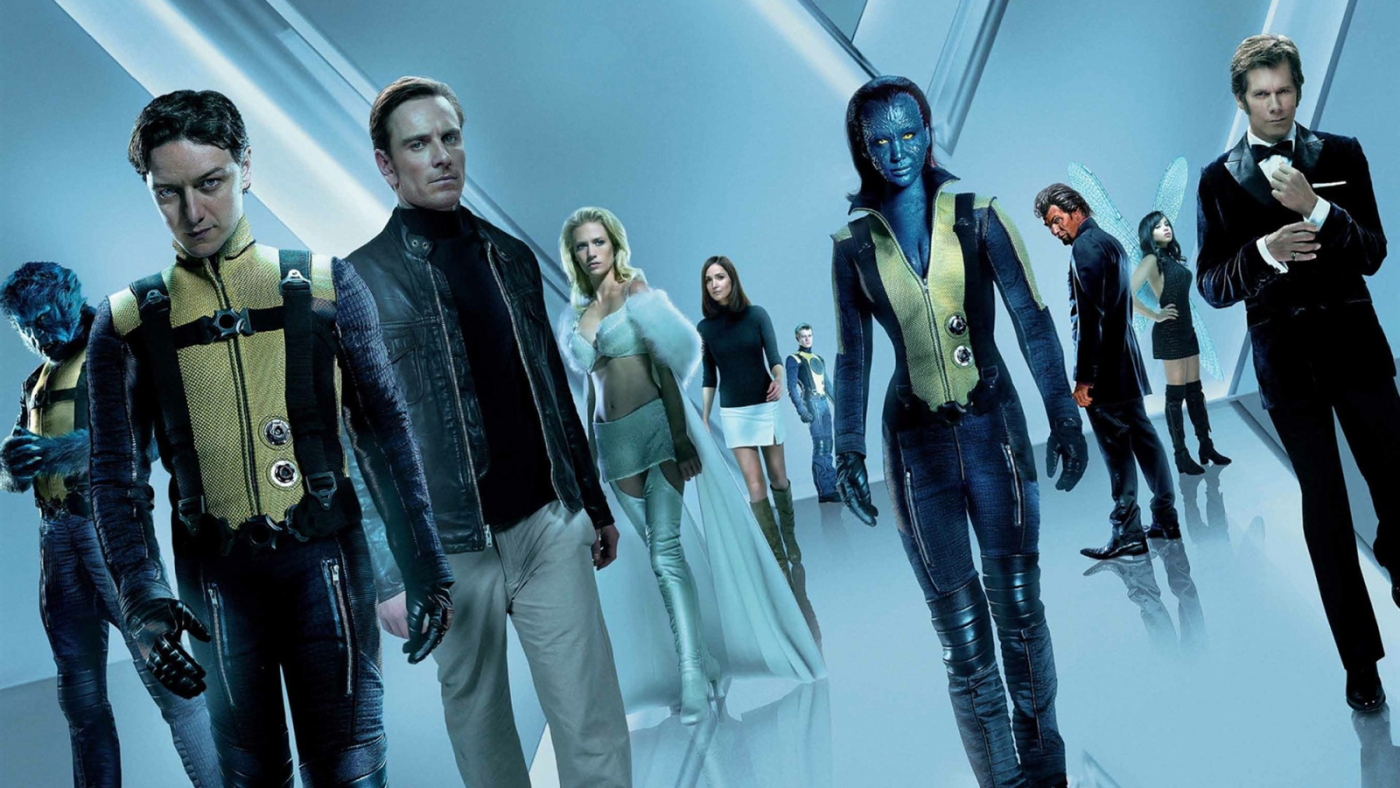 The first of these alternate approaches was X-Men Origins: Wolverine (2009), which told an origin story for Hugh Jackman's Wolverine, and hinted at what would come here as it knitted together the origins of the X-Men team at the very end. Ever since 2006, there was the also announced project X-Men Origins: Magneto, which would have told the story of the origin of Ian McKellen's Magneto. This was announced variously with Zak Penn and David S. Goyer as director but eventually merged into X: First Class. Bryan Singer initially elected to come back on board as director before dropping out to make Jack the Giant Slayer (2013), retaining story credit on the finished film and production credit through his Bad Hat Harry company.
X: First Class comes from British director/producer Matthew Vaughn. Vaughn first appeared as producer of several Guy Ritchie films, Lock, Stock and Two Smoking Barrels (1998), Snatch. (2000) and Swept Away (2002), then made his directorial debut with the London crime drama Layer Cake (2004), which was very much in the same vein as his work with Guy Ritchie. He then ventured into the fantasy genre with the fine Neil Gaiman adaptation Stardust (2007). Vaughn was for some time announced as the director of the adaptation of Marvel's Thor before this was inherited by Kenneth Branagh. Vaughn next made Kick-Ass (2010), also a Marvel comic-book adaptation (albeit one that stands outside their canonical universe) but featuring wannabe superheroes who have no powers. This became a cult hit with fanboy audiences, if not exactly a work that set the box-office alight, and had Vaughn selected to helm X: First Class. Subsequently, Vaughn went onto direct a further series of comic-book adaptations with Kingsman: The Secret Service (2015), Kingsman: The Golden Circle (2017) and The King's Man (2021).
X: First Class is primarily concerned with creating an origin story for the X-Men – or at least the screen version of the X-Men. The plot, for instance, is very much centred around the way characters were introduced in the films as opposed to the comic-books – much of the plot of First Class is based around Magneto's background as a concentration camp survivor that was introduced in X-Men, while the comic-book character of Sebastian Shaw has his background entirely rewritten to now become a Nazi (with Kevin Bacon having a field day playing a bad guy). There are a number of new mutants and characters introduced, although often altered from their comic-book counterparts – here Moira MacTaggart is a CIA agent, whereas her comic-book original is an expert on genetic mutation who hails from Scotland.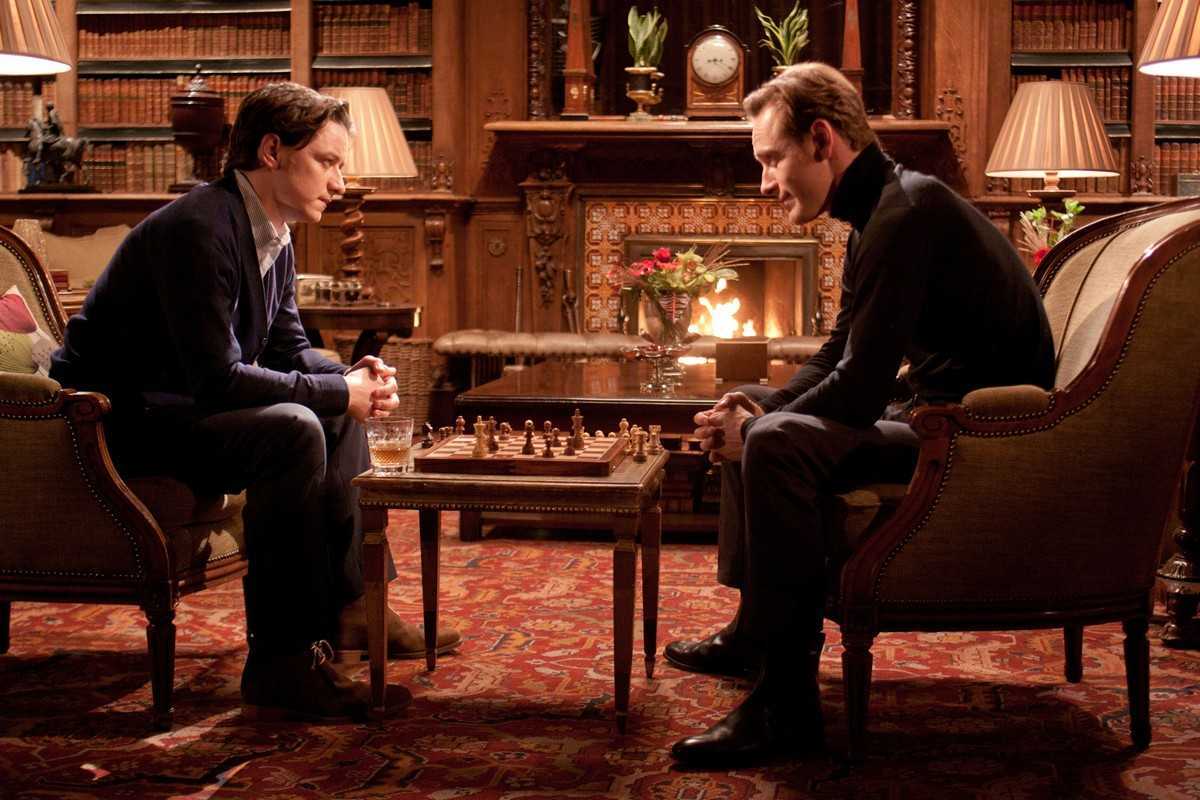 We see all the requisite elements of the established franchise come together – the origin of Magneto's helmet and the jet plane, the creation of the Cerebro machine, the group choosing their nicknames, Hank McCoy turning into Beast, the choice of the name 'X-Men' and the climactic scene where Professor Xavier undergoes the accident that places him in a wheelchair. We even get to see the X-Men in the original black and yellow designs for their jumpsuits from the comic-book, which was changed in the first film. One of the film's cutest pieces is also managing to squeeze in a cameo from Hugh Jackman as Wolverine (something that was exceedingly well hidden in the lead-up to the film's release) who greets the request to join the fledgling X-Men with a gruff "No, fuck off."
The script is the most satisfying aspect of X: First Class. The last two X-Men films, X-Men: The Last Stand and X-Men Origins: Wolverine, became overburdened by their seeming need to pack in as many new mutant characters as possible such that the story often felt awkwardly stretched out of place to do so or that the new characters were not getting the screen time they deserved. On the other hand, X: First Class integrates all of its new mutants into a strong story where each has their own substance and character far more so than the last two X-Men films put together. One of the strongest aspects of the story is seeing the familiar characters – particularly Magneto and Mystique – changing into the characters that we are familiar with in the rest of the series – both start out on the side of good and end up making choices to shift alignment throughout the course of the story.
Matthew Vaughn also confidently places X: First Class into a 1960s milieu (the setting is the year after the original X-Men comic-book premiered). Whereas other films with period settings like this tend to blur the lines, Vaughn and co embrace them for a nicely retro sense. (One of the cutest touches is the design of the US war room, which has been borrowed from the set where much of Dr Strangelove or, How I Learned to Stop Worrying and Love the Bomb (1964) took place). The script has taken a leaf from Watchmen (2009) in contrasting the actions of superheroes against real-world events – the Cold War and in particular the Cuban Missile Crisis. X: First Class never pushes it as far as Watchmen did to create an alternate world where the activities of superheroes have altered history, rather tells it more as a secret history. About the only complaint one might have here is the film's interpretation of the Cuban Missile Crisis, which differs from real-life where it was defused without even a single missile fired or any Russian ships being sunk.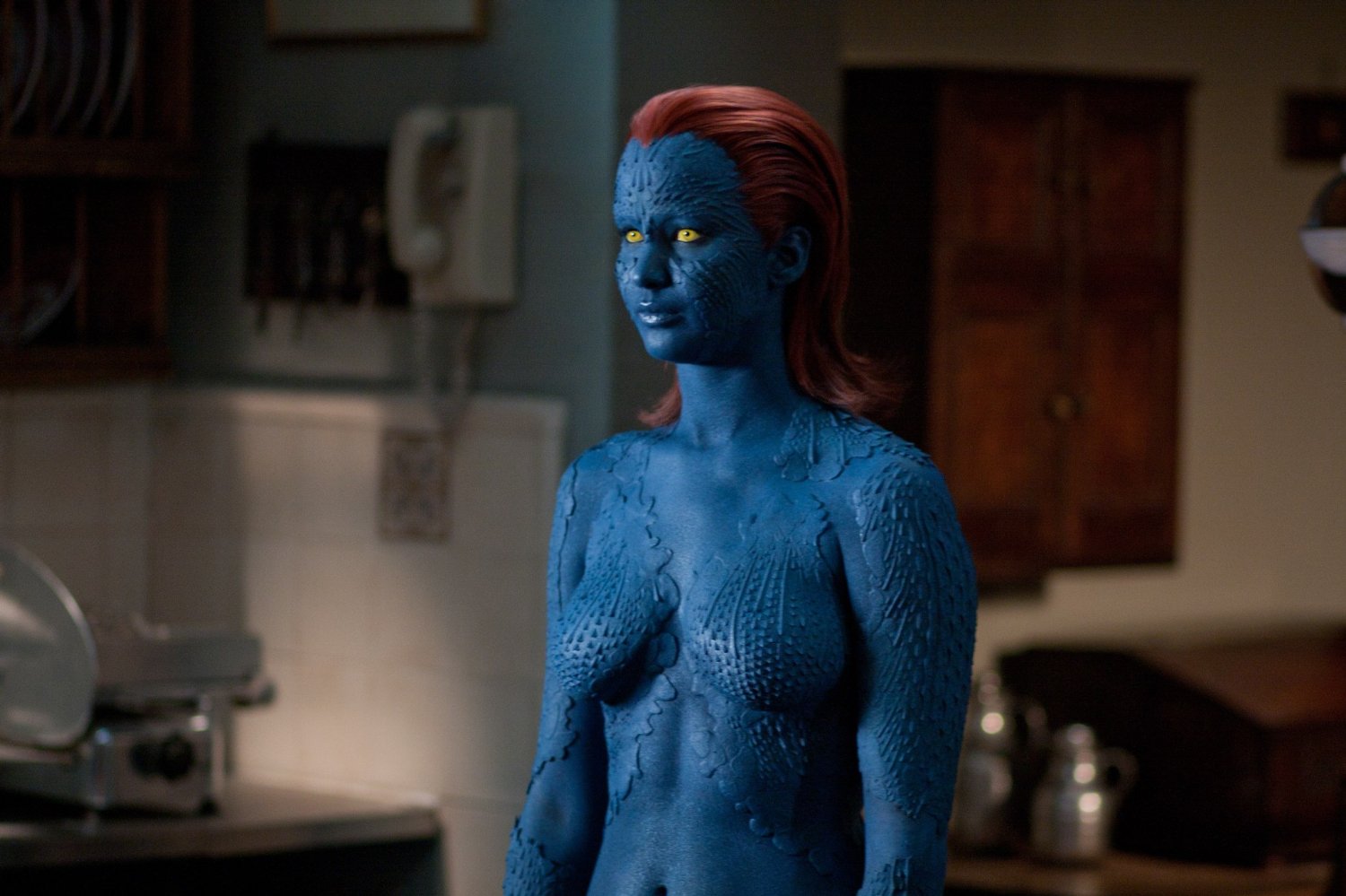 X: First Class received the best reviews of any of the X-Men films since X2. The script moves with a nice location-hopping sweep. Matthew Vaughn keeps a strong hold on both the action and especially the characters. The only major complaint is how Vaughn is surprisingly quiet when it comes to the superheroic action scenes that have been a prominent hallmark of the other films. It is not that the film is lacking in these – there are a number of scenes with the X-Men in training, a scene where Sebastian Shaw's yacht is torn apart by Magneto wielding its anchor, and at best the scene where they break into the Russian dacha and Magneto keeps Emma Frost pinned to the struts of a brass bed in her diamond state. Matthew Vaughn's other films have been equally quiet when it comes to effects and you get the impression that he may be shy of big-budget effects sequences. He does however get it together for a reasonable climactic showdown with the various mutants combating one another, Magneto halting the path of nuclear missiles in the sky and lifting entire submarines out of the water. It still makes for the quietest of the X-Men films in terms of expected big spectacular superheroic action sequences.
The performances are generally all good. The previous X-Men films were breakouts for actors such as Hugh Jackman, Anna Paquin, Rebecca Romijn-Stamos and Taylor Kitsch, even to some extent Ellen Page. You can predict that equal things could be said about many of the young stars here – Nicholas Hoult, Zoe Kravitz (the daughter of Lenny Kravitz and Lisa Bonet), Caleb Landry Jones and especially January Jones and Jennifer Lawrence. In the leads, James McAvoy and particularly Michael Fassbender do well. The only quibble one might have is that it is a difficult fit trying to imagine that they will grow into the characters played by either Patrick Stewart or Ian McKellen. It is hard to see James McAvoy's boyishly cute and constantly flirtatious Professor Xavier becoming Patrick Stewart who radiates sober gravitas with his voice alone, while Michael Fassbender comes across with a fine fierce determination but seems more suited to being an action hero than the calculating scientist played by Ian McKellen.
Next up, Hugh Jackman appeared in the spinoff The Wolverine (2013). Bryan Singer then returned to the director's chair with X-Men: Days of Future Past (2014), which merges both the classic and reboot X-Men casts, and further young faces adventures with X-Men: Apocalypse (2016), X-Men: Dark Phoenix (2019) and The New Mutants (2020), as well as another solo Jackman spinoff with Logan (2017). Deadpool (2016) is a further spinoff that sits within the X-Men universe continuity, as well as the tv series Legion (2017-9) and The Gifted (2017-9).
---
---