aka X-Men 2: United
---
Crew
Director – Bryan Singer, Screenplay – Bryan Singer, Michael Dougherty & Daniel P. Harris, Story – Bryan Singer, David Hayter & Zak Penn, Based on the Comic-Book Created by Chris Claremont, Producers – Lauren Shuler-Donner & Ralph Winter, Photography – Newton Thomas Sigel, Music – John Ottman, Visual Effects Supervisor – Michael Fink, Visual Effects – Cinesite (Supervisor – Stephen Rosenbaum), CIS Hollywood, 4-Ward Productions, Hammerhead Productions (Supervisor – Rebecca Maire), Kleizer-Walczak (Supervisor – Frank E. Vitz), Pixel Magic, Rhythm and Hues (Supervisor – Richard Hollander), VCE/Peter Kuran & Whoodoo Effects, Pre-Visualization Effects – Frantic Films (Supervisor – Chris Bond), Miniatures – Grant McCune Design Inc, Special Effects Supervisor – Mike Vezina, Makeup Effects – FX Smith and Company (Supervisor – Gordon Smith), Production Design – Guy Dyas. Production Company – The Donners Company/Bad Hat Harry Productions/20th Century Fox/Marvel Enterprises Inc.
Cast
Hugh Jackman (Logan/Wolverine), Brian Cox (General William Stryker), Ian McKellen (Eric Lehnsherr/Magneto), Patrick Stewart (Professor Charles Xavier), Famke Janssen (Dr Jean Grey), Halle Berry (Aurora Munroe/Storm), Rebecca Romijn-Stamos (Mystique), Alan Cumming (Kurt Wagner/Nightcrawler), Shawn Ashmore (Bobby Drake/Iceman), Anna Paquin (Marie/Rogue), Aaron Stanford (John/Pyro), James Marsden (Scott Summers/Cyclops), Kelly Hu (Yuriko), Michael Reid McKay (Jason Stryker/Mutant No 142), Keely Purvis (Little Girl Jason), Cotter Smith (President McKenna), Bruce Davison (Senator Robert Kelly), Ty Olsson (Laurio)
---
Plot
After the President is attacked in the Oval Office by the teleporting mutant Nightcrawler, this proves an opportunity for General William Stryker to begin a new assault on the Mutant Problem. However, Stryker is the one behind the attacks, using a serum distilled from the mind of one mutant to make other mutants act against their will. Stryker uses Eric 'Magneto' Lehnsherr as a lure to capture Professor Xavier and then mounts a raid on the School for Gifted Youngsters. Wolverine escapes in the company of several of the children from the school. Joining in an uneasy truce with Magneto, Wolverine and the remaining mutants come together to stop Stryker as he develops a plan to use Professor Xavier and his own version of the Cerebro Machine to kill all mutants worldwide.
---
X-Men (2000) was a huge international hit when it came out, one of the Top 10 grossing films of its year. Entitled X2 for reasons surely only known to the publicity department, this should in all other departments be X-Men 2 and was the eagerly anticipated sequel. Of course, much had changed in between the time of X-Men and X2. X-Men propelled Hugh Jackman out of nowhere to international stardom and made him into a new leading man sex symbol; Halle Berry went from the moderately well-known actress to Big Name Star after winning a Best Actress Oscar with Monster's Ball (2001); while Ian McKellen went onto star in the most successful box-office franchise of the decade, playing Gandalf in The Lord of the Rings. The success of X-Men also kicked off a huge spate of Marvel Comics movie adaptations with the likes of Spider-Man (2002), Daredevil (2003), Hulk (2003), The Punisher (2004), Elektra (2005), Fantastic Four (2005), Man-Thing (2005), Ghost Rider (2007), Iron Man (2008), Captain America: The First Avenger (2011), Thor (2011), The Avengers (2012), Guardians of the Galaxy (2014), Ant-Man (2015), Deadpool (2016), Doctor Strange (2016), Black Panther (2018), Venom (2018), Captain Marvel (2019), Black Widow (2021), Eternals (2021), Shang-Chi and the Legend of the Ten Rings (2021) and various sequels to most of these, as well as the tv series' Agents of S.H.I.E.L.D. (2013-20), Daredevil (2015-8), Agent Carter (2015-6), Jessica Jones (2015-9), Luke Cage (2016-8), The Defenders (2017), Inhumans (2017), Iron Fist (2017-8), The Punisher (2017-9), Runaways (2017-9), The Falcon and the Winter Soldier (2021- ), Hawkeye (2021- ), Loki (2021- ), WandaVision (2021- ), Moon Knight (2022- ), Ms Marvel (2022- ) and She-Hulk: Attorney at Law (2022- ).
X2 does what a good sequel should – it ups the ante and complexifies the relationships between the characters. Sensibly, Bryan Singer keeps Hugh Jackman and the character of Wolverine, who succeeded in mesmerizing everybody in the first film, at the centre of the sequel. Hugh Jackman lends the same volatile anti-heroic charisma and holds X2 together, although at the same time Wolverine is clearly much more heroic this time and not the same morally shaded loner refusing to take sides. There are return appearances from regular characters such as Jean Grey, Cylops and Storm, who all have about as much screen time as they did in the first film, while Anna Paquin's Rogue is given a romance but not much else to do. Most disappointingly, X2 gives us a plot that sidelines Professor Xavier for almost the entire show.
The best returnees in X2 are Ian McKellen's Magneto and Rebecca Romijn-Stamos's Mystique. Although Ian McKellen gets less screen time and Magneto is a less important player this time, the character is given a much more ambiguous presence in the film and the tenuous truce the former two sides are forced into to combat the new menace is one of the most interesting new plot developments. The other returnee who does well this time out is Mystique who gets much more screen-time and one intriguingly sizzling scene where she almost gets to seduce Wolverine.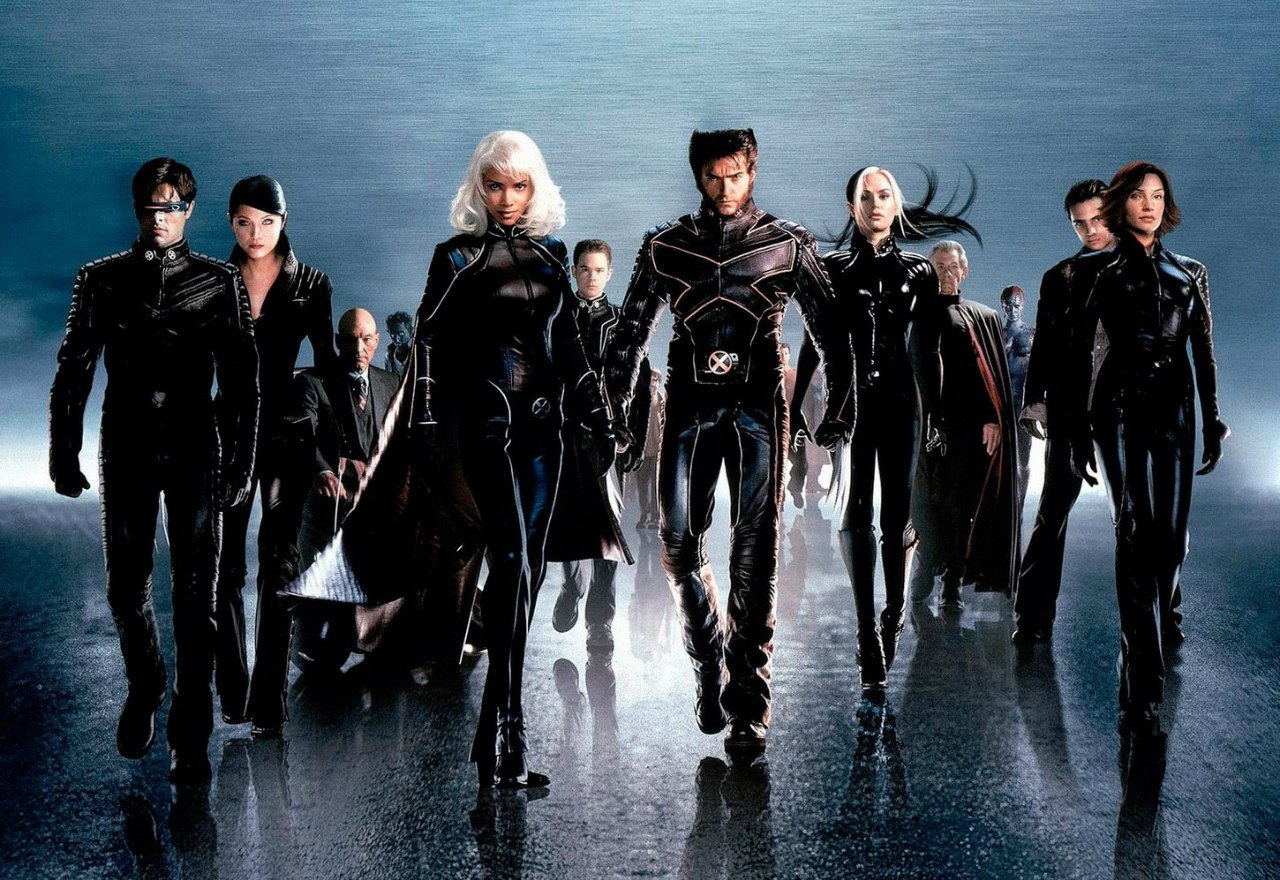 This time around Bryan Singer introduces some interesting new characters. Both the characters of the young teens Pyro and Iceman are well played by Shawn Ashmore and Aaron Stanford respectively. Indeed, some of the best scenes in X2 are those that deal with Wolverine's flight with the teens and the ordinary moments as they try to explain their powers to Iceman's family, or with the ambiguities of Pyro's seduction by Magneto. The most appealing of the new characters ends up being Alan Cumming's pathetically craven Nightcrawler, who looks for all the world like a creation that has crawled out of Clive Barker's Nightbreed (1990).
That said, X2 is a sequel that only sporadically touches upon what made X-Men work. The appeal of X-Men was essentially its being a glorified superheroic tag-team wrestling match – it was the good guys with unusual powers taking on the freakish superpowered bad guys. Here Bryan Singer comes up with some good individual set-pieces – Pyro blasting cops who surround the house with fireballs from a cigarette lighter; the showdown between Jean Grey and Cyclops; Wolverine facing off with his female counterpart Yuriko; the scenes with the various mutants fleeing as the SWAT teams assault the school; Magneto's bursting out of prison by drawing all the iron out of a guard's bloodstream and transforming it into a handful of deadly steel balls; and especially the opening scenes with Nightcrawler teleporting his way through a cordon of White House security staff.
X2's problem is that Bryan Singer only achieves this in isolated moments. There is never a moment when this film pulls back and gives us a superheroic battle with the spectacular glory of the railway station showdown between the mutants with Magneto levitating cars and bullets, or the Statue of Liberty climax in the original. X2's failing is that it only opens up with what everybody has come to see in a handful of isolated moments but never segues into a grandly scaled battle. Some of the scenes – the showdown between Jean Grey and Cyclops – feel like they have been cut short before they get a chance to open up. Other scenes that should have impressed – the flight of the jets through the tornado, the climactic turning back of the flood – seem only like special effects rather than awe-inspiring set-pieces.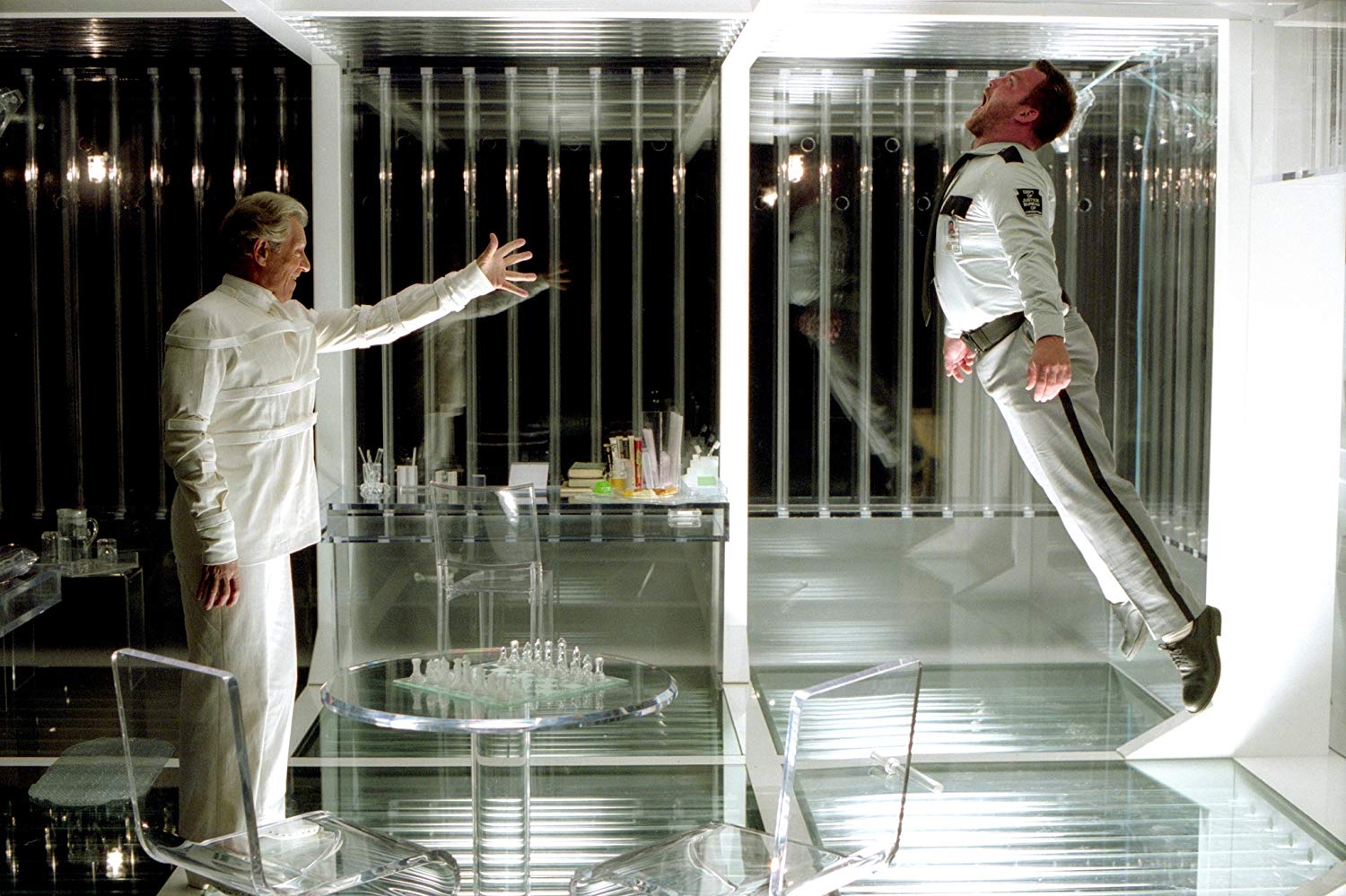 Even the plot is murky when you start to look beneath the basics of the essential conflict it sets up – Stryker's scheme involves the improbable notion of harnessing various mutants in a war to eliminate all mutants; and it is not clear why, if he hates mutants, that he appears to have been involved in some way in the creation of one mutant – Wolverine; while Magneto appears to make an astonishingly casual decision at the end to turn the Cerebro Machine around and use it to eliminate all humans on Earth, something that would surely have such devastating consequences that it is hard to believe even he would desire.
X2 was followed by the heavily disappointing X-Men: The Last Stand (2006), which featured all the principal cast, excepting for Bryan Singer in the director's chair, X-Men Origins: Wolverine (2009), X: First Class (2011) and with Bryan Singer returning as director with X-Men: Days of Future Past (2014) and X-Men: Apocalypse (2016), followed by X-Men: Dark Phoenix (2019) and The New Mutants (2020). The Wolverine (2013), Deadpool (2016) and Logan (2017), as well as the tv series Legion (2017-9) and The Gifted (2017-9) are spinoffs of individual characters that sit within the X-Men universe continuity. X2 was also parodied in Epic Movie (2007).
Bryan Singer subsequently hopped ship from Marvel to DC Comics to take up another superhero franchise with Superman Returns (2006), followed by the non-genre Valkyrie (2008), Jack the Giant Slayer (2013) and Bohemian Rhapsody (2018). Singer has also executive produced the tv mini-series The Triangle (2005) about the Bermuda Triangle, and produced the horror anthology Trick 'R Treat (2008), X: First Class, the horror films My Eleventh (2014) and The Taking (2014), and the tv series Legion (2017-9) and The Gifted (2017-9).
(Winner for Best Makeup Effects, Nominee for Best Actor (Hugh Jackman), Best Supporting Actor (Ian McKellen), Best Supporting Actress (Rebecca Romijn-Stamos) and Best Special Effects at this site's Best of 2003 Awards. No. 6 on the SF, Horror & Fantasy Box-Office Top 10 of 2003 list).
---
---