---
Crew
Director/Screenplay – Ana Lily Amirpour, Producers – Danny Gabai & Sina Sayyah, Photography – Lyle Vincent, Visual Effects Supervisor – Dan Schmit, Visual Effects – Engine Room Hollywood, Special Effects Supervisors – Joe Pancake & Steve Pancake, Makeup Effects Designer – Tony Gardner, Production Design – Brandon Tonner-Connolly. Production Company – Annapurna Pictures/Vice Media/Human Stew Factory.
Cast
Suki Waterhouse (Arlen Johnson), Jason Momoa (Miami Man), Jayda Fink (Honey), Keanu Reeves (The Dream), Yolonda Moss (Maria), Giovanni Ribisi (The Screamer), Jim Carrey (The Hermit)
---
Plot
In Texas, Arlen is despatched into the lawless walled-off desert to live among the other criminals and social rejects that are deemed The Bad Batch. She is immediately captured by wasteland cannibals who sever her leg and arm to eat. However, she makes an escape by crawling out and then inching herself along on a skateboard. Eventually, she is found and welcomed at the community of Comfort where the guru-like leader known as The Dream dispenses drugs for all. There she is given an artificial leg. During one of her sorties beyond the camp, Arlen comes across Maria and her daughter Honey scavenging and shoots Maria after realising that she is a cannibal. Arlen takes Honey with her back to Comfort but Honey is taken by The Dream after a distracted Arlen loses her. During a drug trance, Arlen wanders into the desert where she encounters Miami Man, a Cuban artist and the father of Honey who has come searching for his daughter.
---
Ana Lily Amirpour made an attention grabbing directorial debut with the vampire film A Girl Walks Home Alone at Night (2014). Much of the attention focused on the film was due to the misleading byline "the first Iranian horror film" where more correctly it could be said to be "the first horror film directed by an expatriate British-Iranian woman." Nevertheless, it showed Amirpour as someone with talent. With The Bad Batch, Ana Lily Amirpour returned with a $6 million budget, the backing of Annapurna Pictures and a reasonable line-up of name stars, including Keanu Reeves, Jim Carrey, Giovanni Ribisi and Jason Momoa.
With The Bad Batch, Ana Lily Amirpour makes a science-fiction film. The setting nominally suggests the typical world of Mad Max 2 (1981) – a lawless desert wasteland inhabited by scavengers and crazies. Although given that the world we see is actually a prison where the criminals and social rejects from mainstream society are banished, what this suggests is less a Mad Max scenario than Escape from New York (1981). Although this is a kinder, gentler Escape from New York – more, if you like, Escape from New York by way of The Burning Man Festival. The world we are in is sketched in an absolute minimum of detail, while the reasons for Suki Waterhouse's banishment are not specified at all.
Ana Lily Amirpour get off a great opening with Suki Waterhouse being exiled into the desert. In very short time, she is captured by cannibals whereupon her arm and leg are chopped off to be eaten. The idea of a heroine missing one arm and leg (and where the film never does conducts any cheats that hides this from display throughout) is a novel one. (Amirpour made it even tougher on herself and insisted that Suki Waterhouse's missing arm not be digitally erased but created with a makeup prosthesis). There are the striking scenes of Suki Waterhouse making her escape first by dragging herself through the sand and then by finding an abandoned skateboard and moving through the desert on top of this. Amirpour is equally fascinated by the cannibals who are all bodybuilders and appear to live in a graveyard of abandoned airplanes.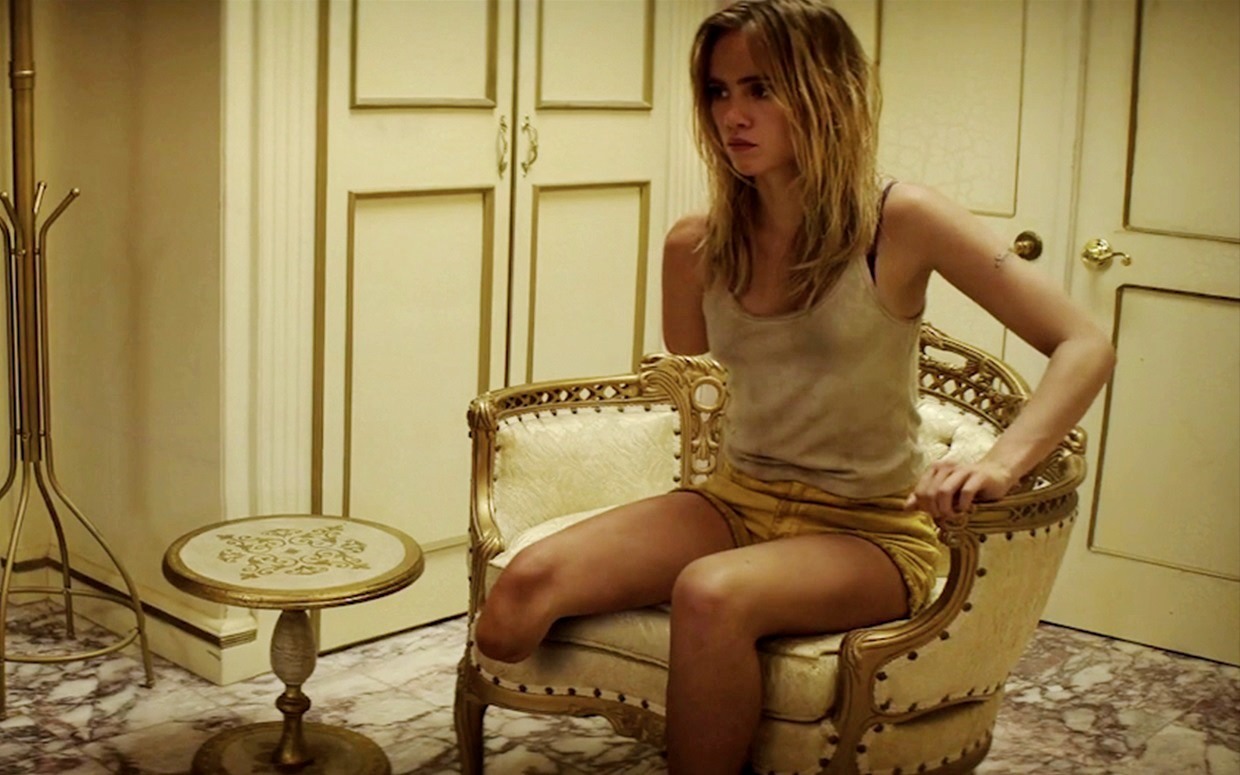 This is an opening that certainly holds your attention and gets The Bad Batch off to a great start. However, the failing of the film is that it then loses direction. Ana Lily Amirpour is not interested in the action focus of the Mad Max films. Rather she takes in the eccentric locals around Comfort – Giovanni Ribisi as a man wandering in mind, the rallies that guru Keanu Reeves holds from a mobile platform that is built like a giant neon ghetto blaster, the assorted desert scavengers.
From this point, Amirpour follows a long drawn-out drama where Suki Waterhouse takes young Jayda Fink to Comfort but loses her, father Jason Momoa setting out on a quest to find her, hi encountering Suki and assorted weavings and interweavings between these characters. These are stretched out to nearly two hours of running time without that much ever happening dramatically.
The other strange aspect of the film is that Ana Lily Amirpour doesn't seem much interested in dialogue – it is some thirty minutes into the film before Suki Waterhouse says anything; Jason Momoa's taciturn character only gets a handful of lines and even then is lumbered with delivering them through a Cuban accent; Giovanni Ribisi talks a meaningless babble; and Jim Carrey doesn't get to say anything at all.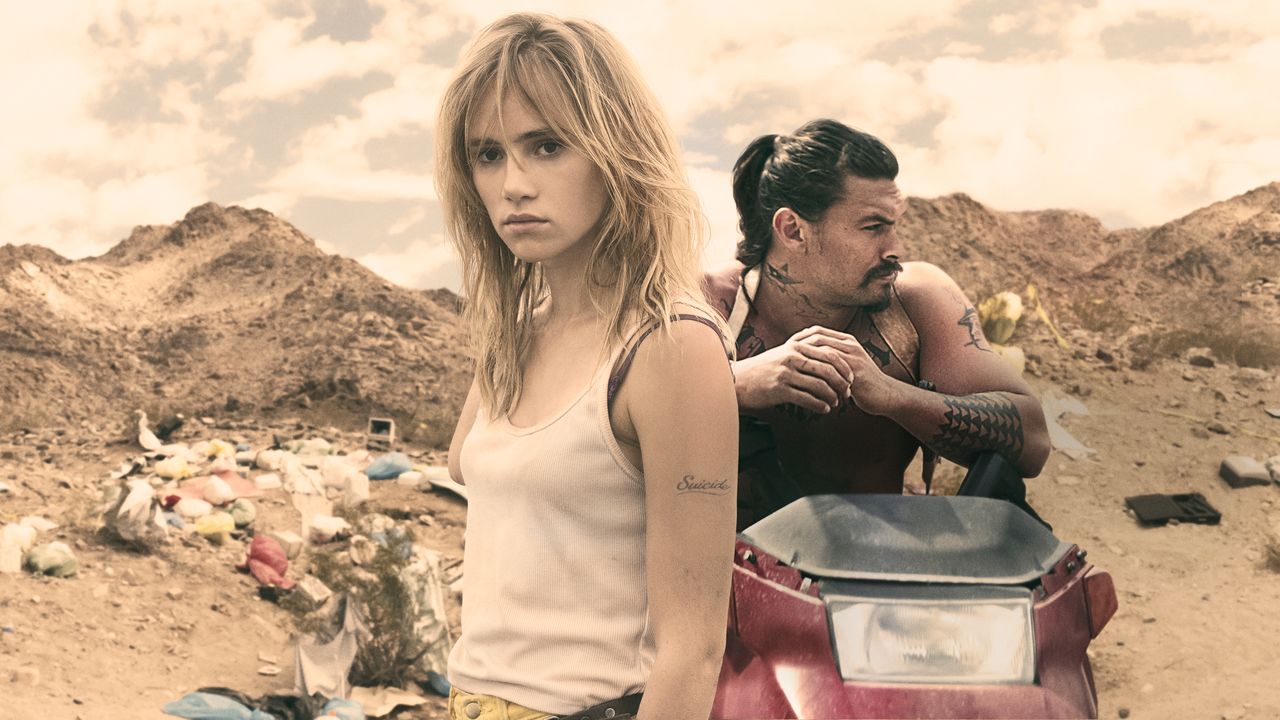 It is a film that seems to drift off into not much happening. There is sort of a connection between Suki Waterhouse and Jason Momoa that eventually settles down into less a relationship than his grudging acceptance of her being there. It is also a relationship that you cannot help but think has very little future – until like about the time that young Jayda Fink pipes up and tells her father that she saw Suki Waterhouse shoot his wife Yolonda Moss, or until Jason Momoa displays his natural cannibal tendencies in front of Suki Waterhouse and she decides that he has to go the same way that Yolonda did.
Whatever it was that Annapurna Productions hoped they would get from banking on Ana Lily Amirpour, they clearly didn't get. The film appeared at several international film festivals and then received a theatrical release in 2017, all to mixed reviews. It is a frustrating film. It sideswipes several different genres but refuses to conform to any of them, least of all the science-fiction genre into which it plants its feet. There is a relationship and revenge trail but the film feels very detached and indifferent about giving the audience anything that plays off that. Mostly it is a bad example of what happens when the auteur theory is banked on someone whose vision is not too clearly communicated.
Ana Lily Amirpour subsequently went on to make the psychic powers film Mona Lisa and the Blood Moon (2021), in between assorted tv work.
---
---