---
USA. 1981.
Crew
Director – John Carpenter, Screenplay – John Carpenter & Nick Castle, Producers – Larry Franco & Debra Hill, Photography – Dean Cundey, Music – John Carpenter & Alan Howarth, Visual Effects – New World/Venice & Dennis & Robert Skotak, Special Effects Supervisors – Roy Arbogast & James Cameron, Makeup – Ken Chase, Production Design – Joe Alves. Production Company – City Films/Avco Embassy.
Cast
Kurt Russell (Snake Plissken), Lee Van Cleef (Bob Hauk), Donald Pleasence (The President), Isaac Hayes (The Duke), Harry Dean Stanton (Brain), Adrienne Barbeau (Maggie), Ernest Borgnine (Cabbie), Frank Doubleday (Romero)
---
Plot
The year 1997. Manhattan Island has been turned into a walled-off maximum-security prison where convicted criminals have been abandoned to live in lawless anarchy. Terrorists hijack Air Force One and take The President hostage but crash on Manhattan Island. The President is urgently needed at a summit conference with the Chinese in twenty-four hours. The island's commissioner Bob Hauk takes the desperate step of recruiting former war hero and convicted criminal Snake Plissken who is awaiting deportation to Manhattan Island. Plissken is armed and given a hang-glider to fly in and rescue The President from where he is being held prisoner by the warlord known as The Duke. If Snake can rescue the President before the twenty-four hours are up, he will receive a pardon – and to encourage Snake, Hauk has a bomb implanted in his neck.
---
John Carpenter is a director with a cult following. While John Carpenter's star became erratic in the 1990s and vanished altogether in the 00s, Carpenter was at an all-time high and could be counted as probably one of the half-dozen top names in genre filmmaking in the early 1980s. Carpenter initially emerged with Dark Star (1974), his student film turned theatrical release that became a cult science-fiction hit, and followed it with the highly-acclaimed siege film Assault on Precinct 13 (1976), before going onto the runaway success of the original slasher movie Halloween (1978). (See bottom of the page for John Carpenter's other genre films).
Escape from New York was a considerable success when it came out and has since enjoyed a substantial cult afterlife on video/dvd. In fact, Escape from New York was one of the first science fiction/action hybrids. Today the sf/action film is so prevalent it is almost its own genre. However, in the 1980s, futurist science-fiction seemed stuck in either the intergalactic adventure of Star Wars (1977) or the dystopian futures of THX 1138 (1971), Zardoz (1974) (1974), Rollerball (1975) and Logan's Run (1976). John Carpenter with Escape from New York and George Miller with Mad Max (1979) and Mad Max 2 (1981) welded the dark and socially dissolute future to the action film whereby a society running down at the edges became the new equivalent of a Western frontier whereby individualist loner heroes could assert their own hard-won values against the forces of lawlessness and anarchy. Escape from New York even managed to create its own mini-genre of futuristic prison escape movies, which has subsequently included the likes of Turkey Shoot (1983), Spacerage: Breakout on Prison Planet (1985), Dead-End Drive-In (1986), Moon 44 (1990), the hilarious Hong Kong splatter film Story of Ricky (1991), Wedlock/Deadlock (1991), Fortress (1993), New Eden (1994), No Escape/Escape from Absolom (1994) and Death Race (2008). [Although the first film to conduct the future prison idea was in fact Stephanie Rothman's not uninteresting Terminal Island (1973)]. There have also been blatant imitators from Italy such as 1990: The Bronx Warriors (1982) and 2019: After the Fall of New York (1983) and films borrowing/paying homage to Escape from New York such as Banlieue 13 (2004), Doomsday (2008), Lockout (2012), Brick Mansions (2014) and Death Race: Beyond Anarchy (2018).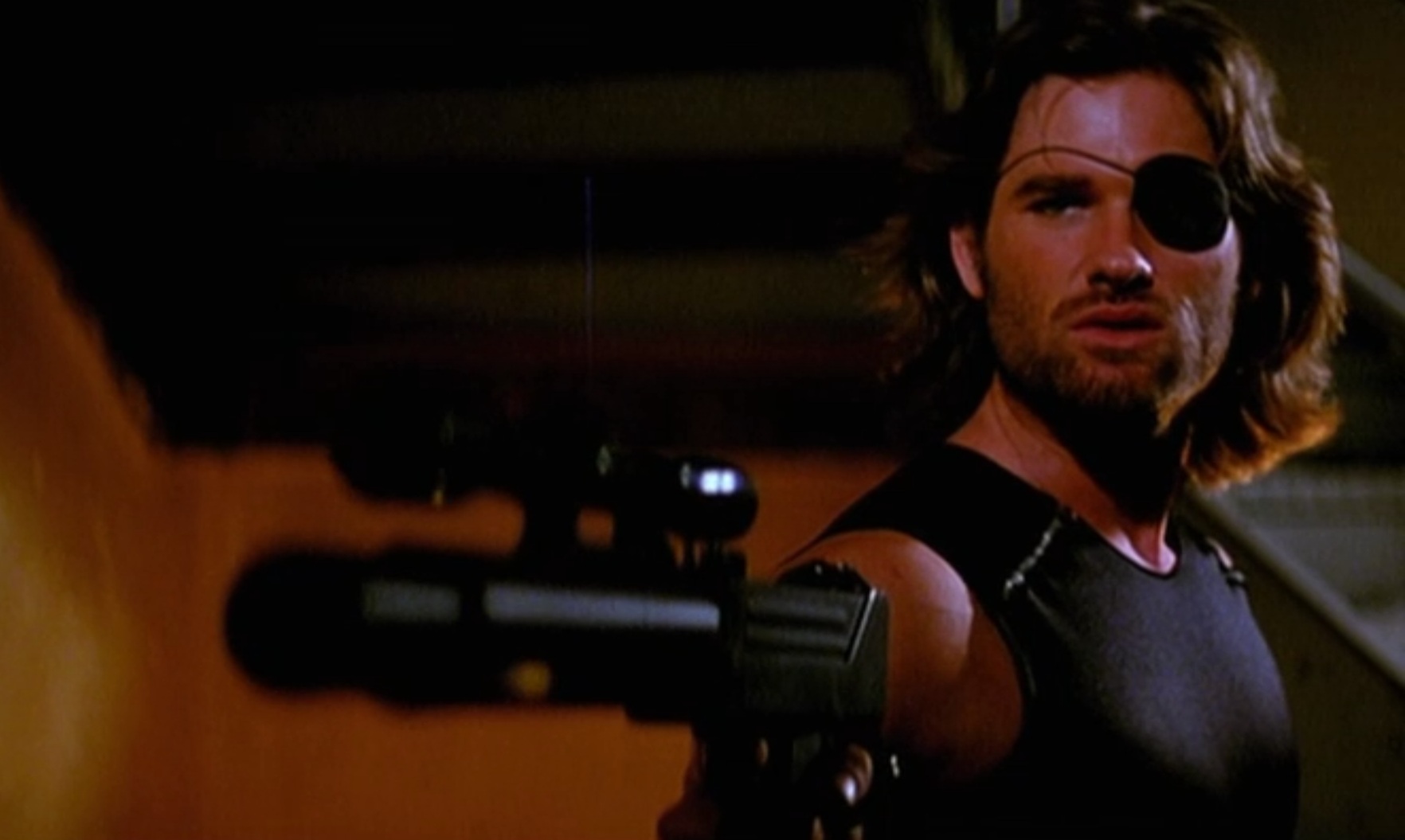 Escape from New York is one of the wittiest and most stylish of these sf/action films. John Carpenter's direction, the editing and story are so deliciously polished the film glides in to hit one like a fist encased in a velvet glove. The opening of the film, the glider flight into the city and the eerie initial exploration of the streets and tracing of The President flow with a sublimely exciting cool. Longtime Carpenter associate Dean Cundey shoots virtually the entire film at night and gives it a tense sensual edge. Carpenter creates a superbly haunting and melodic score that adds a sinister, pulsing urgency to the action – it is the best of the numerous scores that John Carpenter has conducted for his own films. Carpenter's action scenes do not always hit the mark – the film could have done without the Madison Square Garden sequence where Carpenter indulges his love of wrestling, and the bridge chase climax seems cramped by a low-budget – but the rest of the film has a slick ease that carries it over the rough spots.
There is an excellent cast. Kurt Russell cuts a memorable figure in khaki camouflage pants, black vest, eyepatch and sneering silky-voiced defiance. It is a performance that Kurt Russell appears to have wittily modelled on Clint Eastwood. Up to that point, Kurt Russell was better known as a teenage Disney star, most notably with The Computer Wore Tennis Shoes (1969) and sequels. Russell had previously worked with John Carpenter on the cinematically released tv movie Elvis – The Movie (1979), a biopic that approached its subject matter with overly awed reverentiality, but featured a fine performance from Russell in the title role. Carpenter initially fought against the studio who wanted to cast the likes of Charles Bronson and Tommy Lee Jones in the part. The upshot of Carpenter's insistence was a casting coup and one that reinvigorated Kurt Russell's career and allowed him to reinvent himself as an action star throughout the 1980s. While Russell tends to a lantern-jawed stolidity in lesser parts, his best work was always with John Carpenter and the finest of all his performances was here as Snake Plissken.
Lee Van Cleef, usually cast as villains in spaghetti Westerns, is put up against Kurt Russell and, as he says, they make a good team, trying to out-snarl and out-sneer each other. Harry Dean Stanton, blues singer Isaac Hayes (later the Chef on South Park [(1997– ]) and John Carpenter's then wife Adrienne Barbeau all give commendable support – although one wishes that Barbeau and Stanton's characters had been fleshed out more. As The President, Donald Pleasence is fine – it is wonderful to watch him slip from being a cold mountain of jelly as a prisoner to delivering cold platitudes again once he is back in his element: "Yes, we do recognise the sacrifice these people have made … Now, if you don't mind, I have to be on camera in 2½ minutes." Also of note is Frank Doubleday in a performance of bizarre psychotic theatrics as a crazy called Romero. (There is also a doctor in the film called Cronenberg to complete the in-joke – Carpenter of course referring to his contemporary genre directors David Cronenberg and George Romero). The only out of place element is the low comedy relief provided by Ernest Borgnine's Cabbie character, which does not fit at all.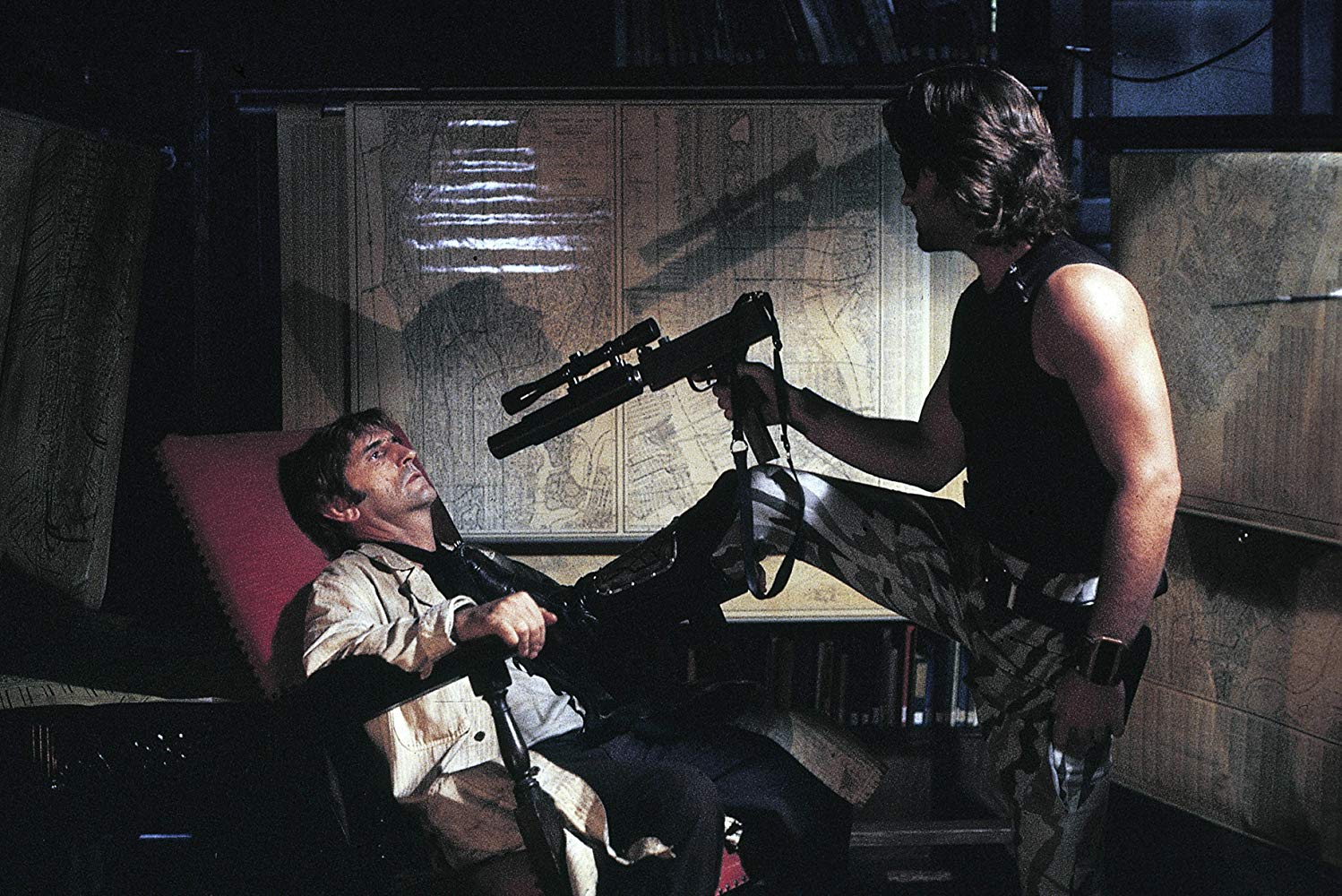 The special effects are unobtrusively excellent. The shots of the glider floating across the water and between the towers momentarily attain something eerily beautiful. The special effects were supervised by James Cameron, later the director of The Terminator (1984), Aliens (1986), Titanic (1997) and Avatar (2009). There was apparently only a single scene that was shot in New York and the rest of the film was shot in St Louis where production designer Joe Alves does an excellent job in recreating New York City in its ruined splendour. It is incredible to realise that Escape from New York was made only on a budget of $7 million (even at a time when $7 million meant something, not just the star's salary).
John Carpenter, Debra Hill and Kurt Russell later reteamed for Escape from L.A. (1996), which is a lesser film but not entirely unworthwhile. For a time after, John Carpenter announced the possibility of a further sequel, tentatively to be titled Escape from Earth, although this never emerged – although apparently the script for this evolved into Ghosts of Mars (2001). Most recently, with the spate of remakes of Carpenter films in the 00s, there has been the inevitable announcement of a remake of Escape from New York. Escape from New Jersey (2010) was a homage/unofficial sequel to the original with the role of Snake Plissken being played by Hector De La Rosa.
John Carpenter's other genre films are:– Dark Star (1974); the urban siege film Assault on Precinct 13 (1976); Halloween (1978); the stalker psycho-thriller Someone's Watching Me (tv movie, 1978); the ghost story The Fog (1980); the remake of The Thing (1982); the Stephen King killer car adaptation Christine (1983); the alien visitor effort Starman (1984); the Hong Kong-styled martial arts fantasy Big Trouble in Little China (1986); Prince of Darkness (1987), an interesting conceptual blend of quantum physics and religion; the alien takeover film They Live (1988); Memoirs of an Invisible Man (1992); the horror anthology Body Bags (tv movie, 1993), which Carpenter also hosted; the H.P. Lovecraft homage In the Mouth of Madness (1995); the remake of Village of the Damned (1995); the vampire hunter film Vampires (1998); the sf film Ghosts of Mars (2001); and the haunted asylum film The Ward (2010). Carpenter has also written the screenplays for the psychic thriller Eyes of Laura Mars (1978), Halloween II (1981), the hi-tech thriller Black Moon Rising (1985) and the killer snake tv movie Silent Predators (1999), as well as produced Halloween II, Halloween III: Season of the Witch (1982), the time-travel film The Philadelphia Experiment (1984), Vampires: Los Muertos (2002), the remake of The Fog (2005) and the reboot of Halloween (2018).
John Carpenter's co-writer Nick Castle, who had earlier played Michael Myers in Halloween, later went onto his own directorial career with the genre likes of TAG: The Assassination Game (1982), The Last Starfighter (1984), The Boy Who Could Fly (1986) and went onto make banal, middle-of-the-road comedies such as Dennis the Menace (1993), Major Payne (1995) and Mr Wrong (1996). He has made several other minor ventures back into genre material with the angel fantasy Delivering Milo (2001), the Christmas tv movie Twas the Night (2001) and the sf/action film Connor's War (2006), as well as writing the screenplay for Steven Spielberg's Hook (1991).
---
---