---
USA. 2016.
Crew
Director/Screenplay – James DeMonaco, Producers – Michael Bay, Jason Blum, Andrew Form, Brad Fuller & Sebastien K. LeMercier, Photography – Jacques Jouffret, Music – Nathan Whitehead, Visual Effects – Fusefx (Supervisor – Tommy Tran), Method Studios (Supervisor – Gong Myung Lee), The Molecule (Supervisor – Luke DiTommaso), Pixomondo (Supervisors – Pietl Hohl & Randall Smith), Rez-Illusion, VFX Legion (Supervisors – Joe Harkins, James David Hattin & Matthew T. Lynn) & Wolverine VFX (Supervisor – Charles Dulin), Special Effects Supervisor – John Ruggieri, Production Design – Sharon Lomofsky. Production Company – Blumhouse Productions/Platinum Dunes/Man in a Tree Productions.
Cast
Frank Grillo (Lee Barnes), Elizabeth Mitchell (Senator Charlie Roan), Mykelti Williamson (Joe Dixon), Joseph Julia Soria (Marcos), Betty Gabriel (Laney Rucker), Kyle Secor (Minister Edwige Owens), Terry Serpico (Earl Danziger), Edwin Hodge (Dante Bishop), Brittany Mirabile (Schoolgirl #1 Freakbride/Kimmy), Ethan Phillips (Chief Cooper)
---
Plot
It is Election Year and the government that has ruled for the last twenty-five years finds itself challenged by independent Senator Charlie Roan who is enjoying success on a platform of ending The Purge. It is now Purge Night and Charlie elects to stay in her own home under the watch of security guards rather than seek the safety of the bunkers that all the other politicians retreat to. Lee Barnes is her personal security head but, as The Purge begins, he discovers that the rest of her detail has been infiltrated by assassins with orders to silence Charlie. Forced to flee the house and head out into the anarchy of the open streets, they take refuge with African-American convenience store proprietor Joe Dixon who has elected to defend his premises himself rather than pay absurdly hiked insurance premiums. However, an assault team of assassins are tracking them to eliminate Charlie.
---
The Purge (2013) was a surprising box-office success when it came out, earning a not immodest $64 million (from a mere $3 million outlay). The film was essentially warmed-over Straw Dogs (1971), combined with an improbably ridiculous near-future scenario in which all crime is made legal for one night. The film's politics were all over the map, on one side offering a liberal sympathy for the dispossessed but at the same time ending up celebrating the Second Amendment right to maintain a well-stocked home arsenal of assault weapons.
The success was such that co-producers Blumhouse and Michael Bay's Platinum Dunes company spun out a sequel from the same director-writer James DeMonaco with The Purge: Anarchy (2014). Blumhouse, Bay, DeMonaco and the previous film's star Frank Grillo return for a third film here. After this came the prequel The First Purge (2018), the tv series The Purge (2018-9) and another sequel The Forever Purge (2021).
The Purge lacks the conceptual weight to be spun out as a series. The idea of a future where crime is legal for one night holds zero plausibility whatsoever. The first film caught on with audiences and the subsequent sequels have merely offered slight twists on the basics and minimally more exploration of the future scenario. The sequels certainly have been making the effort to wind in issues about real world politics – this, which notedly comes out in a real world US election year, seems to feature a Hilary Clinton stand-in running as an independent on a progressive platform against privilege, the disenfranchisement of the poor and ending The Purge. The subsequent The First Purge jumps boots-and-all in full-on Black Lives Matter sympathy.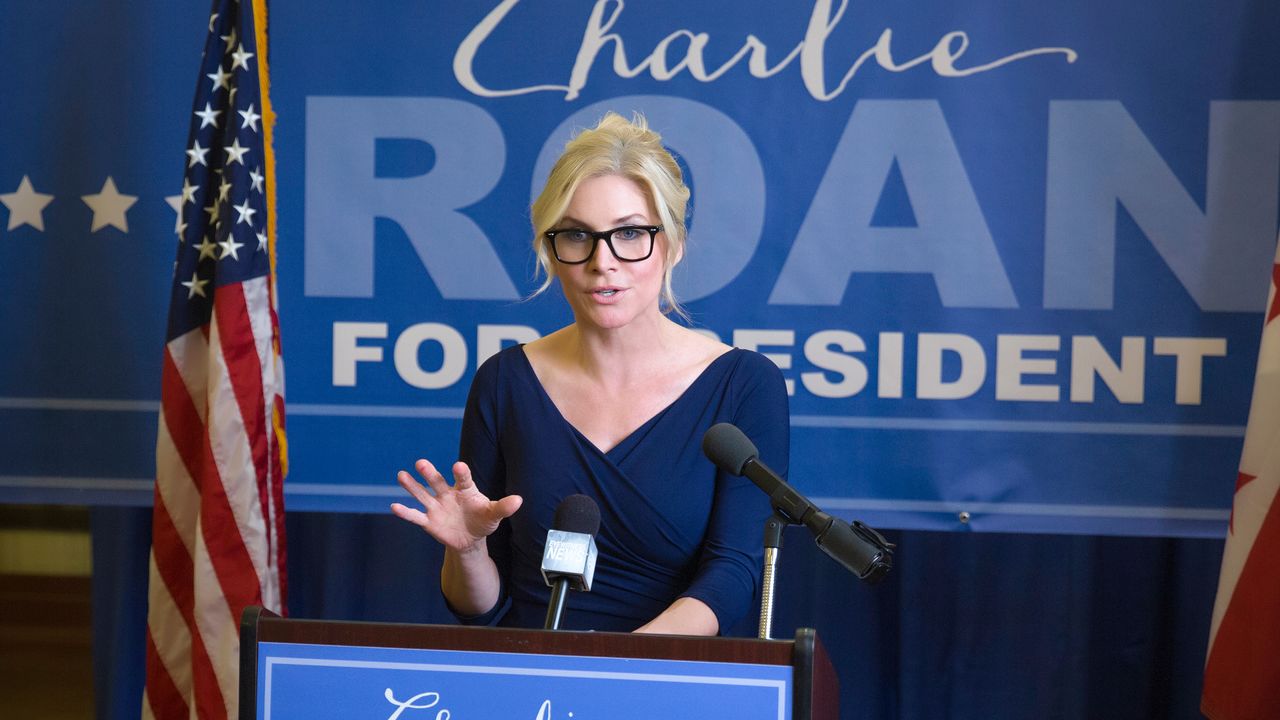 Election Year does very little other than create straw divides when it comes to its political argument. It makes token stabs in the direction of the insurance industry and offers sympathy for the problems of the economically disenfranchised and small business owners in a poor neighbourhood. However, these have as little depth as the series' social scenario does. These scenes are certainly boosted by Elizabeth Mitchell, an actress with an eminently likeable screen persona that I have always thought should have gotten wider recognition than she has. Fairly quickly though, any political messages is sidelined in favour of the usual gunplay and gleeful slaughter that the series has traded in so far.
I have to give James DeMonaco some credit as he fills the film with evocative images designed to catch the eye, if not create a sensation – guillotines set up in the street, an open-top convertible driving with three screaming victims tied to the hood, figures dressed as US Presidents wielding axes, cars covered in Christmas tree lights spilling lethally armed girls dressed in lingerie come to attack Mykel T. Williamson's store, and of a trashed Lincoln Memorial covered in red paint spelling 'Purge'. But none of this imagination ever stretches as far as the action element, which runs by the book. When the guns start blazing, one's interest tapers off.
---
---