aka Terra
---
Crew
Director/Story – Aristomenis Tsirbas, Screenplay – Evan Spiliotopoulos, Producers – Keith Calder, Ryan Colucci, Dave Allan Smith & Jessica Wu, Music – Abel Korzeniowski, Visual Effects Supervisor – Dimitri Loginowski. Production Company – Roadside Attractions/Snoot Toons/Menithings Productions/IM Global.
Voices
Evan Rachel Wood (Mala), Luke Wilson (James Stanton), Brian Cox (General Hemmer), David Cross (Giddy), Chris Evans (Stewart Stanton), James Garner (Doron), Danny Glover (President Chen), Justin Long (Senn), Amanda Peet (Maria Montez)
---
Plot
The peaceful people of an alien planet greet the arrival of a ship in the sky. As it emits tiny ships that move through the village, snatching people up, they believe that this is the gods come and surrender themselves to be taken up. Mala, a bright young girl and inventor, is able to evade one of the ships in her flying machine during which the ship crashes. She hauls the pilot from the wreckage and this proves to be the human James Stanton. Stanton's robot Giddy directs her to build an atmospheric tent so that he can breathe the planet's air. Stanton is bewildered and fearful when he regains consciousness but comes to see that Mala is non-threatening. In trying to get back to his ship, he realises that her people are not the danger the humans perceive them to be. Humanity has devastated Earth and surrounding planets and in a last ditch effort they have set out in a giant ark to this planet, which they call Terra, to find a new home. Upon returning to the ship and being claimed a hero, Stanton is told that the ark has only two weeks of oxygen left. Their only choice is to invade Terra and begin a terraforming program to convert the planet's atmosphere – but this will kill off all of Mala's people.
---
Terra was the debut animated film from Canadian director Aristomenis Tsirbas. Previously a visual effects artist, Tsirbas originally made the film as a short Terra (2002) and was granted the financing to expand it to feature-length. The original release of the film under the title Terra was little seen – it premiered at the Toronto International Film Festival and did the rounds of festivals for about a year without gaining much attention.
To the film's good fortune, there came the release of Avatar (2009) whereupon Terra with its very similar plot about human colonists suppressing the peaceful inhabitants of an alien world with military force and their low-tech uprising was cannily repackaged for a theatrical release under the title Battle for Terra. While the film was originally shot in 2D, the new release was re-edited for 3D. Even then it failed to do much box-office, only earning $1.6 million at the US box-office. Aristomenis Tsirbas has yet to make another film.
Battle for Terra has its defenders. Certainly, in the opening scenes, as we are introduced to the planet, there is an undeniable imagination. The Terran structures and especially the ramshackle homemade flying machines are all designed with an imagination. On the other hand, when you compare it to a film like Fantastic Planet (1973) and its genuinely alien world of strange creatures, you can see that Battle for Terra is simply standard animation characters (all with anthropomorphic big eyes).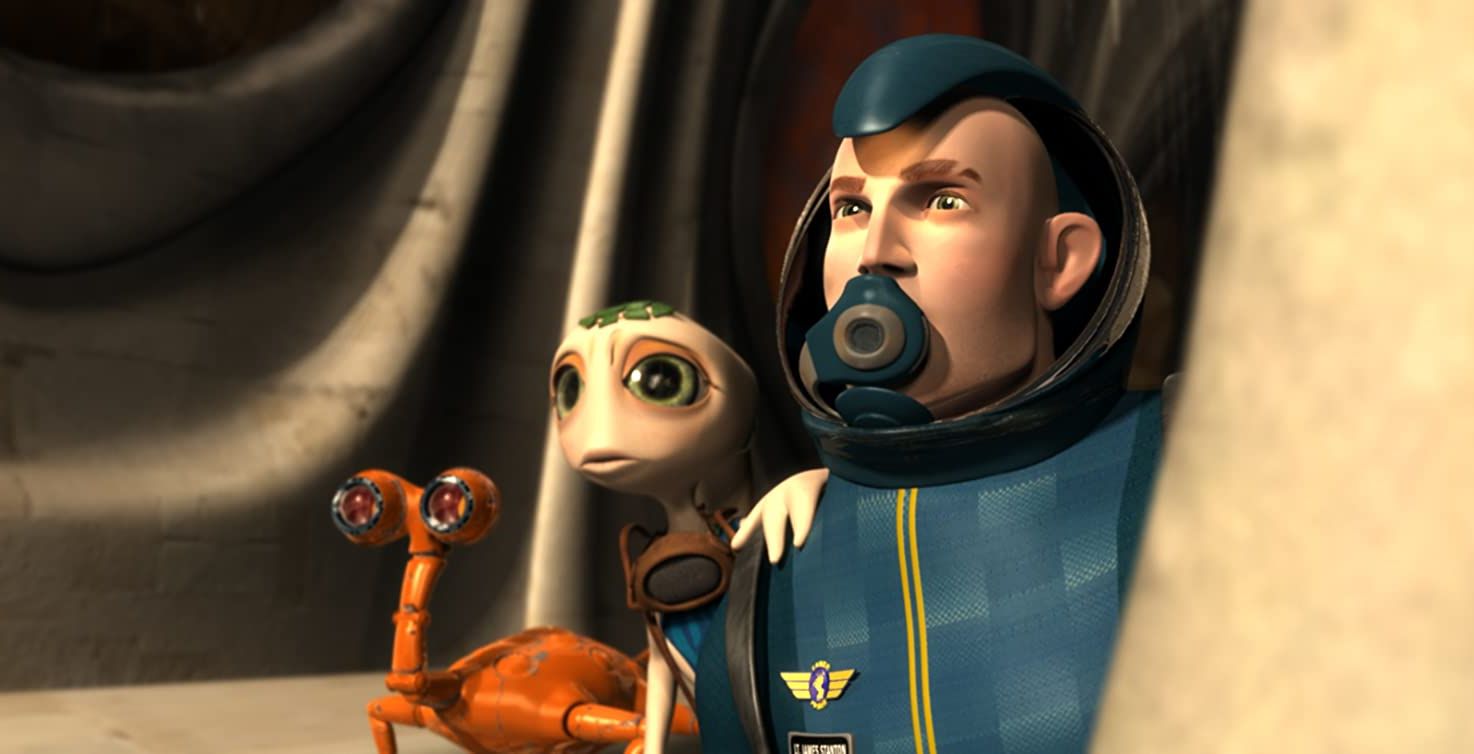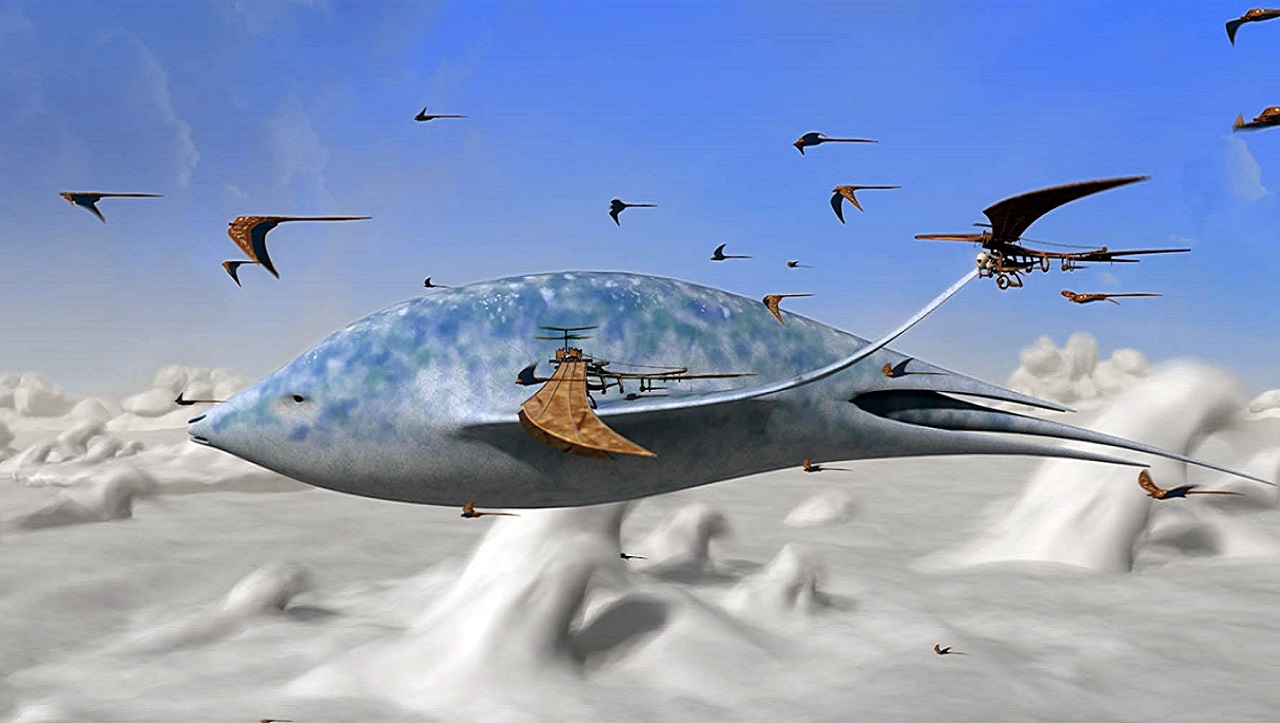 The plot plays out on fairly standard arcs of the young kid in society who defies tradition in search of knowledge and so on. Furthermore, it soon becomes apparent that the quality of animation is CGI that has been produced with some obvious corners cut. The film does mount to a reasonable space battle climax where at least the quality of animation is laudable.
As you get into the film, you are undeniably impressed by its sweep but more and more so the characters, their simplistic divides (small and anthropomorphic is good, human and militaristic is bad) end up being banal. It is no more than a simple anti-prejudice, anti-colonial story. Certainly, it is no different a set of divides to the ones that Avatar operated on but here they seem to operate at a far less interesting level.
The other complaint I would make is one of scale – the entire planet of Terra seems to be no more than a single village of a couple of hundred people, while the human efforts to terraform the planet consist of dumping a tower that starts releasing a gas that is converting the entire atmosphere of the planet within a matter of minutes.
---
---