---
Crew
Director – Ron Howard, Screenplay – Jake Kadsan & Lawrence Kasdan, Producers – Simon Emanuel, Kathleen Kennedy & Allison Shearmur, Photography (3D) – Bradford Young, Music – John Powell, Based on Themes by John Williams, Visual Effects Supervisor – Rob Bredow, Visual Effects/Animation – Industrial Light and Magic (Supervisor – Patrick Tubach, Animation Supervisor – Matthew Shumway), Special Effects Supervisor – Dominic Tuohy, Creature Effects – Neal Scanlan, Production Design – Neil Lamont. Production Company – Lucasfilm.
Cast
Alden Ehrenreich (Han Solo), Woody Harrelson (Tobias Beckett), Joonas Suotamo (Chewbacca), Emilia Clarke (Qi'ra), Donald Glover (Lando Calrissian), Paul Bettany (Dryden Voss), Thandie Newton (Val), Phoebe Waller-Bridge (L3-37), Erin Kellyman (Enfys Nest), Jon Favreau (Voice of Rio Durant), Linda Hunt (Voice of Lady Proxima)
---
Plot
Han grows up on the planet Corellia where, as a runaway, he has been placed in servitude to Lady Proxima. He makes an escape to the spaceport with Qi'ra, the girl he loves. There Qi'ra is recaptured but Han manages to get through and signs up for the Imperial troops where he is given the surname Solo because he has none. Three years later, while as a stormtrooper on the planet on the planet Mimban, he encounters a group of smugglers led by Tobias Beckett and begs to join them. Instead they turn him back over to the Imperial troops and he is thrown into a pit. There he befriends his cellmate, the Wookie Chewbacca, and the two make an escape together and jump aboard Beckett's departing ship. Grudgingly accepted as part of Beckett's crew, they join in the heist of a shipment of coaxium ore from a train on the planet Vandor 1. However, this goes wrong when Han ditches the container during pursuit. Beckett reveals that the robbery was being conducted on behalf of the Crimson Dawn crimelord Dryden Vos. He takes Han with him to make amends to Vos where Han is astonished to find that Qi'ra is now Vos's lieutenant. In order to make restitution, Han suggests robbing unprocessed coaxium from the mines on Kessel. To do this they need a ship and a pilot. This entails persuading the hotshot smuggler Lando Calrissian to take them there in his ship The Millennium Falcon.
---
George Lucas sold the Star Wars franchise to Disney in 2012. From there, the studio went on to produce a new series of sequels to the original trilogies, which has so far resulted in Star Wars Episode VII: The Force Awakens (2015), Star Wars Episode VIII: The Last Jedi (2017) and Star Wars Episode IX: Rise of the Skywalker (2019) with others in the pipeline. Disney also announced that in the years in between each of the episodes, we would get some other story from the Star Wars universe, the first of these being Rogue One (2016), a prequel to Star Wars (1977), showing the events leading up to the rebels obtaining the plans for the Death Star. Solo: A Star Wars Story was the second of the spinoffs. However, with the box-office disappointment of Solo, other announced films that were to have featured Boba Fett and young Obi-wan Kenobi have been put on hold – at current writing, there are no other theatrical spinoffs in the planning or shooting stage, although we did subsequently see the tv series and the tv series The Mandalorian (2019- ), launched as part of the new Disney streaming service.
Almost all of the Disney Star Wars films have had more than one or two problems going on behind the scenes, particularly when it comes to their directors who are fired and replaced with routine occurrence. A number of scenes in Rogue One were reshot with a different director; Colin Trevorrow was dumped from Episode IX after the box-office flop of his film The Book of Henry (2017); while Josh Trank had been earlier canned from Rogue One after the bomb that was Fantastic Four (2015). Solo started filming under Phil Lord and Chris Miller who had had success as the directors of Cloudy with a Chance of Meatballs (2009), 21 Jump Street (2012) and sequel and the big hit of The Lego Movie (2014). Before that, Chris Miller had co-directed Shrek the Third (2007) and directed Puss in Boots (2011).
Lord and Miller spent six months shooting Solo before Lucasfilm management became unhappy with either (reports vary) their placing a comedic emphasis on the material or Lawrence Kasdan with the fact that they were improvising and deviating from his script. With only three weeks of the original shoot to go, Lord and Miller were fired and Ron Howard brought in as replacement director where he reshot a purported 70 percent of the film.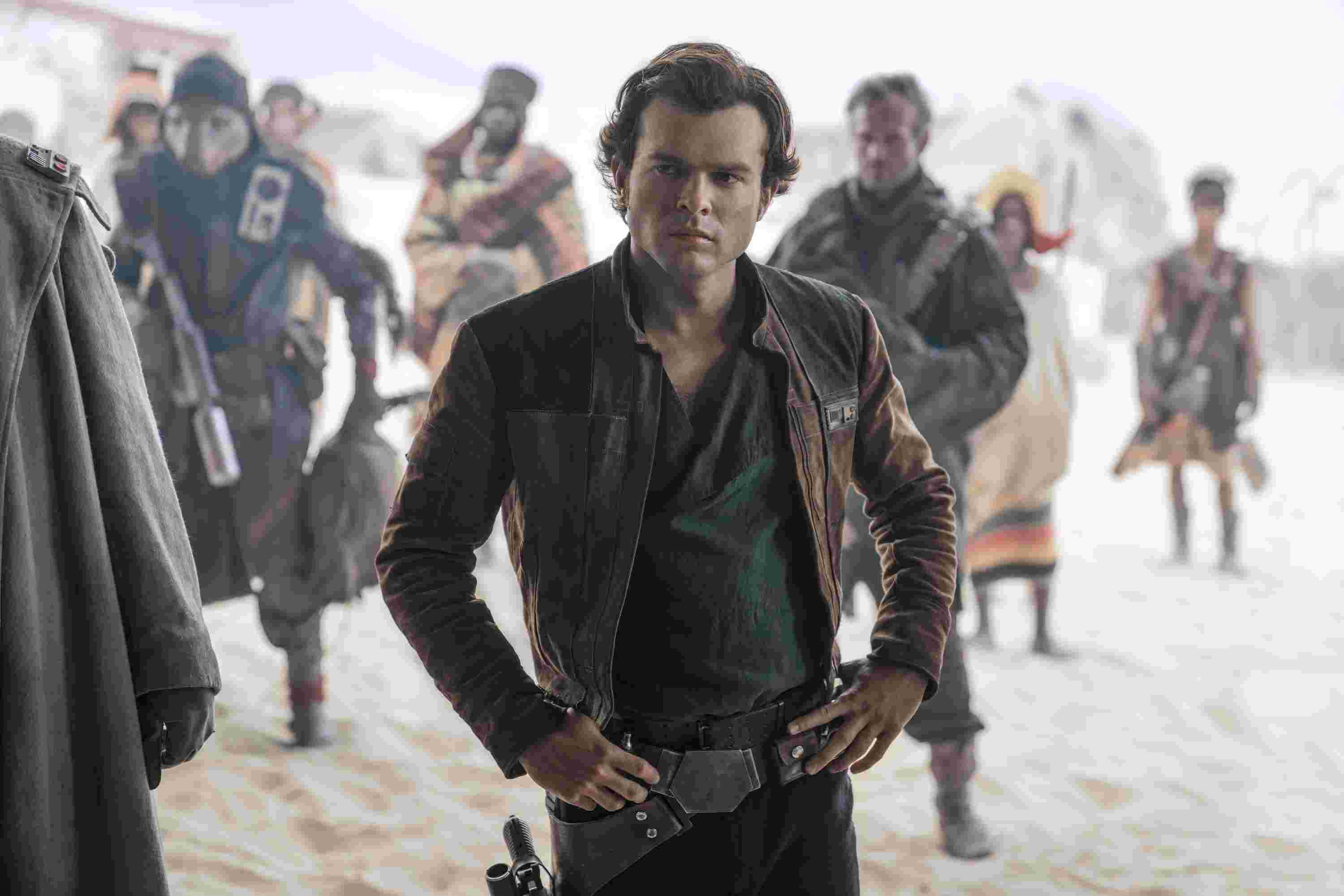 Ron Howard has always shown himself to be a George Lucas wannabe – look no further than the flop epic fantasy Willow (1988) that he made for Lucas exactly thirty years ago, one of the problems being that it seemed to be trying too hard to be another Star Wars. Starting out as a child actor, gaining fame on tv's Happy Days (1974-84) and even in Lucas's own American Graffiti (1973), Howard turned director with Grand Theft Auto (1977) and has made a series of successful commercial films with the likes of Splash! (1984), Cocoon (1985), Parenthood (1989), Far and Away (1992), Apollo 13 (1995), A Beautiful Mind (2001), Cinderella Man (2005), The Da Vinci Code (2006) and Frost/Nixon (2008), among others. (See below for Ron Howard's other genre films).
My feeling even before watching Solo: A Star Wars story was that the replacement of Lord and Miller with Ron Howard would be the kiss of death for the film. We go from a duo who make comedy films that sparkle with wit and creativity to a director who makes safe and easy films that feel as though they are aimed for middle-aged audiences. Ron Howard stopped seeming as though he was a director capable of speaking to today's youth audiences over three decades ago and his films have become more ploddingly sedate since then. This seemed born out in the underwhelming reception that Solo: A Star Wars Story received at the box-office – $213 million domestically, which is not immodest as most films go but is well under the $530 million earned by Rogue One or The Force Awakens ($936 million) and The Last Jedi ($620 million).
Solo: A Star Wars Story goes in all the predictable places. Like other prequels such as The Flintstones in Viva Rock Vegas (2000), Star Trek (2009), Oz: The Great and Powerful (2013), Maleficent (2014), tv's Bates Motel (2013-7), Dracula Untold (2014), Pan (2015), Leatherface (2017) and tv's Gotham (2014-9) and Krypton (2018-9), it seems determined to connect up pieces of a backstory that we never asked to see in the first place. Dutifully, the film gives us Han's origins on Corellia; tells how he obtained the surname Solo; the origin of his friendship with Chewbacca and Lando Calrissian; his acquisition of the Millennium Falcon in a gambling game; his flying the Kessel Run in under six parsecs; even the origin of the pair of dice that hang over the cockpit of the Millennium Falcon. Into the bargain, we also get a cameo appearance from Darth Maul, the cool-looking Sith lord from Star Wars Episode I: The Phantom Menace (1999) who was disappointingly killed off almost as soon as he was introduced.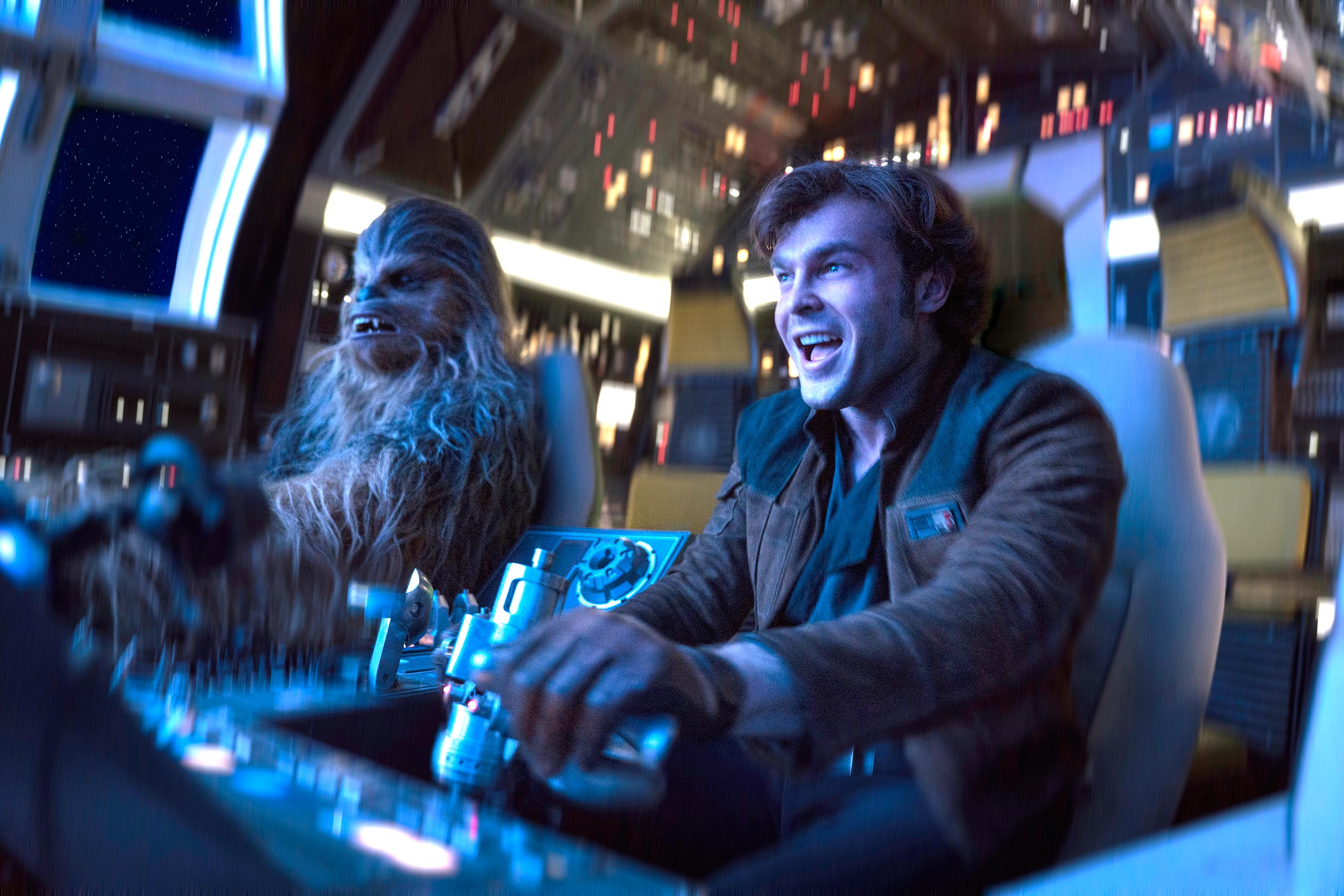 It is frustrating watching the Disney Star Wars films because all of them seem stuck in being callbacks to what George Lucas originally laid down. In other words, they are less films that tell their own dramatic stories than they are ones caught in featuring cameos, making cute in-references and telling backstories or asking "what happened to _____?" To its credit, Solo: A Star Wars Story at least features no lightsabre duels and has nobody trying to build the Death Star or a copy of it, which all of the other films do. Nevertheless, it would be nice to actually see a modern Star Wars film that carved its own territory instead of constantly having to insert moments that point back forty years.
In the film's favour, it is scripted by Lawrence Kasdan who wrote The Empire Strikes Back (1980) and Return of the Jedi (1983) as well as George Lucas's Raiders of the Lost Ark (1981) and has proven a more than solid director in his own right with the likes of Body Heat (1981), The Big Chill (1983), Silverado (1985), The Accidental Tourist (1991), Grand Canyon (1991), Wyatt Earp (1995), French Kiss (1995) and Dreamcatcher (2003), among others. More recently, Kasdan returned to Lucasfilm to co-write the script for The Force Awakens. Here he co-writes with his son Jonathan who has had a budding career as a tv writer and made his directorial debut with In the Land of Women (2007).
That said, the Kasdans disappointingly go with the old cinematic standard of the caper film. Han Solo is cast as the innocent rube drawn in by his mentor's plans to crack the big scheme; there's the heist gone wrong; Emilia Clarke is the love interest from the past now turned femme fatale of ambiguous loyalties; Paul Bettany is the mob boss; while Lando Calrissian is cast as the equivalent of the driver with the hot getaway car needed for the operation. To his credit, where all of the other films in the Star Wars series are starting to feel like the action scenes are only repeating themselves with minute variation, Ron Howard does direct one of the few original action sequences – namely the hijack of the train on the ice planet Vandor.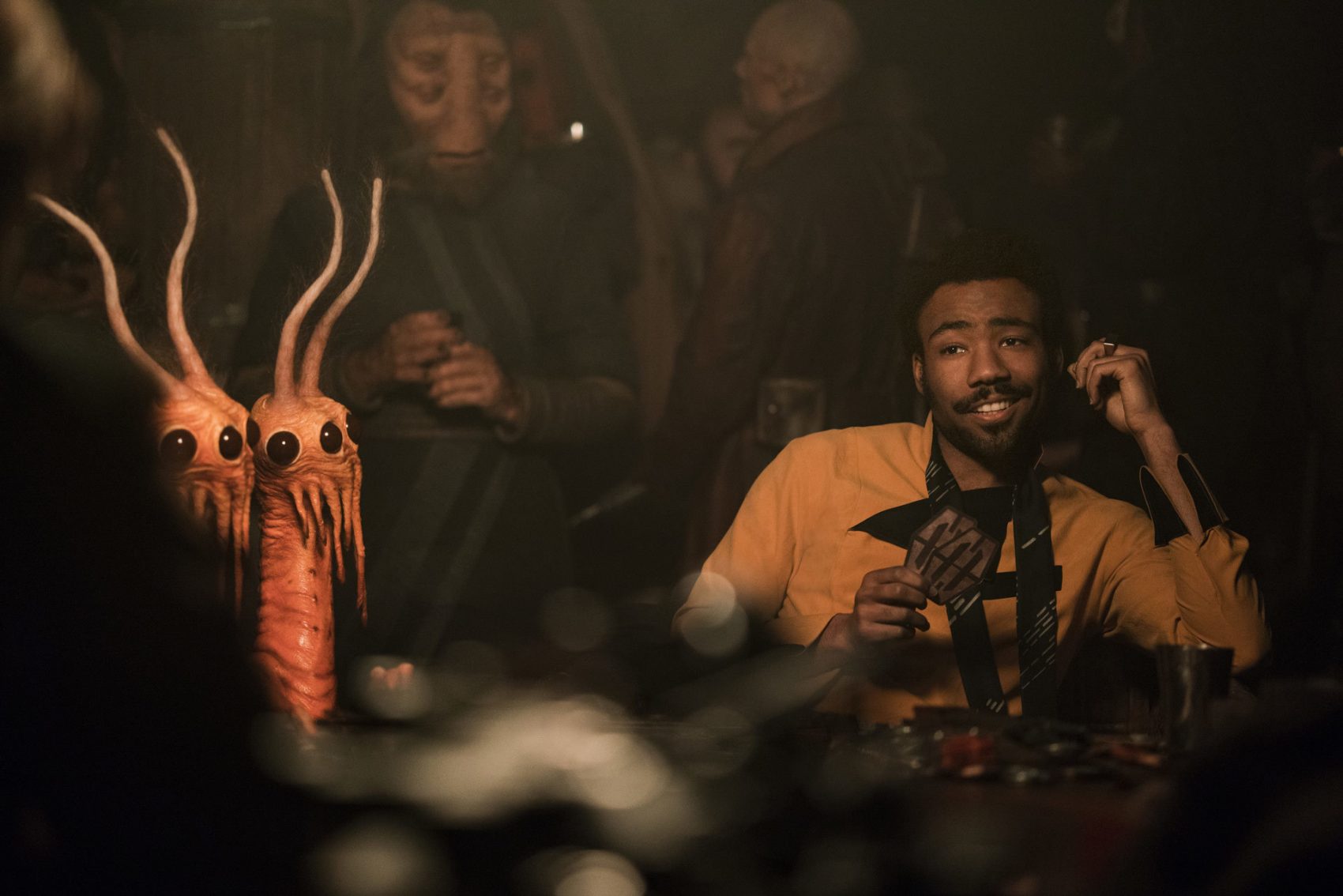 Alden Ehrenreich is an okay stand-in for Harrison Ford – he looks enough like him if you squint your eyes; on the other hand, I kept looking at scenes like the card games up against Lando and I could see them played out in far more dynamic ways by a young Harrison Ford. What seems lacking in Ehrenreich's performance is Ford's cockiness and customary lopsided smirk, the one that turned Ford's name into box-office gold.
Solo: A Star Wars Story is a passable timewaster. I didn't particularly hate it, it was amiable in all the rights places. On the other hand, it never did anything to move me and leave me feeling exhilarated as both Star Wars and The Empire Strikes Back did on the original and repeat viewings. It is exactly what I expect of Ron Howard, predictable and easy but sedate middle-of-the-road fare.
Ron Howard's other genre films are:– the mermaid comedy Splash! (1984); Cocoon (1985) about a meeting between geriatrics and extra-terrestrials; the George Lucas sword-and-sorcery collaboration Willow (1988); Apollo 13 (1995) based on the true life 1970 space mission disaster; the Dr Seuss adaptation How the Grinch Stole Christmas (2000); the supernatural Western The Missing (2003); and The Da Vinci Code (2006) based on the historical/religious conspiracy bestseller and its sequels Angels & Demons (2009) and Inferno (2016);
The original trilogy of films consist of Star Wars (1977), The Empire Strikes Back (1980) and Return of the Jedi (1983). This was followed by the prequel series Star Wars Episode I: The Phantom Menace (1999), Star Wars Episode II: Attack of the Clones (2002) and Star Wars Episode III: Revenge of the Sith (2005). The Disney series of films consists of Star Wars Episode VII: The Force Awakens (2015), Star Wars Episode VIII: The Last Jedi (2017) and Star Wars Episode IX: Rise of the Skywalker (2019).
---
---