---
Crew
Directors – (Episodes 1&2) Owen Harris, (Episodes 3&4) Craig Zisk, (Episode 5&6) Aoife McArdle, (Episodes 7&8) Andrij Parekh & (Episode 3) Ellen Kuras, Teleplay – (Episode 1) Grant Morrison, Brian Taylor & David Wiener, (Episode 2) David Wiener, (Episode 3) Molly Nussbaum, (Episode 4) Allison Miller, (Episode 5) Nina Braddock, (Episode 6) Elaina Perpelitt, (Episode 7) Coleman Herbert, (Episode 8) Vivian Huang & Jean Pesce & (Episode 3) Grant Morrison, Developed by Grant Morrison, Brian Taylor & David Wiener, Created by David Wiener, Based on the Novel by Aldous Huxley, Producers – Beewan Athwal, Thomas Horton, Chloe Moss & Andrew Warren, Photography – (Episode 1&2) Gustav Danielsson, (Episode 3-4 & 7-8) & Andrew Commis, (Episode 5,6 & 9) – Carl Sundberg, Music – Jordan Gagne & Jeff Russo, Theme – Jeff Russo, Visual Effects Supervisor – Thomas Horton, Visual Effects – D. Bond Creative, FuseFX, Incessant Rain Studios. Industrial Light and Magic (Supervisor – Sebastien Gourdal) & Territory Studio (Supervisor – Simon Carr), Special Effects Supervisor – Max Walker, Production Design – David Lee. Production Company – David Wiener/Amblin Television/Universal Content Productions.
Cast
Alden Ehrenreich (John), Jessica Brown Findlay (Lenina Crowne), Harry Lloyd (Bernard Marx), Nina Sosanya (Mustafa Mond), Kylie Bunbury (Frannie), Hannah John Kamen (Wilhelmina 'Helm' Watson), Joseph Morgan (CJack60), Sen Mitsuji (Henry Foster), Demi Moore (Linda), Matthew Aubrey (Gary), Sophie McIntosh (Indra), Ed Stoppard (The Director), Kate Fleetwood (Sheila), Lara Peake (Madysun)
---
Plot
The future city of New London lives in utopian harmony. The populace is born artificially and conditioned since birth to fall into five classes ranging from the controlling Alphas to the Epsilon menial workers. Everybody is connected by optical web interface attached to the A.I. Indra. Privacy and monogamy is regarded as a social ill, while all bad feelings are banished by taking the drug soma. The Alpha controller Bernard Marx and the Beta Lenina Crowne take a holiday to the Savage Lands, an area blocked off by a forcefield where people have been born naturally and play out the old primitive social rituals for tourists. John lives here with his mother Linda. As Bernard and Lenina visit, an armed revolution breaks out among the savages. John and Linda shelter Lenina and a wounded Bernard and then accompany them back through the forcefield barrier. Linda dies from a bullet. Bernard is given the job of helping John adjust to the new world. John rejects using an optical implant and taking soma. He and his primitive ways become a novelty for the sensation-starved populace. When John begins a relationship with Lenina, his desire for monogamy causes a rift. At the same time, his treating the lowly Gammas and Epsilons as people sparks a revolution.
---
Brave New World (1932) is considered a key classics of the Dystopian genre alongside George Orwell's Nineteen Eighty-Four (1949). It is the best-known novel of the celebrated British writer Aldous Huxley (1894-1963). A grandson of Thomas Huxley, the famous biologist known as the chief advocate of Darwinism, Aldous was known throughout his life as an essayist and occasional novelist. (The one other thing that Huxley is known for is as an advocate of experimentation with LSD). Aldous Huxley wrote several other books in the Dystopian vein with Ape and Essence (1948) and Island (1962), as well as the historical non-fiction book The Devils of Loudon (1962) that later became the basis of the Ken Russell film The Devils (1971).
Brave New World was Aldous Huxley's reaction against the utopian futurism of H.G. Wells and many elements he reviled in the American culture of the day. In a critique of the American mass production line, for instance, the citizens in Huxley's future have elevated Henry Ford to the equivalent of Jesus Christ and swear by his name. The British-born Huxley was also appalled at the perceived promiscuity of modern Americans – in his future, monogamous relationships and the notion of family are a thing of the past, while the consumption of drugs (soma) is commonplace. Brave New World is widely regarded as a classic and has even appeared on some lists of great literary works of the 20th Century. The title is an ironic one taken from a line in William Shakespeare's The Tempest (1611).
The book has been filmed before. There was Brave New World (1980), a three-hour tv mini-series from Universal starring Bud Cort as Bernard Marx and Keir Dullea as the Director of Hatcheries. This was far more faithful to the Aldous Huxley than the version here and should be considered the only faithful filmed version of the book. The book was remade as a tv movie Brave New World (1998) with Peter Gallagher as Bernard Marx and Leonard Nimoy as Mustapha Mond that blunted Huxley's themes. In 2009, there was to have been a new film version directed by Ridley Scott and starring Leonardo DiCaprio, although this never went ahead.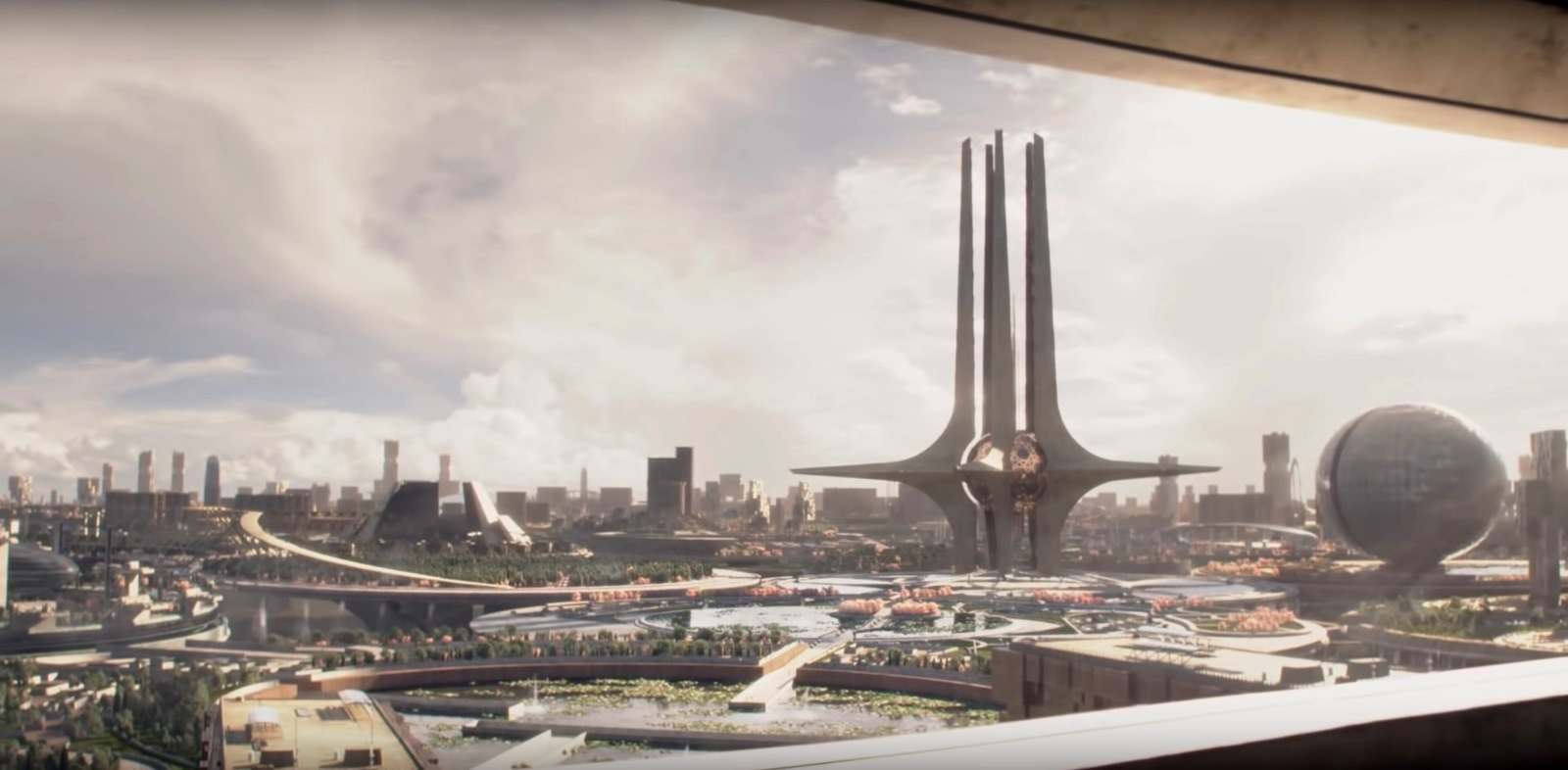 This version comes from Amblin Television and aired in nine episodes of around 45 minutes each on the newly launched NBC/Universal streaming service Peacock. It is created by comic-book writer Grant Morrison who has done extensive work at DC Comics, most notedly on the cult Animal Man – other works of his have adapted into the films All-Star Superman (2011) and Son of Batman (2014). Morrison co-creates the series with Brian Taylor, formerly one half of the directing team known as Neveldine/Taylor, along with Mark Neveldine. The duo made the hit Crank (2006), Crank: High Voltage (2009), Gamer (2009) and Ghost Rider: Spirit of Vengeance (2012), as well as wrote the script for Jonah Hex (2010). The two appeared to part ways after that and Taylor went solo to directed the horror film Mom & Dad (2017). Morrison and Taylor had previously created/produced Happy! (2017-9) one of the singularly most twisted tv series I can say I have ever watched.
Some of Brave New World has dated. Aldous Huxley was writing before the discovery of DNA and the idea of babies being delivered on conveyor belts in factories now seems a quaintly old-fashioned one. The idea of soma came before the widespread advent of psycho-pharmaceuticals and was predictive to the extent that the idea now hardly even seems futuristic. Huxley was even writing before television had become a commercial medium at a time when movies had only just become talkies and the next advance seemed surely to be 'feelies'. Huxley was also writing well before the advent of the computer and the world wide web. The idea of a religion based around Henry Ford may have been of satiric significance in 1932 but now seems a not-particularly-significant reference that has been dropped.
Morrison, Taylor and co-creator David Wiener essentially regard Brave New World as a loose text and freely rearrange it. The Savage Reservation now becomes (with some satiric amusement) a theme park replete with the Savages staging weddings, Black Friday riots, wearing fake pregnancy padding and the like for tourists, not to mention that the mini-series blows the visit there up into having a full-blown armed insurrection occur on the sidelines. There is also the addition of a controlling A.I. Indra that has engineered the perfect society and some scenes that go back to discuss the origins and engineering of this society.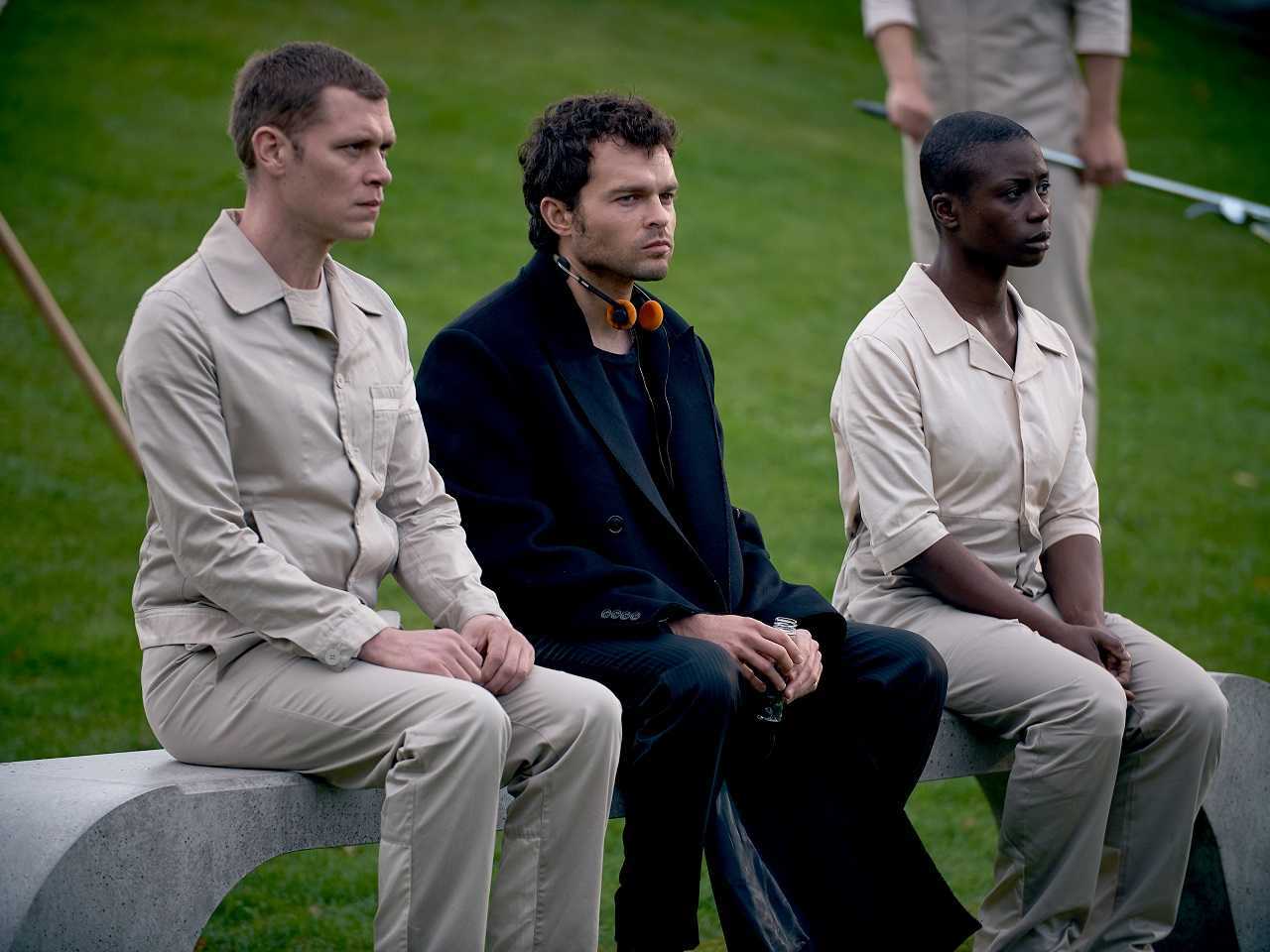 Most of the characters are taken from or have equivalents in the book, some are rewritten such as the frustrated writer Helmholtz Watson who now becomes feelie designer Wilhelmina 'Helm' Watson. There are also a number of characters that have been added that have no equivalent in Huxley – the Epsilon CJack90 who starts to wake up to an awareness of more than his life and John's manservant Gary. On the other hand, Huxley's essential themes of the society based on a class system, the narcotised populace and one that has abandoned monogamy for the endless quest for sensation still hold up surprisingly well today, as well as adding some pertinent modern themes like the lack of privacy in the modern interconnected world.
The mini-series touches on all the major plot points and happenings but also ends in very different places than the book did. Where Huxley had John and Lenina engage in a relationship, he had this end in a failure but the mini-series brings this out to centre stage. Bernard is also possessive of Lenina in the book but the mini-series has him go over to the dark side and actively seek to have John exiled. The book ends with John, Bernard and Helmholtz exiled to the Falkland Islands, whereas this has much more of a triumphal comeuppance in which John sows the seeds of revolution among the Epsilons and has them bring the entire system down.
I suspect a more faithful version of Huxley would not have worked today and commend Morrison, Taylor and Wiener for being able to reimagine a modern equivalent of the story. They do a strong and well worthwhile job of exploring the world they create. There are some good story arcs that play throughout as we watch John challenging the social order and treating the Epsilons as equals, or Lenina quitting soma and starting to experience complex emotions. Some of the pieces of development towards the end – Henry's disillusionment, Bernard's turn to the dark side, and what is going on with Mustapha and Indra – seem a little hurried.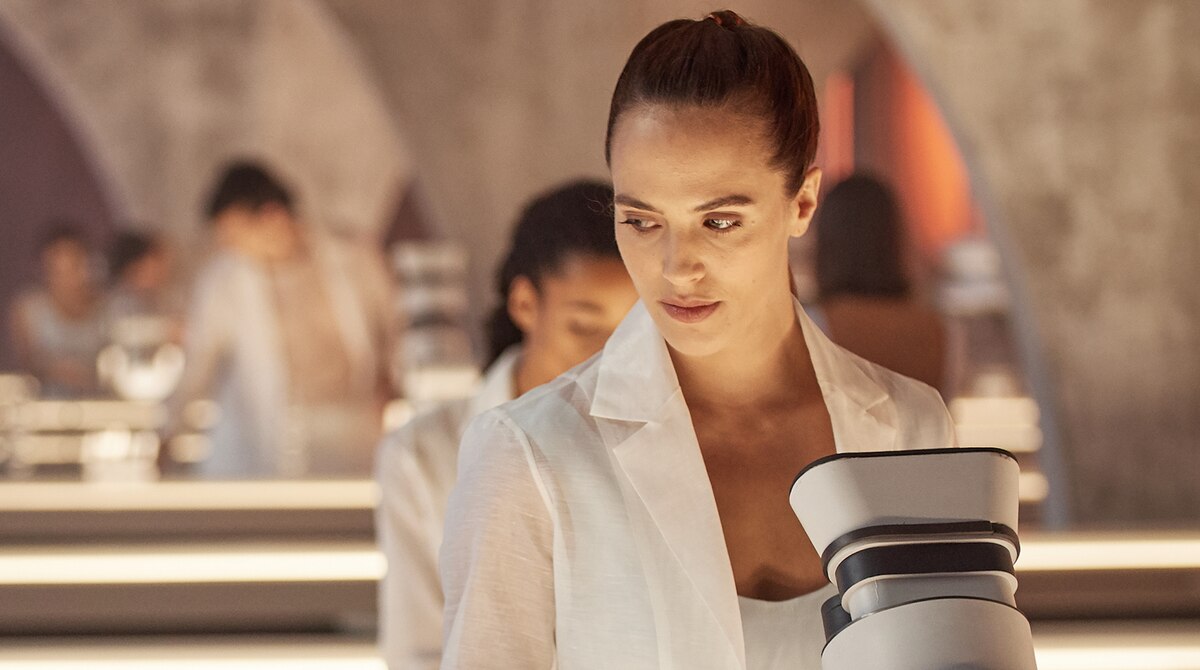 The film gains its life in the scenes with Alden Ehrenreich entertaining the people of the world with his stories and especially in the scenes with him engaged in a relationship with Lenina and taking her into a private world off the grid. There are some well written and directed scenes like where Ehrenreich inspires Harry Lloyd to stand up and punch Sen Mitsuji and this becomes a sensation, or the later scene where we see a fight break out between Ehrenreich and Lloyd and it is broadcast and we pull back to see that Ehrenreich has been staging it all along.
The character of John is essentially turned into a regular contemporary, red-blooded straight guy – Alden Ehrenreich even uses present-day colloquialisms. John in essence becomes a mirror held up to judge the society of the future and contrast the society's sensation-seeking, disposable sexuality, class structures and narcotised existence with present-day takes on things. It becomes highly entertainingly in the scenes where he inspires the downtrodden Epsilons to revolution by allowing them to see themselves as individuals.
The mini-series has a solid cast with all giving fine performances. In particular, Alden Ehrenreich plays with a cocky, handsome charisma as John. From various teen parts, Ehrenreich is really starting to grow into his own as a leading man and you can see he has a great future ahead of him. Both Jessica Brown Findlay and the less well-known Harry Lloyd, previously Emilia Clarke's brother in the first season of tv's Game of Thrones (2011-9), give solid performances, with Hannah John Kamen proving an unexpected live wire The surprise among the cast list is a 57 year-old Demi Moore, unrecognisable and unglamously made-up as John's mother – I didn't even recognise it was her until I looked at the credits and had to go back and check.
(Nominee for Best Actor (Alden Ehrenreich) and Best Production Design at this site's Best of 2020 Awards).
---
Trailer here
---