---
Crew
Director – Jeff Bleckner, Teleplay – Daniel Taplitz, Based on the Novella by Dean R. Koontz, Producer – J. Boyce Harman, Photography – John S. Bartley, Music – J. Peter Robinson, Visual Effects Supervisor – Jean-Luc Dinsdale, Visual Effects – GVFX, Special Effects Supervisor – Tony Lazarowich, Production Design – Chester Kaczenski. Production Company – Patchett Kaufman Entertainment/Bayonne Entertainment.
Cast
Jay Mohr (Bo Aikens), Lisa Edelstein (Laura Crosby), Stephen Tobolowsky (Mayor Tom Thompson), Ann Cusack (Mandy Perler), Ron Canada (Chief Saks), Patricia Drake (Nancy Larshak), Dion Luther (Chance), Bill Dow (Thomas Pinkwater), Scott Hylands (Richard Crunch), Ty Olsson (Frank Yarley), Paul Batten (Peter Duncan), Robert Moloney (Dan)
---
Plot
Bo Aikens is a successful novelist and screenwriter. Tired of the soulless L.A. lifestyle, Bo sets out driving in order to find himself again. He comes to the pleasant small town of Black River. However, upon trying to leave town, he is arrested and told that his car has been stolen. This is found to be a mistake but by then his car has been compacted to scrap metal due to a bureaucratic error. Every effort Bo makes to leave Black River is thwarted in some way – his credit cards are cancelled, the calls he tries to make to outside friends are re-routed and laser beams fire from the sky when he tries to leave on foot. Gradually, he comes to believe that some sinister intelligence is controlling Black River and manipulating the people by offering them their greatest desires and then trapping them in the town in order to create the perfect utopian community.
---
Black River is based on a 1999 novella by popular horror writer Dean R. Koontz. (See below for other screen adaptations of Dean R. Koontz's works). Black River was made by Jeff Bleckner, a director who has always worked in television, having made episodes of numerous tv series and various other made-for-tv movies such as the Peter Benchley adaptation The Beast (1996), the remake of Rear Window (1998) and Flowers for Algernon (2000).
While most Dean R. Koontz adaptations, especially those made for tv, have been mediocre, Black River is one Koontz derived film that builds with modest effect. The film taps into the same vein of small town America turned sinister and paranoid that we see in Invasion of the Body Snatchers (1956) and The Stepford Wives (1975). There is something amusingly Kafka-esque to the situation that Jay Mohr finds himself in – discovering his car has been impounded and then trashed, that all the phone numbers he tries to call out of town are being redirected, that the train schedules have experienced mysterious foul-ups and that his all credit cards have been cancelled.
Jeff Bleckner generates a reasonable atmosphere of sinister effect – cameras constantly turning to spy on people, phone boxes that mysteriously start ringing as Jay Mohr passes, a black SUV with no driver prowling the streets, and the sense of a town where everybody gets their life's dream and are smothered in niceness but nobody is able to leave. This builds into the at times downright eerie – the moment that Jay Mohr and Lisa Edelstein sneak into storeroom to have a private conversation and then the radio on the shelf suddenly plays the conversation they have just had back to them; Mohr at last getting a ride out of town but then the barriers at the railway crossing coming down and trapping him and the driver in the path of a train; and laser beams from satellites trying to incinerate him as he runs across the field leading out of town.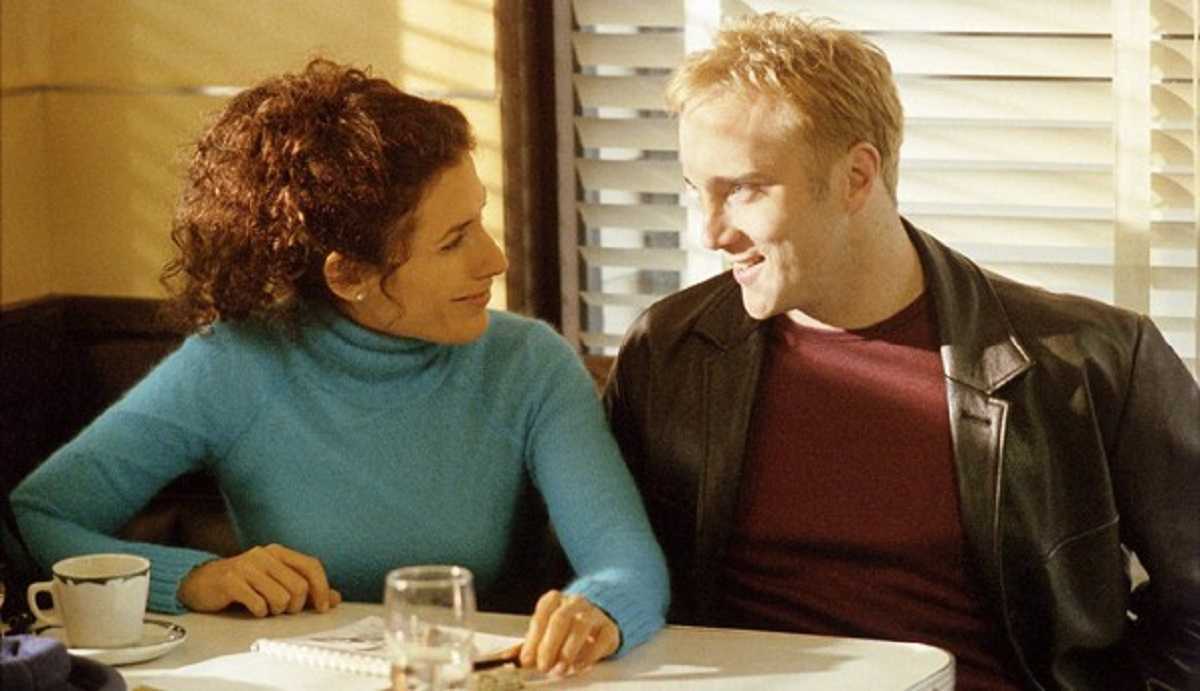 Dean R. Koontz tends to write in a straight line and his plots often don't make much sense when their surprises are unveiled. However, Black River does provide a reasonable science-fictional twist explanation wherein [PLOT SPOILERS] it is revealed that the town is controlled by an A.I. The film reaches an ambiguous resolution where Jay Mohr resigns himself to living in the town, has found a girlfriend, a dream house and has regained artistic flow again, nevertheless warns the next guy that turns up at the diner to leave immediately.
Black River makes interesting contrast to Colossus: The Forbin Project (1969), which similarly concerned a malevolent A.I. that took over the world and brought humanity under its thrall with supposedly benevolent intentions. Here super-computers have infiltrated much further into our lives, even provided our greatest dreams and wishes, but we are still not happy at their control.
Other adaptations of Dean R. Koontz's works include:– Demon Seed (1977), Watchers (1988), The Face of Fear (tv movie, 1990), Whispers (1990), Servants of Twilight (1991), Hideaway (1995), Phantoms (1998), Intensity (tv mini-series, 1997), Mr. Murder (tv mini-series, 1998), Sole Survivor (tv mini-series, 2000), Frankenstein (tv mini-series, 2004) and Odd Thomas (2013).
---