---
Crew
Directors – Christopher Hodson & Vic Hughes, Teleplay – Anthony Read, Based on the Novel by John Wyndham, Producer – Vic Hughes, Photography – Albert Almond, Music – John Hyde, Designer – David Richens. Production Company – Thames.
Cast
James Hazeldine (David Gore), Carol Drinkwater (Mary Gore), Andrew Ellams (Matthew Gore), Glynis Brooks (Voice of Chocky), Zoe Hart (Polly Gore), James Greene (Mr Trimble), Jeremy Bulloch (Roy Landis), John Grillo (Sir William Thorbe), Devin Stanfield (Colin)
---
Plot
Accountant David Gore and his wife Mary life in Windermere, Surrey. They become curious as their twelve-year-old son Matthew begins asking strange questions about everyday things. Matthew insists that the questions come from an invisible alien companion he calls Chocky who has travelled to Earth to observe humanity. David and Mary become concerned about Matthew and Chocky but a psychologist friend insists it is perfectly normal. Matthew then begins to display extraordinary mathematical and artistic abilities and saves himself and his sister from a drowning accident even though he has no ability to swim.
---
John Wyndham (1903-69) was a British science-fiction writer who came to prominence in the 1950s with works like The Day of the Triffids (1951), The Kraken Wakes (1953), The Chrysalids (1955), The Midwich Cuckoos (1957) and The Trouble with Lichen (1960). Wyndham specialised in novels where everyday middle-class Britain (of the 1950s and 60s) faced an overwhelming catastrophe. Wyndham originally published Chocky (1963) as a short novel in the SF magazine Amazing and then released an expanded version as the novel Chocky (1968), the last work he would publish before his death. (See below for other screen adaptations of Wyndham's works).
Chocky screened in six half-hour episodes and is a fairly typical drama that British television was putting out during this period. The setting is the mild middle-class area of Surrey with its suburban homes, schoolyards and family holidays. The effects are nothing standout – Chocky's appearances are represented by no more than a double-exposed laser playing in a mist-coloured room, something that must have looked alien back in the day but looks dated today. The budget keeps the show modest and indoors for the most part – it is a show driven by talk and performances (all of which are fine and above average). On the other hand, it is all a bit mumsy today. Not to mention that watching it on a modern home entertainment system, the larger screen renders the 80s-era videography in flat washed-out colours that become an eyesore.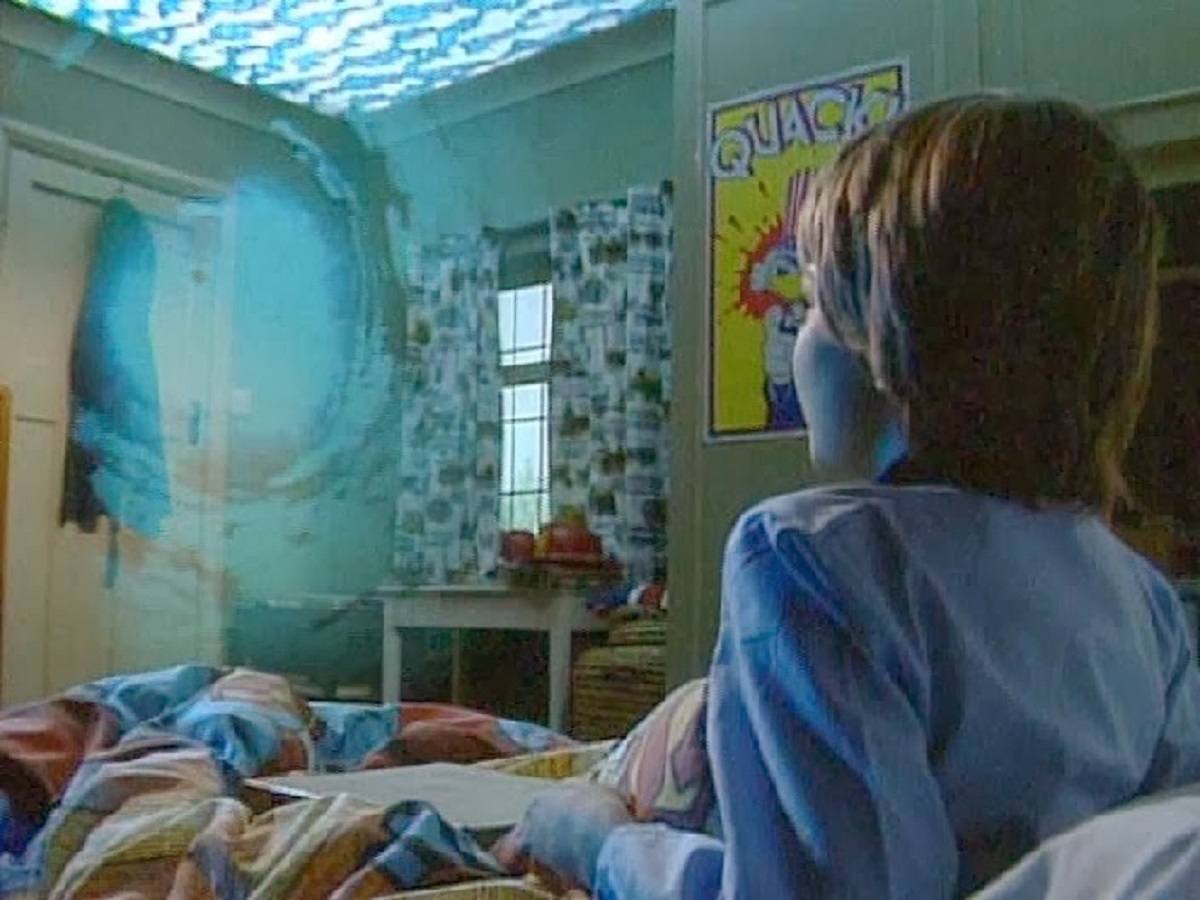 Chocky was made not long after the huge international success of Steven Spielberg's E.T. – The Extra-Terrestrial (1982) when cinema screens were being overrun by copycat films featuring cute and cuddly aliens. It doesn't take too much of a stretch of the imagination to see Chocky having been conceived in the same light. It could almost be a modern version of Harvey (1950) by way of E.T. where instead of a giant invisible rabbit visiting James Stewart, Harvey becomes a benevolent alien visiting a young boy.
On the other hand, there are some marked differences between Chocky and E.T.. Spielberg's film is about a lonely boy finding a companion and the wonderment opened up to us as we see the magic occurring through his eyes. Although there are a fair number of scenes where we see Andrew Ellams and Chocky talking, the bulk of Chocky is seen through the eyes of the two parents (James Hazeldine and Carol Drinkwater). In other words, it is less a story about the wonderment of a boy finding a companion than it is a show about two parents fretting over the strange behaviour exhibited by their child and worrying whether he is normal, even believing he is possessed at one point. E.T. is filled with magic; Chocky has one or two moments of this where Matthew displays his abilities, although most of these scenes – his prize-winning art piece, saving his sister after they fall in the river – take place off screen. In other words, it is a mini-series about the very mumsy notion of anxiety over whether one's gifted child is 'fitting in' and 'being normal'.
There were two sequels with Chocky's Children (1985) and Chocky's Challenge (1986), featuring returns performances from Andrew Ellams as Matthew and James Hazeldine and Carol Drinkwater as the parents.
Other John Wyndham screen adaptations were Village of the Damned (1960) from Wyndham's The Midwich Cuckoos (1957); The Day of the Triffids (1962); the alternate world film Quest for Love (1971); the BBC tv mini-series The Day of the Triffids (1981); the US remake of Village of the Damned (1995); the alternate world film Random Quest (2006); the BBC tv mini-series The Day of the Triffids (2009); and the tv mini-series The Midwich Cuckoos (2022).
---
Mini-series available online beginning with Episode 1 here
---