---
Crew
Director – Adam Mason, Screenplay – Simon Boyes & Adam Mason, Producers – Michael Bay, Marcei A. Brown, Jason Clark, Eben Davidson, Adam Goodman, Andrew Sugerman & Jeanette Volturno, Photography – Jacques Jouffret, Music – Lorne Balfe, Visual Effects Supervisor – Dan Levitan, Visual Effects – Ollin VFX (Supervisor – Ernesto Cespedes) & Opsis (Supervisor – Michael G. Jackson), Special Effects Supervisor – Eric Frazier & Zak Knight, Production Design – Jennifer Spence. Production Company – Invisible Narratives/Platinum Dunes/Catchlight Studios.
Cast
K.J. Apa (Nico Price), Sofia Carson (Sara Garcia), Demi Moore (Piper Griffin), Craig Robinson (Lester), Bradley Whitford (William Griffin), Peter Stormare (Emmett Harland), Alexandra Daddario (May), Paul Walter Hauser (Michael Dozer), Eplidia Carrillo (Granny Lita), Lia McHugh (Emma Griffin)
---
Plot
Not far into the future and the Covid virus has mutated into an even more lethal airborne variant Covid 23. In Los Angeles, people are urged to stay indoors and it is a criminal offence to be found breaking curfew. The infected are taken away to the walled and heavily guarded Q Zones. There are a small number of people called Munies who have an immunity and are able to go out freely. Nico Price is one of these Munies and operates as a bicycle courier. He has a girlfriend Sara Garcia who lives in an apartment with her grandmother but the two have never met in the flesh because of the curfew. Sara's grandmother now becomes sick. Fearful that the authorities will come to take Sara away, Nico sets out to find an immunity pass that will allow them to flee to safety. However, this requires delving into an underground that deals in blackmarket immunity bracelets and soon has Nico hunted by the sanitation authorities.
---
Songbird is one of several films that were shot during the Covid-19/Corona Virus pandemic of 2020-1. The immediate period of lockdown produced a number of unique and original genre films that were shot during this time, including the likes of Anthropocene (2020), Corona Zombies (2020), Host (2020), House of Quarantine (2020), Gaia (2021), In the Earth (2021), Infinitum: Subject Unknown (2021), The Lockdown Hauntings (2021) and Scenes from an Empty Church (2021) among others, There is a special section dedicated to Covid pandemic films in the essay Films About Plague and Pandemic.
Among these, Songbird is one surprisingly well budgeted production. It comes from Platinum Dunes, the production company of Michael Bay, which has put out a number of genre productions. A few years ago, Platinum Dunes was specialising in remakes of horror classics with the likes of The Texas Chainsaw Massacre (2003), The Amityville Horror (2005), The Hitcher (2007), Friday the 13th (2009), A Nightmare on Elm Street (2010) and Teenage Mutant Ninja Turtles (2014), plus original genre films like Horsemen (2009), The Unborn (2009), The Purge (2013), Ouija (2014) and Project Almanac (2015). Most likely what they were attempting to emulate with Songbird is the recent success they had had with A Quiet Place (2018).
British director Adam Mason has been a rising independent name in horror over the last decade. I was very impressed with Mason's third film Broken (2006), a brutally savage backwoods horror about a woman imprisoned by a man in a forest. Mason has also made other horror films such as Dust (2000), The 13th Sign (2000), The Devil's Chair (2006), Blood River (2009), Luster (2010), Pig (2010), Hangman (2015), I'm Just F*cking With You (2019) and Baby Blue (2022), as well as wrote the scripts for Not Safe for Work (2014), Play Dead (2022) and The Visitor (2022).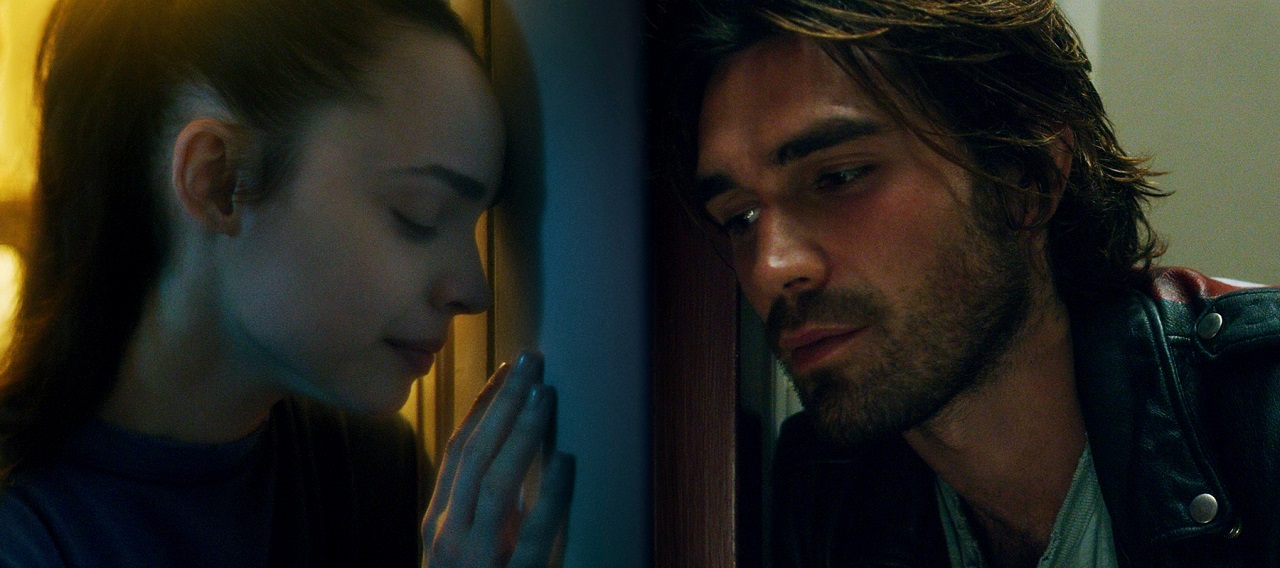 While most of the other films shot during lockdown were quick efforts made with small crews due to restrictions, Songbird by contrast has been afforded a decent budget. Whereas other films keep casts to a minimum, this has a reasonable name cast and follows a cross-section of characters as they deal with the pandemic. It is very nicely photographed – when you see the shots of the deserted city during the opening montage, you know for certain that it is Adam Mason and his cameraman having gone out to shoot in the real deserted L.A. streets.
I won't get too hung up on comparing Songbird's Near Future scenario to the reality of Covid for the simple reason that Adam Mason and co were shooting soon into the outbreak when scientists worldwide were still trying to get a grasp on what type of threat they were facing and official pronouncements particularly in the US were rife with misinformation.
That said, the solution where people stay permanently indoors seems a little far-fetched – how does normal society deal in those circumstances with things like the need to obtain food and supplies or people to go to work? Although at least the film does predict a blackmarket in immunisation passports, even if the immunisation here and the real-life one are completely the opposite (the film talks about a natural immunity whereas the real-life one was created in laboratories).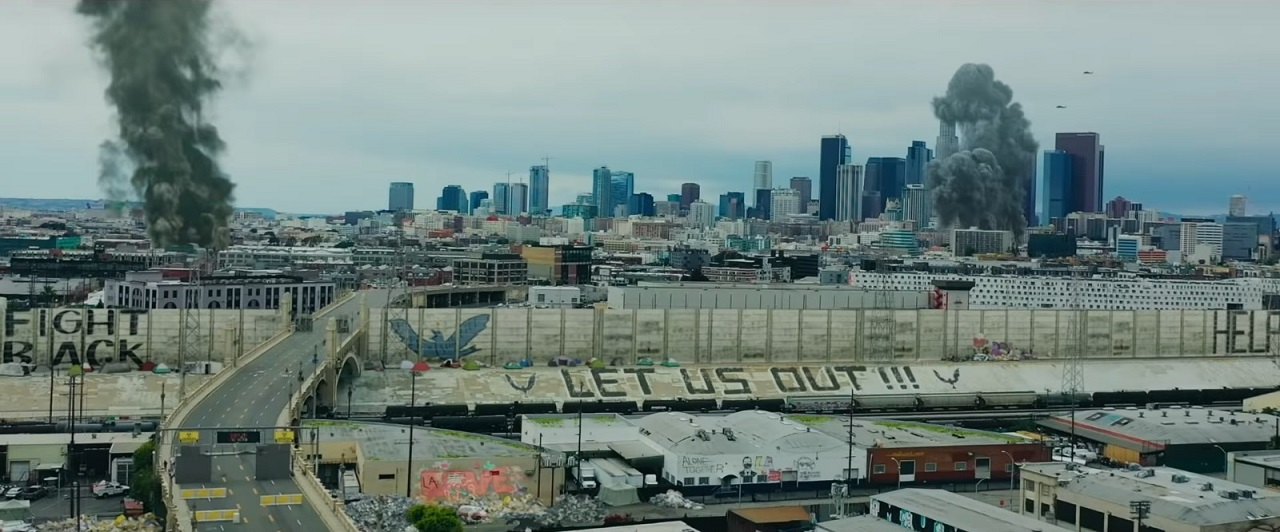 There are only occasional moments where the scenario is presented with some imagination. One of these is the intriguingly provocative scene where Bradley Whitford sneaks out of home and goes to pay a visit to camgirl Alexandra Daddario who comes and does a stripper routine and a lapdance while wearing a full-face shield. On the other hand, the last half of the film travels in progressively less interesting directions.
All of these latter sections are focused around K.J. Apa's efforts to find an immunity passport for girlfriend Sofi Carson and get her away to freedom. There seems something absurd to the idea– as in the plot about lovers on the run from an over-populated future film Z.P.G. (Zero Population Growth) (1972), you cannot help but wonder where it would be possible for the two of them to go where infection would not continue to be an issue?
Rather than grapple with a realistic portrait of life under the pandemic, the film only reaches for cliches from other Dystopian Films such as various versions of Nineteen Eighty-Four (1949) and films like Fahrenheit 451 (1966), THX 1138 (1971), Z.P.G. and Logan's Run (1976) of lovers on the run in defiance of a cruel system that forbids their love. Here we get a straw pursuing nemesis in the person of Peter Stormare and a series of twists and contrivances that belong more in an action movie before the absurdly optimistic belief that true love and a happy ending will win out against a despotic system.
---
Trailer here
---