---
Crew
Director – Jim Archer, Screenplay – David Earl & Chris Hayward, Producer – Rupert Majendie, Photography – Murren Tullett, Music – Daniel Pemberton, Special Effects Supervisor – Perry Costello, Production Design – Hannah Purdy-Foggin. Production Company – Mr Box.
Cast
David Earl (Brian Gittens), Chris Hayward (Charles Petrescu), Louise Brealey (Hazel), Jamie Michie (Eddie), Nina Sosanya (Pam), Lynn Hunter (Winnie), Lowri Izzard (Katrina), Cara Chase (June)
---
Plot
Brian Gittens lives on his own in rural Wales. He is an inventor of oddball gadgets, although just as often his inventions fail to work. He builds a robot out of pieces of discarded junk but it fails to activate. One evening during a storm, Brian discovers the robot has come to life and now has a personality. As the robot explores things, it chooses the name Charles Petrescu. Problems arise as Brian tries to contain the impetuous Charles who keeps wanting to head out to explore the wider world. Eddie, a bullying local, then decides to steal Charles for his own amusement.
---
Brian and Charles was a film debut for British director Jim Archer who had previously made the comedy tv series Down from London (2019). Prior to this, Hayward made the basics of this as the twelve-minute short film Brian and Charles (2017), which also featured David Earl as Brian and Chris Hayward as Charles, both of whom reappear here and write the screenplay for the film.
There have been a great many films exploring themes of robotics and artificial intelligence in the latter half of the 2010s that include standout works like Spike Jonze's Her (2013) and Alex Garland's Ex Machina (2015), as well as a host of other offerings that include The Machine (2013), Automata (2014), Chappie (2015), Uncanny/Android (2015), Morgan (2016), tv's Westworld (2016-22), A.I. Rising (2018), Tau (2018), Zoe (2018), Archive (2020), After Yang (2021), Finch (2021) and M3gan (2022). Amid this there have been some comedy treatments such as Jexi (2019) about an annoyingly intrusive artificially intelligent mobile app and Superintelligence (2000) where an A.I. develops a fixation with Melissa McCarthy.
Brian and Charles goes from a no-expectation film to an eccentric winner in no time flat. David Earl gives a charmingly unassuming performance as Brian. Part of the appeal of the film is Brian's range of nutty inventions – tote bags made up of pine cones, shoe trawlers, a belt that holds eggs, and a flying cuckoo clock that would consist of him taking to the air using a bicycle powered by a fan – all in perfect straight-face. The film also adopts a peculiar second-person viewpoint with David Earl frequently talking to the camera, although it is never made clear that there is any camera crew filming things.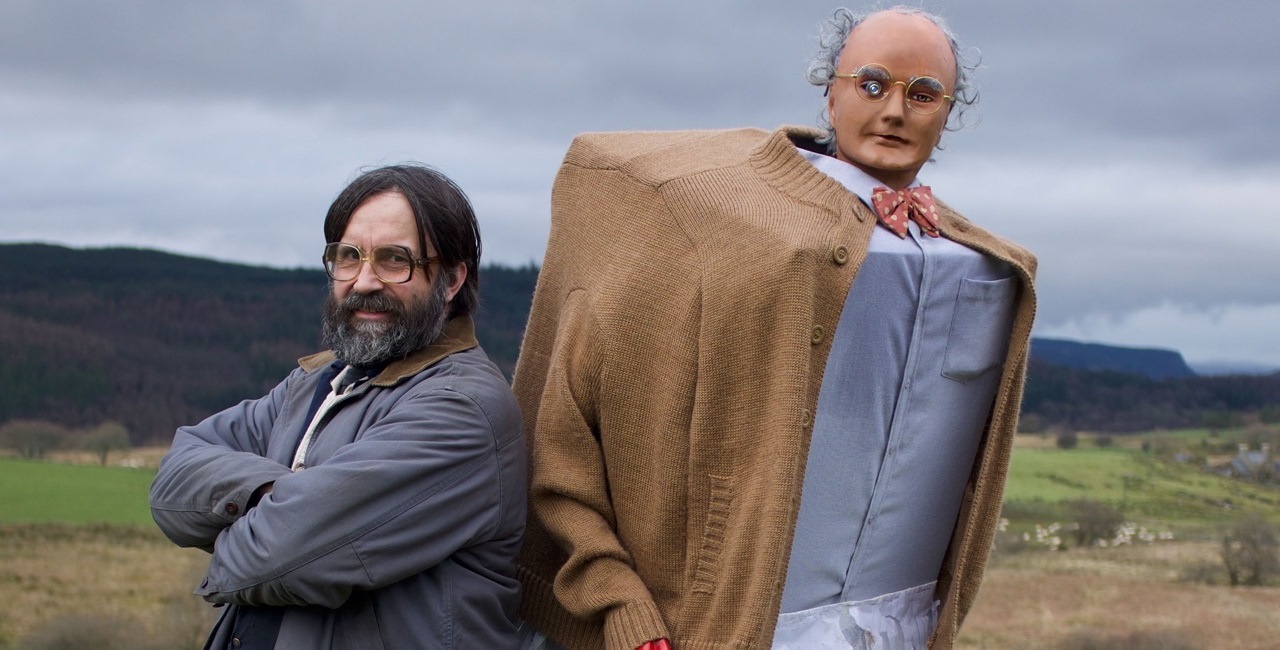 And then there is the introduction of Charles, played by co-writer Chris Hayward, who comes with a big bulky box-like body with an outsized sweater draped across it and the mannequin head of a balding middle-aged man on top. Later changes of costumes show Charles in everything from a floral print dress to tweeds and cap like a squire going off for a countryside walk, even a hula skirt. Charles is all hyperactive eagerness, like an ADD child taken every which way by their whims and rushing off to follow them heedless.
The montages of Brian and Charles becoming friends, having pillow fights, tending the garden and such like, have an undeniable charm to them. It is a great piece of nonsensical deadpan humour. When the film introduces Louise Brealey as the equally nondescript Hazel, the attraction between her and David Early comes with an oddly flaky sincerity. In fact, in the scenes when Charles is abducted and we see him being taunted and tied up in chains at Jamie Michie's farm, even about to be sacrificed on a bonfire, the film plays all the emotional cues it can to great effect. The climactic scene where the mousy David Earl, aided by Charles with a cabbage cannon, stand up to Jamie Michie contains an undeniable sense of underdog triumph.
---
Trailer here
---