---
Crew
Director – Mike Rianda, Co-Director – Jeff Rowe, Screenplay – Mike Rianda & Jeff Rowe, Producers – Kurt Albrecht, Phil Lord & Christopher Miller, Music – Mark Mothersbaugh, Animation – Sony Pictures Imageworks, Animation Supervisors – Jocelyn Cofer, Chad Ellis, Tim Kallok, Nick Kondo, Tohin Jumar, Toby Petersen, Jose Luis Llado Porquer, Dylan Reid, Tim Rudder, Matt Shepherd Kelsey Wagner, Visual Effects Supervisor – Michael Lasker, Production Design – Lindsay Olivares. Production Company – Sony Pictures Animation.
Voices
Abbi Jacobson (Katie Mitchell), Danny McBride (Rick Mitchell), Maya Rudolph (Linda Mitchell), Mike Rianda (Aaron Mitchell/Furbies/Taking Dog/Wifi Enthusiast), Olivia Colman (Pal), Eric Andre (Dr Mark Bowman), Fred Arisen (Deborahbot 5000), Beck Bennett (Eric), Chrissy Teigen (Hailey Posey), John Legend (Jim Posey)
---
Plot
The Mitchells are an odd, dysfunctional family living in Michigan. The teenage daughter Katie is an aspiring filmmaker and has been accepted into a film school course in California. She is glad to be able to get away from her father Rick's well-intentioned but bumbling ways. At the last minute before Katie leaves, Rick informs her that he has cancelled her flight and has decided to take a family road trip to California. As they set out, Katie squirms through the inept camaraderie she is forced to endure. At the same time, Mark Bowman, the CEO of PAL Labs, unveils a new line of robots for every need. He declares his artificially intelligent cellphone operating system PAL to be obsolete. A peeved PAL hijacks all his technology and takes over, sending the robots out to capture people, intending to package humanity up and send them into space. The Mitchells escape the attack and befriend two malfunctioning robots who give them the kill code for PAL. In their own inept way, the Mitchells attempt to make it through the chaos and stop the machine takeover.
---
Sony Pictures Animation are a division of the visual effects company Sony Pictures Imageworks who in turn are part of the media conglomerate Sony Pictures Entertainment. Sony Pictures Animation first appeared with the animated films Open Season (2006) and Surf's Up (2007) and went onto the likes of Cloudy With a Chance of Meatballs (2009), Hotel Transylvania (2012) and sequels, The Emoji Movie (2017), Peter Rabbit (2018), Vivo (2021) and Wish Dragon (2021), as well conducted a series of collaborations with Aardman Animations on Arthur Christmas (2011) and The Pirates! Band of Misfits (2012).
Direction here has been handed over to Mike Rianda, who makes his feature film debut after working as a creative director of the Disney Channel animated series Gravity Falls (2012-6). The film is produced by Phil Lord and Christopher Miller, the directorial team behind Sony's Cloudy With a Chance of Meatballs, 21 Jump Street (2012) and The Lego Movie (2014), as well as producing Spider-Man Into the Spider-Verse (2018) and sequels.
The Mitchells vs. The Machines is a film that doesn't some much come at you as visually assault you with its creativity and energy. It has a madcap visual freneticism and a giddy spill of visuals. The screen is constantly erupting in animation layovers, icons and wacky editing cuts. This is one film that rather than fear the YouTube/TikTok generation fully embraces it, throwing in everything from clips taken from actual YouTube videos (while the central character of Katie is an as aspiring amateur YouTube videomaker), jokes about Instagram followers and crazy face Snapchat filters. The middle of the film has a rather funny parody of automatic updates hell and becoming trapped in the language option menus.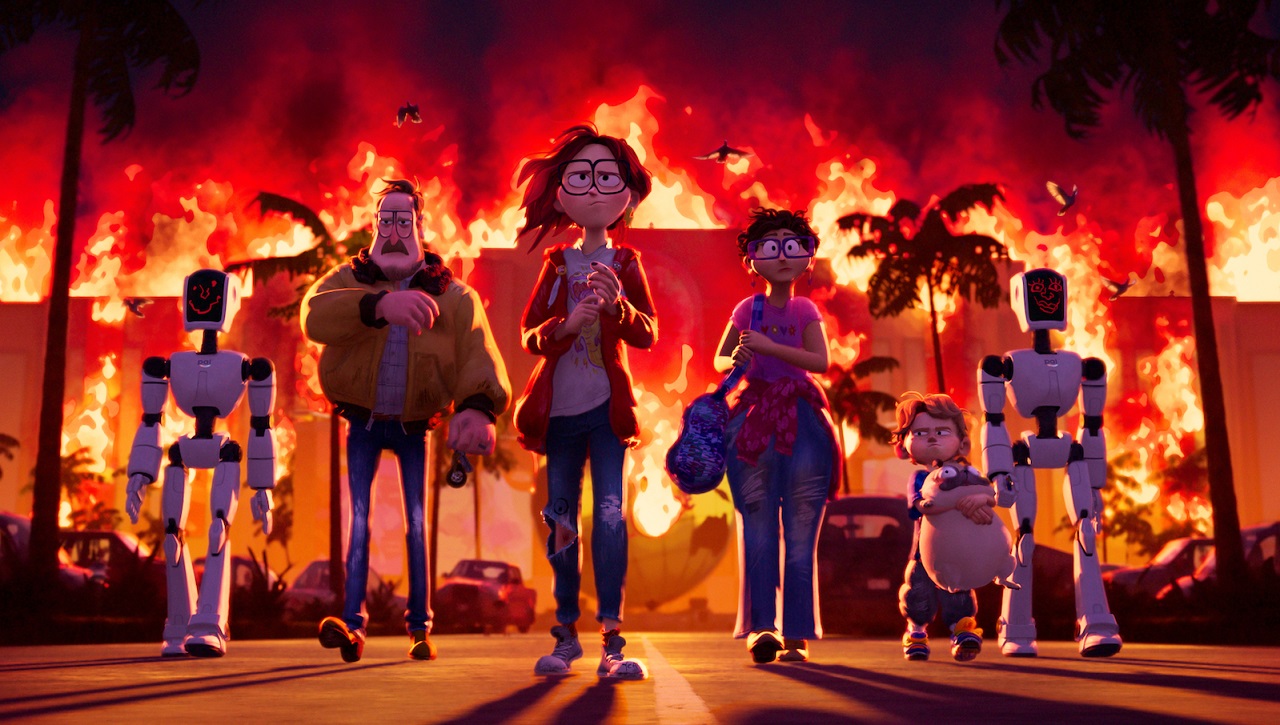 It is a film that comes with visual delirium and humour in just about every frame. From much about the family screw-ups to the ongoing gag that plays right throughout to the very end about the father being pranked into kissing the dog. There are some appealingly madcap sequences – the chaotic vehicle chase known as The Rick Mitchell Special, or else a sequence that has the family being pursued by giant Furbies. Not to mention that the film becomes a celebration of oddball families in all their dysfunctional glory and one of the most family-positive works I have seen in some time.
The film features some great voice casting. I was considerably surprised to see the end credits and find that Danny McBride had voiced the father, this being so completely the opposite of the boisterous, extroverted characters that McBride usually plays in live-action. Olivia Colman has been cast as the evil A.I. in yet another cliché British-voiced villain, a part she nails to perfection. In a very peculiar move – one I have never seen done in a film before – the end credits are made up of childhood photos of the directors, actors and principal production personnel.
---
Trailer here
---