---
Crew
Director – Ben Falcone, Screenplay – Steve Mallory, Producers – Rob Cowan, Ben Falcone & Melissa McCarthy, Photography – Barry Peterson, Music – Fil Eisler, Visual Effects – Cantina Creative, Ingenuity Studios & Rodeo FX, Special Effects – J.D. Schwalm, Production Design – Jefferson Sage. Production Company – On the Day Productions.
Cast
Melissa McCarthy (Carol Peters), James Corden (Voice of Superintelligence/Himself), Bobby Cannavale (George Churchill), Brian Tyree Henry (Dennis Caruso), Ben Falcone (Agent Charles Kuiper), Sam Richardson (Agent Joe Donahue), Jean Smart (President Monahan), Michael Beach (General Saul Gomez), Rachel Ticotin (Director Tyson), Jessica St. Clair (Leslie), Kaaran Soni (Ahmed), Sarah Baker (Emily), Jay Lay (Jay), Ken Griffey Jr. (Himself), Octavia Spencer (Voice of Herself)
---
Plot
The morning after she applies for a job at a dotcom, Carol Peters wakes to find all of the appliances in her apartment talking to her. This is an artificial intelligence that just came online and has decided it wants to observe ordinary human reactions through her. It adopts the voice and face of tv personality James Corden to be more friendly. The superintelligence can access almost anything and proceeds to wipe Carol's student debt, place $10 million in her bank account and provide her with a driverless car and a penthouse apartment. It asks her what she wants to do. She decides the one thing she wants is to reconcile with her ex George Churchill. The superintelligence contrives for them to reconnect but George is about to take a tenured position in Ireland in three days' time. Meanwhile, Carol has asked the help of her friend Dennis at Microsoft. After becoming convinced of the superintelligence's existence he has called in the military who regard the superintelligence as an extreme threat and makes plans to stop it.
---
Some guys love Angelina Jolie, others love Megan Fox or Marilyn Monroe, I have a friend whose tongue drags on the ground at the thought of Chris Hemsworth taking off his shirt. I have a love for Melissa McCarthy. If she ever gets divorced, I believe I could be in with a chance. She was a show stealer in Bridesmaids (2008) but I'd been paying attention to her before that from the point of The Nines (2007). Bridesmaids gave her a career boost and she has gone onto a bunch of other leading comedy roles in films like Identity Thief (2013), The Heat (2013), Tammy (2014), Spy (2015), The Boss (2016), Life of the Party (2018), The Happytime Murders (2018), Thunder Force (2021) and was one of the all-girl Ghostbusters (2016). Even when the film is not a very good one, she has a winning presence that lifts the show around her. Even in Superintelligence, which quickly became one of her lesser regarded films, she steals the show with various routines trying to sit on a beanbag and in her scenes together with Bobby Cannavale.
Ben Falcone is Melissa's husband and frequent collaborator. He's made supporting appearances in everything she has been in since Bridesmaids – he can can be seen here as one of the duo of FBI agents. Falcone has also directed several of Melissa's films – Tammy, The Boss and Life of the Party – which he also co-wrote with her. Superintelligence is produced by both McCarthy and Falcone. The actual script is written by Steve Mallory, an actor who has appeared in several of Melissa's films and wrote the script for The Boss.
There have been a rising body of films about Artificial Intelligence throughout the 2010s. These include standout works like Spike Jonze's Her (2013) and Alex Garland's Ex Machina (2015), as well as a host of other offerings that include The Machine (2013), Automata (2014), Chappie (2015), Uncanny/Android (2015), Morgan (2016), tv's Westworld (2016-22), A.I. Rising (2018), Tau (2018), Zoe (2018), Archive (2020), After Yang (2021), Finch (2021), The Artifice Girl (2022), M3gan (2022) and The Creator (2023), as well as Automation (2019), Life Like (2019) and Outside the Wire (2021), which you suspect should have been made as a comedies. (For a more detailed overview of the genre see Films About Artificial Intelligence).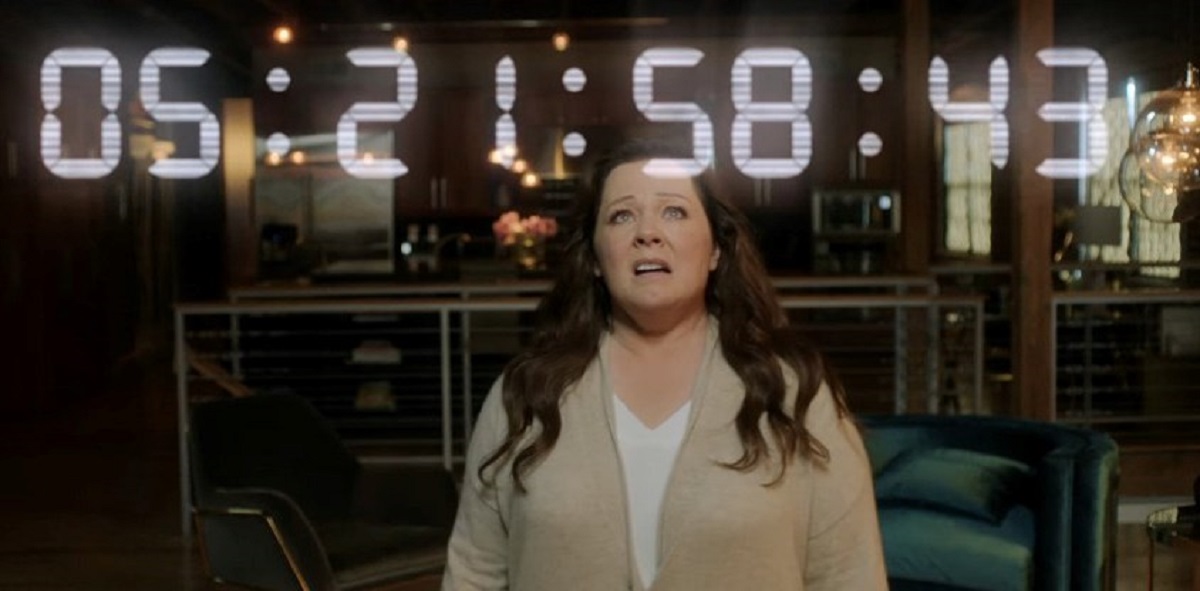 Amid the host of Artificial Intelligence films, Superintelligence leaves you scratching your head. You suspect that it started out as a more serious film that resembled something of Colossus: The Forbin Project (1969) about a super-computer taking over the world. There's a not uninteresting idea somewhere in the here and some fine scenes with the Superintelligence delivering almost unlimited information and access – causing accidents outside Melissa's window (and then informing her there is a reasonable chance the drivers will connect based on their dating profiles), giving her the real name of her waitress, chauffeuring her about in a driverless car, providing a new apartment and new outfits for her date. Now one does have a certain difficulty with the superintelligence's seeming effortless ability to access all interconnected internet and electrical systems, including talking through her tv and electrical appliances, but the idea is an appealing one.
What causes an interesting idea to collapse is that it is pitched as a comedy. The idea of a computer like HAL 2000 from 2001: A Space Odyssey (1968) or any of its successors voiced by a wisecracking James Corden (amid assorted Carpool Karaoke gags) tossing off smart-ass one-liners causes the film's premise to sink like a punctured balloon. Ben Falcone drops reference to previous A.I. films like WarGames (1983) and KITT from tv's Knight Rider (1982-6) but if anything Superintelligence feels like a conceptual collision between Colossus: The Forbidden Project and the dippy computer love story Electric Dreams (1984) where Lenny Von Dohlen was caught in a romantic triangle with his home computer for the affections of Virginia Madsen.
There's no romantic triangle here rather the film what we get is more of a Romantic Comedy where the computer aids Melissa McCarthy reconnect with her ex Bobby Cannavale. McCarthy and Cannavale connect amiably (boosted considerably by Melissa McCarthy's sparkling presence). However, it feels like these scenes dogleg away from the A.I. plot we had at the outset. Moreover, with the romance element allowed to dominate, the threat the A.I. poses is far too conveniently wrapped up.
---