---
UK. 2016.
Crew
Director/Screenplay – Charles Barker, Additional Writing – Damian Fitzsimmons, Producer – Matthew James Wilkinson, Photography – John Lee, Music – Tom Raybould, Visual Effects – Bait Studio, Visual Effects Supervisor – Christian Lett, Special Effects Supervisor – Matthew Strange, Makeup Effects Designer – Dan Martin, Production Design – Richard Campling. Production Company – Stigma Films/Red and Black Films/Creative England/Marzipan Productions/Pont Neuf Productions/Altitude Film Sales.
Cast
Max Deacon (Carl Anderson/Soxx_1), Morfydd Clark (Shelly O'Sullivan/Mustang67), Tom Benedict Knight (Marco Rossi/xxAtla5xx), Ali Cook (Edward/Da_Chi3f), Douggie McMeekin (Adam/Reap3r-2000), Cristopher Obi (Sergeant), Parker Sawyers (Andre/Sr8shooter), Adriana Randall (Taylor/Slay3r Grl), Boris Ler (Zahid/T3rrorist#1), Greg Kolpachi (Tortured Terrorist)
---
Plot
A group of people from all over the world are selected to participate in a videogame challenge known as The Call Up. They are brought to an empty office building and placed into mocap suits – only to then find once they put the suits on they cannot take them off. When the visors are brought down, the suits create a Virtual Reality representation of the building where they are being attacked by non-player soldiers. They must eliminate the soldiers with their virtual weapons to pass on to the next level. However, they then discover that the damage inflicted on them in the game is also inflicted in real life and is capable of killing them.
---
The Call Up is a British-made film. It was a directorial debut for Charles Barker and comes associate produced by Caradog W. James who made a name for himself as a director in recent years with films like The Machine (2013) and Don't Knock Twice (2016). The film screened at several fantastic film festivals and even did a very small theatrical screening in the UK where it reportedly only earned £2920.
There have been a number of films before about Videogames based in Virtual Reality. See the likes of Arcade (1994), Brainscan (1994), eXistenZ (1999), Avalon (2001), Spy Kids 3D: Game Over (2003) and Assault Girls (2009), among others. The common theme in many in these is of players who become trapped inside the simulation and are fighting to get out. There are also a host of other films you could point to that have a common theme of people finding that their reality is being taken over by a videogame as in the likes of Stay Alive (2006), Pixels (2015) and Beta Test (2016).
The Call Up looks no different from any of these others. Players are selected for participation in a virtual reality videogame than turns an ordinary office building into a combat zone. As the title suggests and Charles Barker readily admits, he was inspired by the videogame Call of Duty (2003). Much of the film consists of the players having to shoot their way through the various floors of the game and eliminate the NPCs gunning for them. The twist is that they find they cannot take off their VR suits and that the damage inflicted on them inside the game is also inflicted on them in real life. The depiction of the rules of the game, how things operate inside VR, the contrast with the mundane reality when the visor is opened – indeed, the conception of how regular videogame gameplay might be replicated in live-action – has been cleverly thought out.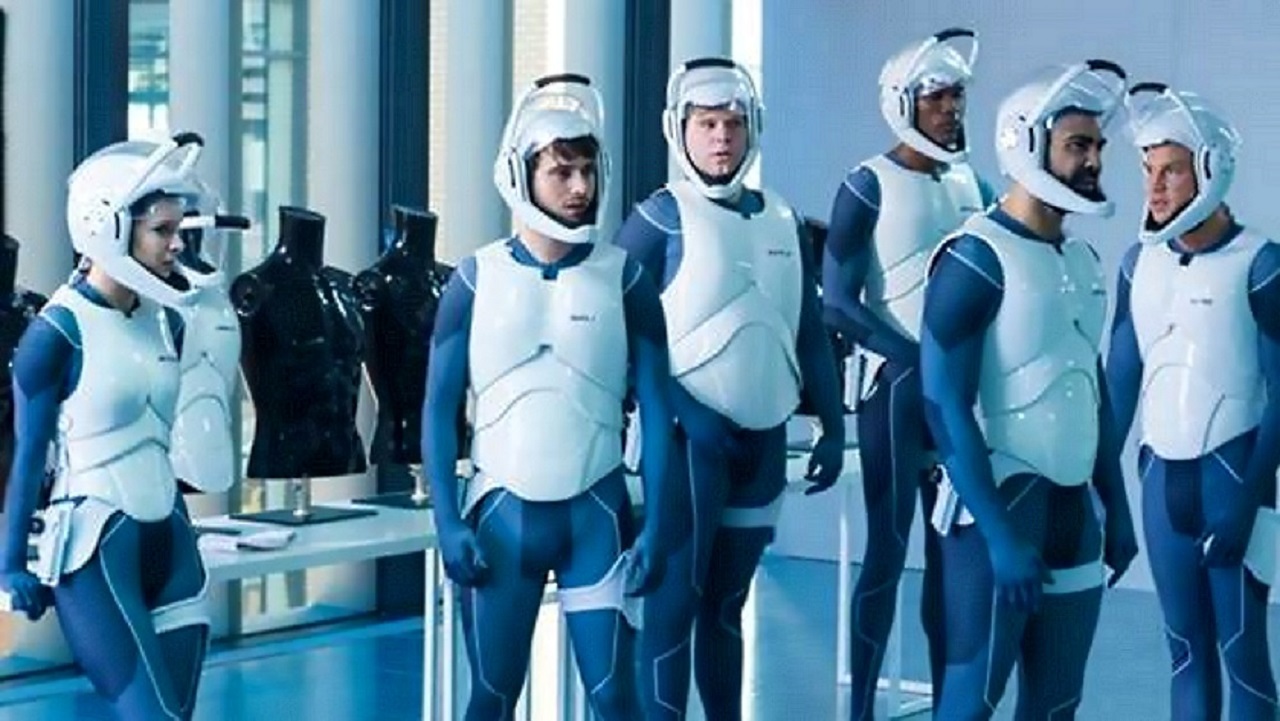 The only drawback of the film is that there is never too much to the scenario beyond having the players wander into rooms and being shot at by soldiers endlessly repeated. Every level looks exactly the same. This is principally due to the film's lack of budget where the production has clearly obtained the use of an abandoned office building and simply reused different floors, dressing them up to suggest a combat scenario. This is exactly the opposite of what you usually get in a videogame where designers take the time to vary the environment with each level and escalate or add unexpected elements. There are no scenes set in the outside world where the majority of combat scenes occur in real-life military situations, for instance.
The other complaint would be that the film falls apart when it comes to the ending [PLOT SPOILERS] where we learn that an eccentric millionaire has apparently set all of this up for his own amusement so that he can conduct a human bloodsports game a la The Belko Experiment (2016). You can sort of accept the premise but it is not one where a great deal of thought has been placed into making it seem believable.
---
Trailer here
---