---
Crew
Director – Josef Rusnak, Screenplay – Josef Rusnak & Pavel Centeno-Rodriguez, Based on the Novel Simulacron 3 by Daniel F. Galouye, Producers – Roland Emmerich, Ute Emmerich & Marco Weber, Photography – Wedigo von Schultzendorff, Music – Harald Kloser, Visual Effects Supervisor – Joe Bauer, Digital Visual Effects – Centropolis Effects Germany & Centropolis Effects LA (Supervisor – Steffen M. Wild), Miniature Supervisor – Joachim Grueninger, Miniature Effects – Magicon World Workshop & Magicmouse Miniature Unit, Special Effects Supervisor – John S. Baker, Production Design – Kirk M. Petruccelli. Production Company – Centropolis.
Cast
Craig Bierko (Douglas Hall), Armin Mueller-Stahl (Hannon Fuller), Gretchen Mol (Jane Fuller/Natasha Molinaro), Vincent D'Onofrio (Jason Whitney/Jerry Ashton), Dennis Haysbert (Detective Larry McBain), Jeremy Roberts (Tom Jones)
---
Plot
Hannon Fuller, the CEO of a corporation specialising in Virtual Reality research, is murdered in an alley. Afterwards, his star programmer Douglas Hall finds that Fuller has bequeathed the entire corporation to him. Hall then learns that Fuller has left a message for him inside his favourite Virtual Reality simulation of 1937 Los Angeles. As Hall searches for the message and becomes involved with Fuller's mysterious daughter, police start to uncover evidence that suggests that Hall could have been the murderer. Meanwhile, inside the simulation, Hall encounters characters that have discovered the artificial limits of their existence. He then makes the disturbing discovery that the whole outside world could be a virtual one too.
---
The Thirteenth Floor was the third in 1999's spate of Virtual Reality movies, following The Matrix (1999) and David Cronenberg's eXistenZ (1999). (Best forgotten might by the video-released Christian End Times film Revelation (1999) and the tv series Harsh Realm (1999) from Chris Carter, which only lasted for nine episodes). Of the three, The Matrix was way out in front, leagues ahead of the others – a classic that will define the genre for years to come. Coming in at third place, behind the disappointment on the high expectations that one had for eXistenZ, was The Thirteenth Floor.
The Thirteenth Floor is not a particularly bad film – in fact, for a time it comes close to almost being a very good film. For one, it has a plot that juggles some potentially interesting ideas and elements – it begins with a murder mystery that in an intriguing set of developments we learn may have been conducted by the hero who has no memory of what he was doing at the time and could have been taken over by one of the people who can pop into reality and inhabit the bodies of others. This is a plot strand that travels close to the recent, brilliant Dark City (1998), a film that also had a remarkable number of similarities to The Matrix.
The mystery deepens with the revelation that the beautiful woman and love interest of the piece is someone who does not exist and may only be a character emerged from a Virtual Reality simulation. There is also the idea of characters within a Virtual Reality simulation suddenly becoming self-aware and discovering the limitations of their artificial existence and then – the ingenious twist that nearly turns The Thirteenth Floor into a great science-fiction film – the suggestion that this [our] reality may be just another virtual simulation that the hero of the story is slowly becoming aware of.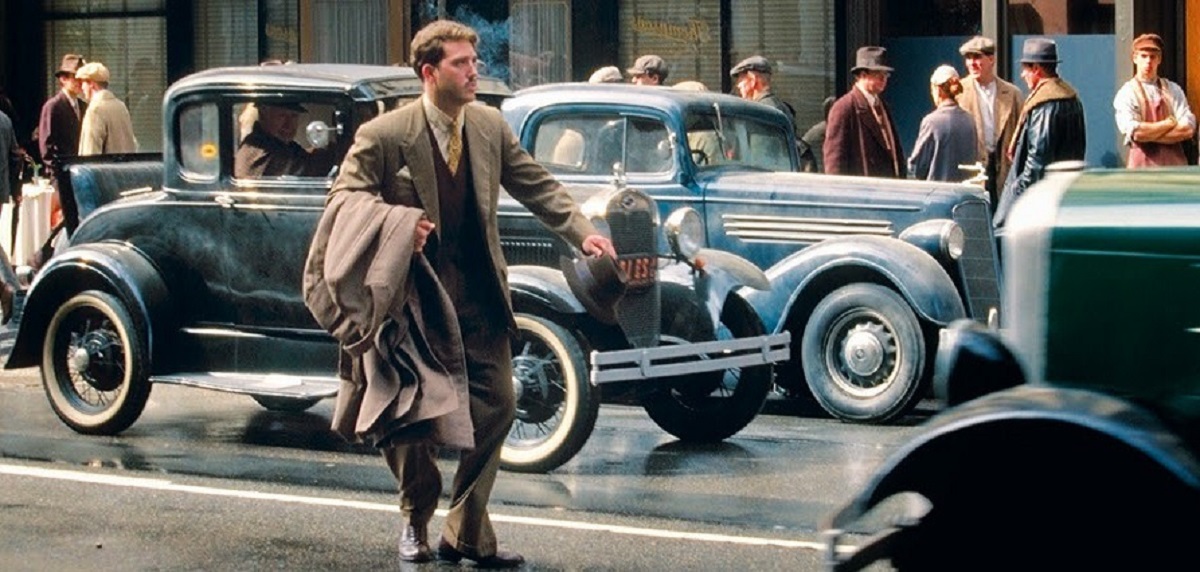 Unfortunately, The Thirteenth Floor is lumbered with a frustrating twist ending – the same everything-that-has-just-gone-on-has-been-a-Virtual-Reality-illusion ending that also wrecked eXistenZ. It is a frustratingly corny cop-out – the same equivalent of horror films where the protagonist wakes up and the preceding events are revealed to be a dream. Up until that point, The Thirteenth Floor has been building most interestingly but this is an ending that cops out on numerous answers – like why Armin Mueller-Stahl was killed, why the hero is being hunted and, most important of all, the question that if both this reality and the Virtual Reality illusion within in it are all computer simulations, then who designed them? It is an ending that smacks of an intellectual cowardice, one that walks away from the grandiose conceptually-stretched ideas that the film has raised and tells its audience that it doesn't matter.
The Thirteenth Floor was produced by director Roland Emmerich who became a major genre director in the 1990s with the likes of Stargate (1994), Independence Day (1996) and Godzilla (1998). The Thirteenth Floor was a US financed co-production that was shot in Emmerich's native Germany, using a largely German technical crew, a German director and American lead actors. In some ways, The Thirteenth Floor is a better film than most of Roland Emmerich's films because it engages in a rare play of ideas whereas Emmerich's films are usually a host of genre cliches conducted with no depth other than the use of a large-screen visual effects canvas as their selling points. In other ways, The Thirteenth Floor is exactly what one expects of a Roland Emmerich film as it conducts its conceptual play in the most dramatically bombastic way possible without any subtlety.
The idea of characters within a Virtual simulation waking up to the artificiality of their existence was conducted better and with far greater poignance in the Star Trek: The Next Generation episode The Big Goodbye (1987) or the Star Trek: Deep Space Nine episode Shadowplay (1994). Equally, the same Daniel Galouye novel that the film was based on Simulacron 3 (1964) had earlier been filmed as the German-made tv mini-series, World on a Wire (1973), directed by no less than Rainer Werner Fassbinder, which was the first ever film to deal with Virtual Reality and conducts a far more sophisticated use of ideas than The Thirteenth Floor does.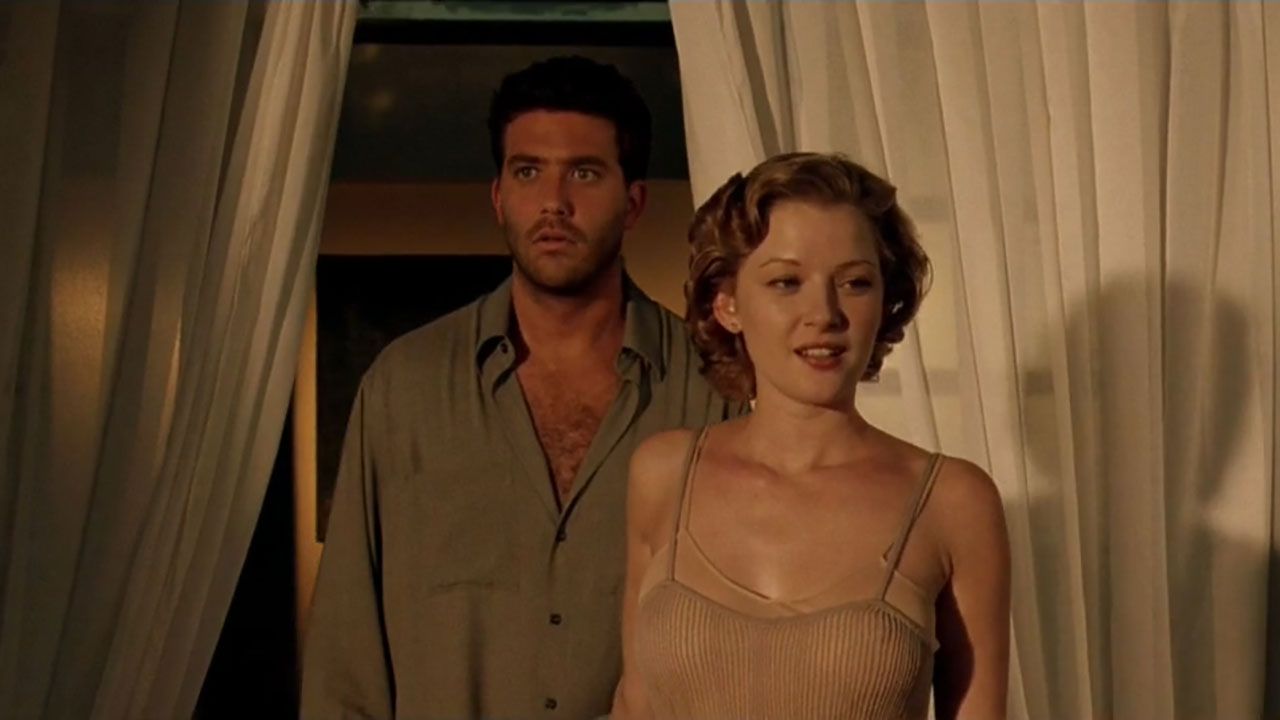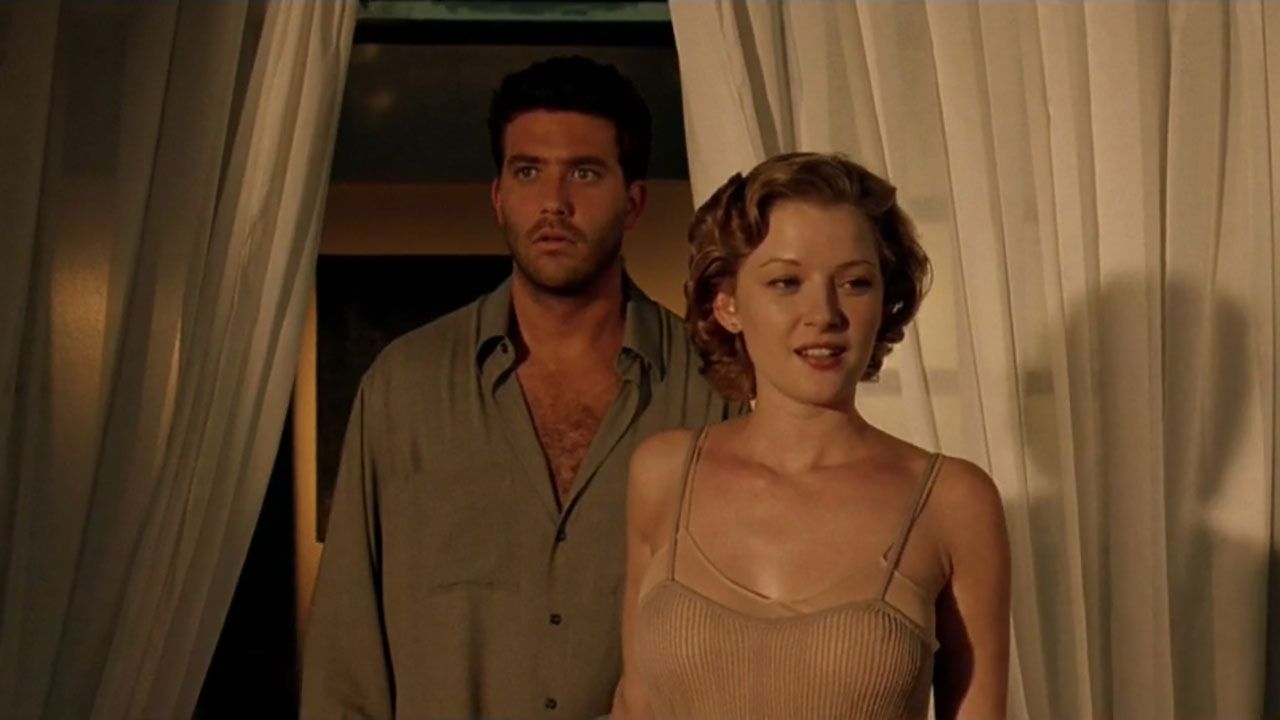 On the plus side, the digital effects used to recreate a period vision of Los Angeles are dazzling – the place does look like the characters have stepped back in time. The Virtual Reality scenes are photographed with a nicely washed-out fadedness of colour, while the real world scenes take place with a moodily subdued quietude.
However, the film's credibility gets a major shot in the foot from the handsomely chiseled but utterly stolid presence of lead man Craig Bierko. As the fashionably unshaven hero here, Bierko is woefully blank – there is so little going on beneath the surface of his acting you can see him struggling to display every expression. Armin Mueller-Stahl gives a fine performance. Vincent D'Onofrio can often be good when a role suits him but this is a throwaway part that could have been filled by anybody. Gretchen Mol has a soft beauty that is allowed to fill out an intriguingly mysterious role but the part is badly underwritten.
Director/writer Josef Rusnak later returned to genre material with the horror film Victims (2008), the remake of It's Alive (2008), the horror film Perfect Life (2010) and the psychic film Beyond (2012).
---
---