---
USA. 1969.
Crew
Director – Robert Butler, Screenplay – Joseph L. McEveety, Producer – Bill Anderson, Photography – Frank Phillips, Music – Robert F. Brunner, Makeup – Robert J. Schiffer, Art Direction – John B. Mansbridge. Production Company – Disney.
Cast
Kurt Russell (Dexter Reilly), Joe Flynn (Dean Eugene Higgins), William Schallert (Professor Quigley), Cesar Romero (A.J. Arno), Frank Webb (Pete Oaks), Alan Hewitt (Dan Collingswood), Debbie Paine (Annie), Richard Bakalyan (Chillie Walski), Michael McGreevey (Richard Schuyler)
---
Plot
Financier A.J. Arno is persuaded to donate a much-needed computer to Medfield College. Student Dexter Reilly attempts to repair it but is electrocuted. Soon after, Dexter discovers that he has remarkable mental abilities and an examination reveals computer equipment inside his head. He quickly becomes a sensation with his ability to instantly memorise information. When Arno realises that all the records of his illegal bookkeeping operations have also been transferred into Dexter's head, he has Dexter abducted. It is up to Dexter's fellow students to rescue Dexter in time to help Medfield win the 'College Knowledge' tv quiz program.
---
This was the first of Disney's trilogy of Dexter Reilly films. The series followed the formula that Disney had created with The Absent-Minded Professor (1961) and their Merlin Jones films – the action invariably set around a scientific genius, a college environment (the ubiquitous Medfield College), lots of slapstick chaos and pratfoolery after the genius makes some scientific breakthrough, and with everything being set to rights by the end of the film except for the collar-popping businessman villain.
The Computer Wore Tennis Shoes comes across likeably enough. What is surprising about it is its tameness for a Disney film. Usually these films played themselves for all the slapstick wildness they could. Considering the fact that the climax features paint being sprayed everywhere and chases in dune buggies, the decision to restrain from slapstick must have been considerable. (The two sequels lack such moderation). Not that the film could not have done with a few forays into slapstick – it comes across as dreadfully bland at times. A brief mention of student riots at 'other' universities suddenly reminds one what an optimistic vision of campus life it is that is being presented here, one where the issues from the troubled campus riots of the late 1960s seem to be happening on another world altogether.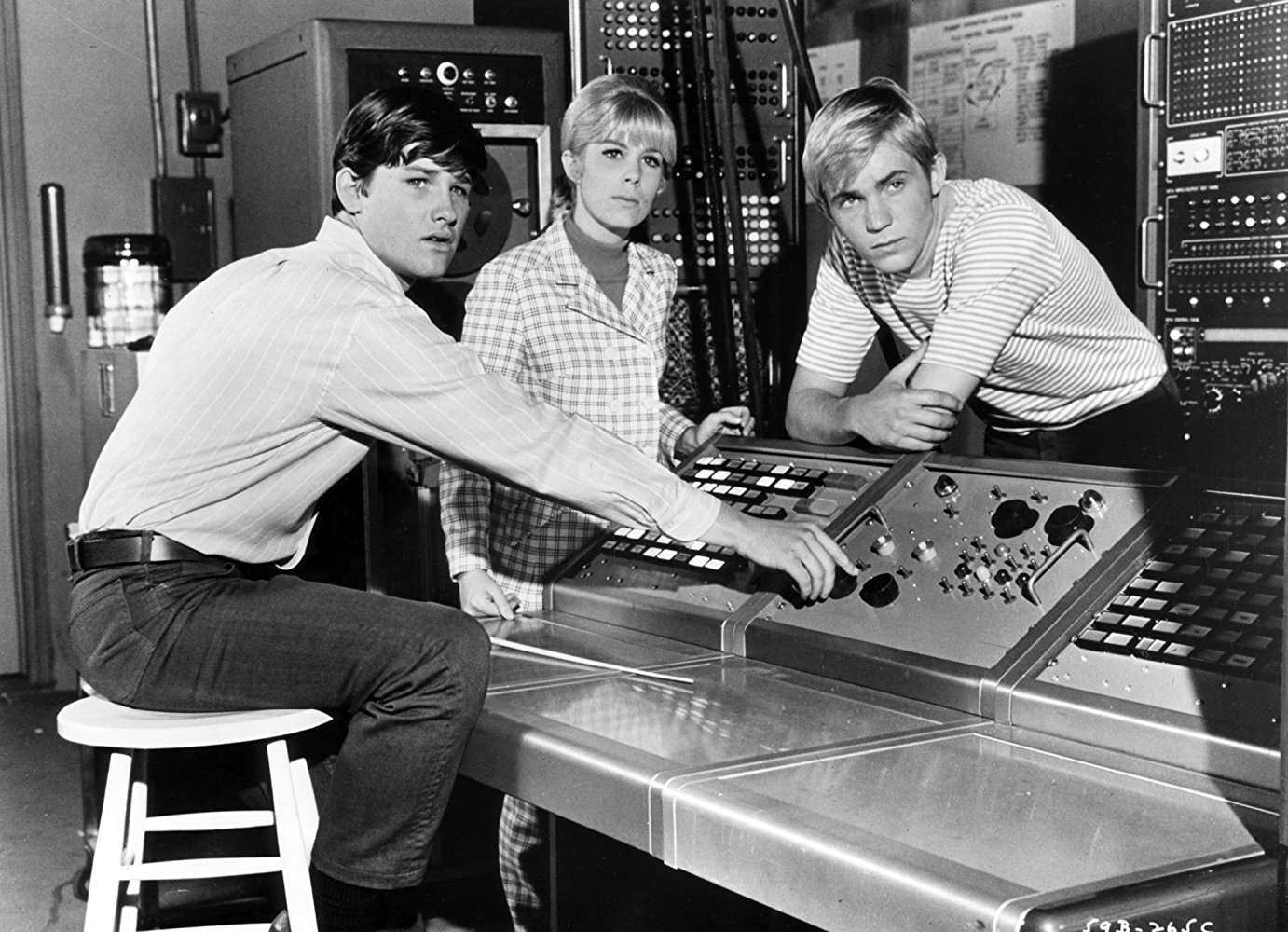 With the exception of the premise of transference of computer data into the brain, the film's idea of what computers can and cannot do is relatively well informed – at least in comparison to the rampant misinformation that surrounded computers in that period. The basic idea however is absurd – one scene where William Schallert takes an X-ray of Kurt Russell's brain and sees printed circuits and whirling magnetic tapes is nonsensical. (It is clearly a revolutionary x-ray machine that is being used here – the x-ray for some reason also reveals Kurt Russell's dreams of beach babes).
Kurt Russell has yet to develop the macho, cocksure swagger that everyone who knows his adult performances is familiar with, and his gawky, pimply eagerness here comes as somewhat of a shock. As a whole, The Computer Wore Tennis Shoes serves its length without outwearing its welcome.
The Dexter Reilly films continued with Now You See Him, Now You Don't (1972), in which Kurt Russell discovers an invisibility formula, and The Strongest Man in the World (1975), in which he creates a cereal that grants super-strength. Kurt Russell, Joe Flynn and Cesar Romero starred in all three. The film was remade as a banal tv movie, The Computer Wore Tennis Shoes (1995) starring Kirk Cameron as Dexter. Kurt Russell and Joe Flynn paired again for the Disney comedy The Barefoot Executive (1971), concerning a chimpanzee with the ability to predict which tv programs will be ratings successes, which could almost have been one of the Dexter Reilly films.
---
Trailer here
---