---
USA. 2009.
Crew
Director – Andy Fickman, Screenplay – Mark Bomback & Matt Lopez, Story – Matt Lopez, Based on the Novel by Alexander Key, Producer – Andrew Gunn, Photography – Greg Gardiner, Music – Trevor Rabin, Visual Effects – Furious FX (Supervisor – Kevin Lingenfelser), Additional Visual Effects – Amalgamated Pixels & Proof, Inc., Special Effects Supervisor – Mark Byers, Creature Effects – Amalgamated Dynamics (Supervisors – Alec Gillis & Tom Woodruff, Jr.), Production Design – David J. Bomba. Production Company – Disney/Gunn Films.
Cast
Dwayne Johnson (Jack Bruno), AnnaSophia Robb (Sara), Alexander Ludwig (Seth), Carla Gugino (Dr Alex Friedman), Ciaran Hinds (Major Henry Burke), Garry Marshall (Dr Donald Harlan), Tom Everett Scott (Matheson), Chris Marquette (Pope), Billy Brown (Carson), Kim Richards (Tina), Iake Eissinmann [Ike Eisenman] (Sheriff Antony), John Duff (Frank), Bob Koherr (Marty), Cheech Marin (Eddie Cortez), Robert Torti (Dominick), Tom Woodruff, Jr. (Siphon)
---
Plot
The military commanded by Major Henry Burke gather at a UFO crash site in the Nevada desert. Las Vegas taxi driver Jack Bruno finds two kids, Seth and Sara, in his taxi who pay him a large amount of money to drive them into the desert. Almost immediately, Jack's cab is pursued by Burke and the military who want to capture the children. The children surprise Jack by using psychic powers to neutralize the pursuers. Seth and Sara reveal to Jack that they are aliens. At the same time, the children are pursued by an alien assassin from their homeworld. Jack and astrophysicist Alex Friedman become caught up in helping the children break into the secret military base at Witch Mountain to steal back their UFO.
---
Race to Witch Mountain is a remake of Escape to Witch Mountain (1975), which was a modest family hit for Disney during the period when the studio was at a peak with their live-action comedies. Escape to Witch Mountain featured Ike Eisenmann and Kim Richards as two alien kids who were hunted by a millionaire wanting to exploit their psychic powers. This produced a sequel in Return from Witch Mountain (1978). There was also a later remake Escape to Witch Mountain (1995), which came during the period when Disney were remaking all their films as tv movies, but this was a confused effort that tripped off into wonky New Age mysticism.
Here Escape to Witch Mountain joins a whole host of Disney properties that have been remade or revived as big-budget films over the last decade-and-a-half, a process that started with Steven Spielberg's Hook (1991). Others amid this fad have included The Jungle Book (1994), 101 Dalmatians (1996), That Darn Cat (1997), Flubber (1997), The Parent Trap (1998), Freaky Friday (2003), Herbie: Fully Loaded (2005), The Shaggy Dog (2006), Tron Legacy (2010), Maleficent (2014), Cinderella (2015), The Jungle Book (2016), Pete's Dragon (2016), Beauty and the Beast (2017), Mary Poppins Returns (2018), Aladdin (2019), Dumbo (2019), Lady and the Tramp (2019), The Lion King (2019), Mulan (2020), Cruella (2021) and Pinocchio (2022). The majority of these are no patch on their original. That said, I was never a big fan of the original Witch Mountain films – Escape to Witch Mountain was passable but Return from Witch Mountain seemed an indifferent effort made with no care.
It is important to note that Escape to Witch Mountain came out just before the big science-fiction boom that began with Star Wars (1977). More importantly, it was made before a host of films on UFOs and alien contact themes such as Steven Spielberg's Close Encounters of the Third Kind (1977) and tv's The X Files (1993-2002, 2016-8). In remake, Race to Witch Mountain now buys into a heap of plot tropes that have become part of the science-fiction genre since the original was made. Most noticeably, the story has now been transplanted amidst the modern fad for UFO conspiracies. While the original had the alien kids on the run from a millionaire who sought to exploit their powers, the remake turns the pursuers into standard sinister government agents. This change is most noticeable in regard to the difference between the title location in either version – in the original, Witch Mountain is the rendezvous point where the children are to meet the UFO that has come to take them home; here Witch Mountain has become an Area 51 type top-secret military base. There is also now the addition of a Terminator-like warrior pursuing and attempting to eliminate the kids that was never there in the original.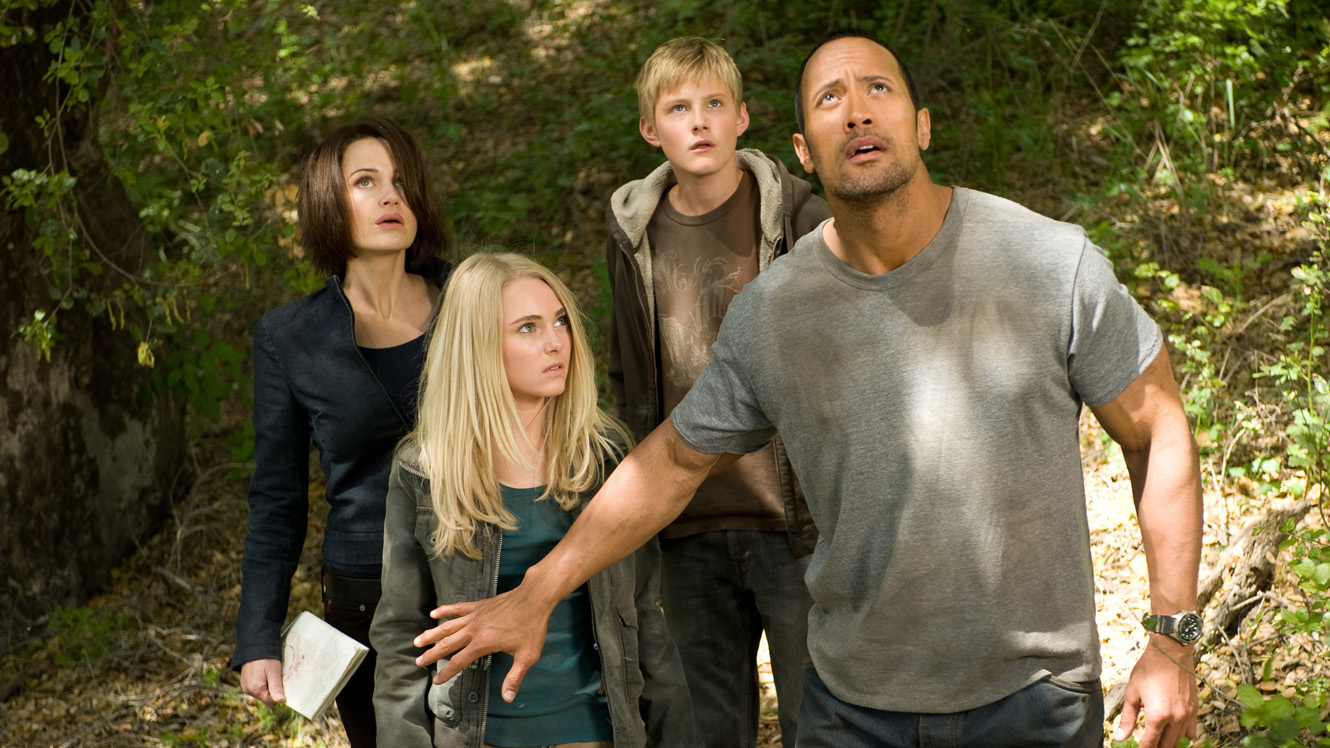 Race to Witch Mountain has also changed a substantial amount of the original. The kids are no longer orphans who are unaware of their origin but alien visitors come to prevent Earth being invaded by more aggressive factions amongst their own people. The film has also dumped the principal adult – Eddie Albert's grumpy old-timer who gives them a ride in his campervan – and replaced him with Dwayne Johnson who now becomes a taxi driver and spends most of the film carting them around. (A campervan does briefly turn up towards the end). Dwayne Johnson is essentially playing another variant on the action man roles he has made his acting career out of – indeed, there is strong similarity between the role he plays here and the one he played in The Game Plan (2007), also for director Andy Fickman, where he was cast as a tough guy who ended up playing comic nursemaid to a kid.
The major disappointment about Race to Witch Mountain is that the effects in the original, which was made more than thirty years earlier, are far more imaginative to those being produced on a big budget and with several CGI houses here. Escape to Witch Mountain was a showcase for the Disney in-house effects team who conjured a delightful array of animated broomsticks and baseball bats, as well as a climax involving the campervan taking to the air and the appearance of a magnificent UFO.
On the other hand, Race to Witch Mountain feels like a children's film that constantly wants to be a big budget action movie. There are big effects set-pieces with the kids being pursued by alien saucers, the Siphon terminator, government agents and the like. Alas, the cuteness of the effects scenes in the original have been replaced by generic set-pieces with explosions and raybeams. There is not a sequence here that we have not seen several dozen times before somewhere else. Moreover, the effects sequences are decidedly tatty – while they maintain a technical proficiency, they never signal anything more than that they are just computer-generated effects sequences.
One has to balk somewhat about the film setting itself around a UFO convention. There is about 30 seconds of cuteness to the idea. Clearly, nobody involved with the production had actually been to a UFO convention – quite possibly they had been to a science-fiction convention as the UFO convention seems to turn into the latter. Having mingled with both groups, one can say that this is something that does not happen in actuality – the science-fiction fans happily regard their enthusiasm as something that concerns fictional subjects, most do not believe in UFOs and the majority regard the Ufologists as flaky nutcases; the Ufologists on the other hand take their interest as serious and real, not fictional, tend to think that most science-fiction films do not represent the truth about UFOs and do not like being associated with the weird fans in costumes. This aside, Race to Witch Mountain seems to only put the fans and Ufologists there for the purpose of making fun of them. Whitley Strieber, the real-life horror author who claims to have undergone an abduction – see Communion (1989) – turns up as himself, seemingly unaware that the film is regarding the Ufologists as flake jobs.
The remake is also determined to pay homage and make a number of references to the original. Most notably, there are sizeable cameos from Ike Eisenmann (now calling himself Iake Eissinmann) and Kim Richards, the kids from the original now all growed up and in their mid-forties. Ike/Iake appears as the smalltown sheriff that defies the government agents, while Kim is the friendly waitress that shepherds the kids away to safety. There are also characters named after actors from the original such as Edward Albert and Donald Pleasence, as well as a police officer Hough after the original's director John Hough. Meredith Salenger who played the title character in Disney's The Journey of Natty Gann (1985) also makes an appearance as a tv reporter listed as Natalie Gann. There is even for some reason a General V. Lewton after Val Lewton, the producer of a series of classic horror films in the 1940s beginning with Cat People (1942).
---
---