USA. 2005.
Crew
Director – Mike Mitchell, Screenplay – Paul Hernandez, Mark McCorkle & Bob Schooley, Producer – Andrew Gunn, Photography – Shelly Johnson, Music – Michael Giacchino, Visual Effects – Asylum (Supervisors – Mitchell Drain & Nathan McGuinness) & Furious FX (Supervisor – David Lingenfelser), Special Effects Supervisor – Al Broussard, Prosthetic Effects – Matthew W. Mungle, Production Design – Bruce Robert Hill. Production Company – Gunn Films/Disney.
Cast
Michael Angarano (Will Stronghold), Kurt Russell (Steve Stronghold/The Commander), Danielle Panabaker (Layla), Mary Elizabeth Winstead (Gwen Grayson), Kelly Preston (Josie Stronghold/Jetstream), Steven Strait (Warren Peace), Nicholas Braun (Zach), Dee-Jay Daniels (Ethan), Kelly Vitz (Magenta), Kevin Heffernan (Ron Wilson), Dave Foley (Mr Boy/All American Boy), Bruce Campbell (Coach Boomer/Sonic Boom), Will Harris (Speed), Jake Sandvig (Lash), Kevin McDonald (Mr Medulla), Lynda Carter (Principal Powers), Khadijah & Malika (Penny), Cloris Leachman (Nurse Spex), Jim Rash (Mr Grayson/Stitches), Loren Berman (Larry), Patrick Warburton (Voice of Royal Pain)
---
Plot
Will Stronghold is the son of two famous superheroes, The Commander and Jetstream. He heads to his first day at Sky High, a school for superhero kids that floats in the clouds. Being the son of two top superheroes, Will is greeted with great expectation – however his great secret is that he has no superpowers. When this is discovered, he is demoted to the class for Sidekicks who have lesser powers and are looked down on by those in the Hero class who have major powers. During a confrontation with Warren Peace, the brooding son of a superheroine and a super-villain, Will discovers that he has super-strength. He is promoted to the Hero class where he befriended by the beautiful technopath Gwen Grayson who asks him to be her date to the Homecoming Dance. This isolates Will from his Sidekick friends who are made to feel inferior by the clique of Heroes that Gwen introduces Will to. Will's childhood friend Layla, who harbours a secret crush on him, feels especially rejected. However, an old nemesis from Will's father's past is lurking and seeks to use the Homecoming Dance as an opportunity to take revenge.
---
Sky High comes with an appealingly cute idea. You get the impression the film was conceived akin to the opening scene of The Player (1992) where aspiring screenwriters pitch scripts to studio execs and describe them in terms of previous successes. Sky High feels like someone had pitched an idea that went "It's like Harry Potter meets The Incredibles (2004)." Sky High bears the unmistakable imprint of the Harry Potter films – Harry Potter and the Sorcerer's Stone/Harry Potter and the Philosopher's Stone (2001) et al – albeit transferred from a British boarding school environment to a standardised American public school, but still trading in the same idea of a group of kids with fantastical abilities in an academic setting dealing within threats within the school at the same time as they try to master their abilities. That and the concept that The Incredibles had of depicting the domestic life of superheroes. Or perhaps even more so than The Incredibles, of Mystery Men (1999) and its team of second-rank superheroes with next-to-useless powers.
The premise of Sky High seems promising – think of a less serious version of Professor Xavier's School for Gifted Youngsters from X-Men (2000) – but is ultimately too cute for its own good. The Harry Potter series had its school kids studying magic lore, which is an idea that one could buy, but Sky High seems to strain at trying to fill out its concept with blackboard lessons about helping old ladies across the road and the like.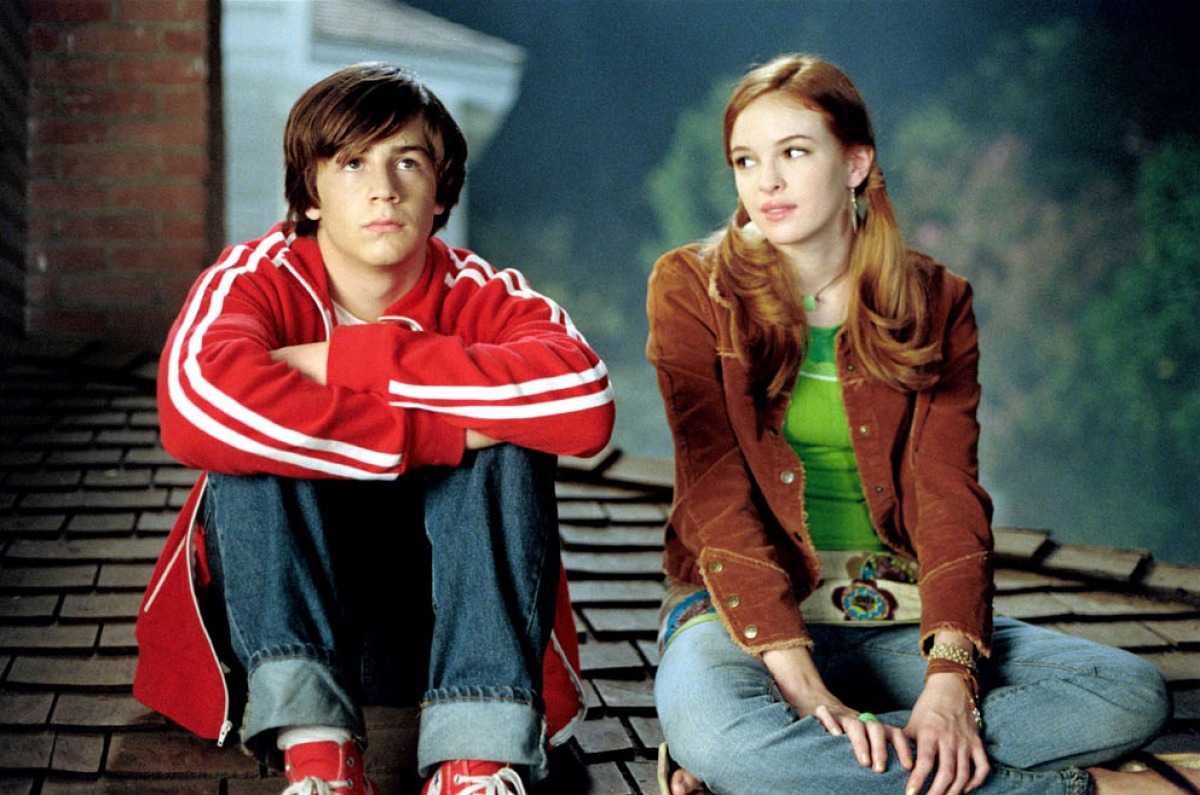 You could see that the idea might have made for a good tv series. (The cast were purportedly contracted for a potential series, but Sky High's box-office failure put said to that idea). Certainly, the film emerges on screen more like an episode of a tv series than it does a film – it is directed like a production line tv episode. Compare, for example, the superheroics here with the exploits in recent more serious-minded superhero films such as X-Men, Spider-Man (2002) or Fantastic Four (2005) and you can see how routine Sky High is as a superhero film.
Director Mike Mitchell had previously only made mainstream comedies like Deuce Bigalow, Male Gigolo (1999), Surviving Christmas (2004) and subsequently went onto the dismal likes of Shrek Forever After (2010), Alvin and the Chipmunks: Chipwrecked (2011), the live-action sequences in The Spongebob Movie: Out of Water (2015), Trolls (2016) and the not too bad The Lego Movie 2 (2019) – one gets the impression that this was more a case of him accepting an assignment rather than a film that has been a burning idea in the back of his head ever since.
Even more than that, Sky High feels routine on a plot level. The central character has a great arc. Like Harry Potter, he is the son of some of the top people in the field and arrives at the school with a good deal of expectation heaped on his shoulders – only to find that he has no superpowers. This is a character concept that has a great potential but the film has Will find his superpowers far too early in the piece; his discovery should have been much more of a struggle and his final emergence into superherodom should have been the triumphal act of the show.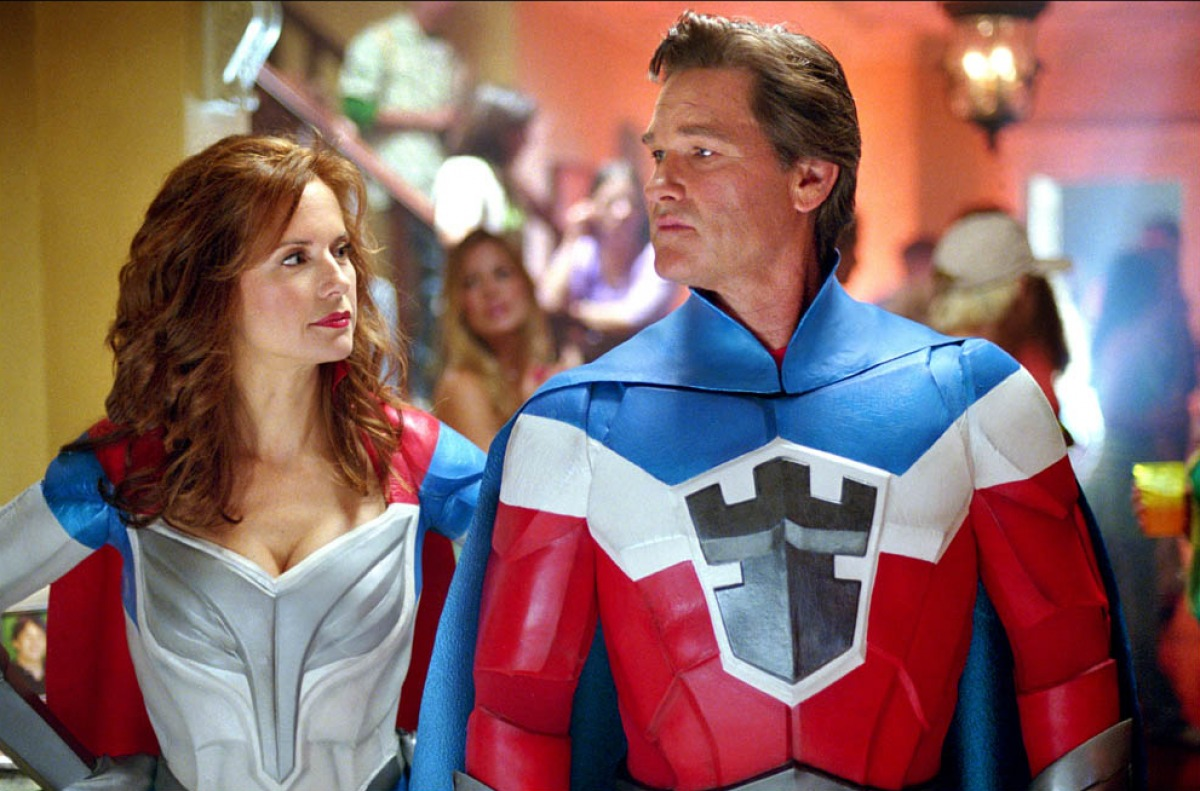 As soon as it gets this out of the way, the film appears stuck what to do with the rest of the running time. All it does is fall back on the clichés of the high school drama – the latter half of the film is only a standard high school drama with a thin patina of superheroics. Everything is told in old hat clichés. The film rehashes the conflict from Revenge of the Nerds (1984) and just about every second teen film of the 1980s of the loser underdogs proving their worth over the cliquish preppies. There is the incredibly tired cliché of the hero having to be make a choice between the plain, ordinary girl next door who has had a long-time crush on him but who he has never thought of as more than a friend and between the beautiful, sophisticated bad girl who is bad, well, because she is beautiful and sophisticated. There is even a plot where the two girls are fighting over who will be the hero's Homecoming Dance date.
The film seems to be wanting to make superhero in-jokes, although it is not clever enough to come up with anything funny and instead peoples itself with a few actors that have made superheroic appearances before. The school principal is played by Lynda Carter, best known as the title role in tv's Wonder Woman/The New Adventures of Wonder Woman (1975-9), while the school nurse is played by Cloris Leachman who played Lynda Carter's mother in the series. The role of the middle-aging superhero is played by Kurt Russell who was a Disney child star himself playing often super-powered teenagers in films such as The Computer Wore Tennis Shoes (1969), Now You See Him, Now You Don't (1975) and The Strongest Man in the World (1975). Patrick Warburton, who played the title character in the live-action version of the superhero spoof The Tick (2001-2), also voices the part of the super-villain.
The same idea of a school for trainee superheroes was also used around the same time in Zoom: Academy for Superheroes (2006), which proved an equal flop for its studio.
---
---