---
Crew
Director/Screenplay/Producer – Joshua Kennedy, Music – Reber Clark, Stop-Motion Animation – Ryan Lengyel. Production Company – Gooey Films.
Cast
Madelyn Wiley (Rebecca Crawford), Carmen Vienhage (Bunny Parker), Haley Zega (Debbie Dukes Riley Masterson III), Dani Thompson (Doris Yates), Jonathan Tamez (Robert Crawford), Guillermo Ochoa (George Jameson), Brian Warren (The Jailer), Tom Pearson (Sheriff Steven Winslow), Luis Moreno (Gus Wilkinson), Alysha Arguelles, Stephanie Marie Baggett, Victoria Cantu, Clarissa Perez & Stefanie Jo Saenz (The Ladies)
---
Plot
The Western town of Kirksey, 1864. Schoolteacher Rebecca Crawford's husband Robert is snatched by a pterodactyl. With the sheriff refusing to take her seriously from lack of evidence, Rebecca sees the only option is to drum up an all-girl posse to go and rescue Robert. Those she gathers include the alcoholic gunslinger Bunny Parker; Debbie Dukes, the madam of the local brothel who seeks to capture the pterodactyl as a novelty to raise her failing profits; and Doris Yates, a hellraiser who has just escaped from jail. Together the girls venture forth into the nest of pterodactyls on their rescue mission.
---
Cowgirls vs Pterodactyls comes from director Joshua Kennedy who has made a number of other low-budget genre films with the likes of Slave Girls on the Moon (2014), Dracula A.D. 2015 (2015), The Vesuvius Experiment (2015), The Night of Medusa (2016), The Alpha Omega Man (2017), Theseus and the Minotaur (2017) and House of the Gorgon (2019)
There have been occasional films that have mixed the Western with dinosaurs, beginning with The Beast of Hollow Mountain (1956) and in particular the classic Ray Harryhausen film The Valley of Gwangi (1969). More recently, there was Cowboys vs Dinosaurs (2015), which wasn't set in the Western era but took place in the present – the title of that film seems to have acted as inspiration for Joshua Kennedy where it can be seen that he is setting out to offer cowgirls equal time up against dinosaurs. (For more detail on Western genre hybrids see my essay Weird Westerns).
Cowgirls vs Pterodactyls at least gets you watching with its Deliberately Ridiculous Title. But soon into it, oh boy, you wish you hadn't. I'm dedicated to the cause and will keep watching no matter what through something less hardy souls may give up on. Joshua Kennedy lacks a serious attitude towards his material, which becomes particularly evident in some of the performances from the women – like the prostitutes trying to come up with ideas for raising money with suggestions of horse washes or calling each other 'furries'. The acting is not entirely all bad but the performances are often broad, which tends to throw off a scene. You want a film to at least have a suspension of disbelief in a scene but frequently neither the actors nor Joshua Kennedy's tone seems to be doing that.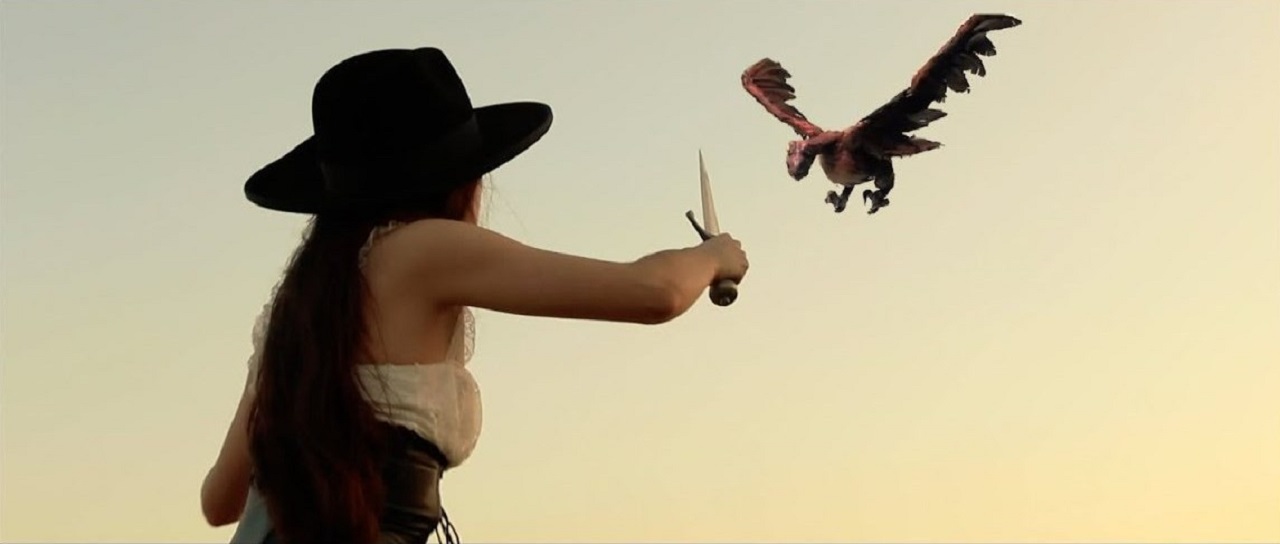 The worst part about the film is the dinosaur effects. Kennedy calls them a homage to Ray Harryhausen and The Valley of Gwangi but they are in a word pitiful. Jerky immobile creatures that flap about and are poorly inserted into the action, they bring the show down in a big way. There is a lot of crappy green screen, although the worst is the closeups of the pterodactyl head with a gawky awkward mouth that looks like it is made of cardboard.
One also has to quibble with the definition of 'mopery' offered as being 'exposing yourself to a blind man'. Mopery is a term on the law books in some areas of the USA but in actuality is one of those loose terms like loitering that is used to deal with general nuisances. In this case, Joshua Kennedy seems to have looked up the definition offered at Urban Dictionary – a site that actually prefers you submit a term that has an amusing definition rather than any concern for the factual basis of the terminology – and has gone with a definition that someone has clearly added as a joke.
(Winner in this site's Top 10 Films of 2021 list).
---
Trailer here
---