---
Crew
Director – Brad Silberling, Screenplay – Chris Henchy & Dennis McNicholas, Based on the TV Series Created by Marty and Sid Krofft, Producers – Marty Krofft, Sid Krofft & Jimmy Miller, Photography – Dion Beebe, Music – Michael Giacchino, Visual Effects Supervisor – Bill Wetsenhofer, Visual Effects – Cafe FX (Supervisor – Ben Grossman), Hammerhead Productions (Supervisor – Thomas Dadras), Perpetual Motion Pictures, Rhythm and Hues Studio (Supervisor – Karey Maltzahan) & VFX Collective, Special Effects Supervisor – Michael Lantieri, Creature Design – Crash McCreery, Creature Effects – Spectral Motion (Supervisor – Mike Elizalde), Production Design – Bo Welch. Production Company – Universal/Relativity Media/Sid & Marty Krofft Pictures/Mosaic.
Cast
Will Ferrell (Dr Rick Marshall), Anna Friel (Dr Holly Cantrell), Danny McBride (Will Stanton), Jorma Taccone (Cha-Ka), John Boylan (Enik), Matt Lauer (Himself), Leonard Nimoy (The Zarn)
---
Plot
Rick Marshall is a palaeontologist who has fallen into ridicule over his theories about being able to tap energy sources from alternate dimensions. Rick has been reduced to teaching kids in school when he is approached by Holly Cantrell, a British colleague who is an admirer of his theories. She is sure that his theories must work because she has found a prehistoric rock with the imprint of a modern cigarette lighter in it. She takes Rick to a tatty cave attraction in the desert where she believes she has found a dimensional doorway. There Rick activates his tachyon amplifier but this opens up the gateway and he, Holly and guide Will Stanton are sucked through. They find themselves in a prehistoric world inhabited by dinosaurs and ape-men. As they try to relocate the tachyon amplifier to get back home, they encounter the humanoid reptilian Sleestaks. The imprisoned Sleestak Enik begs their help in stopping the Sleestak warlord known as The Zarn.
---
The Montreal-born Krofft brothers Sid and Marty became famous in the late 1960s for their children's television, including shows like H.R. Pufnstuf (1969-70), The Bugaloos (1970-2), Sigmund and the Sea Monsters (1973-5), Far Out Space Nuts (1975-6) and The Krofft Supershow (1976-8), with their most famous creation being Donnie & Marie (1976-9). Land of the Lost (1974-6) was one of their more serious (as opposed to gonzo) efforts. It concerned Rick Marshall (Spencer Milligan) and his two children who are thrown through a dimensional doorway while on a camping trip and find themselves in a lost world inhabited by dinosaurs, ape-men and the humanoid reptilian Sleestaks. The adventures took the family through various lost cities as they tried to piece together the workings of the power pylons and energy crystals littered across the world to open up the gates that would allow them to return home. From its honky-tonk opening song to the cheap optical effects, Land of the Lost did not seem very promising on the face of it. However, the results proved surprisingly intelligent and the show was notable in featuring a number of literary science-fiction writers, most of whom had worked on Star Trek (1966-9), including David Gerrold, Larry Niven, Norman Spinrad and Theodore Sturgeon. The series lasted for three seasons and a total of 43 episodes. It was revived in the 1990s as Land of the Lost (1991-3). This lasted for two seasons but never gained the popularity of the original with the only commendable aspect being some decent dinosaur effects.
Now comes Land of the Lost the big-screen revival/remake of the tv series. It joins a host of other remakes of 1960s/70s tv series that have turned up on the big screen since the mid-1990s. See also the likes of The Addams Family (1991), The Beverly Hillbillies (1993), The Fugitive (1993), Car 54, Where Are You? (1994), The Flintstones (1994), The Brady Bunch Movie (1995), Flipper (1996), Maverick (1996), Mission: Impossible (1996), Leave It to Beaver (1997), The Saint (1997), The Avengers (1998), Lost in Space (1998), The Mod Squad (1999), My Favorite Martian (1999), Wild Wild West (1999), Charlie's Angels (2000), I Spy (2002); Scooby-Doo (2002), Starsky & Hutch (2004), Thunderbirds (2004), Bewitched (2005), The Dukes of Hazzard (2005), The Honeymooners (2005), Miami Vice (2006), Transformers (2007), Get Smart (2008), Speed Racer (2008), Star Trek (2009), The A-Team (2010), Yogi Bear (2010), Dark Shadows (2012), The Sweeney (2012), 21 Jump Street (2012), The Equalizer (2014), Jem and the Holograms (2015), The Man from U.N.C.L.E. (2015), Dad's Army (2016), Baywatch (2017), CHiPs (2017), Fantasy Island (2020) and The Munsters (2022). The Krofft brothers are reportedly next planning a big-screen revival of Sigmund and the Sea Monsters.
Almost all of these film remakes are inferior to their original sources. It is no different here. You wonder as you go in, is there anything about Land of the Lost 2009 that is not cultural excavation of the worst order? Are there truly any fans of the original who can say they are burning to see the original reimagined for the big screen? Even assuming there was a vast fan audience for the original Land of the Lost out there – I mean, the world has not exactly been overflowing with Land of the Lost conventions and reunion specials – it is hard to imagine why the film was made. The approach taken by the film is akin to other tv remakes like The Brady Bunch (1995) and Starsky & Hutch (2004) – the original has gone from a children's lost world adventure series into a lowbrow farce that is entirely dominated by the witless humour of Will Ferrell. I suppose this is an approach that might work – but then I suppose in theory it might be possible to have a version of Star Trek (1966-9) with Jim Carrey cast as Captain Kirk.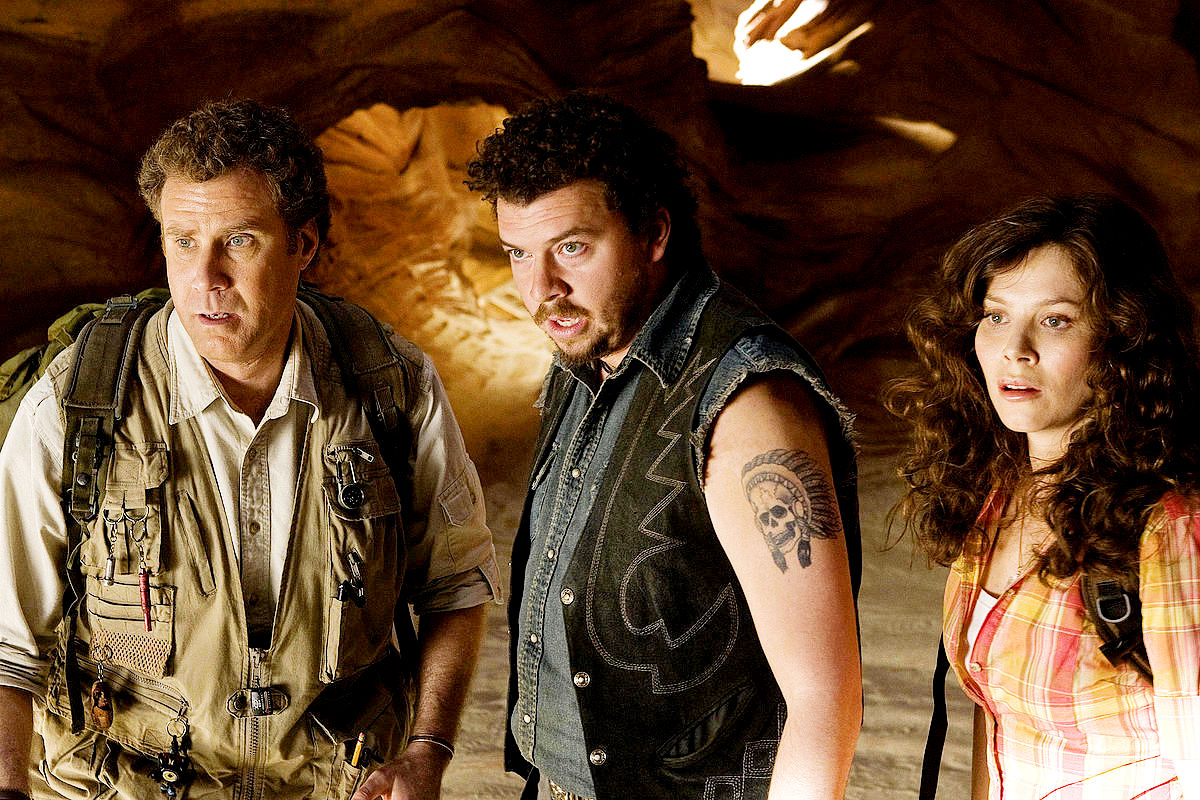 The filmmakers seem confused about who they were making the film for. They surely must have known the approach taken could only result in howls of outrage from the series' fans. Thus with fans of the originals alienated, the only audience that leaves for Land of the Lost is either fans of Will Ferrell or those of lowbrow farce. Even then the film's trailer gave no indication that the film was anything other than a straightforward lost world adventure. The fact that the film was intended as a comedy had been entirely omitted in any of the promotion. While the audience for both the original tv series was clearly children, here the two children have been recast as adults and the humour is decidedly grown-up – gags about Cha-Ka constantly grabbing Anna Friel's breasts, Will Ferrell accusing Danny McBride of playing with himself, not to mention a scene where the three men sit around in a pool and get stoned. All of this was enough for Land of the Lost to receive a PG-13 rating in the US. Despite this, the publicity machine was clearly trying to pitch the film to family audiences. In terms of its promotion, we have what is possibly one of the most confused films of the year.
I don't know if a straight version of Land of the Lost would necessarily have made for a great film – it would probably have come out something akin to the recent Journey to the Center of the Earth 3D (2008). It is just that the lost world adventure has become outdated these days. The ultimate answer for a remake of Land of the Lost would have been to not make it at all – but in a surely ill advised move, the filmmakers (with the full cooperation of Sid and Marty Krofft who are listed as co-producers) have gone ahead and made the production anyway. The results are a disaster on the order of another Howard the Duck (1986), a Wild Wild West (1999) or a Catwoman (2004), an oversized turkey that dies a limpid death on screen like a stand-up comedian whose one-liners keep failing to get a laugh out of an audience no matter how desperately they try.
I will announce my bias up front – I hate the screen antics of Will Ferrell. In films like Elf (2003), Anchorman: The Legend of Ron Burgundy (2004), Bewitched (2005), Talladega Nights: The Ballad of Ricky Bobby (2006), Blades of Glory (2007), Semi-Pro (2008) and Step Brothers (2008), Ferrell has gained an A-list presence solely by playing loudly to the gallery and dominating each film with an hysteric and frequently infantile look-at-me schtick. The only film of Will Ferrell's that was remotely any good was Stranger Than Fiction (2006) and that was because he gave a performance that was trying to be as dull as possible.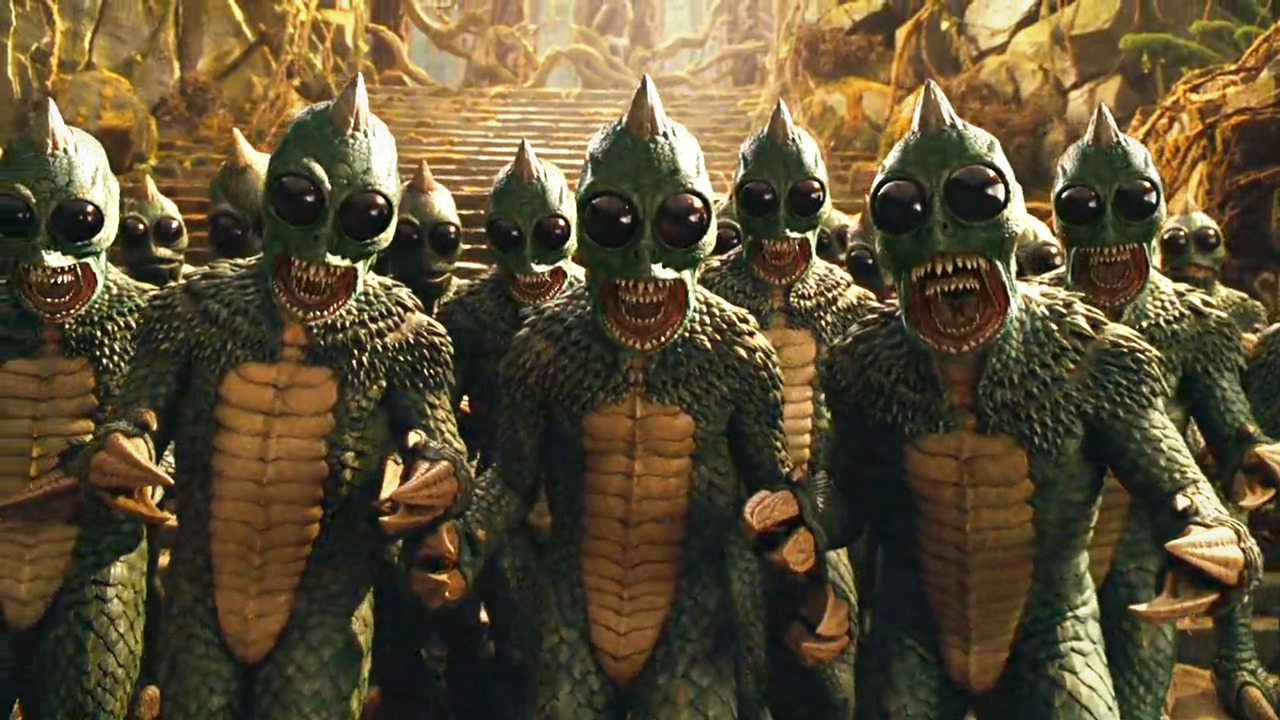 Unfortunately, Land of the Lost is a film that gives free reign to Will Ferrell's antics – be it he conducting monologues to the screen about wanting to cook Cha-Ka and that maybe Cha-Ka is the secret ingredient on Iron Chef (2001– ); a scene where he pours dinosaur urine on himself and then drinks it; others about being swallowed whole and then pooped out of a dinosaur's rectum; one with the men getting stoned in a swimming pool; a scene where Ferrell sits in a car abandoned in the desert and monologues about sticking his hand down his pants; or a childish sequence eating donuts filled with M&Ms.
The film proves utterly excruciating in the way it keeps grinding on and on at this humour without ever being funny. Some sequences completely boggle the mind. Indeed, the burning question that one comes out of the film with is – is Will Ferrell trying to tell us he is gay? There is an agonising gag that plays throughout much of the film about the tachyon amplifier playing show tunes. At one point, Will Ferrell and Danny McBride are placing their hands on the glass pyramids and singing in chorus, while there is a sequence that defies belief where Ferrell must put on a headband and walk in his shorts across a lava field filled with dinosaur eggs to retrieve the amplifier and then sing show tunes to pacify the eggs as they start to hatch.
The dinosaur effects are good, although, as with the Sleestaks and much of the production design, there has been a clear attempt to make the film look cheesy. The film does feature the lovely Anna Friel, a British actress who deserves a far better vehicle than this inanity. Even then, her naturally pretty features are hidden beneath a ghastly makeup job that gives her fake rosy cheeks like some overheated Raggedy Ann doll.
Director Brad Silberling has previously made several other ventures into fantastic cinema with Casper (1995), City of Angels (1998) and Lemony Snicket's A Series of Unfortunate Events (2004).
(Winner in this site's Worst Films of 2009 list).
---
Trailer here
---