---
Crew
Director/Screenplay – Emmett Callinan, Producer – Ray Haboush, Photography – Dan Parsons, Music – Greg Nicolett, Miniature Effects Supervisor – Jon K. Miller, Production Design – Timothy R. Martin. Production Company – Phase 4 Films/Still Night Monster Movies/Halcyon Entertainment/Automatic Media.
Cast
Keith Reay (Devin), Steve West (Jack), Alana Dietz (Shelly), Tonya Kay (Flower), Joe Darden (Shaun), Avital Ash (Kristy), Sharlene Brown (Spaceport Attendant), Freddie Johnson (Soldier 1), Tim Martin (Soldier 2), Preston James Hillier (Commander)
---
Plot
Devin and his best friend Jack rent a space cruiser to go partying with a bunch of girls. Irritated at how long it is taking to get there, Devin orders their friend Shaun to override the hire agency's speed inhibitor – only for this to cause them to crash on an uncharted planet. As they explore the world, they discover it is inhabited by an alien species that is stalking them. At the same time, they also find themselves caught between a group of human soldiers that are intent on exterminating the aliens. Because they are witnesses, they too are earmarked for elimination.
---
Dark Space is a debut feature for US director Emmett Callinan. Callinan had previously worked in a host of categories on various other low-budget independent fan films as everything from editor to set designer and actor.
In running this site, I am sent a good many films from filmmakers outside of the Hollywood mainstream hoping to make a break. Expectedly, most of these are not worth the time taken to watch and seem mostly driven by fannish enthusiasm to emulate a particular genre or model. There is a reasonable percentage of these that show glimmerings of promise in terms of style, imagination or just the wish that the filmmakers had been granted better resources and budget. And there is a small iceberg tip of these which do really amazing things – but not that many of them.
Dark Space received a better release than most of these and was commercially sold to dvd. It is also a much slicker and more well-made film than almost any other non-professional film one has seen. The visual effects are exceedingly well produced – some of the shots like that of the cruiser crossing the global cluster at the end make the fanboy in you all excited. There has been a good deal gone into the sets, digital computer displays and with some especially convincing alien creature effects. The actors are not too bad for the most part, although Keith Reay's obnoxious party guy seems a one-note character that starts to wear on one's nerves with the forced insistence of his performance within a matter of scenes.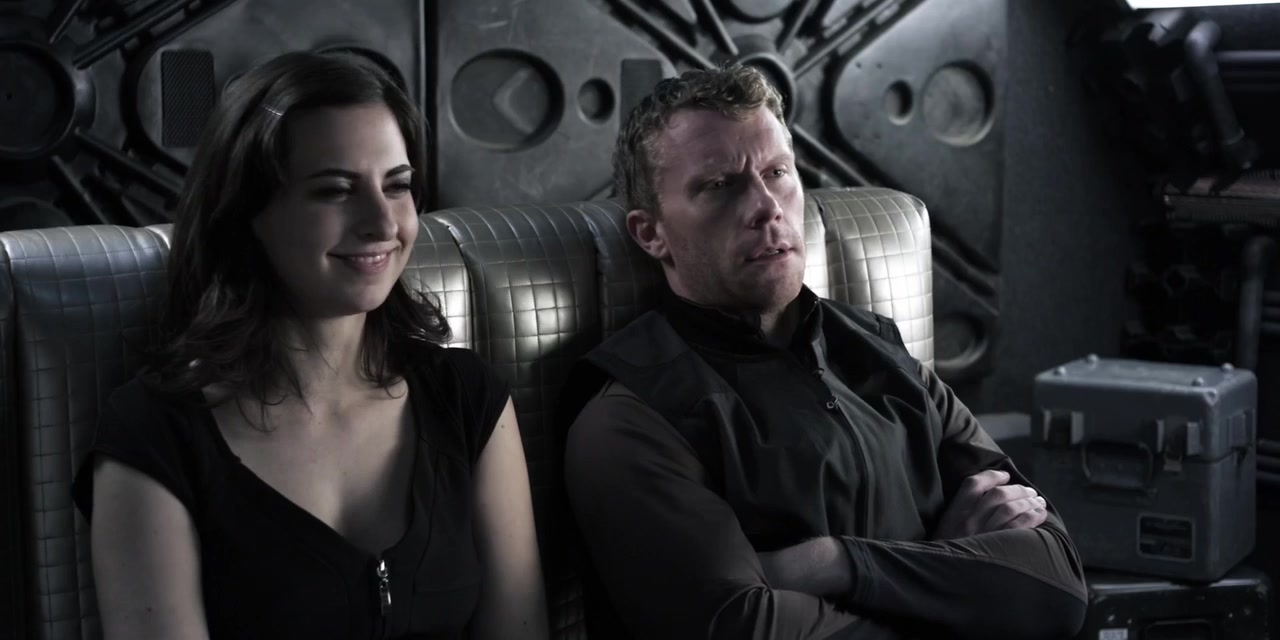 That said, Dark Space – which must be about as generic a title for a science-fiction film as you can get – remains merely only a professionally made amateur film. This is signalled no more clearly than the nerdish habit of making in-references to your favourites – here the visual effects compositors on the end credits are all named after characters from Batman and Alien (1979), while the roto artists are named after Iron Man characters.
The earnestness and ambitions of the filmmakers are considerable but the subject matter remains disappointingly ordinary. It is the fault of most of these fannishly enthusiastic films that all they do is copy their models and place a great deal of effort into creating spaceships, military costumes and a sense of verisimilitude – look no further than a host of fanmade Star Trek copies – but merely imitate and do nothing to conceive original science-fiction stories or worlds. All of the designs, ships, military hardware and aliens here could have been shuffled around from several dozen B-budget science-fiction films.
There is a theme about massacring an indigenous species that feels a little more but it is sad that after the legacy of Star Trek (1966-9), which was doing this type of story nearly fifty years ago and with more sophistication, that Dark Space, which is clearly being made by otherwise talented people, could not come up with anything more than that.
---
---