---
Crew
Director – Greg Beeman, Screenplay – Chris Matheson & Ed Solomon, Producer – Michael Phillips, Photography – Jacques Haitkin, Music – Jerry Goldsmith, Visual Effects Supervisor – Michael Muscal, Visual Effects – Perpetual Motion Pictures (Supervisors – Robert Habros & Richard Malzahn), Visual Effects Animation/Opticals – Available Light Ltd (Supervisors – Katherine Kean & John T. Van Vliet), Mechanical Effects Supervisor – Larry Fioritto, Creature Effects – Alterian Studios (Supervisor – Tony Gardner), Production Design – Craig Stearns. Production Company – HBO/Cinema Plus L.P./Mercury-Douglas Films.
Cast
Jeffrey Jones (Dick Nelson), Teri Garr (Marge Nelson), Jon Lovitz (Emperor Tod Spengo), Dwier Brown (Sirk), Kathy Ireland (Semage), Thalmus Rasulala (General Afir), Wallace Shawn (Sibor), Eric Idle (King Raff)
---
Plot
Spengo is a small planet inhabited by very stupid people. The planet's emperor Tod Spengo decides to destroy the Earth. Tod targets his death ray laser on Woodland Hills, California but then becomes captivated by housewife Marge Nelson and decides he has to have her. Marge and her husband Dick are heading away on holiday when Tod whisks their car up through space to Spengo using a magno ray. Tod invites them to his 'wedding' and then places them in separate rooms – however, Dick's room happens to be a cell, while Marge is outfitted as the bride for the wedding. Dick makes an escape and tries to avoid Tod's attempts to kill him and return to rescue Marge before the wedding goes ahead.
---
Comedies about stupidity or featuring very stupid characters have an invariable tendency to come out with the same mind-croggling inanity that their characters do – good examples would be the Police Academy films, Dumb and Dumber (1994) and anything starring Pauly Shore, while within the genre you could cite efforts such as Morons from Outer Space (1985), Spaceballs (1987) and Spaced Invaders (1990).
The only exception that one can think of to this dictum would be Bill and Ted's Excellent Adventure (1989), which was also written by the same people as Mom and Dad Save the World was. Mom and Dad Save the World makes the same mistake these others do – in wanting to make us laugh at its characters stupidity, the film only ends up revelling in a mindless inanity.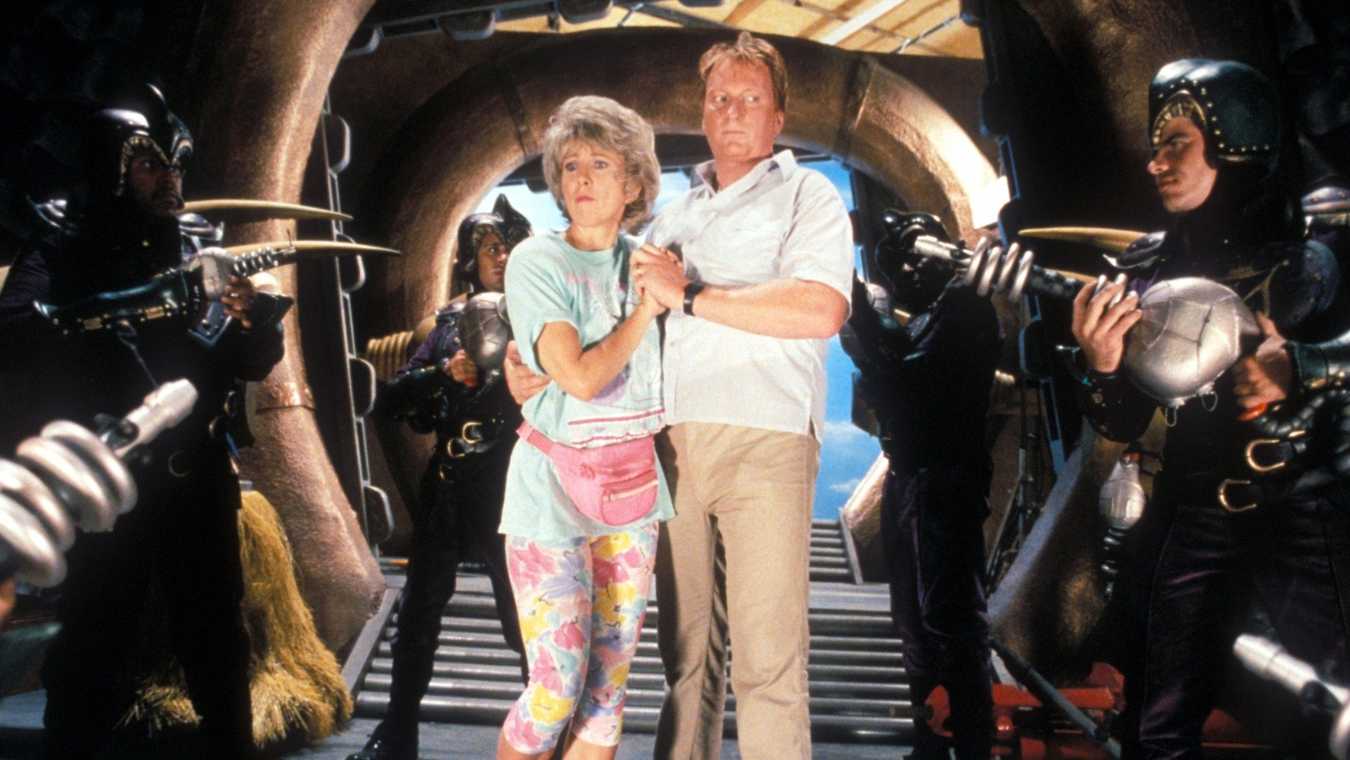 There is rarely anything in Mom and Dad Save the World that approaches the remotely funny. Instead, the film seems to consist of a much in the way of frenetic running around and inane pratfoolery. The sole moment of amusing inspiration that the film produces is one gag where Jeffrey Jones succeeds in eliminating an entire army one by one using a grenade labelled 'Pick Me Up' that obliterates the holder after they do precisely that. Otherwise there is little to distinguish Mom and Dad Save the World.
What is sad about this is that a good deal appears to have been lavished on the film in terms of production values. There are some nice effects, particularly shots of the Nelson's car passing the rings of Saturn; some delightful creature effects with the palace's dog and fish headed guards; and some imaginative cartoonish rococo sets. Unfortunately, after opening, Mom and Dad Save the World flopped badly, earning only $2 million in domestic US rentals, despite having a $14 million budget.
Intriguingly, the plot for the film seems to have been modelled on Flash Gordon (1936) – or perhaps more so the remake Flash Gordon (1980). The script follows the same basic plot structure, involving a human couple abducted by the megalomaniac emperor of another planet who wants to destroy the Earth and then decides that he must marry the heroine and how the hero must venture through the planet's wilderness encountering its various denizens in order to save her. Mom and Dad Save the World could have been construed as a parody of Flash Gordon 1980, if not for the fact that Flash Gordon 1980 itself was intended as a send-up of Flash Gordon 1936.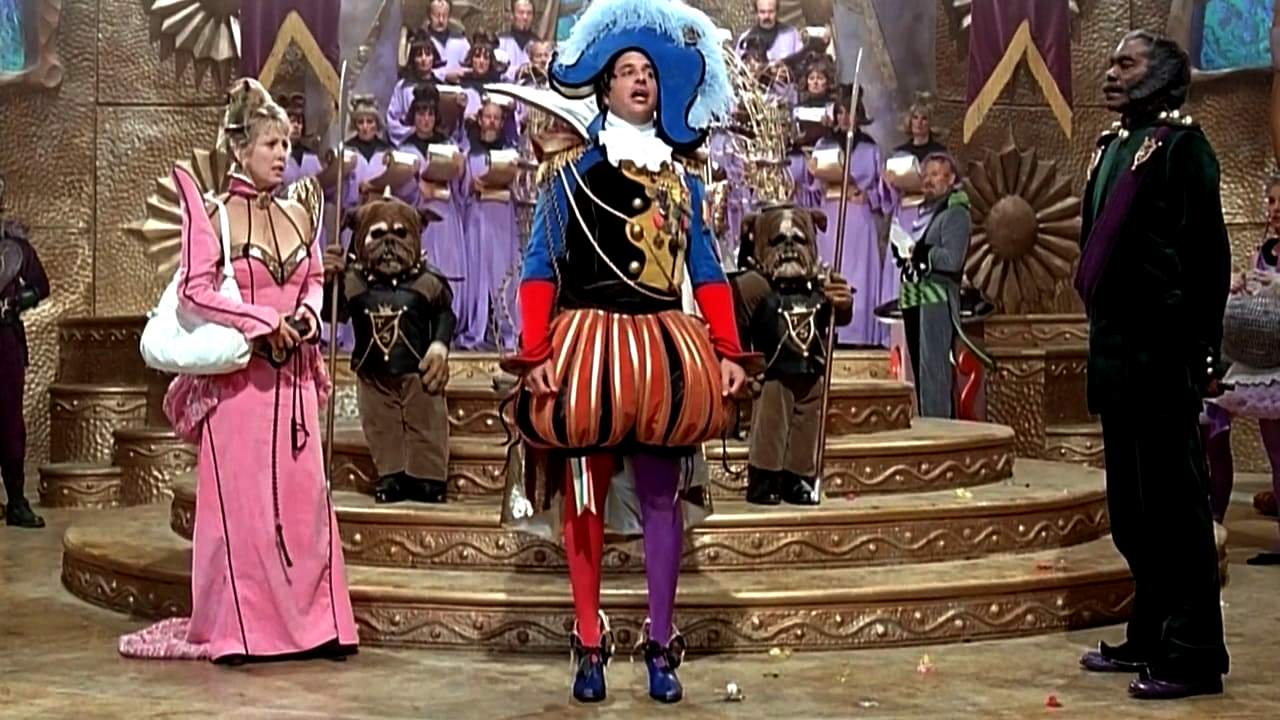 Director Greg Beeman has previously made the teen hit License to Drive (1986) but almost all of his subsequent work has been in television, most notably as a director and producer on genre tv series like Smallville (2001-11), Heroes (2006-10), Falling Skies (2011-5 ), Minority Report (2015), American Gothic (2016) and Timeless (2016-8). Beeman also directed the unsold tv pilot for Aquaman (2006).
The writing partnership of Ed Solomon and Chris Matheson had previously written Bill and Ted's Excellent Adventure (1989), its sequel Bill and Ted's Bogus Journey (1991) and Bill & Ted Face the Music (2020), and the Eddie Murphy comedy Imagine That (2009). On his own, Chris Matheson, the son of legendary genre writer Richard Matheson, has written other genre works like A Goofy Movie (1995), Stepsister from the Planet Weird (2000), Rapture-Palooza (2013) and directed/wrote the genre films The Wise Ones (2001) and Evil Alien Conquerors (2003) (another films about very stupid alien invaders). On his own, Ed Solomon has also written Super Mario Bros. (1993), Men in Black (1997), Charlie's Angels (2000), What Planet Are You From? (2000), Now You See Me (2013) and Now You See Me 2 (2016).
---
---