---
Crew
Director/Producer – Mark Robson, Screenplay – George Fox & Mario Puzo, Photography – Philip Lathrop, Music – John Williams, Visual Effects – Albert Whitlock, Miniatures – Glen Robinson, Special Effects – Frank Brendel & John McMasters, Production Design – Alexander Golitzen. Production Company – Universal.
Cast
Charlton Heston (Stewart Graff), George Kennedy (Lou Slade), Genevieve Bujold (Denise Marshall), Richard Roundtree (Miles Quade), Victoria Principal (Rose), Marjoe Gortner (Jody), Lorne Greene (Sam Royce), Ava Gardner (Remy Graff), Barry Sullivan (Dr Willis Stockle), Lloyd Nolan (Dr Vance), Walter Matuchanskayasky [Matthau] (Drunk)
---
Plot
Using innovative techniques, seismologists predict that an earthquake of Size 7 on the Richter Scale is about to hit Los Angeles that day. However, this is dismissed by authorities for lack of evidence. They are then powerless to do anything as the quake hits, devastating much of the city. Caught up in the devastation are engineer Stewart Graff, who has left his wife for a woman he is having an affair with; suspended cop Lou Slade; Graff's wife's aging father who is trapped in his office with his employees; and Rose who is stalked by a neighbourhood grocery store clerk who has been called up as a National Guardsman.
---
The disaster genre was at its height in 1974 when Earthquake came out. The genre had begun with the prototypic Airport (1970) but did not blossom until the super-hits of Irwin Allen's The Poseidon Adventure (1972) and The Towering Inferno (1974). The disaster film was a particularly ersatz form of soap opera-come-celebrity gala benefit where various name stars would come on to do cameo turns in parts that no one is expected to take too seriously.
It is not a genre that has dated well. Many of those who succumbed – Michael Caine, Charlton Heston, Telly Savalas, Karl Malden, Faye Dunaway – are still trying to shuck its reputation. (Indeed, in probable anticipation of such, Walter Matthau hides behind the name Walter Matuchanskayasky. Matthau put out the rumour that this was his given name, although this was later revealed to be a practical joke). It can be seen as some type of yardstick that sorted the real actors from the chaff in seeing who managed to survive with reputations intact and return to serious acting.
Earthquake is usually touted a little higher than some of the others usually for its' (some think) superior effects. Not to mention the script, which comes from Mario Puzo, author of The Godfather (1969), although this was rewritten after Puzo left for commitments on the film version of The Godfather Part II (1974). However, Earthquake is not that interesting. Mark Robson once directed the psychological horror classics The Ghost Ship (1943), The Seventh Victim (1943) and Bedlam (1946) for Val Lewton, not to mention editing Cat People (1942), but one would not ever have guessed from Earthquake. Of course, subsequent to his work for Lewton and into the 1960s, Mark Robson also made soap operas like Peyton Place (1957) and Valley of the Dolls (1967).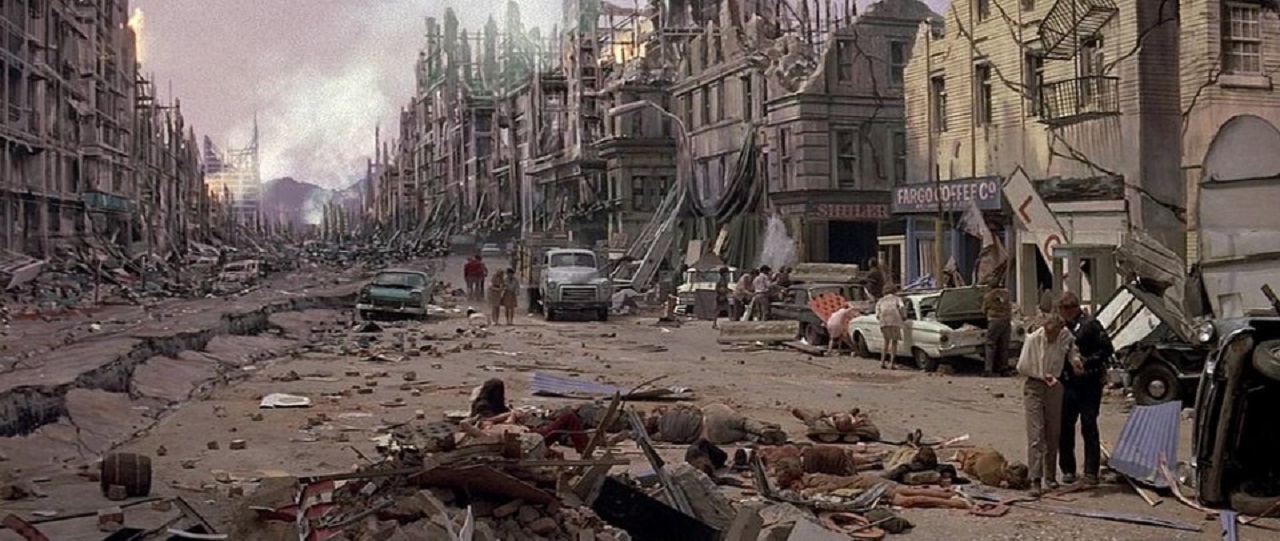 Despite Mario Puzo's involvement, the plot is still the same disaster movie soap opera. It requires an hour's wade through the melodrama before we even get to the earthquake, during which time we have to endure the histrionic overacting of Ava Gardner and Marjoe Gortner. Mark Robson shoots almost entirely in wide-angles and few closeups, hence the film develops virtually nil suspense.
The astonishingly shoddy photography and editing make it like watching a multi-million dollar home movie at times. The much-touted effects (which won that year's Oscar Award for effects) are variable – there are some good matte effects of a ruined city and burning buildings, although the model effects, notably of a bursting dam, are very mediocre.
The film premiered a short-lived, supposedly revolutionary fad called Sensurround, which consisted of big bass stereo speakers placed around the theatre that would rumble during the earthquake scenes. This caused a minor sensation at the time, was used in about four other films and then forgotten.
---
---