aka It's Not the Size That Counts
---
Crew
Director – Ralph Thomas, Screenplay – Sid Colin, Additional Dialogue – Ian La Frenais, Producer – Betty E. Box, Photography – Tony Imi, Music – Tony Macauly, Art Direction – Albert Witherick, Choreography – Sally Gilpin. Production Company – Welbeck Film Distributors.
Cast
Leigh Lawson (Percy Edwin Anthony), Harry H. Corbett (Prime Minister Harry Snope), Denholm Elliott (Sir Emmanuel Whitbread), Ronald Fraser (Charles Bleeker), Elke Sommer (Clarissa Mamonnian), Barry Humphries (Dr Anderson/Australian TV Lady), Judy Geeson (Dr Candice Fairweather), Vincent Price (Stavros Mamonnian), Anthony Andrews (Catchpole), Milo O'Shea (Dr Kermit Klein), James Booth (Jeffcott), Bernard Lee (Barraclough), Adrienne Posta (PC 217)
---
Plot
Percy Edwin Anthony has decided to escape from the pressure of constant pursuit by women by setting sail to sea aboard a yacht. A US bomber containing samples of the PX-123 toxin then explodes over the ocean. The poison infects the world's water supplies, making all men impotent. Percy returns to land after one year. Having drunken only Bollinger 69 while he was away, he is the only potent man left on Earth. This makes his penis a highly prized asset and something that is sought by every nation, not to mention every woman, in the world.
---
Percy's Progress is a sequel to Percy (1971). Percy, which concerned the world's first penis transplant, was a popular success amid the early 1970s fad for British sex comedies. It mostly consisted entirely of an interminable number of innuendoes strung around the central premise and a contrived plot that required Hywell Bennett to sleep with every woman that his member's donor had.
Percy's Progress at least lives up to all the expectations that one had as a result of the first film. It manages to pack the maximum number of innuendoes that it can into its 90-minute running time. Even the British Prime Minister is ignobly saddled with lines like: "There's only one erection in the entire universe – and it's got a GB plate on it." At least in comparison to Percy, Percy's Progress has a lighter energy, if a total lack of substance. Leigh Lawson is far more outgoing actor than the dourly resigned Hywel Bennett, who played the role in the first film. (Although for some reason, the central character is now named Percy, while in the first film this was only a nickname given to his penis).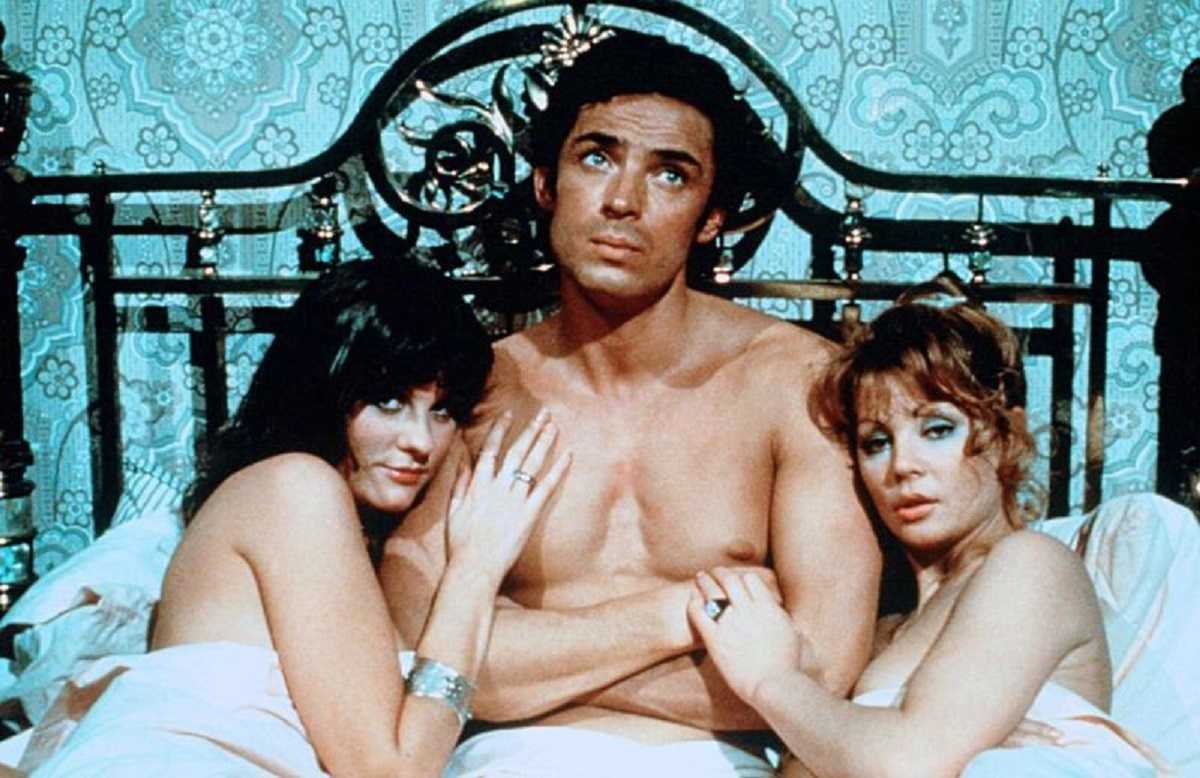 The plot this time is much more science-fictional and is a slightly more sexually realistic version of It's Great To Be Alive (1933), a bizarre musical that featured Raul Roulien as a pilot who becomes the last fertile man left alive in a woman-ruled world following a disease, which in turn was a remake of the silent film The Last Man on Earth (1924).
Percy's Progress comes with an impressive line-up of actors, including Vincent Price as a billionaire, Elke Sommer as Vincent Price's wife, Bernard Lee (M from the James Bond films) as a journalist, Milo O'Shea as a doctor and Harry Corbett as a cheeky British Prime Minister, as well as bit parts from Anthony Andrews and Hammer heroines Julie Ege and Madeline Smith. One can also see one of the earliest screen appearances of Barry Humphries' Dame Edna Everage persona as a tv newscaster. Ian La Frenais, who is credited for additional dialogue, did go onto become a celebrated British tv/film writer, responsible for tv series like Porridge (1973-7) and Auf Wiedersehen, Pet (1983-6) and the screenplay for The Commitments (1991).
---
---