---
Crew
Director – Robert Day, Screenplay – John C. Cooper & Lance Z. Hargreaves, Story – Wyott Ordung, Producers – John Croydon & Charles Vetter Jr, Photography (b&w) – Geoffrey Faithfull, Music – Buxton Orr, Special Effects – K.L. Ruppel, Makeup – Michael Morris. Production Company – Amalgamated.
Cast
Marshall Thompson (Commander Chuck Prescott), Bill Edwards (Lieutenant Dan Prescott), Marla Landi (Tia Francesca), Carl Jaffe (Dr Paul Van Essen), Robert Ayres (Captain Ben Richards)
---
Plot
Hotshot Navy test pilot Dan Prescott takes the new Y-13 plane up on its maiden test flight. Once he reaches the upper atmosphere, Dan disobeys orders and takes the plane up further, determined to be the first person into space but instead crashes back down to Earth. Rescue teams rush to the crash site but he is unable to be found. Soon after, there are soon reports of people and cattle being attacked by someone who feasts on their blood. Dan's brother Chuck leads the search for him. He makes the discovery that Dan's blood has been raised to a rarefied level by his trip into space, forcing him to have to feed upon ordinary blood in order to stay alive.
---
First Man Into Space is one of the handful of British science-fiction films of the 1950s. Like many of the others, it tried to pose as American films by importing American stars. (As with many of these others, the British countryside locations do not in any way look like the American and Mexican countryside being claimed). The producers even go to the extent of importing Wyott Ordung, the American screenwriter responsible for the bad movie classic Robot Monster (1953) and other efforts of the era such as Target Earth (1954) and Monster from the Ocean Floor (1954). First Man Into Space is a companion piece to the similarly Richard Gordon-produced, Marshall Thompson-starring Fiend Without a Face (1958), another British science-fiction film that posed as being American.
First Man Into Space shares many of the same problems that Fiend Without a Face does, namely a dull and uninteresting visual style and a pedestrian pace. It is probably marginally a better film than Fiend on some levels, although lacks such moments of schlock intensity as the hopping brains climax in Fiend. The monster itself is not hugely convincing, although the film does manage to convey some sympathy for it in the scenes in the hyperbaric chamber at the end. The plot with its mutated pilot/astronaut bears more than a little in common with the hit British sf film The Quatermass Xperiment/The Creeping Unknown (1955).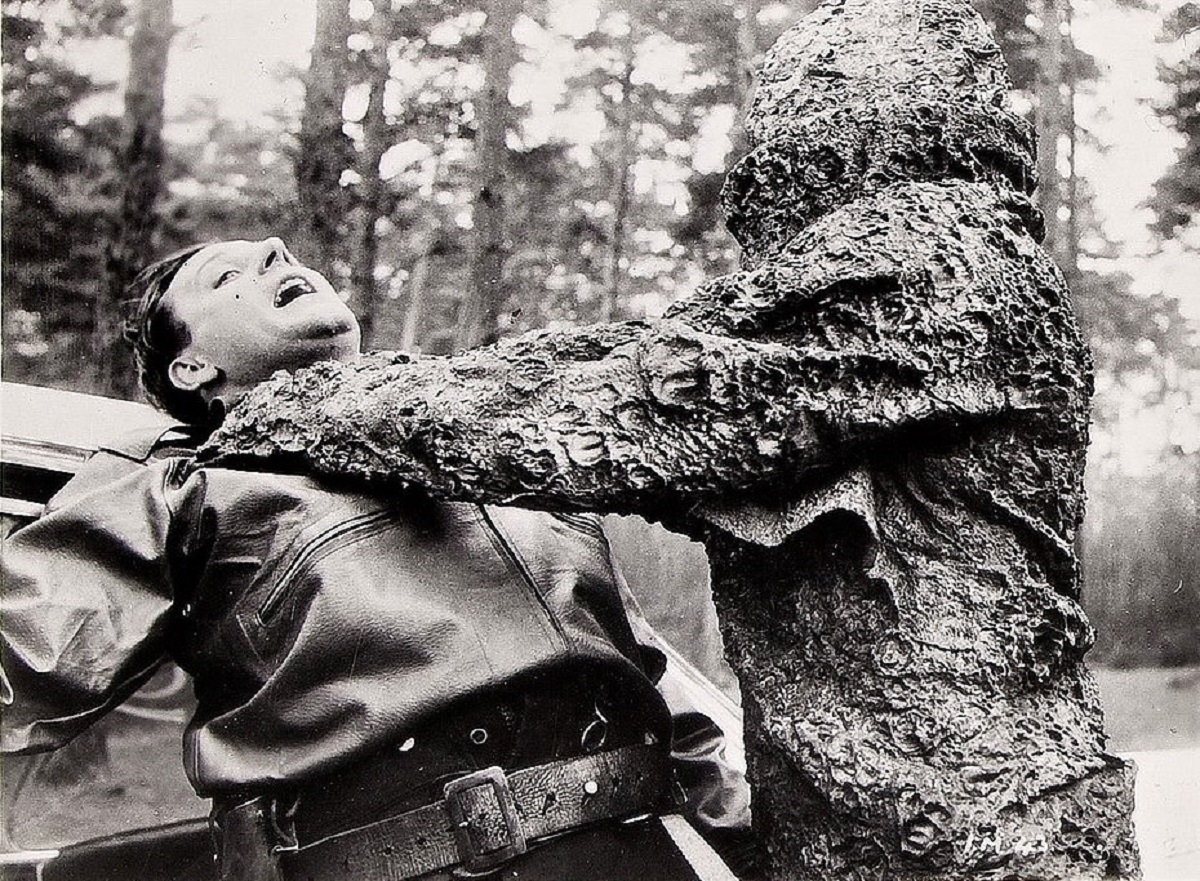 What is interesting is the series of attitudes that seem to lie behind the mutated astronaut theme as used here. Footage of the early Air Force test flights is put to good use (and complemented by some surprisingly good effects shots of the planes twirling in space and re-entering the atmosphere), giving the film a ripped-from-the-headlines urgency. As a result, First Man Into Space seems to bubble with a tremulous anxiety about the terrors that await mankind as it steps over the threshold into space. There seems a vast underlying fear to the film that conquering space may end being too huge a task for mankind to take on. The solution the film eventually finds is an appeal to a noble self-sacrificing heroism. As Marshall Thompson sums it up in his last line: "The conquest of new worlds always makes demands on human life. And there will always be men who will accept the risks." There seem few science-fiction films of the 1950s that seem so fired up with a greater determination to succeed against the odds.
Director Robert Day made a number of other genre films. He imported Boris Karloff to England for both The Haunted Strangler/Grip of the Strangler (1958), where Karloff plays a writer who has a split personality as a kill, and Corridors of Blood (1962), where Karloff plays an experimental anaesthetist who goes awry. Robert Day also made Hammer's lost world film She (1965); as well as a host of Tarzan films – Tarzan the Magnificent (1960), Tarzan's Three Challenges (1963), Tarzan and the Valley of Gold (1967), Tarzan and the Great River (1968) and Tarzan and the Jungle Boy (1968). The majority of Robert Day's work in the 1970s and beyond was in tv, where he made a number of genre tv movies including Ritual of Evil (1970) about an occult investigator and the psychic powers film The Initiation of Sarah (1978).
---
---