aka Mosquitoman
---
Crew
Director – Tibor Takacs, Screenplay – Mike Hurst, Story – Ken Badish, Ray Cannella & Boaz Davidson, Producers – Ken Badish, Boaz Davidson & David Varod, Photography – Emil Topuzov, Music – Joseph Conlan & Sophia Morizet, Visual Effects – Worldwide FX (Supervisor – Nickolai Gachev), Special Effects Supervisor – Willie Botha, Makeup Effects – Harlow Thoth McFarlane, Mansquito Costume Designed by Alterian, Inc., Production Design – Carlos DaSilva. Production Company – Nu Image/Equity Pictures Medienfonds GmbH & Co. KG II/Active Entertainment.
Cast
Corin Nemec (Lieutenant Thomas Randall), Musetta Vander (Dr Jennifer Allen), Matthew Austin Jordan (Ray Erikson/Mansquito), Patrick Dreikauss (Detective Charlie Morrison), Jay Benedict (Dr Aaron Michaels), Christa Campbell (Liz), Svilena Kidess (Tia)
---
Plot
The US is being affected by the deadly Gillen Virus that is carried by mosquitos. At Bellieu Pharmaceuticals in Baltimore, Dr Jennifer Allen is experimenting to find a cure. Her boyfriend, detective Thomas Randall, is shocked to find that the company's CEO Dr Aaron Michaels has arranged to have Ray Erikson, a mass murderer he was responsible for apprehending, brought to the lab as an experimental subject. There Erikson manages to get free, grab an officer's gun and take Jennifer's assistant Liz hostage. In the ensuing shootout, experimental chemicals spill over Erikson. He flees and begins mutating into a giant mosquito creature. The Mansquito begins claiming victims and devouring their blood. In the midst of the citywide manhunt for the Mansquito, Thomas finds that Jennifer also spilled the same chemicals on her hand. As she too starts to mutate, Thomas realises that the Mansquito is coming after her in order to mate.
---
Nu Image is a US film studio founded by several assorted Cannon Films associates. Nu Image was mostly known for their action films and more recently hits like The Expendables (2010). During the early 2000s, they made a score of such cheap monster movies and killer shark films with the likes of Shark Attack (1999), Crocodile (2000), Octopus (2000). Spiders (2000), Rats (2003), Shark Zone (2003), Larva (2005), Raging Sharks (2005), Kraken: Tentacles of the Deep (2006), Attack of the Gryphon (2007), Mega Snake (2007), Flu Bird Horror (2008) and Shark in Venice (2008).
In churning out a string of low-budget monster movies, Nu Image quickly honed a formula. Or perhaps more to the point, they dug into familiar plots used by a host of other films. Mansquito, despite its amusing B-movie title, is very traditional in its plot elements. There's the human-insect hybrid monster created in a lab accident a la The Fly (1986) – one that with only a couple of twists of the dials could serve as the origin story for a superhero – think Spider-Man. There are all the standard scenes with the monstrous thing rampaging across the city, claiming victims and the desperate efforts of authorities to stop it.
Mansquito is efficiently formulaic at what it does without being particularly standout. There is a reasonable full-size Mansquito costume, although some of the digital effects of the initial transformation and of the Mansquito flying are fairly dodgy. There are however some suitably gory deaths with severed and squished heads during the latter half of the show.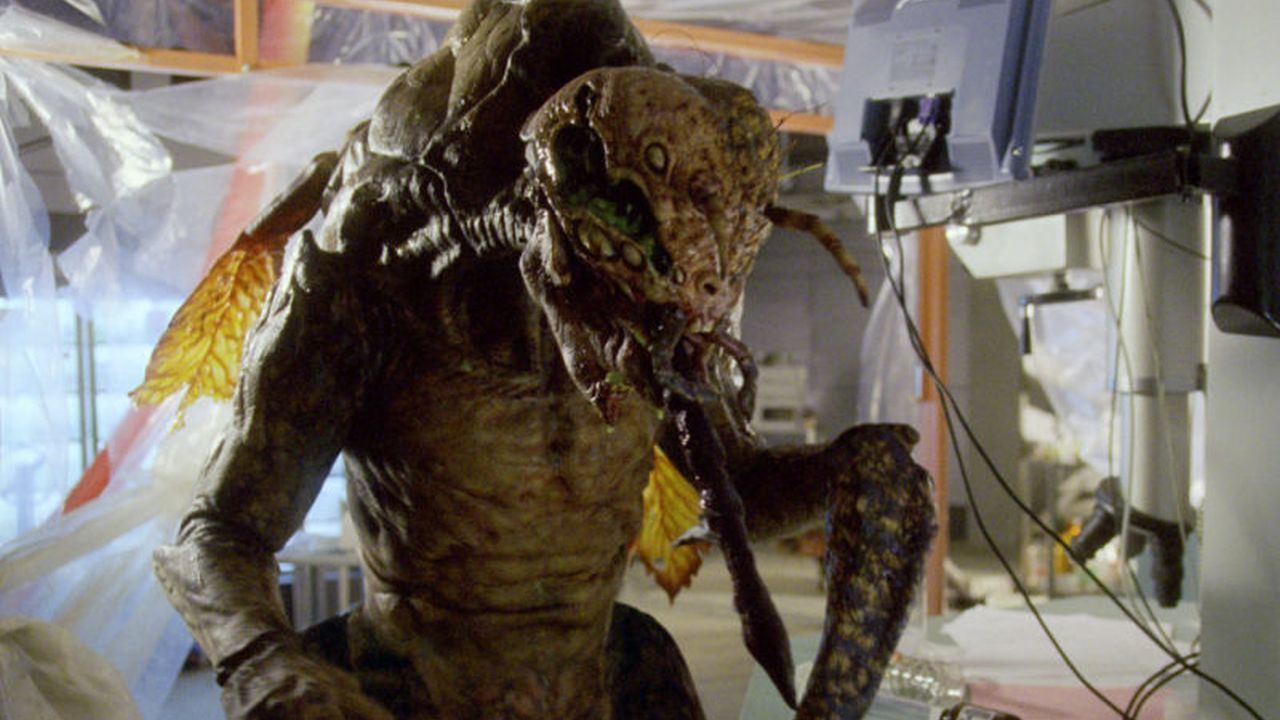 Corin Nemec, who only a few years earlier was still playing a teenager until well into his twenties, makes a convincing detective hero. Musetta Vander, who one has always maintained is an actress deservous of a higher profile, plays the mutating lady scientist love opposite him.
Director Tibor Takacs has also made a number of other genre films including the very obscure Metal Messiah (1978) about a futuristic rock star; The Gate (1987) and its even better sequel Gate II (1990) about children unlocking a demonic gateway; the excellent I, Madman/Hardcover (1989) about a killer the emerges from a book; Redline/Deathline (1997) set in a near-future Russia; the bizarre Nostradamus (2000) about a time-travelling occult war and the attempt to reincarnate the title character; the Christmas films Once Upon a Christmas (2000) and Twice Upon a Christmas (2001) about Santa's daughter; Rats (2003) about an asylum of intelligent rats; and the monster movies Kraken: Tentacles of the Deep (2006), Ice Spiders (2007), Mega Snake (2007) and Spiders (2013); The Black Hole (2006), a monster movie about the titular stellar mass loose in St Louis; and the disaster film Meteor Storm (2010) and Destruction Los Angeles (2017).
Active Entertainment has also produced the genre likes of Hammerhead (2005), Larva (2005), The Snake King (2005), The Black Hole (2006), Attack of the Gryphon (2007), Headless Horseman (2007), Flu Bird Horror (2008), Ghouls (2008), Chrome Angels (2009), Wolvesbayne (2009), Maskerade (2011), Storm War (2011), Alien Tornado (2012), Arachnoquake (2012), Bering Sea Beast (2013), Ghost Shark (2013), Ragin Cajun Redneck Gators (2013), Snakehead Swamp (2014), Zombie Shark (2015), Ozark Sharks (2016) and Santa Jaws (2018).
---
---