(Der Schweigende Stern/Milczaca Gwiazda)
---
East Germany/Poland. 1959.
Crew
Director – Kurt Maetzig, Screenplay – Kurt Maetzig, J. Barkhauer, Jan Fethke, Wolfgang Kohlhaase, Stanislaw Lem, Gunther Reisch, Gunther Rucker & Alexander Stenbock-Fermor, Based on the Novel The Astronauts by Stanislaw Lem, US Version Produced by Edmund Goldman, Photography – Joachim Hasler, Music – Andrzej Markowski, Music (US Version) – Gordon Zahler, Special Effects – Helmut Grewald, Ernst & Vera Kuntsmann, Jan Olejarczak & Martin Sonnabend, Production Design – Alfred Hirschmeier & Anatol Radzinowicz. Production Company – Defa/Illuzjon Film Unit.
Cast
Oldrich Lukas (Professor Harringway), Yoko Tani (Dr Sumiko Ogimura), Tang Hua-Ta (Dr Tchen Yu), Gunther Simon (Robert Brinkman), Michail N. Postnikow (Professor Durand), Kurt Rachelmann (Dr Sikarna), Ignacy Machowski (Professor Orloff), Julius Ogewe (Talua)
---
Plot
Scientists uncover a magnetic spool at the site of the Tunga explosion in Siberia. This is believed to have come from an exploding alien spacecraft. As all effort is made to decode the spool, it is discovered to have originated from Venus. The planned Mars rocket Cosmostrater 1 is hastily redirected towards Venus, along with a crew of top scientists. Once on Venus, the Cosmostrater crew discover a world that has been devastated by atomic war but also realise that the Venusians were planning to invade the Earth.
---
This East German-Polish co-production is a fascinating entry in the frenzy of movie-making that greeted the Space Age. Amid the horde of American entries on the subject, First Spaceship on Venus is one effort that intriguingly hails from the Communist Bloc. Its success did see several other Communist Bloc science-fiction films come out over the next few years, including The Heavens Call (1959), Storm Planet (1962), Voyage to the End of the Universe (1963), Andromeda Nebula (1967) and Moscow-Cassiopeia (1973), most of which were purchased and re-edited by Roger Corman.
Even though the Soviet filmmakers were not permitted to view American films at the time, there is almost no difference between one of these Soviet depictions of a space mission and an American one. All the dramatics the film goes through here – the meteor storm, the perilous EVA mission, the exploration of the alien world – feel like clichés that could have been transplanted directly from an American space mission film like Destination Moon (1950).
The one intriguing difference is that First Spaceship on Venus was the first science-fiction film to depict an international mission – with the crew complement featuring Japanese, Chinese, Indian and Black African scientists. By contrast in American science-fiction, we had to wait until Star Trek (1966-9) to see an international space expedition, even one that featured non-Caucasian Americans.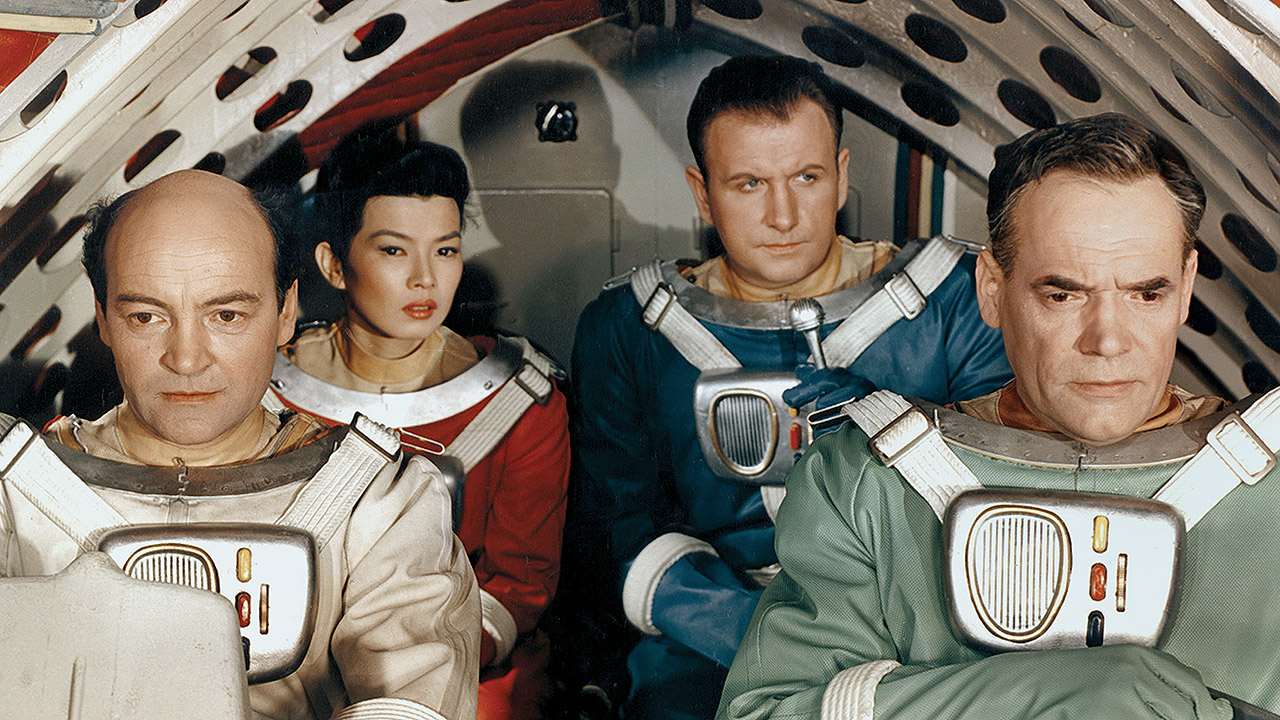 If the East-West nationalistic fervour of the Space Race as depicted by The Right Stuff (1983) was anywhere near accurate, it might appear, at least going by First Spaceship on Venus and most of the other Soviet science-fiction films listed above, that much of this was on the American side rather than the Soviet side, where the Soviet desire to conquer space was driven less by a sense of nationalistic chest-beating that it was one of human achievement.
First Spaceship on Venus is lavishly budgeted for a science-fiction film of the era. Indeed, the film works much better as science-fiction than most other English-language science-fiction films of the era, with the rocket launch being credibly detailed. However, Kurt Maetzig is not a dramatic director in the slightest and the film moves stolidly. The characters are dull blanks – the only one who even vaguely gets some depth of characterisation is Yoko Tani who is seen to be refusing to deal with her husband's death.
Things do pick up somewhat upon the arrival on Venus, which is depicted with a degree of imaginative colour – a world covered in mist, the sky lit up by aurora and filled with alien geodesic domes, mountains built out of spheres, petrified forests and ruined cities. There is a sense of unveiling mystery as the astronauts explore the ruined city and a fine sequence where they are pursued up a tower by a sinister oil slick. There is one great image before we depart where we see the charred outlines of the Venusians crisped against one of the walls of their cities.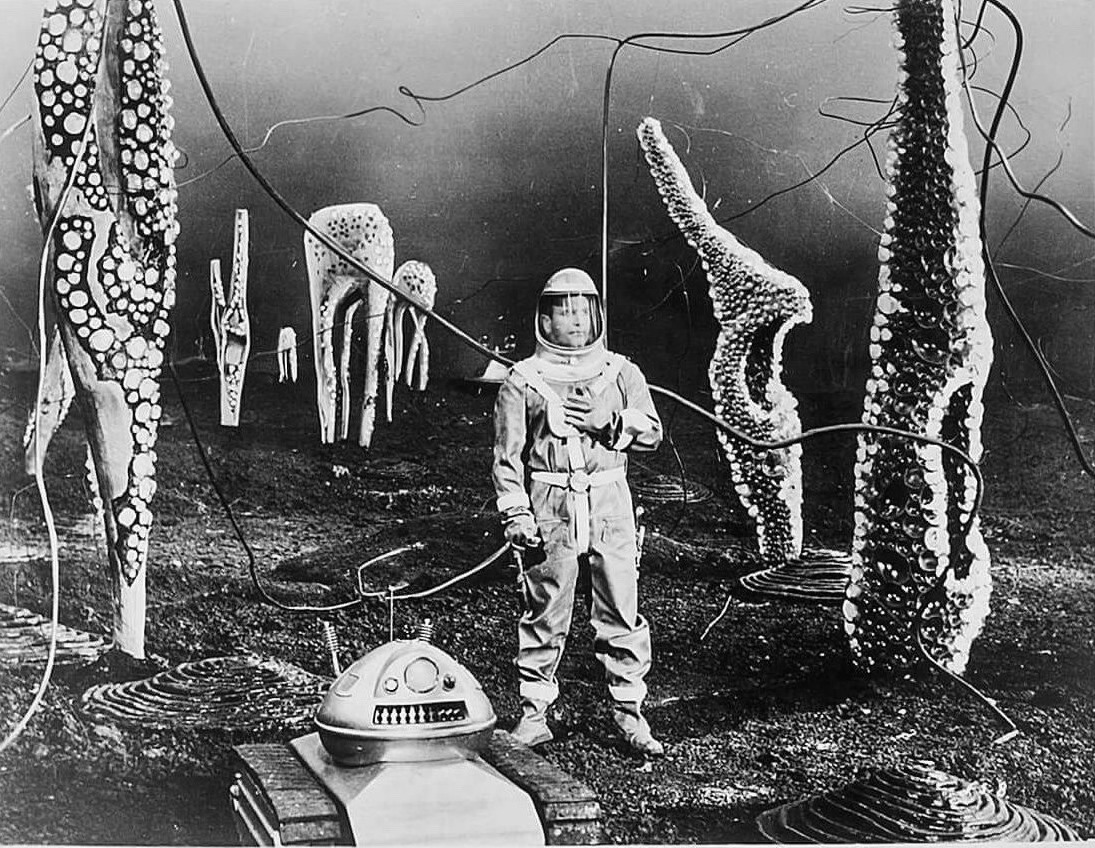 Of course in the end, what we finally have is a Soviet version of Rocketship X-M (1950), an American-made film wherein a group of astronauts land on Mars only to find that the Martians had destroyed their own civilisation in a nuclear war. In this sense, First Spaceship on Venus falls into a body of science-fiction films of the 1950s that included the likes of This Island Earth (1955) and Forbidden Planet (1956), which took us on journeys to other worlds, only to show that these superior alien civilisations had destroyed themselves and holding up a potent warning about our own capacity to do the same with nuclear war or by allowing our technology to overreach itself. First Spaceship on Venus at least ends on an upbeat note with a speech about how it is mankind's duty to rebuild and then conquer the rest of the universe.
First Spaceship on Venus was based on a novel by Polish science-fiction writer Stanislaw Lem, whose writings also formed the basis of other science-fiction films such as Ikarie XB-1/Voyage to the End of the Universe (1963), Solaris (1972), Test Pilot Pirx (1979), 1 (2009), the part-animated The Congress (2013) and His Master's Voice (2018). A dubbed English-language version of the film was released in 1962.
---
Trailer here
Full film available online here:-
---