---
Crew
Director/Screenplay – William Shatner, Producers – Kevin Layne & David Zappone, Photography – Kevin Layne & Darryl E. Smith, Music – Paolo Jannuzzi. Production Company – 455 Films/Creation Entertainment/Love Lake Productions.
Cast
William Shatner (Narrator). Richard Arnold, Rene Auberjonois, Ira Steven Behr, John Cho, Terry Farrell, Dominic Keating, Barbara March, Arlene Martel, Nichelle Nichols, Connor Trinneer, Nana Visitor, Gwynyth Walsh, Grace Lee Whitney, Celeste Yarnall
---
To most of the world William Shatner will always be Captain Kirk from Star Trek (1966-9). That however was only three years of his life fifty years ago. In between appearing in the Star Trek revival movies and a life on the convention circuit, Shatner has had a diverse career as an actor in various other films and tv series and as a writer with various of his Star Trek Memoirs books, a series of Star Trek novels and several original science-fiction books.
In between acting and writing, Shatner has diversified into documentaries. He has hosted a number of these on topics from aviation and wildlife to hypnotism, even an Erich Von Daniken/Ancient Astronauts documentary with Mysteries of the Gods (1976) and other works including William Shatner's Star Trek Memories (1995) and How William Shatner Changed the World (2005) about the influence of Star Trek in the real world through to The Truth is in the Stars (2017) where he meets Stephen Hawking. He has even directed several of these with The Captains (2011), Get a Life! and Chaos on the Bridge (2014), all dealing with various aspects of Star Trek.
The Shatner documentary is unique for the Shatner-centrism – as an interviewer, Shatner frequently talks over his subjects; at times, he struggles with an understanding of the subject matter; and, as in How William Shatner Changed the World, he can be demeaning to his subjects. Not to say that his documentaries are uninteresting – Chaos on the Bridge is a particularly good analysis of the problems that Star Trek: The Next Generation (1987-94) had in its embryonic years.
With Get a Life!, Shatner explores Star Trek fandom. You might raise the objection that he is over a decade too late in doing so as the same very topic had been explored before in Trekkies (1997) and its sequel Trekkies 2 (2004). There was also Alexandre O. Philippe's Earthlings: Ugly Bags of Mostly Water (2004), while just before this Gene Roddenberry's son Rod also made Trek Nation (2011), which had a similar perspective. Nevertheless, this is what Shatner takes up. Though he is covering much the same ground as these others, he announces from the outset that what he is wanting to find is what lies at the heart of fandom.
The title comes from the phrase that Shatner famously uttered in a skit on Saturday Night Live (1975- ) in 1986 where he played himself meeting a group of Trekkers and urging them to "get a life." This earned him some flak from fans for several years after who saw that he was deriding their passion. (The skit is played as the documentary opens). Shatner subsequently published a book about Star Trek fandom with Get a Life! (1999) where he set out to interview fans and understand the phenomenon. The documentary could be considered the film of the book.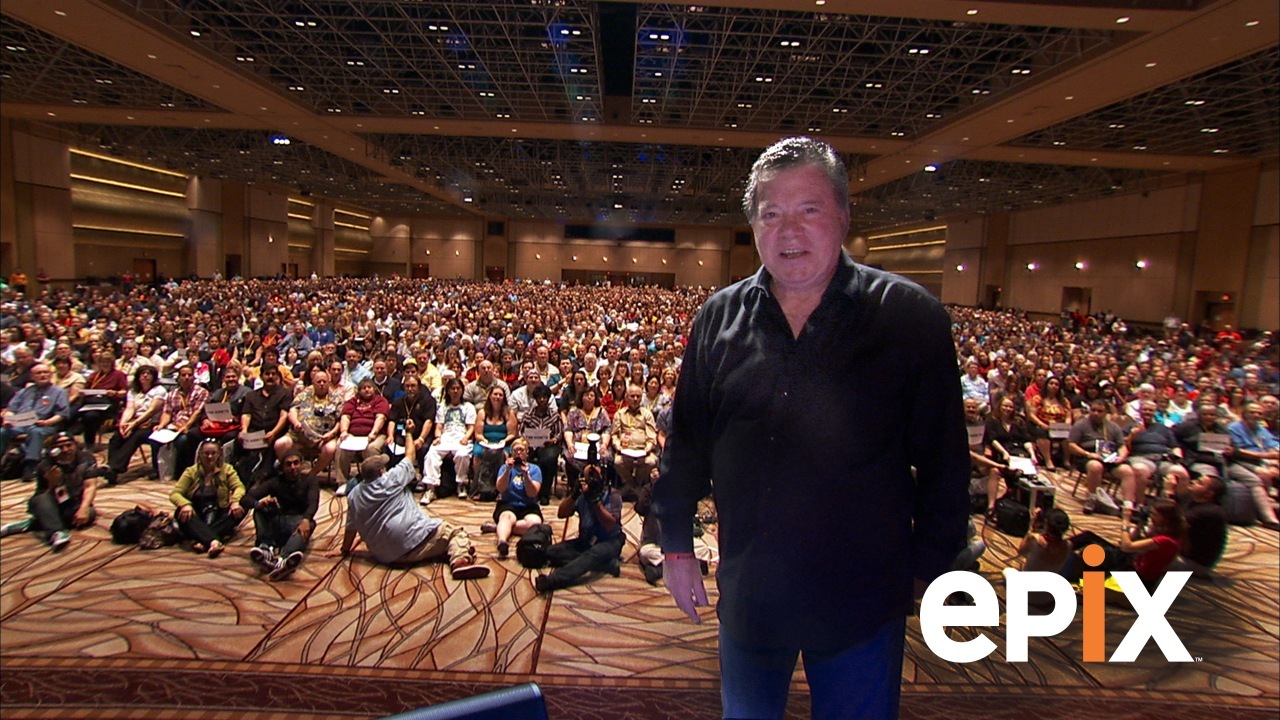 The documentary has a brief runtime (just under an hour long). Most of it was shot at the Creation Con in Las Vegas in 2011. Shatner interviews many fans and a number of the actors from the various series – Nichelle Nichols, John Cho and Dominic Keating with background appearances from others like Nana Visitor, Terry Farrell, Rene Auberjonois, Jonathan Frakes and Ethan Phillips. We also meet some of the guests actors on classic Star Trek like Arlene Martel and Celeste Yarnell – now well into their senior years and trying to make ends meet by selling merchandise, even Barbara March and Gwynyth Walsh, the Klingon sisters from Star Trek: Generations (1994), who seem to do some weird speed dating thing dressed in costume. Unlike The Captains, Shatner rarely intrudes as an interviewer and in almost every single case lets the interviewees talk for themselves – indeed, he is rarely seen on the screen.
True to his word, Shatner seeks a deeper meaning as to what fandom is all about. To this extent, he even goes so far as to delve into the late Joseph Campbell, a professor specialising in comparative mythology whose book The Hero of a Thousand Faces (1949) is a key work in discussing the core elements at the heart of world myths (what Campbell called monomyth). Shatner gets some interview time with Robert Walter, the president of the Joseph Campbell Appreciation Society, who analyses Star Trek in terms of mythic rituals that give people's lives meaning as they relive and seek to become a deeper part of the myth by dressing up and bringing roles to life (in other words cosplay).
Get a Life! is at its best when Shatner is telling the stories of fans. Unlike Trekkies, he does not make a beeline for the freakshow aspect but tells stories that have affecting impact. Like the story of David 'Captain Dave' Sparks, a fan who was wheelchair-ridden with Muscular Dystrophy but refused to let that get in the way of attending conventions. The saddest part of the documentary is learning towards the end that Sparks passed away between when the scenes at the convention were shot and the film was put together in the editing room. The end credits dedicate the film to his memory.
The other story is that of Heather Marsh, head of an online Terry Farrell Fan Club. Shatner arranges for Heather to be taken in for a surprise meeting with her idol Farrell. Farrell proves a gracious host and is empathetic as Heather recounts the difficulty of dealing with the death of her fiance and how she found strength in the character of Dax. It is in these stories that Shatner finds moving aspects of fandom and does things that Trekkies with its poking fun at the eccentricities of fandom never achieved.
---
Trailer here
---